Mexico's beaches are world-class attractions.
The perfect climate and various natural treasures make for a vacation that will be remembered for years to come.
There are many beaches in Mexico, but not all can be considered the best, but here is our list of the best beaches in Mexico.
Suggested: Is it safe to visit Mexico? (General Safety Update)
Best Beaches in Mexico MAP
Cancun Beaches Seaweed MAP Update (January 14, 2022)
Here we go, 16 Mexico's Best Beaches:
Cabo San Lucas, Baja California Sur
Set on the southern tip of the Baja Peninsula, Cabo San Lucas is a bustling port city known for its luxury resorts, world-class golf courses, rich nightlife scene, and, of course, breathtaking beaches.
However, while most of Cabo's beaches are perfect for sunbathing, not all of them allow swimming. That is because of frequent rip tides and unpredictable waves. Therefore, if you're coming to Cabo for its beaches, opt for the swimmable ones, such as Medano, Palmilla, or Chileno beaches.
If you're looking for a quieter spot in Baja and yet the same character of the country, San José del Cabo is just about a 30-minute drive. This town is much smaller, and older, and features amazing, colonial architecture. There are also plenty of places to eat or enjoy art.
Isla Holbox, Yucatan
Isla Holbox is a small island located in the Gulf of Mexico with several beautiful beach towns where tourists can enjoy daily life during their vacation.
Located off the coast of Mexico, you can enjoy its quiet beaches with unique white sand that looks like powdered sugar.
Holbox is known for its relaxing atmosphere and warm waters, perfect for swimming and snorkeling all year round. The quaint shops and restaurants on the island make it an ideal place to stop over or stay for several days or even weeks.
Playa Mazunte, Oaxaca
Looking for a beach that is easily accessible and yet off the beaten track? Only about an hour's drive from Puerto Escondido, there is Playa Mazunte.
It's clean, spacious, and boasts relaxed hippie vibes. The waves are often big and strong there which makes it an excellent spot for surfing. If you want to swim, walk to the tip of the bay – the waves are much smaller there.
You can rent an umbrella and a lounger for about 150 pesos or just lay a towel closer to the water. During the season, the coast is lined with seafood shacks. You will also find a couple of good restaurants in the town.
And what else do we like about Playa Mazunte? That it's dog friendly, so you don't have to worry if you're traveling with your four-legged friend.
Acapulco, Guerrero
Acapulco is an important tourist destination in Mexico due to its beautiful beaches and the tourist industry.
The city has a variety of restaurants and bars located right along the ocean, and visitors can choose from many different activities such as scuba diving, snorkeling, swimming with dolphins, surfing, fishing, and much more.
There are several hotels to choose from so you can have your perfect stay here. Acapulco is an ideal place for the entire family to enjoy many options to do together while having fun.
Isla Mujeres
A trip to Isla Mujeres is a must for anyone visiting Cancun. Isla Mujeres is a small island in Quintana Roo, just a few kilometers from Cancun's gorgeous shoreline.
The island is renowned for its amazing coral reefs and abundance of marine species, making it a great spot to relax. Do not miss the opportunity to visit the stunning Playa Norte beach, Garrafon Natural Reef Park and the fabulous lighthouse.
The island is known for its first-class hotels, but there is also plenty to do in Isla Mujeres. This is the best area to stay if you want to escape the noise of Cancun hotel zone.
Isla Mujeres is one of the few places where you can treat yourself to a true getaway since the authentic island atmosphere allows you to take things at a slower pace. It is a place for those who adore Mexico and the beach, but also for people who wish to relax and enjoy simple pleasures.
Balandra Beach, Baja California Sur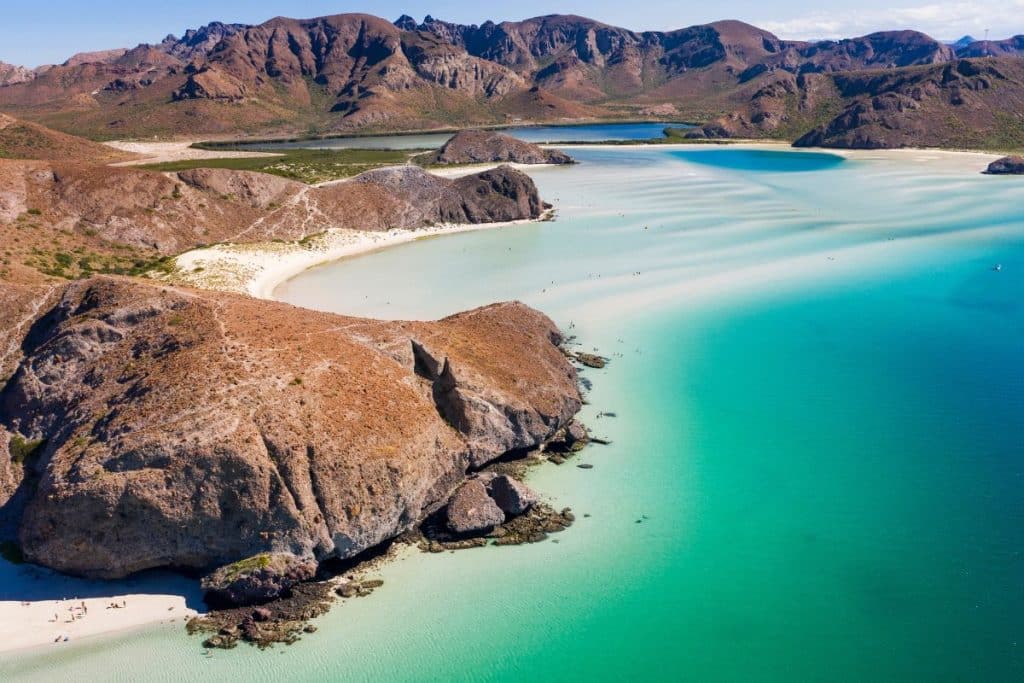 Set about half an hour north of the state's capital La Paz, Balandra is another excellent choice for travelers looking for a beach off the beaten track.
This picture-perfect bay resembles a lagoon. But don't get fooled, it's an illusion that comes from cliffs surrounding the crystal-clear water.
Another thing Balandra Beach is famous for is the nearby snorkeling options. Thanks to the shallow and calm waters, local marine life can be enjoyed by both adults and children.
Note that as this beach is less touristy, the facilities there are limited. Better bring your snacks and water if you're planning to spend an afternoon at this beach.
Puerto Vallarta, Jalisco
Puerto Vallarta has been a top destination for American and Mexican tourists alike. The resort city located in the heart of Mexico is a great place to soak up the sun on its pristine beaches or enjoy the downtown activities.
Puerto Vallarta is comparable to beautiful beaches in Hawaii, Florida, and California, but perfect year-round weather.
Puerto Vallarta is also an ideal location for hosting weddings and corporate activities. There are several locations where you can watch the sunset from above, or if you prefer to swim while the sun goes down, several beaches offer a large area with no waves.
Puerto Vallarta's nightlife is something to experience with bars, restaurants, live music, and shows all within walking distance of each other.
Cozumel, Quintana Roo
Located just off the Yucatan Peninsula in the Caribbean Sea, Cozumel is a famous island in Mexico due to its natural beauty and crystal clear water.
It is home to some of Mexico's best dive spots, as well as many beaches that are perfect for both snorkeling and scuba diving.
Cozumel is always a busy destination with plenty of entertainment opportunities available and some of the unique architecture in the world.
Mazatlán, Sinaloa
Mazatlán is a famous Mexican beach city on the Pacific Coast. It's low-key but culturally rich, boasting a variety of activities that can be enjoyed throughout their relaxed lifestyle.
Their beaches are known for beautiful and soft white sand, clean water, warm waters that are great for swimming and snorkeling. The surroundings are filled with breathtaking views worth exploring while visiting the area.
There are many things to do on the beaches, including enjoying a healthy suntan while relaxing in the sun or catching some rays at an ice-cold beach bar. This is a perfect beach city for those who want an adventure filled with new experiences.
Tulum, Quintana Roo
Tulum is one of Mexico's most popular tourist destinations because of its beautiful beaches, unique resorts, and nightlife.
Tulum is ideal for young people and couples who want to relax by the beach day, enjoy music and creative hotel scenery.
Ixtapa, Guerrero
Ixtapa is located on the coast of the Pacific Ocean, between Puerto Vallarta and Acapulco. It's a great place to visit when you want a beach vacation without the hustle and bustle of busy cities that can be overwhelming for visitors.
This beach town is as beautiful as peaceful, with natural beauty such as hot springs, waterfalls, and palm trees. It's a great place to choose if you want to relax and unwind.
Several hotels and restaurants are right on the beach, so you can stay active while enjoying the beautiful waves and sand.
Cancún, Quintana Roo
Cancún is a busy beach resort city that attracts thousands of tourists yearly for its perfect beaches and other activities, including diving, snorkeling, paddle-boarding, and scuba diving. It is located on the west coast of Mexico between Playa del Carmen and Tulum, with plenty of activities for everyone to enjoy.
Cancún is a great resort destination that offers five-star luxury resorts, including accommodations and restaurants and family-friendly activities for the whole family. This is an ideal place to stop over or stay longer if traveling through the area.
Yelapa
Located 45 minutes south of Puerto Vallarta is Yelapa, a unique small fisherman's village nestled inside a tropical paradise only accessible by boat.
There is a trail through the forest to make it there, but owing to the unspoiled terrain, it can only be accessed by quod or horses, a true adventure!
Going to the beach is ranked as one of the top vacation activities by people all around the world. Yelapa Beach is an excellent example of this. It boasts an unlimited array of waterfront entertainment, diverse landscapes, restaurants and beach clubs where you can relax and enjoy a day of sun.
Since the town is not yet overdeveloped, it offers you the option to book a room at any of the pretty small hotels on the beach.
Yelapa is also renowned for its homemade pies and its magnificent waterfall, which is a 30- to 40-minute Instagram-worthy hike away.
This trip leads you through the jungle and over the mountains, ending in a natural spring of cool, freshwater fed by a waterfall.
Playa Delfines (the Dolphin Beach)
Part of what makes Playa Delfines so great is the fact that it is a completely unspoiled place with no hotels, restaurants, or other facilities built on the beach, making for a truly wonderful, relaxing escape into the sun and waves.
Playa Delfines is famous for its panoramic view of Cancun, which includes blue waters with white waves, a ribbon of golden sand, and the city's high-rise resorts in the background so you have a large area of warm sand to walk and enjoy the view.
If you want to drive, there is also free parking at this beach. Otherwise, the beach is easily accessible by bus.
If you are traveling with children, there is a small playground for them as well as a large palapa in case the sun gets too much.
Conclusion
Mexico offers a variety of beautiful beaches to choose from, and this is just a short list of some of the most popular destinations.
It's also nice to venture outside of the typical touristy areas and find places that are not as busy so that you can enjoy the scenery and scenery in peace. You might not be aware of many other destinations in Mexico if you have never been there before.