Did you know that Portugal has the highest density of blue-flagged beaches globally? Now you know. So it might be the time to start planning your trip.
The Blue Flag is an international symbol for beaches and marinas with clean and safe waters. The eco-label status began in France in 1985 and now has representation in over 48 countries across the globe.
However, when people think of Portugal's coastline, they usually think of the Algarve, with its golden sands and crystal-clear waters. Yet, there are plenty more beautiful beaches along Portugal's coast, from the north to the south, and from gorgeous sandy strands to secluded rocky coves.
Here, we've rounded up eight beaches across Portugal's coastline that have won the heart of many vacationers around the globe.
Check out also:
– Best beaches in Spain
– Best beaches in France
Best Beaches in Portugal MAP
Beaches in Portugal Quick Overview
| | |
| --- | --- |
| 🏊 Best Beaches for Swimming | Praia da Marinha & Praia Dona Ana |
| 👨‍👩‍👦‍👦 Best Beach for Families | Praia de Adraga, Sintra–Cascais |
| 🏄‍♂️ Best Beach for Surfing | Ericeira Beach |
| 🏖️ Best Beach for Holiday | Praia Dona Ana, Lagos |
Praia da Marinha, Carvoeiro
Algarve is the most famous beach destination in Portugal. It's no surprise that some of the best beaches in Portugal are located in this amazing stretch.
You may have heard that the Algarve region has more than 200 beaches and coves, so you can easily get lost in a sea of beautiful beaches while following the coast.
However, Praia da Marinha is one of the most stunning sandy beaches in the Algarve and even Portugal. It isn't necessarily the best beach in Portugal, but it's breathtakingly lovely.
The first thing that makes this beach beautiful is its water. Each beach has its color palette, with clear waters and white sands as the norm. The color of seawater at Praia da Marinha is a lovely shade of blue-green that looks inviting even in the morning sun. It's always nice to look out over a clear ocean.
While many beaches have fine sand, this one has a hard layer of pebbles on top that adds texture to the water and makes for a more interesting way to play in the sand than just digging through soft grains.
Moreover, the waves are enormous here, especially along the southern end, where they crash into rocks with colossal force. The resulting spray creates an interesting effect in which you can find photo opportunities at almost every turn.
The Praia da Marinha beach runs nearly 2 miles south to north and is backed by cliffs. A long boardwalk leads down to the waves, which are pretty big at this end of the cove. The sand is relatively fine near the water's edge but gets rougher farther back in the dunes, where a few rocky outcroppings look good for both bodyboarding and body surfing.
The water can get cold here — it's perfect for swimming but not good for wading in deeper areas or paddling out until spring — so it's important to keep an eye on the weather forecast before you arrive. If there's any chance of rain, consider going elsewhere.
Aside from the gorgeous beaches and a quaint medieval village, Carvoeiro is home to some of the best surfing in Europe. It's a great place to go windsurfing, kitesurfing, SUPing, etc.
Ultimately, if you're traveling by car, book your parking in advance and note where to meet the driver upon your return. To get from Carvoeiro to Praia da Marinha, take a bus as plenty of options provide convenient services.
Praia de Moledo
Praia Moledo is another beach perfect for surfing, windsurfing, as well as kitesurfing. It's situated in the very north of Portugal, close to the Spanish border. It's usually windy and boasts strong waves. Maybe that's why it's rather quiet, except in August when it tends to get busy.
In front of the beach, there is a little island with a 15th-century fortress called Ínsua. You can visit it via boat for less than 10 euros and take a close look at it and enjoy the adjacent beach. Unfortunately, the fortress cannot be visited inside. Also, notice there are no services on the island so better come prepared. Bring your own water and a raincoat. Even on a sunny day, clouds might appear over the island.
Other popular activities in the area include swimming, sunbathing, and biking – there is a nice bike path along Praia de Moledo. Nearby, you will find a parking lot and a couple of restaurants to grab a bite.
Praia de São Jacinto
A beautiful boardwalk leads you down to a pristine white beach that stretches for several miles. There is good parking with restrooms and a cafe on the beach. The small town is very quiet and safe.
Nestled between the Atlantic Ocean and endless sand dunes, this beautiful beach forms the western flank of the São Jacinto Nature Reserve.
The beach can be reached by a 20-minute bus ride (from Aveiro to Forte da Barra), a ferry (to São Jacinto), and a brisk walk – and the effort is worth every second for those who like their beaches sandy, secluded, and rough.
The São Jacinto Dunes Nature Reserve is also one of Portugal's hotspots for surfing enthusiasts!
Since it is located in the Aveiro district, the São Jacinto Dunes Nature Reserve is quite easy to reach from Porto or Aveiro.
– From Aveiro
From Aveiro, you can take the ferry across the Ria de Aveiro to São Jacinto.
– From Porto
The easiest way to get from Porto to São Jacinto is undoubtedly by car. From Porto, it will take you about an hour to get to the nature reserve (about 65 kilometers).
Praia de Adraga, Sintra–Cascais Lisbon
You can enjoy the ultimate Portuguese beach experience at Praia de Adraga's arc of pale-golden sand, fringed by a low cliff striped with cool caves and rock pools.
The Atlantic breakers here are bigger than most, making the beach a hit for bodyboarders, while swimmers should stay close to shore where it's safer. The water is crystal clear, and the setting exceptionally peaceful — you won't find many people other than locals.
Additionally, it's best to visit Praia da Adraga from mid-May to mid-October. The sea is usually very calm, perfect for swimming, snorkeling, and diving. It's also a great spot for surfing; its main break is a left-hand reef offering fast and powerful waves.
To get there, you'll have to navigate the narrow roads in the hills before arriving at the beach. Another option is to reach the beach by hiking along part of the Rota Vicentina trail or taking a boat ride (preferably when it's low tide).
Praia de Adraga has several restaurants serving fresh fish and traditional Portuguese dishes. These are located right on the sand with fantastic views across the sea and the Cliffs of Magoito (known as Europe's most beautiful cliffs).
You can also find several bars and cafes overlooking this spectacular coastal scenery.
Praia de Nazaré, Leiria Region
In the far west of Portugal lies a lovely beach town known as Nazaré. It is one of those towns with a quaint yet unpretentious charm to it, where locals and tourists alike enjoy the beauty surrounding them.
The beach lies about 30 minutes away from town, although it is well worth the journey. It is surrounded by an endless line of cliffs covered in a mixture of olive and pine trees. The seawater is crystal clear and invites you to swim out into its depths and take a dip.
You can also spend hours walking along the cliffs or sitting quietly on one of the many benches which overlook this gorgeous scene. Many people come here for their evening strolls along the beach, while others even opt for dinner at two local restaurants on either side of the dunes.
There are plenty of things to see around this town, including several churches, local history museums, and old mansions on hills overlooking the ocean, all within easy walking distance.
Praia Dona Ana, Lagos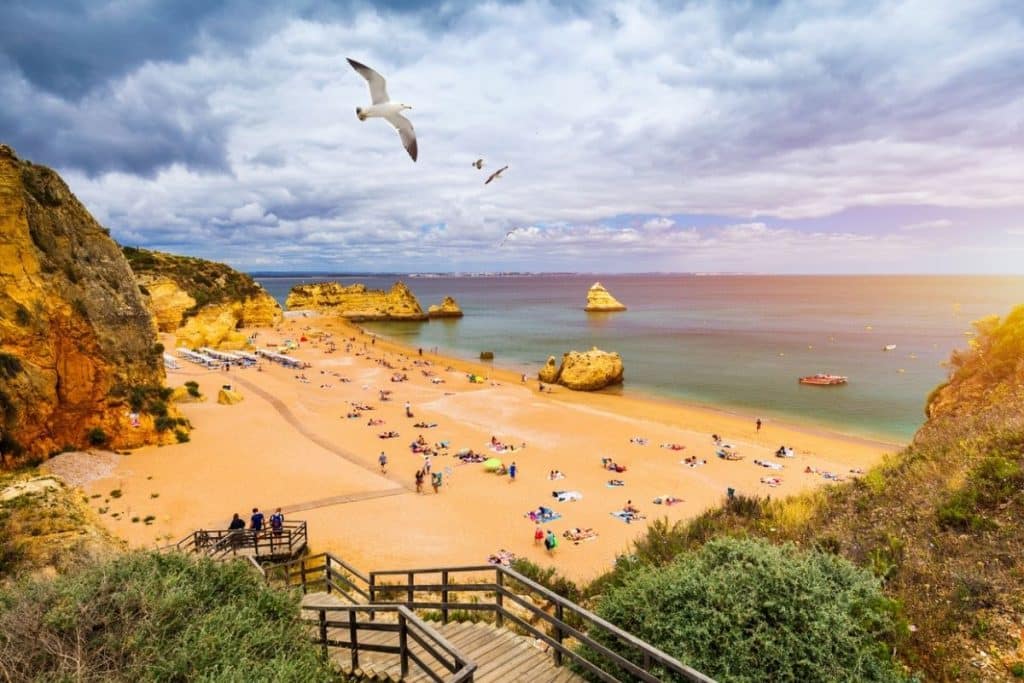 If you love pristine sandy beaches with buzzy bars and restaurants nearby, head to Praia Dona Ana. Via steps, access this lagoon beach through a tunnel leading to a secluded bay with golden sands and clear turquoise waters.
After coming down the steep steps from above, visitors find themselves on a small platform with a great view of the beach and the sea cliffs. The waters here are calm and clear, making this one of Lagos's best places to swim.
It's one of the most photographed beaches in Portugal and popular among family vacation enthusiasts due to its sheltered position and shallow waters. It hosts many sunbeds, which you can rent if you want a spot on the sand and enjoy the warm summer in your comfort.
The red rock stacks that tower above the beach have been sculpted by millions of years of erosion and give Praia Dona Ana its unique beauty. With its azure waters, hidden caves, and tropical palm trees, it's no wonder this Algarve beauty is considered one of the best beaches in Portugal.
Praia Dona Ana can get busy, thanks to its proximity to Lagos, making it easy to reach by public transport. However, it's worth fighting through the crowds to explore this paradise. You can even take a boat trip out to see Praia Dona Ana from an entirely different perspective!
Praia da Falesia, Albufeira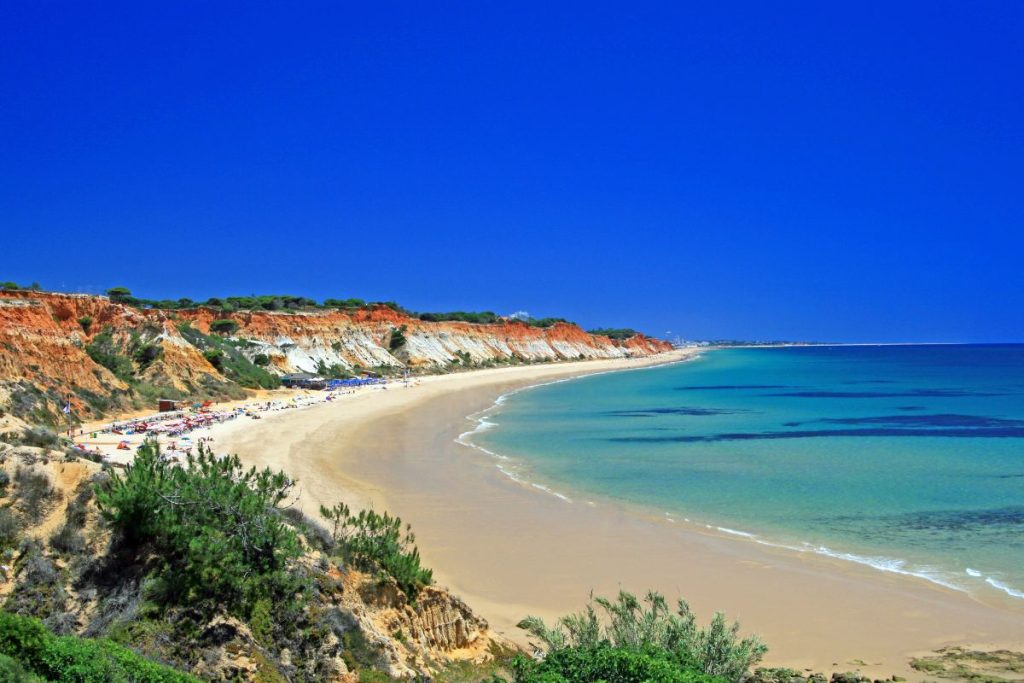 Albufeira is one of Portugal's most popular coastal towns, with beautiful coastlines, lots of entertainment, great shopping options, and fantastic places to eat out. It's also known for its beaches, which are amazingly sandy and clean.
So, if you're planning on traveling to Portugal, you'll have a hard time finding a better place to relax than Praia da Falesia in Albufeira. It's a wide, sandy beach with an endless supply of pristine and crystal-clear turquoise water, perfect for surfing and swimming.
On the same note, you can do plenty of activities at Praia da Falesia. You can rent scooters to explore the surrounding area, enjoy water sports such as kayaking or windsurfing, relax on the beach with a good book, walk along its white sand, or swim in its pristine waters. It will all depend on your taste and preference.
Miramar, Porto
Located near Porto, Praia do Miramar offers a quiet retreat from the hustle and bustle of the city. Bring your walking shoes to explore the rugged cliffs and hidden coves along this picturesque shoreline.
And good thing, this beach is wide enough, clean, and beautifully sheltered, with picturesque rocky outcrops and cliffs on either side. It's calm, making it an excellent relaxing place to spend a day by the sea after swimming.
Alongside the beach, several restaurants serve traditional Portuguese fish dishes and other tasty local fare that you can enjoy al fresco in the summer months. Furthermore, the beach isn't crowded or overly commercialized, so everyone has enough space.
Praia do Guincho, Cascais
The beach of Guincho is the firstborn of the Cascais municipality, located in the parish of Cascais and Estoril. It's a wild beach without any civil structure, making it have a natural beauty that is almost virgin.
It is a beautiful stretch of sand, virtually deserted in the middle of summer. Praia do Guincho has always been one of the best beaches in Portugal. The beach itself is gorgeous, but its scenery is even better. The large dunes are protected and provide a habitat for several species of birds.
The water here is cold, not warm like the Mediterranean Sea. In fact, because of its Atlantic location, it is more popular with surfers than sunbathers. The winds are strong here, and there are always windsurfers and kitesurfers out on the water.
Additionally, there is also a 5-star restaurant at the end of the beach. So if you prefer not to participate in any sports on your vacation and instead relax, there are still plenty of things to do here. You can enjoy a drink or snack along the beach or get a massage as you experience the cool sea breeze.
Praia de Benagil
You'll be forgiven for thinking you're looking at a CGI-generated landscape as you walk into the cave at Praia de Benagil, but rest assured, everything is real.
The huge circular awning of rock above the tiny beach, accessible only by boat or swimming, appears to be artificial, but it's all-natural.
From the outside of this magical sea cave, it looks like an enormous hole in the cliffside scooped out with an ice-cream scoop, leaving behind a smooth concave wall of creamy sandstone.
The beach inside is not sandy but covered with small rocks and pebbles. A short walk from the beach will take you from the base of the cave to its side, where you can climb up to a rocky ledge.
Costa da Caparica
Caparica, a 26-kilometer stretch of coastline frequented by people in the warmer summer months, is a short drive from Lisbon's attractions. Outside the high season, however, it's much quieter here, as tourists have not quite figured out what they want yet, and the Portuguese find the beach too cool (though it's often lovely for most Brits).
April and October are good times for a walk along the gentle sands. The best time to swim is during the summer months, when lifeguards are on duty, as the waves can be too strong even for experienced swimmers. If you decide to stay out of the water, you can watch the local surfers catch a wave and enjoy one of the many upscale beach bars along the coast.
Other beaches in Portugal to check out:
Here are a few more beach spots:
Camilo Beach
Amado Beach
Quinta do Lago
Martinhal Beach
Rocha Beach
Comporta Beach
Conclusion
The most centrally located beaches on the Portuguese coastline aren't necessarily the ones with the best views, but they are where you'll find all the action. For example, you could be relaxing in a breakwater enjoying some of the country's world-class cocktails, or you might be watching surfers rip it up on super longboards.
You could just as easily enjoy a cocktail on one of the many hotel rooftop terraces that put you right over the top of the action. Yet, all these beaches have one thing in common: they're lining the Portuguese coast and trying to offer something to everyone.