During winter months, one of the favorite destinations of RVers is Florida, USA. With a broad range of rustic retreats available to all people from all walks of life, they also can avail of high-end campsites that are best to find in Florida.
If you're planning to travel on budget! Check how to travel cheap in USA
For adventurous individuals, a camping vacation in Florida will be a delightful and memorable experience. It is a relief from a daily weekend DIY home-based or office activities.
The Sunshine State offers the best RV parks at the budget wise cost that spells fun and pleasure to every family member as well as bonding time with friends and lovers alike. Follow up some useful camping tips to make your trip the best!
Choosing a campground can be a little dilemma sometimes, so here is a list of some of the most popular Florida camping spots:
Grayton Beach State Park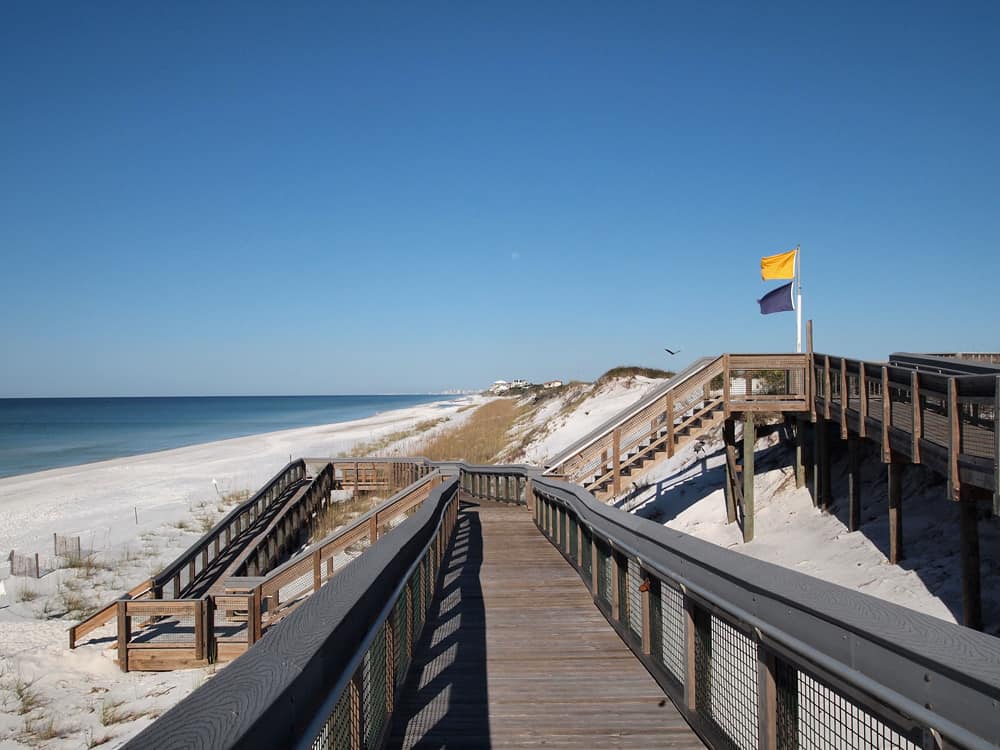 The beach is ranked as one of the most beautiful beaches in the country and there is plenty to explore as you have more than 1 mile of sugar white beaches.
The Western Lake is perfect for fishing and paddling and there are more than 4 miles of nature trails for those that want to explore on foot through the coastal forest.
You can even spot stingrays and turtles on the good days. It is a stunning place to relax and unwind absolutely perfect for a weekend getaway. Bring your family to an unforgettable experience that will be forever in their memories.
Turtle Beach Campground
Turtle Beach has it all, fishing, kayak, volleyball, etc. You definitely won't be bored! It is right next to Siesta Key Beach which has won numerous awards around the globe and in the Siesta Village, you have plenty of restaurants, sight sighting options and more.
The campground features 39 RV sites so there is plenty of room. Enjoy direct beach access but without pets, because they are not allowed in order to protect the loggerhead and green turtle nests.
It's the perfect location to take your family as there is plenty of activities for kids and adults alike.
Boost your camping experience, check out some of the Best Generators for Camping!
Boca Chita Key (NOT for RV)
Boca Chita Key is one of the most known camping grounds in Florida. It's quite a party-oriented with everybody drinking and salsa/rap music to be heard around every corner.
So if you come here you should do your best not to be a party pooper and join the crowd, you won't regret it!
That being said the weekdays are quite chilled while the weekends tend to be crazy. The water is perfect for snorkeling and there is a lot of families coming here to enjoy a relaxing time.
The island is quite small so you can walk it within 15 minutes and every week it seems to be visited by the same crowd so it has a local vibe to it. You should definitely check it out and we guarantee you won't regret the experience.
Florida Cavern State Park, Mariana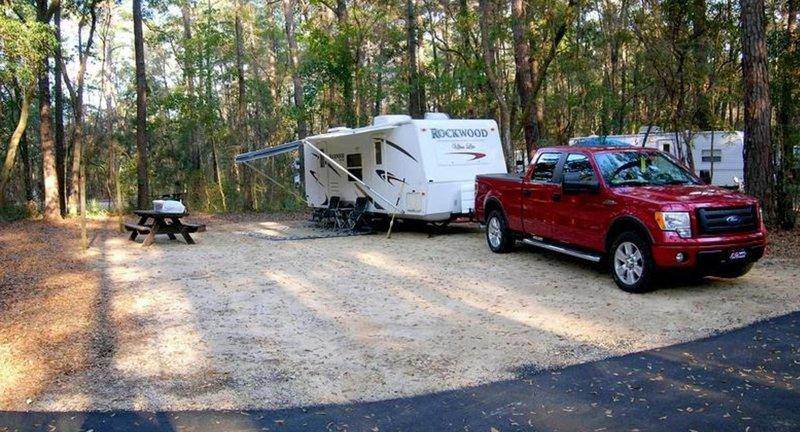 The Florida cavern Park is one of the best state parks in Florida to visit and famous for its colorful cave stalactites and breathtaking rock formation.
The Chipola River offers opportunities for equestrian camping, kayaking, and biking along the river shore.
Part of the attraction of the park is the 9-hole golf course located at the entrance of the park.
A night camping will cost $20, and the park admission per vehicle is just $5. Cave tours will cost you an additional amount that varies, but it discourages schedules during Tuesdays and Wednesdays.
Topsail Hill Preserve State Park, Santa Rosa Beach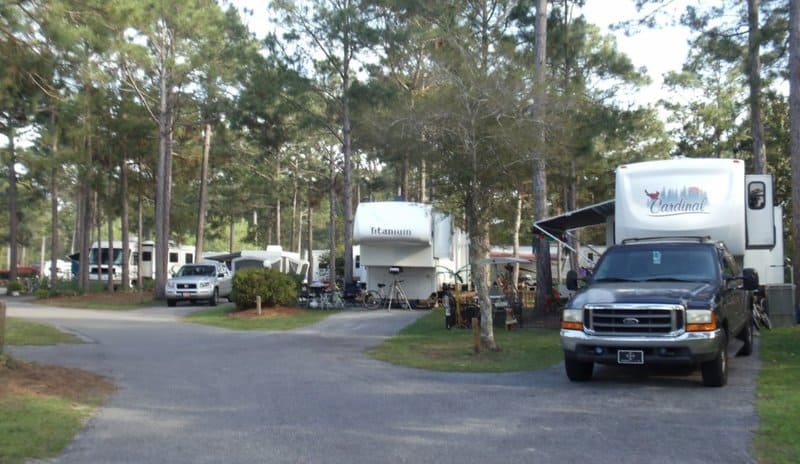 The Gregory E. Moore RV resort of the park is home to 156 RV campsites. The white quarry sand beaches with emerald water of the Gulf of Mexico will give you an excitement of tram running towards the beach.
The park also showcases two rare coastal dune lakes, Morris and Campbell lakes. You can expect to find lots of unique attractions at Topsail Hill Reserve Park.
Anastasia State Park, St. Agustine
This Park has a vibrant ecosystem and impressive wildlife. The nature trail is part of the archeological site where the coquina rock was mined to help built the Castillo de San Marcos National Monument.
There are numerous recreational activities to take pleasure that include hiking, swimming, bird watching and more. The campground contains 139 campsites all located in the beautiful maritime hammock which is just a stone away from the beach.
Fort Pickens Campground, Pensacola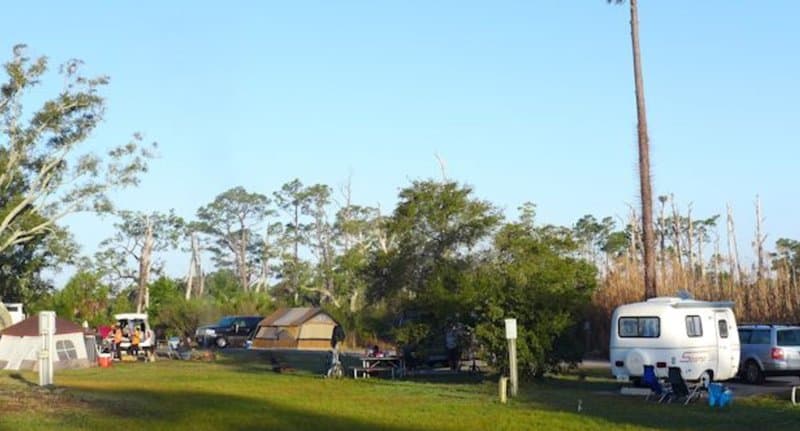 Visitors, young and old, come to Fort Pickens to relax to its scenic location on the beach. The white sands of Santa Rosa Island are the unspoiled place for a long walk or an afternoon of constructing sandcastles. The deep ocean waters are ideal for swimming and snorkeling.
The Historic Fort Pickens, a pentagonal fort built to defend Pensacola Bay in 1834, is just 1 mile from the campground. The more you drive back on Fort Pickens Road in the Gulf Islands National Seashore, the further back in time is being experienced.
The 200 campsites nestled between the Gulf of Mexico and Pensacola Bay, offer a great location for hiking, beach activities (Langdon Beach is awesome), or exploring Fort Pickens and other military gun batteries nearby.
George Island State Park
Known as the Forgotten Coast, St George Island Park is located in a section of Florida.
Camping here will give reminiscing memories with the beach currently rank as the third best beach in the USA. It is best for activities such as boating and swimming.
Juniper Springs National Recreation Area, Oala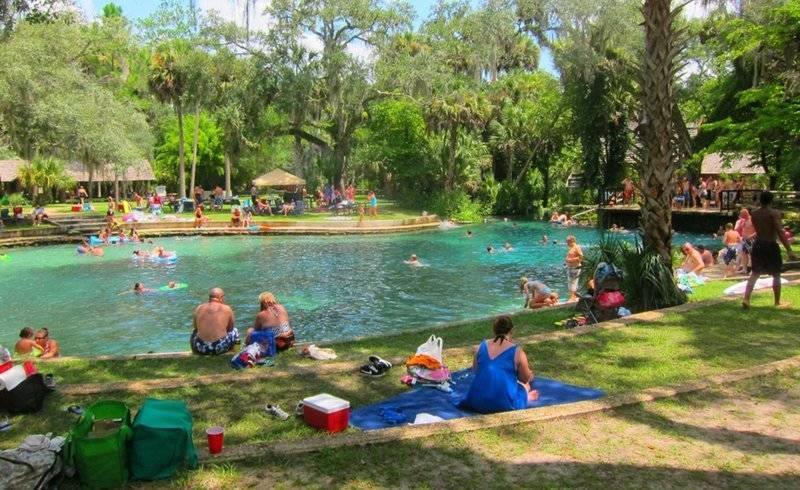 Crystal clear freshwater spring is what captivates most travelers in north-central Florida. Juniper Springs located in the Ocala National Forest is where you can be impressed with the water.
Seven miles down Juniper Run, you can experience paddling a kayak or canoe as you enjoy a stunning view of the crystal spring.
Disney's Fort Wilderness Resort, Orlando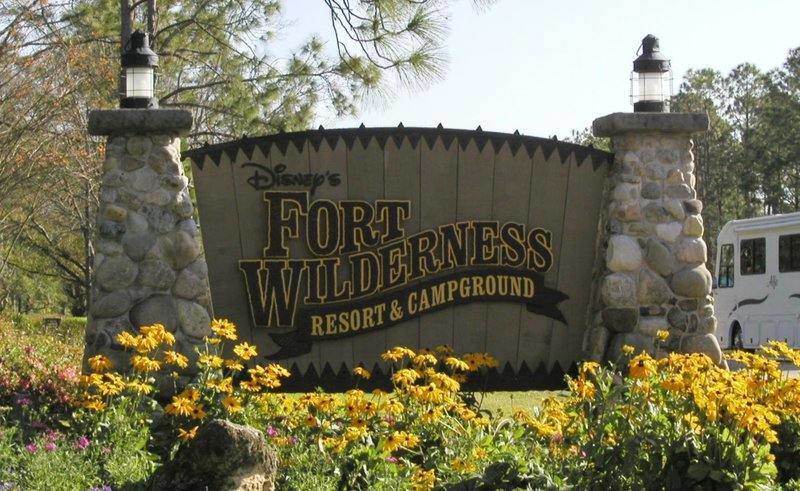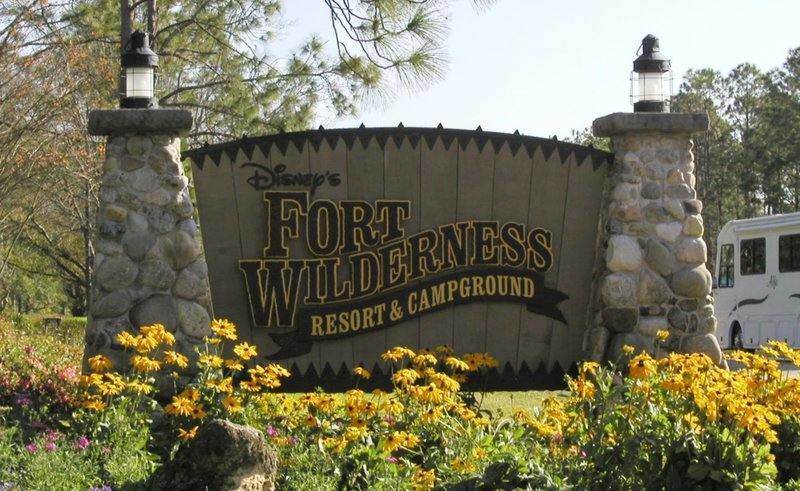 Fort Wilderness resort in Disney Orlando offers RV camping for the family and their pets. Stay at the campgrounds, so you have the chance to see fireworks as well as an easier way towards the Magic Kingdom.
The Fort Wilderness campgrounds offer a great feel of the animals around such as armadillos, rabbits, ducks, and deer roaming around the cypress and pine forest as massive as 750 acres.
Fort De Soto Park, St. Petersburg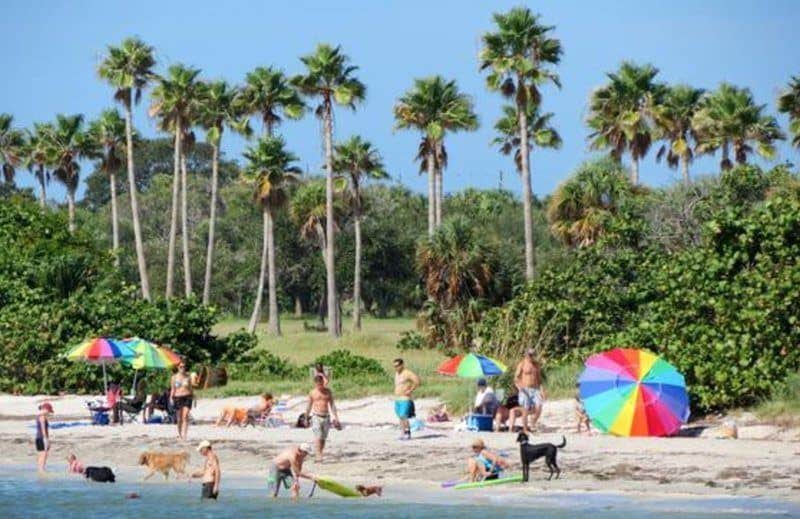 The Fort De Soto Park in St. Petersburg consists of 5 separate islands loaded with history, excellent beaches and wildlife, turning this place into one of the best RV camping destinations.
Take your bike or just walk at one of the numerous nature trails. You may have the chance to kayak or canoe through the lush mangroves, or you can just opt to relax on the beach.
All throughout the year, you will see habitats of herons, pelicans, plovers, and egrets. During summer, you may witness sea turtles nesting along the beach as well as friendly dolphins at the fishing pier.
The 7-mile paved trail is great for biking, jogging, walking, and skating as well.
Lion Country Safari KOA, Loxahatchee
At Lion Country KOA, you will hear lion roars from your campsite, making it an extraordinary RV park in Florida.
You get the chance to easily access the Lion Country Safari where thousands of animals live, from your campground which is just situated halfway between the eastern shore of Lake Okeechobee and West Palm Beach.
Don't miss this African Safari-like experience during your camping! What's best is that you enjoy the huge pool, a basketball and volleyball court, shuffleboard and playground plus the dog park where you can let your pets play freely.
Bahia Honda State Park, Florida Keys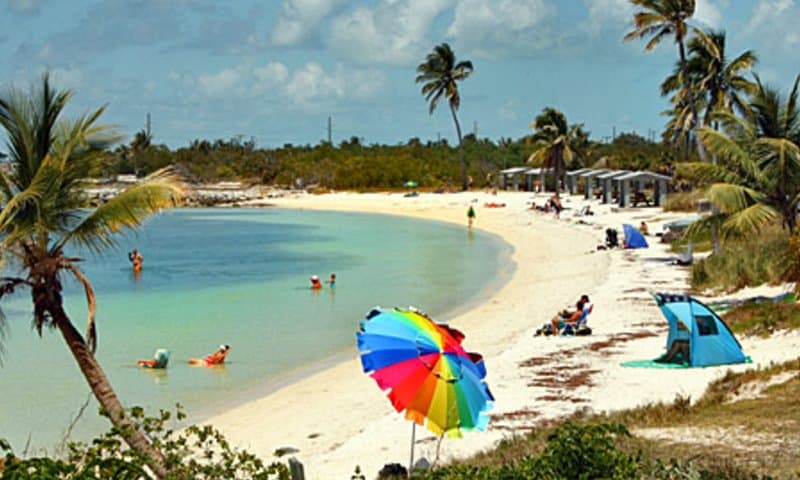 Bahia Honda State Park in the Florida Keys is considered as one of the most preferred camping grounds in the US.
Typically, everywhere in the Florida Keys need a strategic reservation since most are always fully booked all year. Ensure you plan and reserve in advance if you aim to grab a slot.
Popular for its view of the Old Railroad Bridge, this precious site on Big Pine Key includes snorkeling beside fishing, cycling and having picnics. Enjoy the campsites as well as the surrounding water where fishes can be seen abundantly.
Motorcycle Camping in Florida
These days, motorcycle camping has become very popular. You can go for a camping adventure in the above-mentioned camping spots in Florida.
There are safe parking areas for motorcycle campers in all these camping grounds in Florida. If you are an avid motorcycle camper, make sure you have enough cheap Kawasaki motorcycle parts in your stock for use during the emergencies in your camping adventure.
Enjoy your camping adventures in Florida!