During the winter months, one of the favorite destinations of RVers is Florida, USA. With a broad range of rustic retreats available to all people from all walks of life, they also can avail of high-end campsites that are best to find in Florida.
Read: Best beaches in Florida
For adventurous individuals, a camping vacation in Florida will be a delightful and memorable experience. It is a relief from daily weekend DIY home-based or office activities.
The Sunshine State offers the best RV parks at a budget-wise cost that spells fun and pleasure to every family member as well as bonding time with friends and lovers alike. Follow up on some useful camping tips to make your trip the best!
Choosing a campground can be a little dilemma sometimes, so here is a list of some of the most popular Florida camping spots:
Best Camping in Florida (South, Central, North)
BEST CAMPING in SOUTH FLORIDA
Boyd's Key West Campground
This family-friendly vacation spot is located in Key West, Florida, and provides a tropical camp setting for tent or RV camping. It's considered as one of the best campgrounds in Florida.
Boyd's Key West Campground allows visitors to relax in the RV or tent while facing the picturesque oceanfront.
This family-owned campground provides a dedicated tenting area that allows one tent per unit area. The campground has also made the campsites and amenities accessible to persons with disabilities. Boyd's Key West Campground also provides suitable RV hookup sites.
The campground also provides facilities such as ballroom and meeting rooms for group activities. The camp is equipped with a game room, dumping station, and a swimming pool. Visitors also have the chance to relax and chill by the scenic Atlantic Ocean bordering the park.
This Florida based campground offers guests the recreational opportunity to relax by the swimming pools, fishing or snorkeling, and boating. The campground also allows visitors to go for ocean tours in glass-bottom boats and enjoy the sunset cruises.
Jolly Roger RV Resort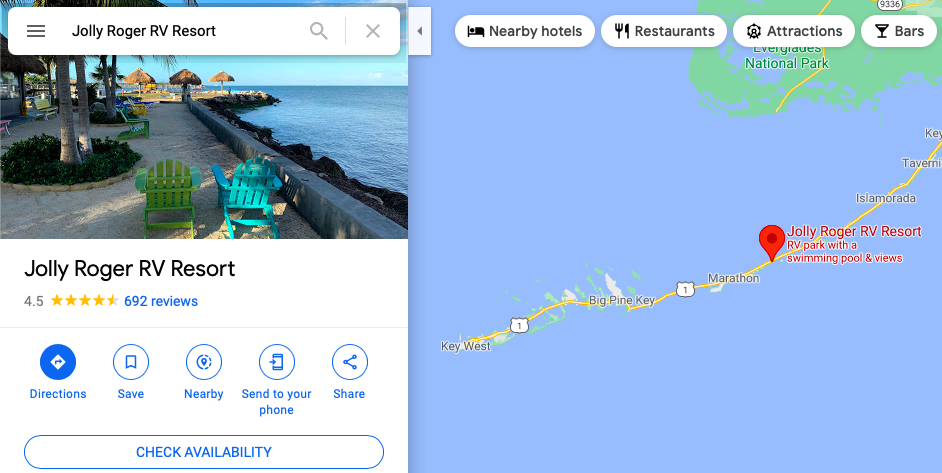 Jolly Roger RV Resort is a family-friendly campground set in the center of Florida Keys. It's a perfect place for a relaxed holiday, as well as a stop by while discovering South Florida.
Visit the nearby John Pennecamp State Park for its coral reefs and marine wildlife, or swim with the dolphins at the world-renowned Dolphin Research Center.
The resort also boasts numerous amenities. Enjoy some fantastic fishing, boating, sailing, diving, and snorkeling right from the resort's dock or along the seawall. And did we mention that the most incredible sunsets can be visible straight from there, or even your camper?
Jolly Roger RV Resort won't either disappoint you with its more than 160 shaded, spacious, and grassy full hook-up sites, which seem to be a rare find in the Florida Keys.
Bahia Honda State Park, Florida Keys
Bahia Honda State Park in the Florida Keys is considered as one of the most preferred camping grounds in the US.
Typically, everywhere in the Florida Keys need a strategic reservation since most are always fully booked all year. Ensure you plan and reserve in advance if you aim to grab a slot.
Popular for its view of the Old Railroad Bridge, this precious site on Big Pine Key includes snorkeling beside fishing, cycling and having picnics. Enjoy the campsites as well as the surrounding water where fishes can be seen abundantly.
Curry Hammock State Park​​
Open year-round, the campgrounds at Curry Hammock State Park offer a great way to enjoy the local scenery. It's an island paradise where palm trees sway on the beach like on a postcard, and the place is filled to the brim with all kinds of fun outdoor activities.
If you enjoy the water activities than you can take advantage of swimming, snorkeling, kayaking or kiteboarding. If you prefer to stay on land, you can enjoy hiking, biking, and fishing.
The campgrounds stretch across the park and have all of life's comforts, including power outlets and public restrooms. There are even picnic pavilions if you want to spread out your lunch and take in the view.
Once you're settled at Curry Hammock State Park, you won't want to leave!
Sunshine Key RV Resort and Marina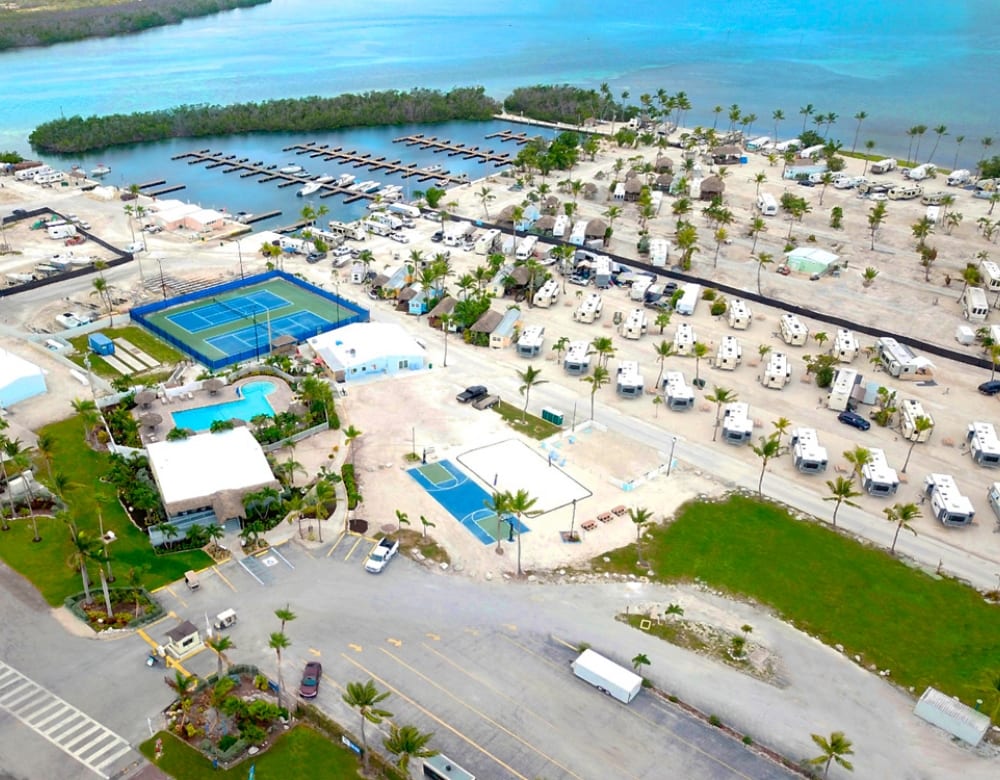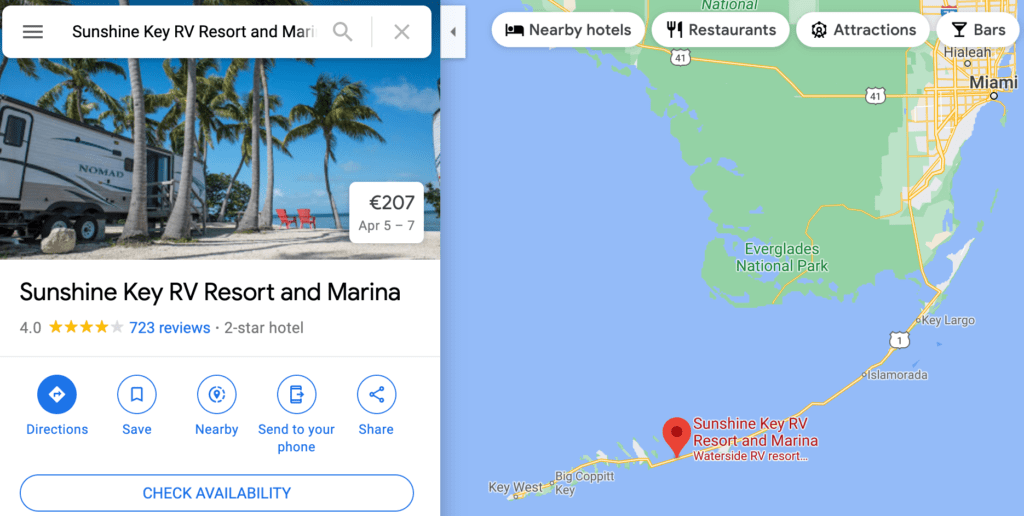 A mix of a RV Resort with a nearby marina are two of the amazing offerings you are gonna find at Sunshine Key RV Resort and Marina. Close to Big Pine Key in the lower Florida Keys, it gives you access to all types of water activities, from enjoying the beaches to kayaking and fishing from your kayak, swimming at a lovely 90 degree pool, diving, snorkeling and much more!
The campsite and RV park has been rebuilt after the last hurricane and most everything looks spotless now. The RV Park is very comfortable and has internet access. Keep in mind it is not for free.
Things you can't miss:
The farmer's market (not available all days of the week)
The stand-up paddleboards
Going for a bike ride (kids can also participate)
For those looking to escape COVID-19 restrictions, the park does not really enforce the use of face masks. Only the friendly employees have to do it.
Long Key State Park
Located in South Florida, Long Key state park was once a favorite of rich American socialites and celebrities.
Today, this state park offers lots of kayaking, hiking, birding, snorkeling and fishing activities.
Long Key also offers tent-only oceanfront campsites overlooking the turquoise waters of the Florida Keys.
Other experiences offered by the park include:
Birding
Geo-seeking
Paddling
Picnicking
Star gazing
Swimming
Walking and running (bring your doggo!)
Wildlife Spotting
Events for kids
Among the amenities, Long Key state park provides parking, a picnic pavilion and restroom facilities.
Hurricane Irma caused havoc on this state park in 2017, and attempts to refurbish the coastal campsites are still underway.The area of the Florida Keys also offers 35 RV parks & campgrounds for you to choose from including Grassy Key RV Park and Resort, Coconut Cay RV Park & Marina and Pelican RV Resort & Marina
Boca Chita Key (NOT for RV)
Boca Chita Key is one of the most known camping grounds in Florida. It's quite a party-oriented with everybody drinking and salsa/rap music to be heard around every corner.
So if you come here you should do your best not to be a party pooper and join the crowd, you won't regret it!
That being said the weekdays are quite chilled while the weekends tend to be crazy. The water is perfect for snorkeling and there is a lot of families coming here to enjoy a relaxing time.
The island is quite small so you can walk it within 15 minutes and every week it seems to be visited by the same crowd so it has a local vibe to it. You should definitely check it out and we guarantee you won't regret the experience.
Larry and Penny Thompson Heritage Park Campground
Larry and Penny Thompson Heritage Park Campground is the largest campground in Miami-Dade County, also one of the biggest spots for camping in Florida state.
It's located conveniently near the Everglades and attracts many capers who want the Everglades experience. The Park is next to Zoo Miami, which makes it awesome for families with children.
The campground is located in southwest Miami, just two miles west of the Florida Turnpike's Ext 13. The Park covers 270 acres of camping and fun.
There are 240 campsites with full electrical and water hookups. Some of the sites are pull-throughs, which make it convenient for large RVs. Also included for campers are restroom/laundry facilities, a camp store, picnic shelter, a pool, a freshwater lake with a beach, plus jogging and bike trails. Pets are welcome in the RV sites, but not in the tent sites.
The Park has excellent ratings, and visitors appreciate the security measures. Well-cared-for campsites, plus the peaceful and charming surroundings, make Larry and Penny Thompson Heritage Park Campground a perfect place for a vacation.
Lion Country Safari KOA, Loxahatchee
At Lion Country KOA, you will hear lion roars from your campsite, making it an extraordinary RV park in Florida.
You get the chance to easily access the Lion Country Safari where thousands of animals live, from your campground which is just situated halfway between the eastern shore of Lake Okeechobee and West Palm Beach.
Don't miss this African Safari-like experience during your camping! What's best is that you enjoy the huge pool, a basketball and volleyball court, shuffleboard and playground plus the dog park where you can let your pets play freely.
Jonathan Dickinson State Park 
The fact that Jonathan Dickinson State Park is located near the estate of the late Burt Reynolds should be of interest to any tourist. If not, perhaps the park's stunning 16 natural communities will. Kayaking and canoeing are popular activities in this park, as the Loxahatchee River meanders through the park and takes its name from the Seminole word for "river of turtles" The river is lined with mangroves and covered with cypress trees. But be careful, because the water is as frequently visited by alligators as it is by turtles.
The park has two campgrounds that can be reserved. River Campground is about four miles from the park entrance, while Pine Grove is on the east side of the park. Both campgrounds offer access to water, electricity, a table, and a grill, but only Pine Grove has sewer hookups. There are five campgrounds to which you can bring a horse with you.
Off the Florida Trail, there are only two basic backpacking campgrounds that are also bookable.
BEST CAMPING in CENTRAL FLORIDA
St. Petersburg / Madeira Beach KOA Holiday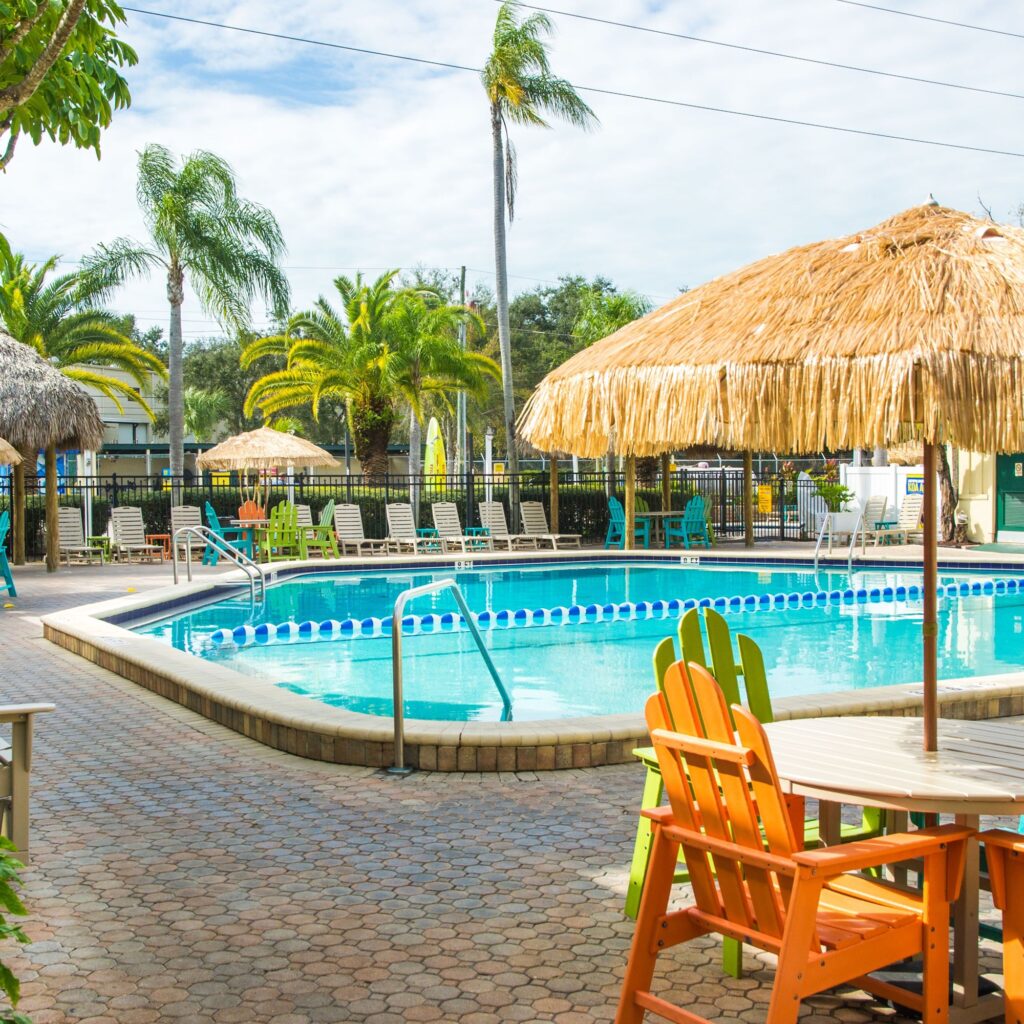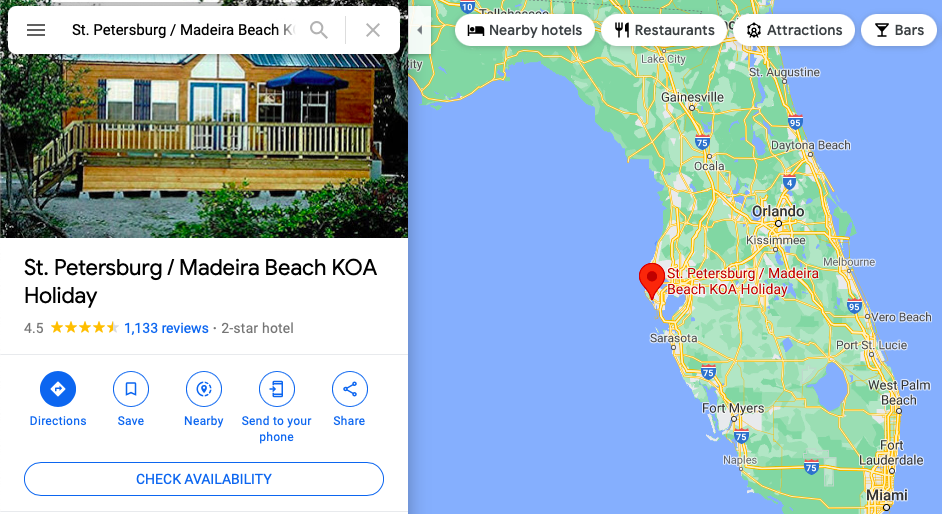 Located just minutes from the Gulf Coast, St. Petersburg/Madeira Beach KOA is a year-round open campground popular among couples, families, as well as snowbirds.
Park your RV in a spacious deluxe patio RV site, pitch a tent in a secluded tent site or rent one of their vacation cabins for extra comfort. This KOA has simply got something for everyone, and it features a plethora of diverse amenities and activities alike.
From outdoor movies, themed weekends, and on-site fishing to an outdoor swimming pool, two hot tubs, mini-golf, or volleyball, you will quickly forget the hustle and bustle of everyday life. Outdoor enthusiasts will enjoy paddling and kayaking in the bayous or biking the local 38-mile Pinellas County Fitness Trail.
St. Petersburg/Madeira Beach KOA is an option for those who like to keep themselves busy even while on holiday.
Jetty Park RV Campground (Cape Canaveral)
Place your RV where astronauts took off to explore the moon. From Jetty Park, you'll have an excellent view, as launches still take place today, with occasional launches into space by the U.S. Air Force and NASA. If you know a launch is coming up, be sure to make reservations in advance.
Jetty Park campground offers RV sites, tent sites, and some small very nice cabins for rent. There is beach access, a pier, a camp store, clean community restrooms, a playground, and a restaurant. Each campsite has a picnic table, a cement area for parking, and a built-in grill.
Along the Atlantic coast, you'll see a variety of marine species in addition to rocket launches, cruise ships, and submarines. The park also offers other amenities such as large pavilions, fire pits, and 24-hour gated security.
It is simply relaxing to sit there on the waterfront and watch the 3-4 ships leaving each evening.
This RV park will only set you back $15 per vehicle and is valid for the entire day. The Jetty Park is open daily from 7 a.m. to 8 p.m. Reservations for camping can be made online. A two-night minimum is required for Friday night arrivals.
Long Point Park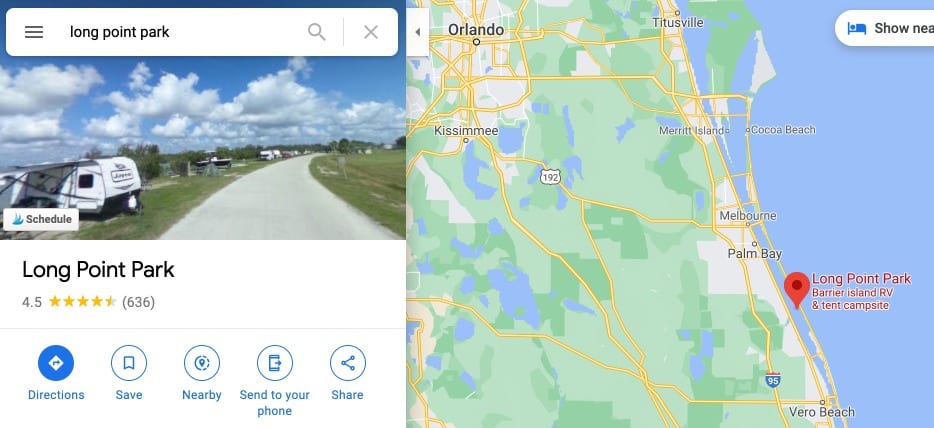 Long Point Campground is 84.5-acre preservation and river park area located on an island in the Indian River Lagoon.
The campground area is near the marine ecosystems of the Sebastian inlet marine area and the Atlantic Ocean.
Long Point Park Campground is a perfect camping area for nature enthusiasts and fishermen. The campground features shoreline campsites with a boat ramp, a small fishing dock, and a fish cleaning station.
The campground also features showers, laundry facilities, pavilions, a playground, and a wildlife pond. Campground amenities include 113 waterfront campsites with water and electricity. 15 campsites include water, electricity, and sewer.
They also have WiFi, horseshoe pits, and volleyball nets. Next to the camping area, cross a bridge to Scout Island where you can walk nature trails and hopefully see dolphins, otters, an alligator or two, plus shorebirds and waterfowl.
Wekiwa Springs State Park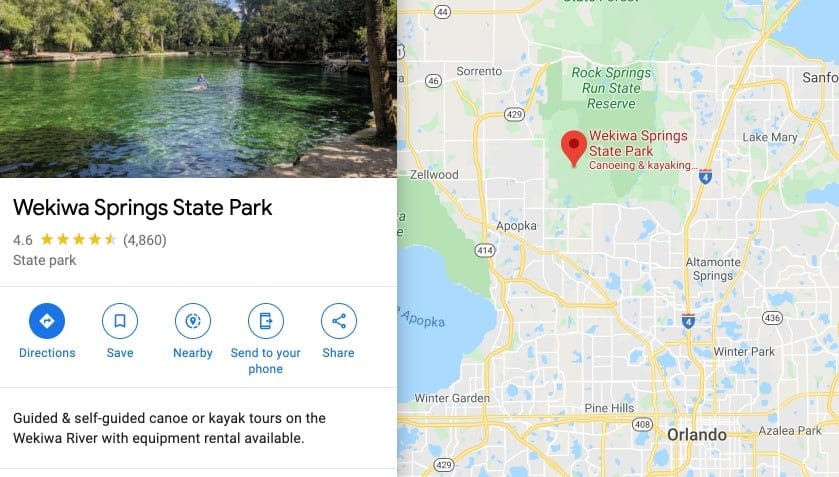 Wekiwa Springs is one of Florida's famous State Parks near Orlando which is a perfect weekend getaway spot and an absolute blast for the kids.
The state park covers a vast 7000 acres of land and is the headwater of the Wekiwa River. Wekiwa is a Muscogee word that means spring. The name of the park comes from the springs in the park and the river subdivisions.
The spring is the main attraction of the Wekiwa Springs State Park that feeds the Wekiwa River. Wekiwa Springs State Park has a nature center that features the Wekiwa Spring with a small cavern at the spring source. The cavern provides a suitable swimming area for visitors.
The state park is equipped with pavilions fitted with grills to act as the picnic area. The park has four camping sites that are accessible through canoes. The park has a series of nature trails for walking and hiking.
Fun activities available at the park include camping, hiking, fishing, snorkeling, cycling, and horseback riding.
Disney's Fort Wilderness Resort, Orlando
Fort Wilderness resort in Disney Orlando offers RV camping for the family and their pets. Stay at the campgrounds, so you have the chance to see fireworks as well as an easier way towards the Magic Kingdom.
The Fort Wilderness campgrounds offer a great feel of the animals around such as armadillos, rabbits, ducks, and deer roaming around the cypress and pine forest as massive as 750 acres.
Juniper Springs National Recreation Area, Oala
Crystal clear freshwater spring is what captivates most travelers in north-central Florida. Juniper Springs located in the Ocala National Forest is where you can be impressed with the water.
Seven miles down Juniper Run, you can experience paddling a kayak or canoe as you enjoy a stunning view of the crystal spring.
Fort De Soto Park, St. Petersburg​
The Fort De Soto Park in St. Petersburg consists of 5 separate islands loaded with history, excellent beaches and wildlife, turning this place into one of the best RV camping destinations.
Take your bike or just walk at one of the numerous nature trails. You may have the chance to kayak or canoe through the lush mangroves, or you can just opt to relax on the beach.
All throughout the year, you will see habitats of herons, pelicans, plovers, and egrets. During summer, you may witness sea turtles nesting along the beach as well as friendly dolphins at the fishing pier.
The 7-mile paved trail is great for biking, jogging, walking, and skating as well.
Turtle Beach Campground​
Turtle Beach has it all, fishing, kayak, volleyball, etc. You definitely won't be bored!
It's right next to Siesta Key Beach which has won numerous awards around the globe and in the Siesta Village, you have plenty of restaurants, sight sighting options and more.
The campground features 39 RV sites so there is plenty of room. Enjoy direct beach access but without pets, because they are not allowed in order to protect the loggerhead and green turtle nests.
It's the perfect location to take your family as there is plenty of activities for kids and adults alike.
Boost your camping experience, check out some of the Best Generators for Camping!
Caladesi Island State Park
Caladesi Island State Park is one of the few remaining "untouched" areas of the Gulf Coast, and the locals take it seriously enough that the park is only accessible by boat. You can't bring your noise or pollution here. It's a protected place.
Once you arrive, however, you'll realize that the effort was worth it. You can go swimming, boating, and paddling in crystal-clear waters that stretch for miles. You can take scenic nature hikes among flowers and curious critters. You can even get married on the beach if you're looking for a beautiful wedding destination!
Consider a visit to Caladesi Island State Park if you want to have a good time in Florida without any of the crowds or garbage heaps that plague other tourist destinations.
Camp Venice Retreat
Tucked away in the tree hammocks of the Florida wilderness, Camp Venice Retreat lives up to its name by providing an authentic "retreat" experience. For starters, it's located on the coast of the quiet, mystic Myakka River, so the views are definitely a change from all of the gleaming metal buildings of a modern metropolis.
You'll also have your pick of sleeping in a tent or renting a wooden cabin, and both options will bring you closer to nature.
If you start craving civilization again, the city of Venice is just a few miles away, and there are shops, restaurants, and other attractions as far as the eye can see.
If you want to get away from it all, however, Camp Venice Retreat will be a peaceful and tranquil campsite.
Rainbow Springs State Park
People have been seeking the sky-blue waters of Rainbow Springs for more than 10,000 years, and it's not hard to see why. The waters are so clear that you can spot various species of fish straight from the banks. You can also enjoy boating, river tubing, hiking, birding, or exploring waterfalls.
The campground is set a few miles away from the springs and it offers full hookups, a camp store, restrooms, showers, laundry facilities, and a dump station.
Note that Rainbow Springs is a very popular place and can get really busy sometimes, especially during weekends and holidays. When the park reaches its capacity, they close the park gates, so make sure to arrive early or opt for a weekday date.
BEST CAMPING in NORTH FLORIDA
Myakka River State Park
Panthers, gators, turkeys, herons, and egrets live in Myakka River, one of Florida's oldest and largest state parks, along with a variety of its different ecosystems, including grasslands and wetlands.
There are 90 campsites in the park, and each one is within 40 yards of an electrical outlet, a water source, a fire ring, and a restroom. Six of those locations offer hammock camping. There are six places authorized for rustic camping along the hiking trail, but you should be ready to bring your own water because it may not always be available.
Wildlife viewing is a popular activity when camping at Myakka State Park, as there are a variety of wildlife species. 38.9 miles of loop trails are open to hikers, and if you'd rather cruise the lake, boat tours are offered daily so you can focus on your photos. Visit "the deep hole" if you are eager to see the alligators.
Grayton Beach State Park
The beach is ranked as one of the most beautiful beaches in the country and there is plenty to explore as you have more than 1 mile of sugar-white beaches.
The Western Lake is perfect for fishing and paddling and there are more than 4 miles of nature trails for those that want to explore on foot through the coastal forest.
You can even spot stingrays and turtles on the good days. It is a stunning place to relax and unwind absolutely perfect for a weekend getaway. Bring your family to an unforgettable experience that will be forever in their memories.
Camp Gulf – BEST RV Campground North Florida
Camp Gulf is one of the largest camping sites in Florida. It's so well-developed that it's practically a resort; there are cabins, beach houses, bathhouses, RV sites, activity centers, and public pools.
It's all set against a backdrop of clear blue skies and white sand beaches.
It isn't very remote. There are always people coming and going, and busy tourist attractions are right around the corner.
But this doesn't have to be a bad thing. Some people aren't interested in quiet nature retreats. Instead, they thrive on the fun and energy of colorful campgrounds filled with travelers from all around the world.
If this describes your ideal vacation, you'll love Camp Gulf!
Florida Cavern State Park, Mariana
The Florida cavern Park is one of the best state parks in Florida to visit and famous for its colorful cave stalactites and breathtaking rock formation.
The Chipola River offers opportunities for equestrian camping, kayaking, and biking along the river shore.
Part of the attraction of the park is the 9-hole golf course located at the entrance of the park.
A night camping will cost $20, and the park admission per vehicle is just $5. Cave tours will cost you an additional amount that varies, but it discourages schedules during Tuesdays and Wednesdays.
Topsail Hill Preserve State Park, Santa Rosa
The Gregory E. Moore RV resort of the park is home to 156 RV campsites. The white quarry sand beaches with emerald water of the Gulf of Mexico will give you an excitement of tram running towards the beach.
The park also showcases two rare coastal dune lakes, Morris and Campbell lakes. You can expect to find lots of unique attractions at Topsail Hill Reserve Park.
Fort Pickens Campground, Pensacola
Visitors, young and old, come to Fort Pickens to relax to its scenic location on the beach. The white sands of Santa Rosa Island are the unspoiled place for a long walk or an afternoon of constructing sandcastles. The deep ocean waters are ideal for swimming and snorkeling.
The Historic Fort Pickens, a pentagonal fort built to defend Pensacola Bay in 1834, is just 1 mile from the campground. The more you drive back on Fort Pickens Road in the Gulf Islands National Seashore, the further back in time is being experienced.
The 200 campsites nestled between the Gulf of Mexico and Pensacola Bay, offer a great location for hiking, beach activities (Langdon Beach is awesome), or exploring Fort Pickens and other military gun batteries nearby.
George Island State Park
Known as the Forgotten Coast, St George Island Park is located in a section of Florida.
Camping here will give reminiscing memories with the beach currently rank as the third best beach in the USA. It is best for activities such as boating and swimming.
Anastasia State Park, St. Agustine
This Park has a vibrant ecosystem and impressive wildlife. The nature trail is part of the archeological site where the coquina rock was mined to help built the Castillo de San Marcos National Monument.
There are numerous recreational activities to take pleasure that include hiking, swimming, bird watching and more. The campground contains 139 campsites all located in the beautiful maritime hammock which is just a stone away from the beach.
North Beach Camp Resort
This campground offers a memorable stay by the North Florida beach. This camp resort located in St. Augustine, Florida, sits on 30 acres of forested land on an island between the North River and the Atlantic Ocean.
The accessible campgrounds provide privacy from the tall oaks for guests to enjoy their time in nature. The sandy beaches make the campsite a suitable chill spot for guests to enjoy the spectacular sunrise and sunsets.
The camp resort has a swimming pool and is handicap accessible. There are kid-friendly amenities, a pool, and a waterfront restaurant. Fun activities at the camp resort include swimming, relaxing, or walking on the sandy North Florida beaches or fishing.
There are RV hookup spots and tent campgrounds for visitors looking for outdoor overnight experiences.​
FAQs about camping in Florida
Motorcycle Camping in Florida
These days, motorcycle camping has become very popular. You can go for a camping adventure in the above-mentioned camping spots in Florida.
There are safe parking areas for motorcycle campers in all these camping grounds in Florida. If you are an avid motorcycle camper, make sure you have enough cheap Kawasaki motorcycle parts in your stock for use during the emergencies in your camping adventure.
Enjoy your camping adventures in Florida!