Maine is well known for its natural beauty. Each year thousands of people flock to the East Coast's most northern state to enjoy RV camping, hunting, fishing, and other outdoor activities.
Maine has indeed a lot to offer to outdoor enthusiasts. It has an iconic rocky coastline, that is steeped in history and dotted with lighthouses. And the famous Appalachian trail ends here at Mount Katahdin.
For a trip to Maine, there will be a lot of great things to see and do. Besides the rugged outdoors, there is also a significant amount of history and culture to soak up during a trip. Maine has a vibrant tourist industry, and there are many fantastic places to stay in.
However, nothing beats getting to experience the state through a good old-fashioned camping trip.
Here is a list of the 15 best camping places in Maine:
Bar Harbor Campground
Phone: 207-288-5185
Address: 409 ME-3, Bar Harbor, ME 04609
Activities:
Hiking
Fishing
Shopping
Pool
Are you coming to Bar Harbor for the delicious Maine lobster and looking for a place to camp? Bar Harbor Campground is the closest one to the town and is a perfect home base to explore it or enter the Acadia National Park.
The campground offers plenty of spots to choose from. For small tents, there are secluded sites in the woods. On the other hand, big RVs can park on large pads with hookups. Each site has its own picnic table and a fire pit, while public bathhouses are scattered around the campground.
Other amenities include Wi-Fi, a heated pool, a basketball court, a shuffleboard, and horseshoes. You can also make use of a complimentary shuttle service which will take you to the main point of interest of Bar Harbor and the area.
Pets are allowed but they must always be on a leash. The campground doesn't accept advance reservations, so better arrive early, even though finding a spot usually isn't a problem.
Bayley's Camping Resort
Phone: 207-883-6043
Address: 275 Pine Point Rd, Scarborough, ME 04074
Activities:
Pools and hot tubs
Beach
Fishing
Known as Southern Maine's finest one by the ocean, this resort-like campground is a perfect spot for a family vacation boosted with outdoor activities. Based at Bayley's Cove Outdoor Recreation Center, it offers a wide scale of amenities, such as pools, hot tubs, sand volleyball courts, grass playing fields, and mini-golf.
Beachcomb the shore, sunbathe, or dip in the sea. Go through a couple of miles of the Little River Estuary on a kayak, or fish in one of the three on-site ponds. Other water-based activities include a pool pole plunge or a lobster dive.
To make the most of your time, you can rent a golf cart to get around the resort.
There are both big-rig sites and tent sites at the campground. Each of them features a fire pit and a picnic table. If you're looking to upgrade your own unit, you might be interested in travel trailer rentals.
For a bit more comfort, you can spend a night in one of the custom Maine-made cabins, representing the best of both worlds — camping and home-like atmosphere.
Moody Beach RV Campground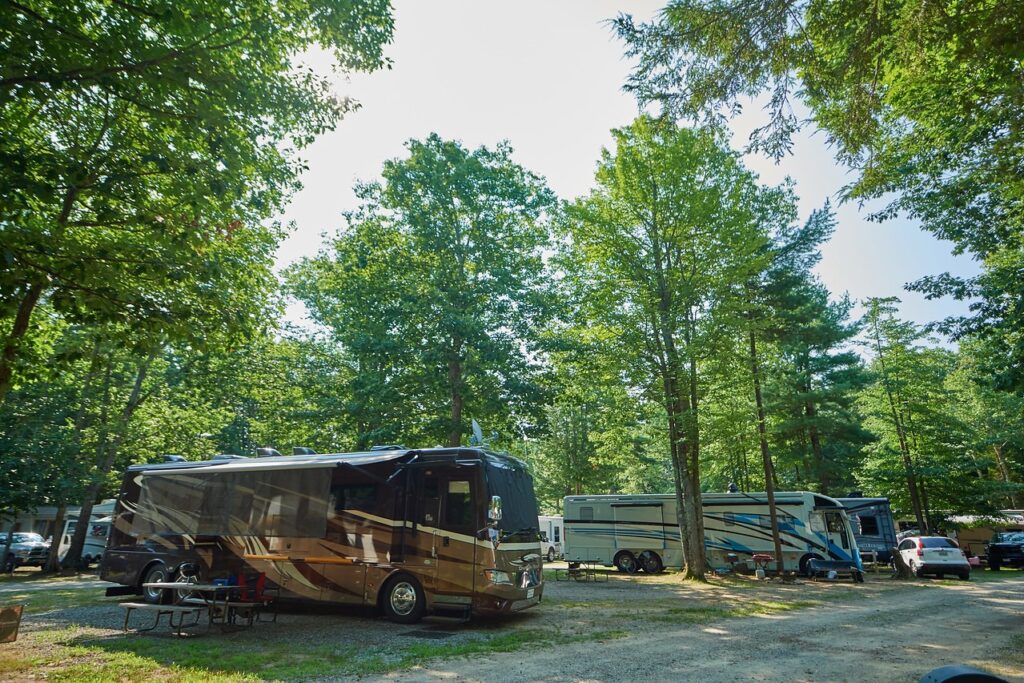 Phone: 207-646-4586
Address: 266 Post Rd, Wells, ME 04090
Activities:
Beach

Basketball

Pool

Hot tub

Playground

Games room
Are you looking for a serene campground surrounded by authentic coastal living? Then, Moody Beach RV Campground is the best place for camping in Maine for the enjoyable retreat of your dreams.
Enjoy the beach activities Maine has to offer, such as whale watching or deep-sea fishing. Shop, hike, or eat in some of the best seafood restaurants in the Pine Tree State. Back at the campground, you can play basketball, billiards or just relax by the pool or in the whirlpool.
Moody Beach RV Campground allows both tent and RV camping. The sites are full hook-ups and set in a tranquil wooded area. Don't want to rough it? There are vacation cottages available that sleep up to 8 people, perfect for large families or group gatherings.
Whether you prefer to spend time in the great outdoors or relax at your site, this campground will meet your needs. It's suitable for all families, couples, as well as solo campers. Pets are welcome, too.
Dixon's Campgrounds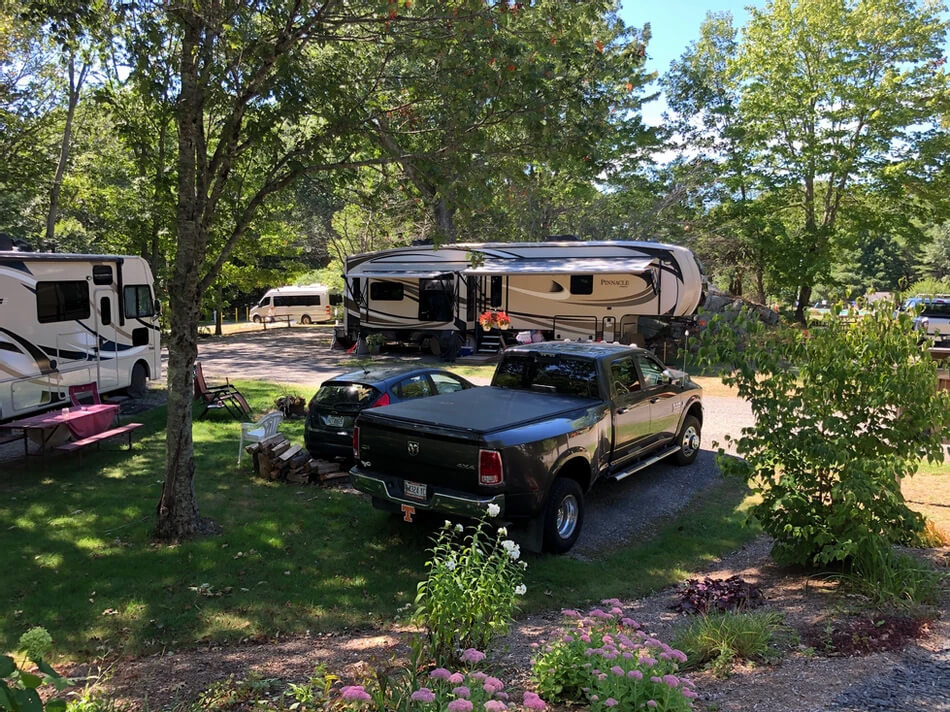 Phone: 207-363-3626
Address: 1740 US-1, Cape Neddick, ME 03902
Activities:
Pool

Yurts

On-site store

Playground
Set in Cape Neddick, Dixon's Campgrounds offer a unique camping experience in nature and are not far from the seacoast.
The campsites spread around four wooded and open areas, each of which has its own restrooms and showers. They feature water and electricity hook-ups with 30/50 amp service and can accommodate both tents and RVs. There are also yurts available for rent.
Swim in the large heated pool or have a cup of hot coffee at the campground store while you leave your kids to play at the playground. If you wish to go to the seaside, Ogunquit and York beaches are just a short drive away. For shopping and dining, visit the town of Cape Neddick.
This campground is simply a great choice for those who wish to unwind in nature or explore quaint surroundings.
Wild Acres RV Resort & Campground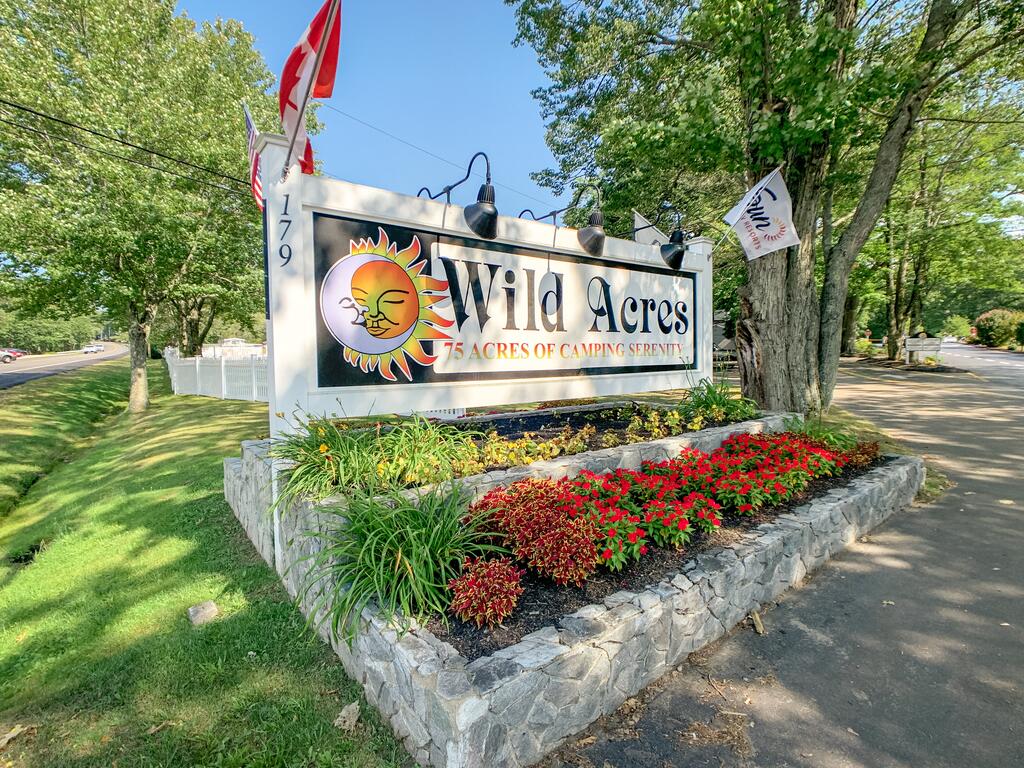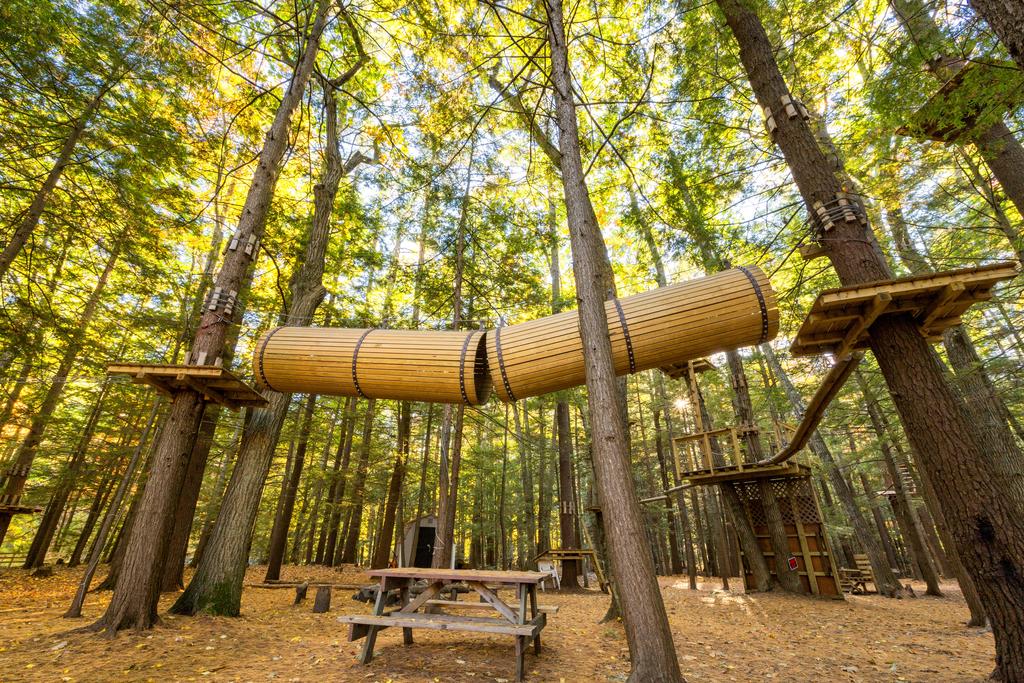 Phone: 207-934-2535
Address: 179 Saco Ave, Old Orchard Beach, ME 04064
Activities:
Pools and hot tubs
BMX track
Aerial Adventure Park
Beach
Secluded in the shade of lush trees, Wild Acres RV Resort & Campground is located just footsteps away from Maine's Old Orchard Beach. It features both back-in and pull-thru sites with water and electricity or full hook-ups. There is also a tent area for the ultimate primitive camping experience. Or you can make yourself feel right at home and stay in one of the vacation rentals.
You can explore the area through several nature trails, where you can spot wildlife like deer and moose. There is also a small fishing pond and a shuttle service to the beach.
Bikers will love the BMX track filled with twists, turns, jumps, and other obstacles. Should you wish to lift your feet off the ground a little bit more, visit the Aerial Adventure Park which boasts seven zip stations, two rope courses, as well as tree and rock climbing. The smallest ones will surely enjoy the heated pools and playgrounds.
With its abundant amenities, this campground is suitable even for the most demanding campers.
Cathedral Pines Campground
Activities:
Canoe rentals
Kayak rentals
Hiking
Paddle boats
Cathedral Pines Campground is nestled among 300 acres of red pine trees and surrounded by some of the most breathtaking views in New England.
This RV park offers a playground for the kids, a boat ramp and docking facilities, and canoe and kayak rentals. There are also showers, on-site laundry, a dump station (no sewer hookups), WiFi, and flush toilets.
Most people do a simple day hike, and that's enough to get in contact with nature.
If you like hiking, this is the place for you. You will have a pleasant camping experience while being close to a fantastic hiking trail.
Nearby attractions and amenities include several stores, churches, a golf course, a lake, ponds, and rivers for fishing, and the famous Appalachian Mountain Trail.
This park is also perfect for scouts, reunions, and young groups who want to camp in a group. Do not worry about the noise, because these sites are separated from the rest of the campsite.
Pets are allowed at Cathedral Pines Campground as long as you keep them on a leash outside the campground. However, for sanitary reasons, our furry pals are not permitted on the beach, playground, or in any of the facilities.
Other activities, facilities, and attractions include:
115 tent & trailer sites – (including 3 group sites, 1 with electricity)
98 with electrical & water hookups
All with fireplaces & tables
Dumping station
Flush toilets
Hot showers
Ice & wood
Internet access
Laundry facilities
Outside phone
Paddle boats
Balsam Woods Campground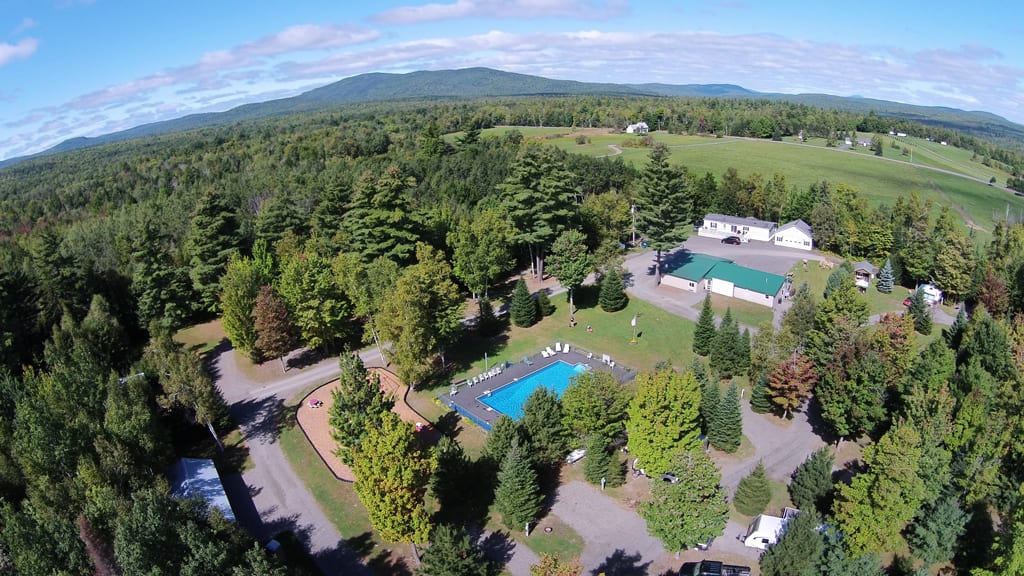 Phone: 207-876-2731
Address: 112 Pond Road, Abbot, ME 04406
Activities:
Take an ATV trip to a nearby destination

Rent a canoe or kayak
Balsam Woods is one of the best campgrounds in Maine for family-style camping. This is not the place to go if you are looking to be secluded and out in the middle of nowhere. This is camping for people with kids, families, and groups. This is also a great spot for those who want to camp but would like to be surrounded by a lot of amenities.
The campground has 90 sites with full hookups, 6 cabins, and basic tent sites. The grounds border over a thousand miles of ATV trails and have direct access to them.
There really isn't another experience like this in Maine, where you can camp with such direct access to so many miles of designated ATV trails. You can take an ATV trip to many nearby lakes, mountains, and other areas of interest.
The park also has a heated pool, a camp store with anything you could possibly need, a snack bar, and Gifford's famous ice cream. You will have access to full-service Wi-Fi if you want to stay connected. They also have weekly activities such as outdoor movie nights, hayrides, pancake breakfasts, ice cream socials, and a host of other seasonal activities. The Halloween-themed weekends are particularly popular. This camp is ideal for families with kids or larger groups.
Martin Stream Campground – BEST FOR KIDS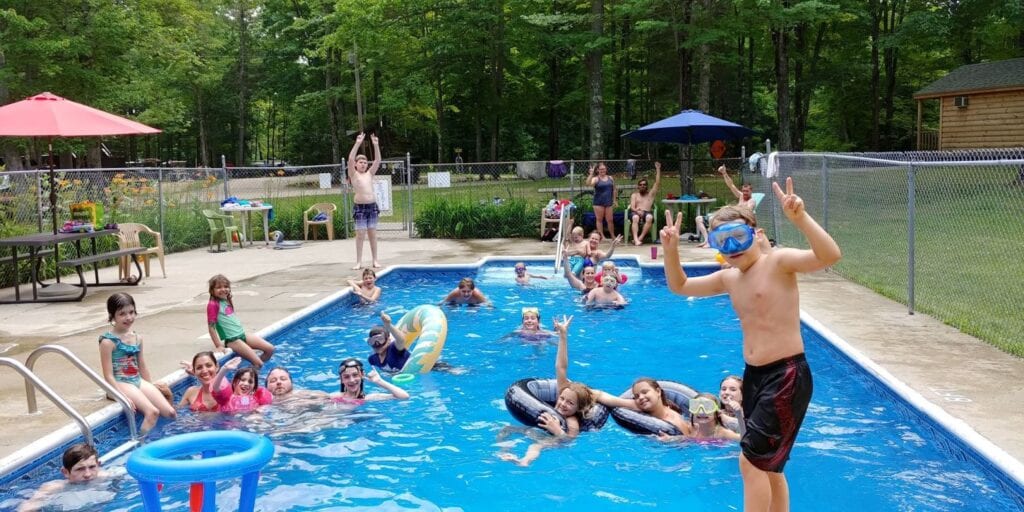 Phone: 207-740-2240
Address: 1 Martin Stream Road, Turner, ME 04282
Activities:
Fishing on stream right from your campsite

Kayak and canoeing

Very accommodating for large groups
Martin Stream Campground has been family-owned and operated since 1970. This is a family-oriented campsite that still feels like you are out in the middle of the countryside.
The camp is located on the winding banks of Martin Stream. Almost all of the 55 sites are stream-front, so you can fish and kayak right from your site. The camp has access to over 25 miles of canoeing and kayaking right from your own site.
Each site has electric hookups, drinkable water, a picnic table, and a fire ring. Kayaks and canoes are available to rent on-site at very affordable prices. Besides the campsites, you can also reserve a cabin, a trailer, or a bell tent glamping site. So whatever your comfort level is for camping, they have you covered. Many people love camping at Martin Stream so much that they become seasonal campers and live there for the entire season.
Acadia National Park
Phone: 207-288-3338
Address: Hulls Cove Visitor Center, Route 3, Bar Harbor, ME 04609
Activities:
Drive the Park Loop Road

Bike the Carriage Roads

Bass Harbor Head Lighthouse

Climb Cadillac Mountain

Beehive Trail
Acadia National Park is one of the few great national parks in the North East. While most of the attention goes to the great national parks like Yosemite and Yellowstone, this park has a rugged and majestic beauty that only the craggy shores of New England can offer. This national park should be on the bucket list of anyone who loves adventuring in outdoors.
There is so much to do and see in this iconic park, that you could easily spend a week here and feel like you have just scratched the surface. The park has a no backcountry camping policy, but it does have several in-park campsites to choose from.
However, they tend to book up quickly, so make sure you plan ahead. In terms of in-park camping, your options are Mount Desert Island which has two campgrounds, the Schoodic Penisula which has two of those too, and Isle au Haut which has several lean-tos.
Four Seasons Camping Area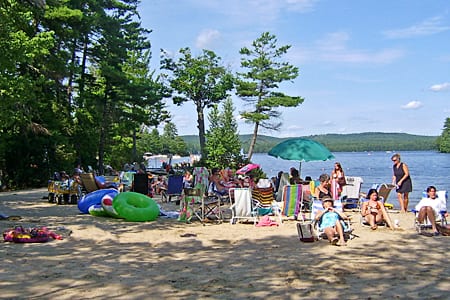 Phone: 207-693-6797
Address: 927 US-302, Naples, ME 04055
Activities:
Kayak and Canoe on a great and amazing lake
Use this campground as a base of operations for exploring Maine and the White Mountains
Stay in a family campground on a great lake with plenty of amenities
Four Seasons Camping Area is a family-focused campground that is located on the shore of Long Lake. The lake is ten miles long of clean, clear water that is midway between the Coast of Maine and New Hampshire's White Mountains. So this is a great place to make your base to explore a lot of what Maine has to offer.
Though this is a family campground, it has sites and accommodations that will work for however you want to camp. If you are looking for something more private and secluded they have a site for you that you would enjoy. They have their own marina, with canoes and kayaks to rent. You can even bring your own boat, but they do not tolerate personal watercraft on Long Lake.
Hermit Island Campground
Phone: 207-443-2101
Address: 6 Hermit Island Rd, Phippsburg, ME 04562
Activities:
Camp out basically right on the beach
Take a dip in the Atlantic Ocean
Try one of their great cabins if available
Hermit Island is really a peninsula that sits in Small Point at the southern tip of Phippsburg. This 255-acre peninsula holds a family-oriented campground that operates seasonally.
Hermit Island is 1.5 miles long by .5 miles long at its longest point. The campground is surrounded by sandy beaches and rocky cliffs along a tidal harbor.
The privately-owned campground has 270 campsites that are grouped into four categories depending on how close to the water they are, water view, or direct beach access. These sites are small, though, and only really have room for one car. So if you are coming with a group you will want to find a few campsites that are close together. They also have three very nice small cabins.
Sebago Lake State Park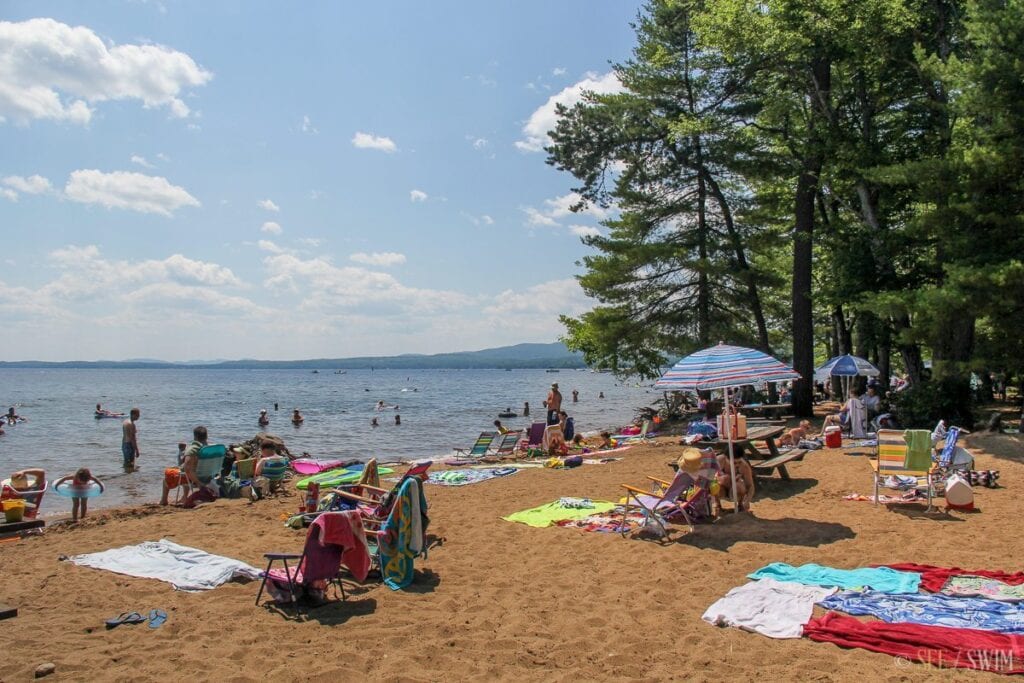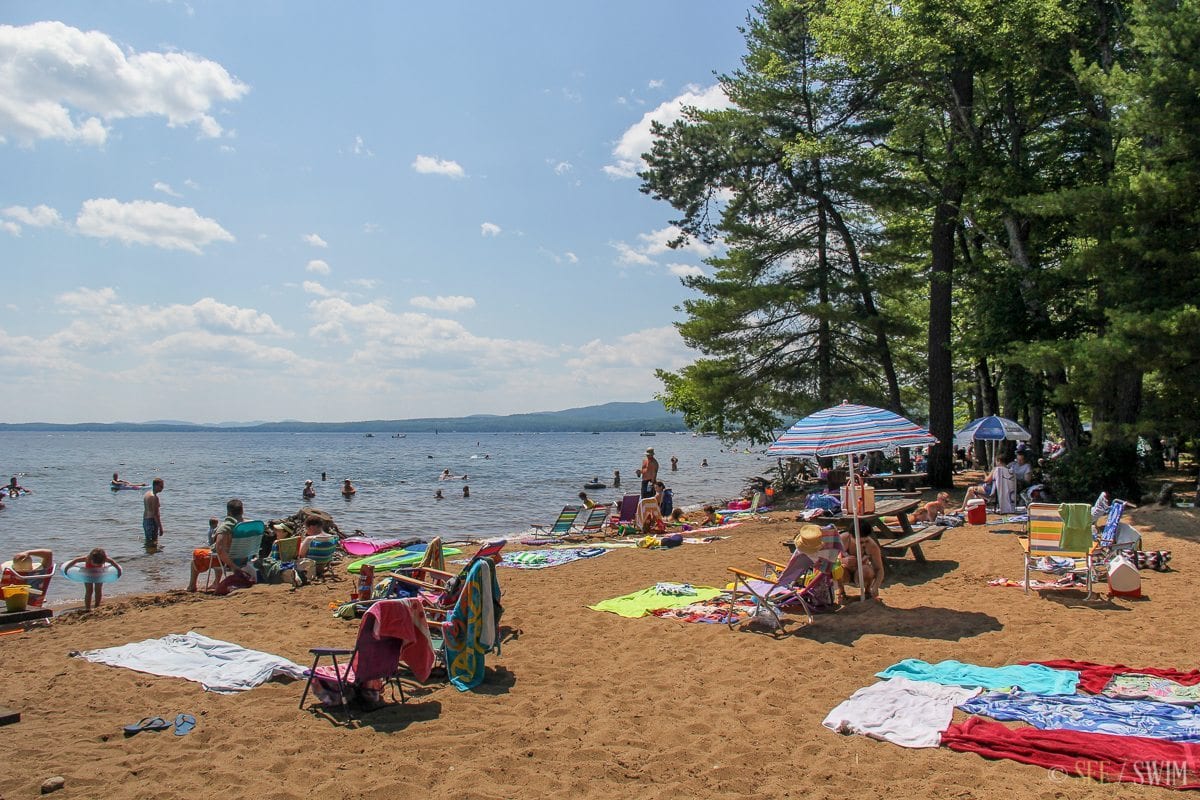 Phone: 207-693-6231
Address: 11 Park Access Rd, Casco, ME 04015
Activities:
Have a barbeque and a beach day at the lake

Swim in Sebago Lake while looking at the White Mountains

Take a lake cruise on the Songo River Queen II

Rent a kayak
In 1938 Sebago Lake State Park opened up as one of the first state parks offering the best camping in Maine. This amazing park is on the shore of one of Maine's most famous lakes. Sebago Lake is Maine's deepest lake and the second largest one in the state.
The park sits near the foothills of the White Mountains, so it will be easy access for those looking for a challenging mountain hike or rock scramble. Sebago Lake State Park is what most people imagine a perfect camping trip would be. The park boasts 1,400 acres that include vast New England woodlands, ponds, bogs, rivers, sandy beaches, and rich and diverse wildlife.
The park has 250 sites in its campgrounds, but it is so popular that you will want to book early ahead. They begin taking reservations as early as February, and they tend to book up fast.
This is a four seasons park and you will enjoy your stay no matter the time of year. Though camping in the winter will not be for everyone. The best times are late summer and early fall.
Lily Bay State Park
Phone: 207-695-2700
Address: 425 Lily Bay Rd, Beaver Cove, ME 04441
Activities:
Set on the shores of Moosehead Lake, Lily Bay State Park is a great spot to spend an afternoon or a prolonged weekend at some of the best campgrounds in Maine.
This state park is especially famous for its clear waters and all they have to offer. There are two boat launches with boat slips – Dunn Point and Rowell Point. Both motorized and non-motorized boats are allowed.
On the other hand, fishermen can look forward to open-water fishing for salmon, brook trout, and lake trout in the summer months and ice fishing in winter. Other activities include sunbathing at the beach, walking the shoreline trail, or cross-country skiing.
The two park campgrounds offer 90 spacious campsites, some of which are directly at the beach, with hot showers, picnic tables, and grills. Ice and firewood are available, too.
Another amazing thing about this park is that the campgrounds are open also in winter. However, note that you must contact the park prior to your arrival and that there is no running water.
Aroostook State Park
Phone: 207-768-8341
Address: 87 State Park Road, Presque Isle, ME 004769
Activities:
Take an afternoon to go trout fishing
Ride a bike on one of the many bike trails
Take a hike up Quaggy Jo Mountain
Visit the Nordic Heritage Center
Welcome to Maine's first-ever state park with camping in Maine. The park is located on the grassy shores of Echo Lake and has over 800 acres of protected Maine wilderness. As the state's official first park, there is a rich history here of people enjoying themselves.
The park has 30 wooded sites, but if you can reserve one it is definitely worth it. Besides Echo Lake, the second biggest natural attraction is Quaggy Jo Mountain. The views from Quaggy Jo Mountain are superb and well worth the hike up to its peak.
This is a great home base to explore Maine's biggest county — Aroostook County —which shares its name with this famous park and campground. There is a lot to do immediately outside the park and campground.
Including the launch site for the first successful trans-Atlantic balloon flight at Double Eagle II Memorial Park. As well as the Nordic Heritage Center which has 20 miles of mountain biking trails and a lodge that has restrooms, showers, and a sauna.
Mt. Blue State Park
Phone: 207-236-3109
Address: 187 Webb Beach Rd, Weld, ME 04285
Activities:
Great ranger-led activities in the warmer months

Awesome sandy beaches

Boat rentals are available

Adirondack shelters are available for group camping
This park situated in Maine's Western Mountains is the largest one in the state. The park itself boasts 8,000 acres in total and is divided into two major sections by Webb Lake.
This is a great park and is only a few hours away from several major cities. You will find some of the best hiking, biking, and other outdoor activities here.
The park has a Campground at Webb Lake with 136 wooded sites. This campground is a short walk to a nice sandy beach. So, you can be sure that Webb Lake Campground fills up quickly in the warmer months.
Camping in Maine FAQs
What's the biggest state park in Maine?
Baxter State Park is the largest state park in Maine. It boasts over 200,000 acres of land with mountainous terrain, forests, and ponds. It's also home to Mt Katahdin, the highest mountain in Maine and the terminus of the famous Appalachian Trail.
How much does RV camping cost in Maine?
Rates for RV camping in Maine differ from park to park. But generally, you can expect prices between USD$ 40 and USD$ 60 per night. Most parks also have discounted weekly and monthly rates available.
Where can you camp for free in Maine?
In general, boondocking isn't allowed in Maine's urban areas. However, you can camp for free in many public parks and lands, such as Big Eddy Campground in Dead River, Machias River Corridor, or St. Croix International Waterway.
When does the camping season start in Maine?
The camping season in Maine starts at the beginning of May and lasts through mid-October. July and August are the months with the best weather. On the other hand, if you come in fall, you'll experience fewer crowds and mild temperatures, too.
Conclusion
Maine is definitely a great state for camping. Whether you are a seasoned outdoor adventurer or looking for a more relaxed family camping experience, there is something for everyone. Maine is known for its rugged coastline, its deep hardwood forests, many lakes, and gorgeous mountains.
So whatever type of outdoor adventure you want, Maine has you covered. The famous New England coast is there for you to explore. You can find a secluded lake to kayak, canoe, or go fishing right from your campsite. Take a hike, climb a mountain, or get lost in the woods on your own or with your family and friends.
Book your trip to Maine today for the ultimate outdoor experience.