If you're looking for a state that has a variety of landscapes to explore, then North Carolina has to be at the top of your list
Boasting unrivaled natural beauty, you'll want to camp your way across the entire state. Whether you choose to start at the coast or the far western mountains, you'll find incredible ways to spend time in nature and explore what it has to offer.
North Carolina also provides several state parks with camping facilities, so you have a lot of options. These are all located near natural attractions, including beaches, lakes, mountains, and waterfalls. From family-friendly activities to advanced outdoor ones, this is the place to be.
Whether you prefer to pitch your tent near coastal dunes, relax beside a pristine lake, or immerse yourself in a rugged mountain range, here are ten of the best camping sites to experience in North Carolina.
Check out neighbours:
Davidson River Campground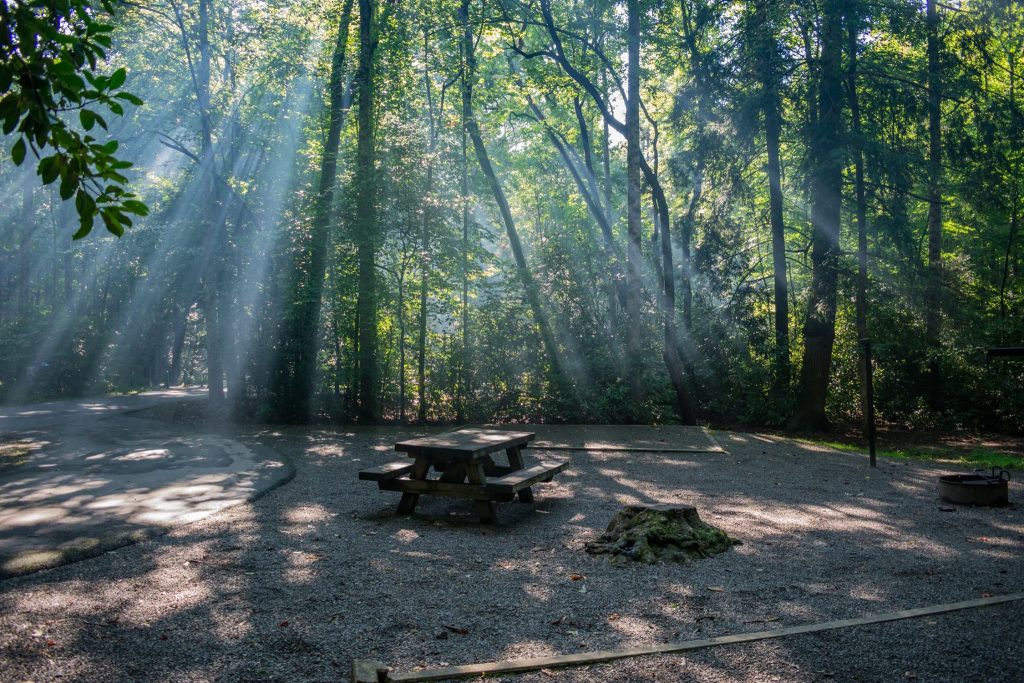 Location: Western North Carolina
Phone: (828) 577-4558
Address: 1 Davidson River Cir, Pisgah Forest, NC 28768 (click to open in google maps)
Available Activities at the Park:
Swimming
Tubing
Trout fishing
Waterfall hiking
Mountain biking
As the name suggests, this campground sits on the Davidson River inside Pisgah National Forest and is a popular family getaway for its swimming, fishing, and waterfall hiking opportunities.
It features many campsites to choose from – there are 144 of them and they are designated for both tents and RVs. However, don't expect the campground to be too crowded. Thanks to the trees, the spots are pretty private and spacious.
All campsites are equipped with picnic tables, tent pads, lantern posts, and campfire rings with grills. Ice and firewood can be purchased on-site. Wanna try some mountain biking? Bike hire is available nearby.
The closest town is Brevard where you can enjoy some tasty meal or try local beer in one of its breweries. If you're looking for something bigger, the city of Asheville is about an hour of drive away.
Camp Hatteras RV Resort & Campground
Location: Eastern North Carolina
Phone: (252) 987-2777
Address: 24798 NC-12, Rodanthe, NC 27968 (click to open in google maps)
Available Activities at the Park:
Pool
Mini-golf
Basketball
Tennis
Fishing
Beach
This RV resort and campground are nestled on Hatteras Island in the Outer Banks of North Carolina. The area has become a popular vacation destination thanks to the open-sea beaches, state parks, and shipwreck diving sites. The barrier of islands is also known for its lighthouses and the Wright Brothers Memorial.
The campground itself spreads around 50 acres offering both Oceanfront and Soundfront RV and tent sites, along with park model units. Amenities include inside, outside, and kiddie pool, jacuzzi, mini-golf, tennis, basketball, and a dog park. Water sports rentals are available in the marina.
Camp Hatteras RV Resort & Campground also features a clubhouse for smaller family gatherings and a conference center suitable for weddings, receptions, banquets, and other celebrations.
Therefore, this campground is a perfect spot for families and groups looking to spend both fun and relaxing time by the beach.
Mountain Stream RV Park
Location: Eastern North Carolina
Phone: (828) 724-9013
Address: 6954 Buck Creek Rd, Marion, NC 28752 (click to open in google maps)
Available Activities at the Park:
Hiking
Dog park
Playground
Yurt camping
Set in a narrow valley in the middle of the Pisgah National Forest, Mountain Stream RV Park is a quaint family campground surrounded by beautiful mountains from all sides. With a creek running through it, it's a perfect spot for couples or a relaxing family vacation.
It offers RV sites with water, electricity, and sewerage hookups. There are also a couple of yurts. Modern restrooms, flush toilets, and cable TV are available, too.
Let your kids play at the playground and pets goof around in the dog park while you relax. You can also fish for trout. However, note that only catch-and-release fishing is allowed. Area attractions include Crabtree Falls, Linville Caverns, and Blue Ridge Parkway.
Raleigh Oaks RV Resort & Cottages

Location: Central North Carolina
Phone: (919) 934-3181
Address: 527 US Highway 701 South, Four Oaks, NC 27524 (click to open in google maps)
Available Activities at the Park:
Pool
Billiards
Fitness Center
Basketball
Volleyball
Hot Tub
Raleigh Oaks RV Resort & Cottages belongs to the best-rated campgrounds in North Carolina. Guests can choose from over 150 back-in and pull-thru full hook-up sites as well as 50 fully equipped cozy cottages.
Take a dip in one of the swimming pools, relax in the hot tub, play basketball, volleyball, billiards, horseshoes, or work out in the fitness center. You simply can't get bored in this campground.
If you do, you can visit one of the local attractions, including the Ava Gardner Museum, Tucker Lake, or the Rudy Theater. The Raleigh Fairgrounds also run state farmers and flea markets every weekend. Whereas outdoor lovers will like the area's hiking and biking trails.
Carolina Beach State Park
Location: Eastern North Carolina
Phone: (910) 458-8206
Address: 1010 State Park Road, Carolina
Hammocks Beach State Park
Location: Eastern North Carolina
Phone: 910-326-4881
Address: 1572 Hammock Beach Road, Swansboro, NC 28584 (click to open in google maps)
Available Activities at the Park:
Canoeing and Kayaking

Boating

Paddle Trails

Fishing

Swimming

Ferry Service to Bear Island
Located along the Southern coast, Hammocks Beach State Park provides an island getaway for your camping adventure. From the visitor center, you will climb aboard a ferry to take you over to Bear Island, a four-mile-long barrier island.
Once there on the island, you have your choice of primitive campsites close to the beach or the inlet. Pack light, as you will have to carry your camping gear from the ferry dock to your campsite.
The beach is the big draw here. A section of it is partitioned off just for swimmers. Elsewhere you can throw out a line and catch flounder, blue fish, and drum.
The park lays out three paddle trails as well, one of which is six miles long. Rent a kayak or canoe once there and make your way through the saltmarshes. These are considered difficult due to potentially strong currents and being located near boat channels, but well worth the effort.
Hiking trails here are short but will take you through a coastal forest. And you always have the wide beach to walk day or night.
Hanging Rock State Park
Best Tent Camping in North Carolina
Location: Central North Carolina
Phone: (336) 593-8480
Address: 1790 Hanging Rock Park Road, Danbury, NC 27016 (click to open in google maps)
Available Activities at the Park:
Hiking

Mountain Biking

Rock Climbing

Lake Swimming

Paddling
Located in the northern portion of the Central Piedmont region of the state, Hanging Rock State Park can overwhelm the senses. With cascading waterfalls, sheer cliffs, and quiet forests, you're bound to see a little of everything.
The park has over 70 campsites available for both tents and trailers, as well as cabins for rent. Once set up, you will be only steps away from all the fun outdoor activities.
Take on the 18 miles of hiking trails, which will glide you past waterfalls and beautiful mountain vistas. Jump on your bike and tackle the 8.4 miles of trails just for mountain biking. These biking trails are some of the best in the state, with stream crossings, rock ledges, and incredible views.
Rock climbing is another option in the park. Here you'll find a series of cliffs reaching up to 400 feet, called Moore's Wall and Cook's Wall. There are areas for experienced climbers as well as novices.
Cool down after hiking, biking, or climbing with a swim in the 12-acre lake. Then settle into your campsite for a solid night's sleep.
Linville Falls Campground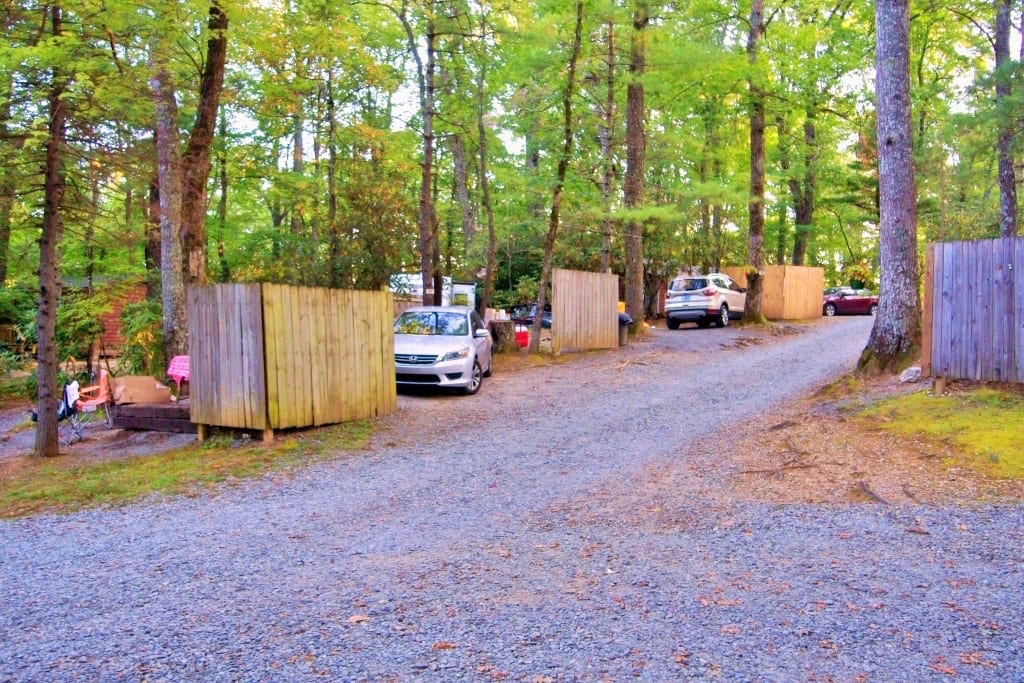 Location: Western North Carolina
Phone: (828) 765-2681
Address: 717 Gurney Franklin Rd., Linville Falls, NC 28647(click to open in google maps)
Available Activities at the Park:
Hiking

Biking

Natural Attractions Nearby

Cabin Rentals

Playground

Hot Showers
The Linville Falls Campground provides close access to several natural attractions in the area that you won't want to miss. These include Linville Falls & Gorge, Linville Caverns, and Grandfather Mountain.
The privately-owned campground offers primitive campsites as well as full hook up sites. Don't have a trailer? No worries. You can rent one already set up at the campground. You can even rent a log cabin if you like.
Along with access to several biking and hiking trails, the campground has a playground for the kids. It also has a few modern amenities such as restrooms with hot showers.
Pilot Mountain State Park
Location: Western North Carolina
Phone: (336) 325-2355
Address: 1792 Pilot Knob Park Rd, Pinnacle, NC (click to open in google maps)
Available Activities at the Park:
Hiking

Paddle-In Camping

Biking

Horseback Riding

Rock Climbing and Rappelling

Kid-Friendly Hikes
Pilot Mountain State Park is a top family-friendly park full of fun activities year-round.
The 49 campsites are surrounded by towering hickory and oak trees. If you need more seclusion or are looking for more adventure, you can camp at one of the primitive paddle-in campsites which are situated along the Yadkin River.
Numerous hiking trails weave their way throughout the park. Take the whole family, even the littles ones, for a hike to see the 2,000-foot-high Pilot Mountain. The Little Pinnacle Overlook Trail is kid-friendly as well as beautiful. There are also mountain biking and horseback riding trails as well.
Rock climbing and rappelling are top activities in the park, due to its steep cliffs, crevices, and ravines. Join in or settle down with a picnic to watch several others make their way up and down.
Paddling the Yadkin River is another option. Two miles of the river are inside the park, and these are some of the most scenic sections. You'll experience ripples along this broad section of the river, making it even more inviting to paddlers.
The Yadkin River is also a great place for those who enjoy fishing, with bass and catfish as the main catches.
Lake James State Park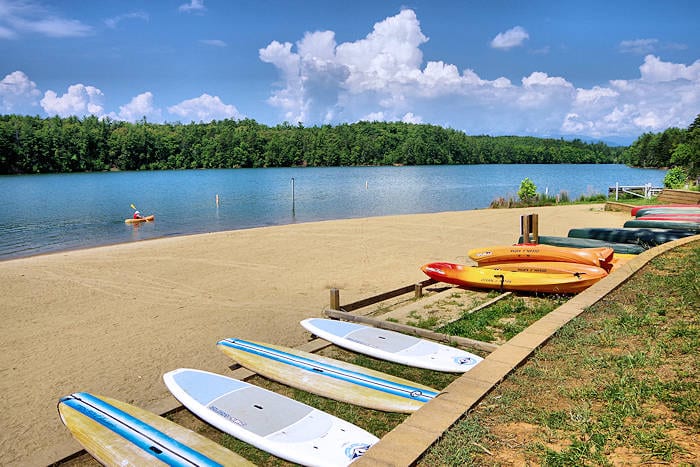 Location: Western North Carolina
Phone: (828) 584-7728
Address: 7321 NC-126, Nebo, NC 28761(click to open in google maps)
Available Activities at the Park:
Mountain Biking

Hiking

Swimming

Fishing

Boating
Lake James State Park is a park that seems to have it all for outdoor lovers.
The 6,812-acre lake for boating, fishing, and swimming is accompanied by 25 miles of hiking, 15 miles of which are for mountain biking as well.
Camping options are thrilling here in the park. You can choose between walk-in sites near the lake and Catawba River, drive-up sites near Paddy's Creek, and remote sites you can only get to by boat, canoe, or kayak.
Swimming and fishing in the Paddy's Creek Area are also allowed. Largemouth bass, carp, and perch are common catches, but you'll also have a chance to reel in a record size muskellunge.