The Volunteer State, as Tennessee is often fondly called, is home to more than the nation's country music capital.
This rugged state has plenty of beauty to show off, and one of the best ways to experience its raw beauty is by camping. A night spent outdoors with stars twinkling above one's head is also a fantastic way to reconnect with nature and to let go of everyday stress.
Tennessee boasts of numerous state parks, most of which have camping grounds. The parks tend to be near natural attractions like lakes, mountains, and falls. You can, therefore, explore all the beauty that nature has to offer without worrying about where you will sleep.
Whether you like RV camping, setting up your tent, or staying in log cabins during your commune with nature, Tennessee has it all.
21 Best Camping Sites in Tennessee:
You might also want to check best camping in neighboring states:
– Best Camping Sites in Kentucky
– Best Camping Sites in North Carolina
Here are the best camping sites in Tennessee state:
1. Riveredge RV Park and Log Cabin Rentals
EAST TENNESSEE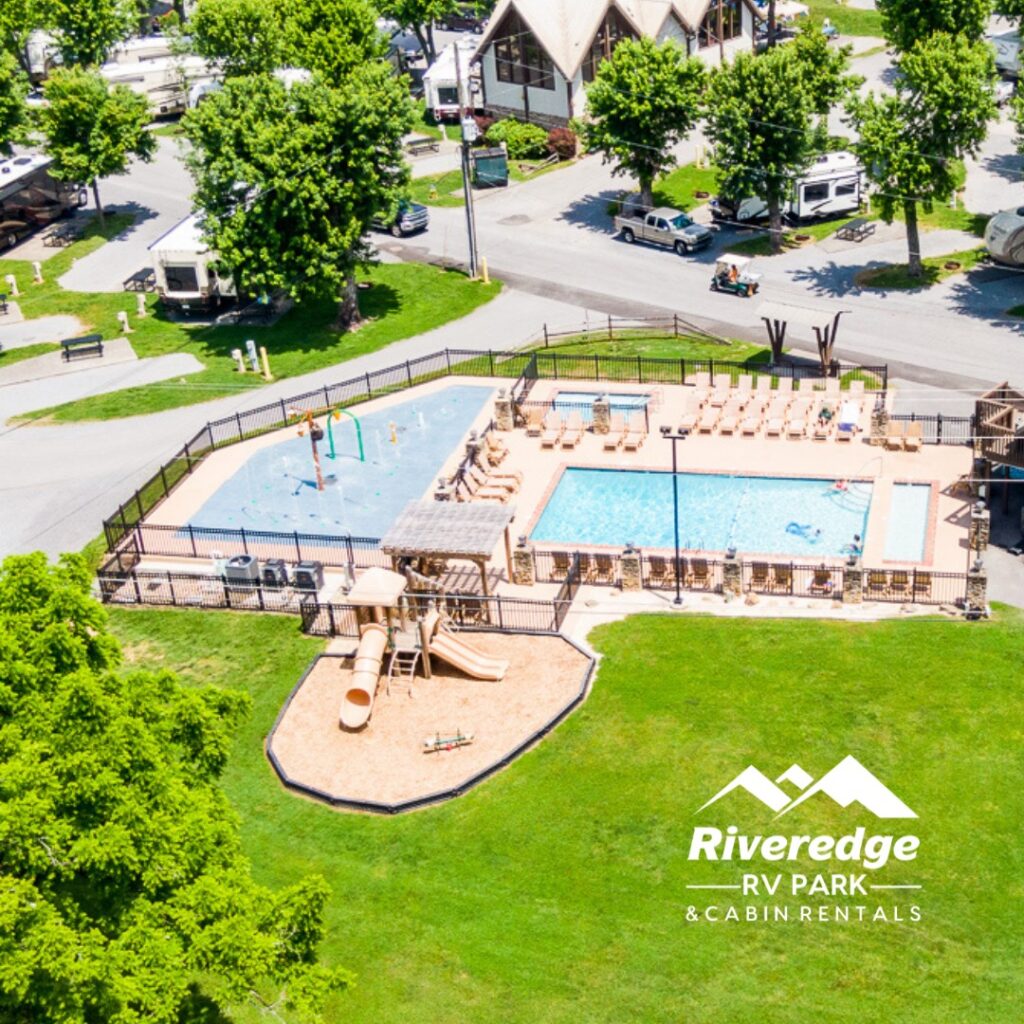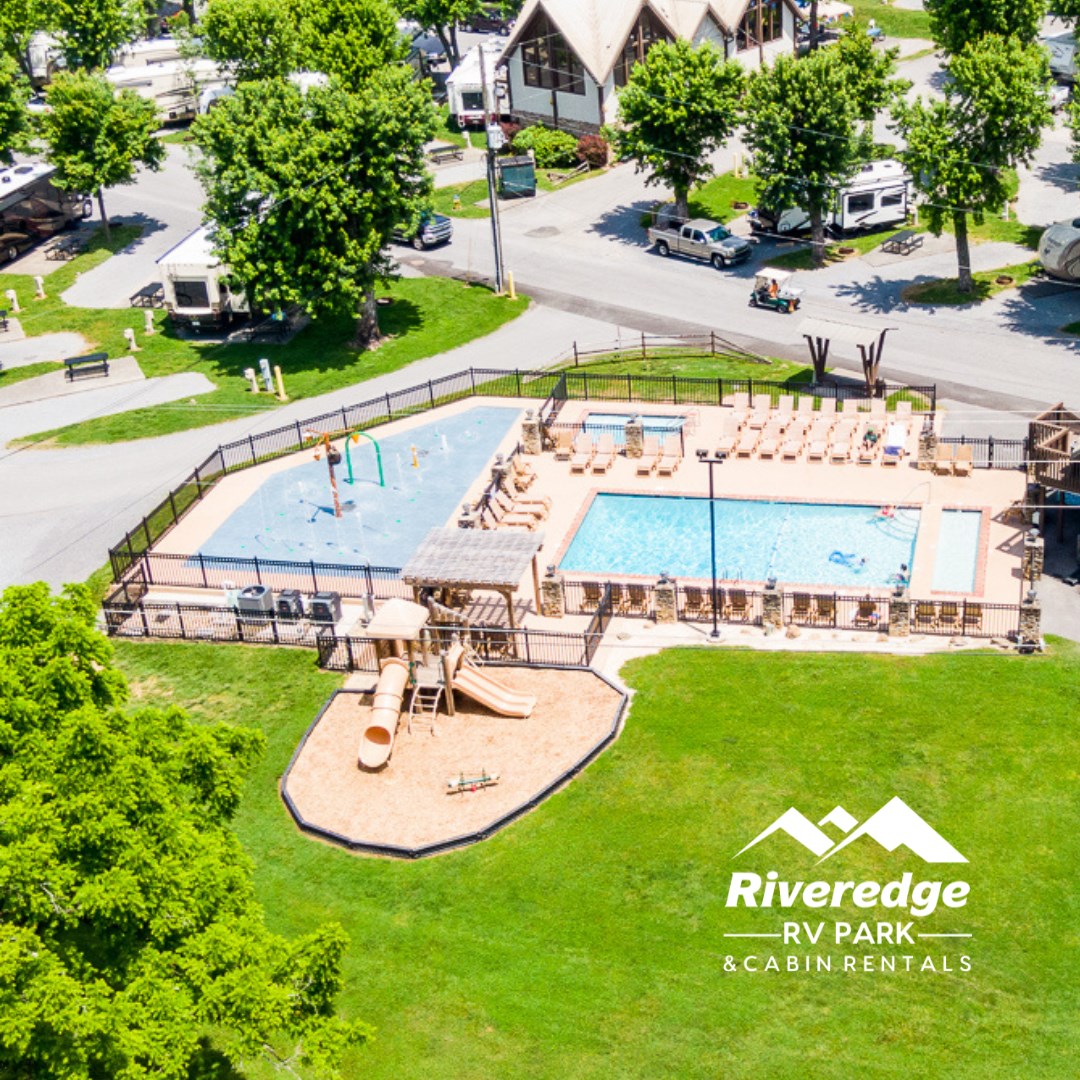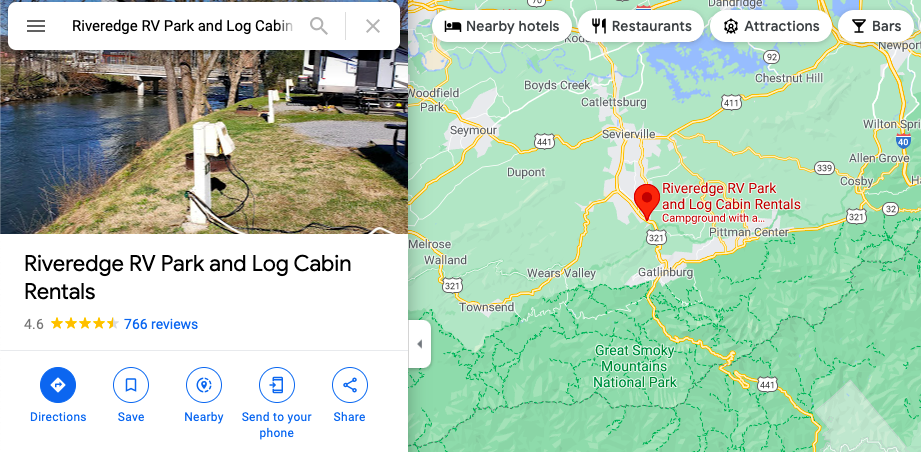 Phone: (877) 881-7222
Address: 4220 Huskey St, Pigeon Forge, TN 37863
Activities & amenities highlights:
Hiking

Fishing

Pool

Hot tub
Also set only a few minutes from Gatlinburg and the Smoky Mountains, Riveredge RV Park is a family-friendly campground offering various lodging facilities.
Whether you opt for the classic RV camping or one of their park models, deluxe cabins, or camping cabins, you'll be delivered comfort, modern conveniences, and the great outdoors right at your doorstep.
Spend your day by the pool, relax in the hot tub, cast a line in the adjacent Little Pigeon River, or set off exploring the Smoky Mountains National Park and the nearby towns. Riveredge RV park will not let you get disappointed.
This campground is also open all year round. It's great for a weekend getaway, as well as a family vacation home base. Pets are welcome!
2. Anchor Down RV Resort – BEST RATED CAMPING in TENNESSEE
EAST TENNESSEE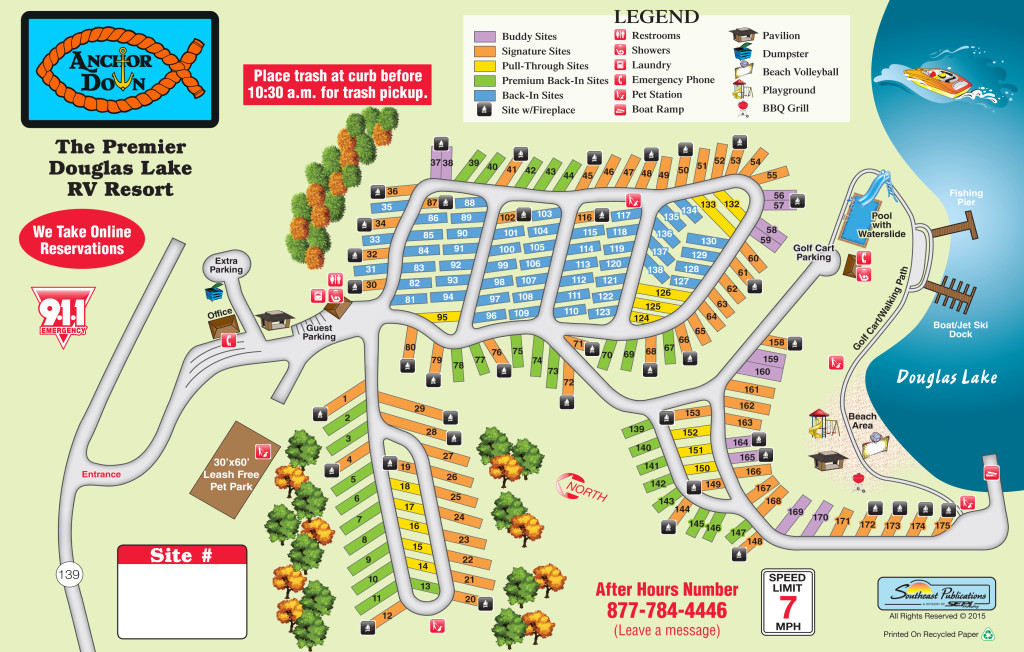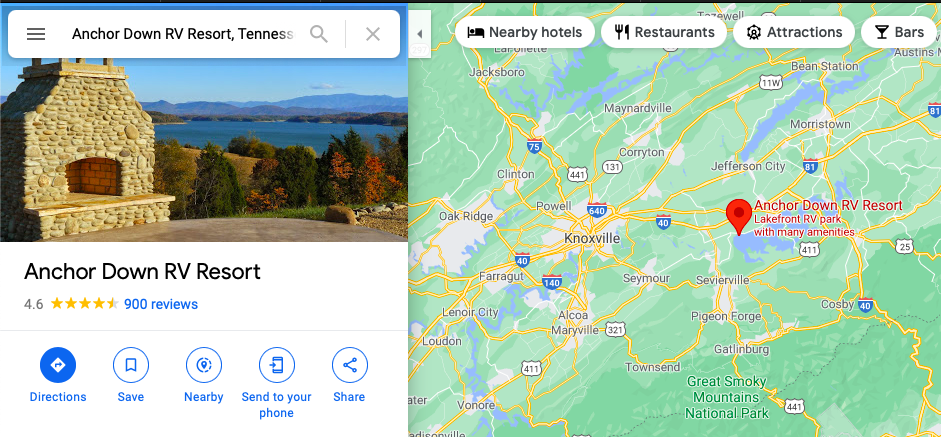 Phone: (877) 784-4446
Address: 1703 TN-139, Dandridge, TN 37725
Activities & amenities highlights:
Pool
Fishing
Boating
Beach
Situated on Douglas Lake in the historic town of Dandridge, Anchor Down RV Resort is a perfect place to unwind as well as explore the surroundings.
Visit Sevierville, Gatlinburg, Knoxville, and the Great Smokies, or just stay at the resort and enjoy one of its wonderful amenities. Play basketball, beach volleyball, rent a jet ski, or just chill out at the beach while you stay at one of the 170 RV sites. Kids will love the inflatable trampoline and toys in the lake.
From basic back-in sites, signature sites with a fireplace and incredible lake views, to buddy sites that can accommodate up to 8 people. You can't go wrong with this campground.
3. Pine Mountain RV Park
EAST TENNESSEE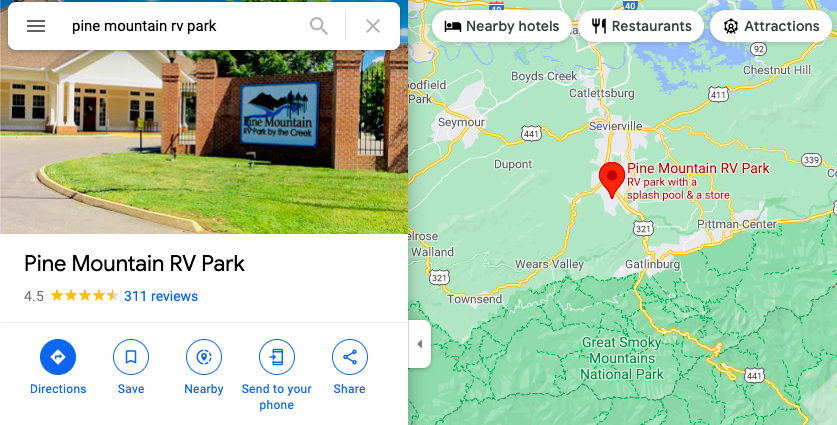 Phone: (865) 453-9994
Address: 411 Pine Mountain Rd, Pigeon Forge, TN 37863
Activities & amenities highlights:
Hiking

Biking

Fishing

Golf

Pool
Conveniently located just around thirty-five miles of Knoxville, Pine Mountain RV Park makes a perfect base camp for those who would like to explore the Smoky Mountains and their surroundings.
Hike, bike, fish, engage in white water rafting, or horseback riding. The famous Dollywood theme park is also just a stone's throw away. Whereas foodies will love the towns of Gatlinburg and Sevierville for their sublime dining experiences.
The campground offers both full hook-up sites with Wi-Fi and cable TV, as well as rental cabins. Facilities include a large splash pool, a heated pool, and a camp store.
Pine Mountain RV Park is open all year round and is suitable for families.
4. Greenbrier Campground
EAST TENNESSEE
Phone: (865) 4307-415
Address: 2353 East Pkwy, Gatlinburg, TN 37738
Activities & amenities highlights:
Splash in the Flint Rock swimming hole,
Lounge on the private beach,
Fish for trout from the banks of the river,
Visit Dollywood or go shopping in downtown Gatlinburg.
Located in the heart of Tennessee's Great Smoky Mountains, Greenbrier Campground offers relaxation on the Little Pigeon River and convenience to area attractions.
Greenbrier has 120 unique full hook-up sites, and you can hear the rushing water from all of them. Hookups are available for expansive RVs, pop-ups, pods, and smaller campers. Electricity ranges from 30 to 50 to 110 amps and water, sewage, Wi-Fi, and cable are included.
If you'd like a little luxury while camping, Greenbriar offers cozy cabins with a queen bed, bunk beds, small appliances, and a back deck overlooking the river.
Fully functional RVs and tents are also available for rent. Rates begin at $75 daily and vary by size, type, and season.
5. Pigeon Forge / Gatlinburg KOA Holiday
EAST TENNESSEE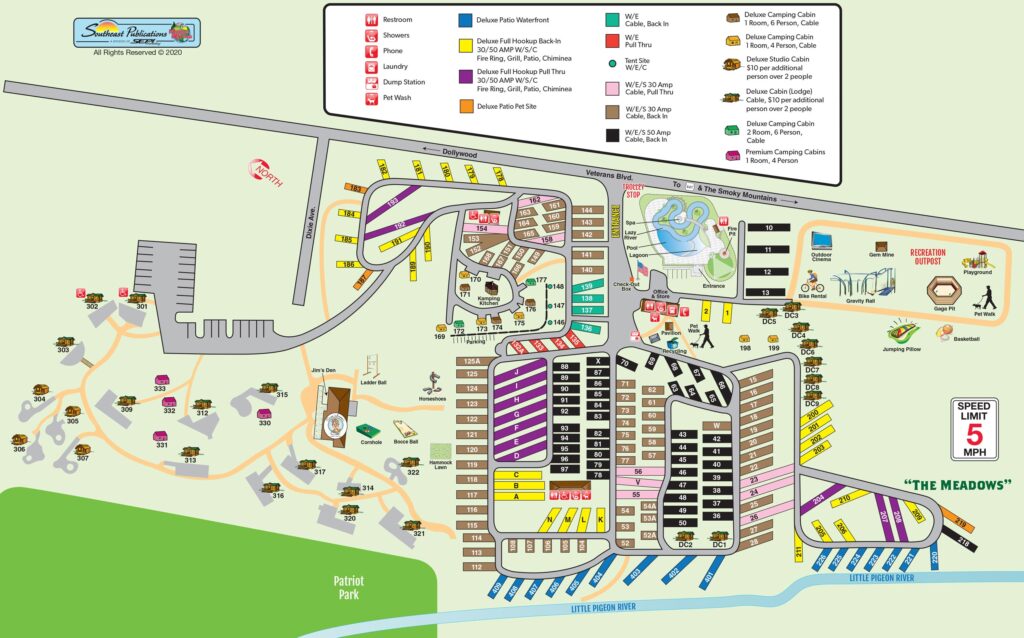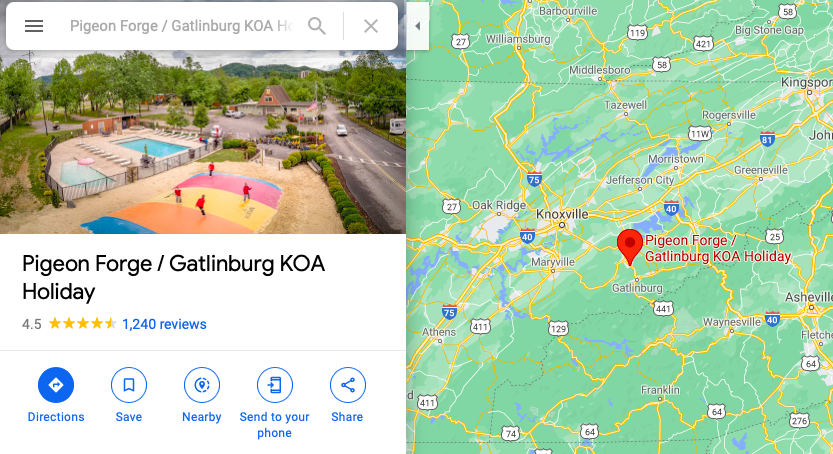 Phone: (865) 453-7903
Address: 3122 Veterans Blvd, Pigeon Forge, TN 37863
Activities & amenities highlights:
Pool
Hot tub and sauna
Hiking
Fishing
Whether you wish to explore the area or just hang out at the campground, Pigeon Forge KOA is a great spot to both relax and wander around.
Visit Dollywood amusement park, see an exhibit at WonderWorks, or hike up the Great Smoky Mountains. Back at the campground, you can engage in various activities, such as gem mining, zip line, bocce ball, and horseshoes. There is also a swimming pool with a lazy river, hot tub, and sauna.
Park your RV at a pull-thru site with a patio, pitch a tent by the waterfront or try one of their lodging cabins. The options at Pigeon Forge KOA are endless to fit the needs of even the most demanding campers.
6. Davy Crockett Campground
SOUTHWEST TENNESSEE
Phone: (931) 7629 408
Address: 1400 W Gaines St, Lawrenceburg, TN 38464, United States
Activities:
Paddling
Bird watching 
Swimming 
Hiking
Biking
Fishing 
Boating
On-site restaurant
Activities for Educators!
The amazing David Crockett Campground is open for business and has plenty of activities to have an unforgettable time. The campsite has a museum, an olympic sized pool and a lake to go around on a boat trip.
With more than 100 campsites and fully equipped cabins for rent, this place is perfect to be yourself and forget for a while about the multiple restrictions we have now in the cities due to the pandemic.
Let's talk about the amenities. David Crockett Campground is divided into 2 campgrounds. The first one has 45 sites equipped with water and electric hook-ups (30-amp each). Campground # and Shoal Creek are open from March 15 to November 31.
The second one is open year-round and it's now completely renovated with 52 electric hook-ups with 50, 30, and 20-amp. Of course, they have added many more water hook-ups.
Last but not least, we know all campers love paddling, bird watching, swimming, hiking, and biking, but this camping site also has recreational activities for kids and restaurants if you are feeling like taking a break from takeaways!
7. Clarksville RV Park and Campground – Best RV Park
CENTRAL / NORTH TENNESSEE
Phone: (931) 648-8638
Address: 1270 Tylertown Rd, Clarksville, TN 37040
Amenities you can enjoy:
Pool and pavilion
Children's playground
Off-leash dog park
A grocery store and more.
Clarksville RV Park and Campground is located in a lovely wooded setting outside the town of Clarksville, TN.
Nearby destinations to explore include Fort Campbell, the historic Roxy Theater, and the Dunbar Cave State Nature Area. Check-in safely at the self-check-in kiosk near the door or by using your phone and an attendant will escort you to your camping spot.
The staff at the campground strives to meet all your camping needs with full hook-up sites for any size camper for one night or an extended stay. Water, sewage, and electricity are included. For minimalist camping, choose a site with water and electricity only, and for more homey comforts, check out the campground's camper cabins. Loads of amenities will enhance your camping experience.
Enjoy camping in the great outdoors while taking advantage of all the fun things to see and do around Gatlinburg, TN at Smoky Bear Campground and RV Park. You'll be near the Great Smoky Mountain National Park, live entertainment, breweries, wineries, and more.
Beware of the cancelation policy. If you cancel the day of your reservation you will be charged for the first night of stay. If you cancel prior to that day you will incur a $10.00 cancellation fee.
8. Natchez Trace State Park
WEST TENNESSEE
Phone: (731) 968-3742
Address: 24845 Natchez Trace Rd, Wildersville, TN 38388 (click to open in Google maps)
Available activities at the park:
Kayaking
Swimming
Paddling
Boating
Horseback riding and hiking
Natchez Trace State Park is a popular camping destination for locals and visitors alike.
Located on the western side of the Volunteer State, it boasts of proximity to four lakes, a beach, and a wrangler campsite. If you enjoy water activities, this is undoubtedly the site for you.
Natchez Trace park is a great place to make lifelong memories with your family and friends.
The park has 206 campsites and five cabins. There is even a wrangler site for horse lovers. All of these sites have a fire ring, grill, and table, but that is as far as the amenities go.
If you are looking for a challenging camping experience, you can go backcountry camping within the park's 10,154 acres. You will, however, need a permit for this. For your daring spirit, you will be rewarded with stretches of pristine, untouched wilderness where you can truly become one with nature.
9. Percy Priest Island Camping – Best for Kids
EAST TENNESSEE CAMPING
Address: 3778 Bell Rd, Hermitage, TN 37076 (click to open in google maps)
Activities at the lake:
Lots of hiking options
Biking trails
Cliff jumps
Swimming beaches
Kayaking
Primitive camping
Playgrounds for kids
Fishing.
One of the most unique camping spots in Tennessee is the Percy Priest Lake, which is only a short distance from Nashville.
The lake is formed by the J. Percy Priest Dam and boasts over 30 islands. Each of these islands has a camping ground that has a lot to offer to every type of camper.
The islands also have lengthy hiking trails that allow you to see the beauty of the area in all its glory. If you want an exhilarating adventure, go for the famous 40-feet cliffs jump! 🙂
TIP: we've reviewed 6 best minimalist hiking boots available on Amazon!
It's an exciting experience that you will likely remember for decades to come. In the evenings, you can watch breathtaking sunsets before you settle in for the night.
If you love a good challenge, you ought to try camping in the primitive sites on the Anderson Road camping ground. The 36 campsites on the grounds have hardly any amenities, which means that you will have to fetch water and light your fire. This site is ideal for a hands-on camper.
Other nearby camping grounds are the 7-Point Camping Ground with 60 campsites and Poole Knobs Campground with 88 campsites. Most offer both tent sites and RV sites.
One of the best ways to explore the islands is to spend a day in the Hole-in-the-Wall Island. This is a protected cove that has a lot of exciting features and sites.
If you enjoy solitude, spend a night or two at Luau Island, which only has five tents. It's one of the most exclusive camping sites.
10. Fall Creek Falls State Park
EAST TENNESSEE CAMPING
Phone: (423) 881-5298
Address: 2009 Village Camp Rd, Spencer, TN 38585 (click to open in google maps)
Available activities at the park:
Bird watching
Fishing
Golf course
Biking and hiking trails
Despite its redundant name, the Fall Creeks Falls Park is a priceless gem for campers in Tennessee.
It's one of the largest camping sites in the state, with 222 standard sites, three backcountry sites, and 16 primitive sites. Its immense popularity goes to show just how amazing a camping destination it is.
The Fall Creek Falls are by far the greatest attraction to this site. They are enormous, mighty, and utterly astounding, and just a stone throw's away from the site. The 250-feet drop is enough to steal your breath in the most mesmerizing way.
Apart from the falls, there are lengthy biking and hiking trails for you to explore. Bring your mountain bike for the adventure, and cycle the 24-mile long biking trail for an unforgettable experience.
You can even go fishing or bird-watching. If you enjoy golf, there is an 18-hole golf course within the park. After an activity-packed day, return to your camp for an evening of star-gazing and pure relaxation.
11. Smoky Bear Campground
EAST TENNESSEE
Phone: (865) 4368 372
Address: 4857 East Pkwy, Gatlinburg, TN 37738 (click to open in google maps)
Amenities at Smoky Bear include:
Pool
Clubhouse
Restrooms with showers,
Laundry facilities
Firepits
Picnic tables
Hot tub (seasonal)
Pet friendly 
Smoky Bear Campground offers shaded concrete-padded pull-through sites and gravel back-in sites. All are full hook-ups with 30 or 50 amp electricity, sewage, and water. Campers who prefer cabins have a choice of several sizes from the sleep 2-3 Baby Bear to the 5-person Dancing Bear.
Rates range from $57 to $62 daily for RV sites and $80 to $155 daily for cabins. Primitive tent sites are also available (without water and electricity) for $28 per person and $7 for each child under age 13.
12. Cosby Campground
EAST TENNESSEE CAMPING
Phone: (423) 487-2683 (click to call)
Address: 127 Cosby Entrance Rd, Cosby, TN 37722 (click to open in google maps)
Activities:
Hiking
Fishing
Wildlife watching
Bear-watching 🙂
Cosby Campground is a little-known campsite in a secluded region. If you don't like crowded camping grounds like the Great Smoky Mountains National Park (which attracted over 11 million campers in 2017), then you will undoubtedly love the Cosby Campground.
Don't mistake its seclusion for lack of scenic beauty; there is a lot to see and do near the Cosby campsite.
You can hike to the Hen Wallow Falls, where you will be rewarded with a picturesque view and beautiful sites. You can also go to the nearby Sutton Ridge Overlook for more sight-seeing of the gorgeous terrain.
For a more daring venture, try hiking the 10.6 miles trail up to the Mt Cammerer Fire Tower. Reaching the top of the mountain is very fulfilling, and the view of the state from above is to die for. You can also take the dip to the Trail-Snake Den Trail Loop for an even more exciting venture.
The campground has 157 sites, each with a picnic table and a fire grate. You can also go backcountry camping for something more challenging.
13. Savage Gulf – Best for Hiking
SOUTHEAST TENNESSEE
Phone: (931) 779-3532 (click to call)
Address: Savage Gulf State Natural Area, 3177 TN-399, Palmer, TN 37365 (click to open in google maps)
Activities that Savage Gulf offers:
Hiking paradise for beginners
Advanced hiking options
Waterfalls
The Savage Gulf is as harsh and rough as its name suggests. It's an ideal camping ground for backpackers who can conveniently set up a tent at any of the nine campsites within the field.
There is a lot to see and do in the 16,000 acres of the Cumberland Plateau. From suspension bridges to waterfalls to the wilderness that spreads as far as the eye can see, the Gulf has it all.
There are 50 miles of hiking trails for you to discover. Most of them are about nine to ten miles long, which is excellent for beginners. If you are an experienced hiker, however, you can also go on the longer and more difficult hikes.
Other attractions near the campsite include the Big Creek, Greeter Falls, and the Stone Door. Of these, the Stone Door, which is a 100 feet deep, 10 feet wide crack through a rock, is the most intriguing.
14. Cades Cove
EAST TENNESSEE
Phone: (865) 448-2472
Address: 10042 Campground Dr, Townsend, TN 37882 (click to open in google maps)
Activities & highlights of Cades Cove:
Open for business all year round
Hiking
Plenty of waterfalls
Historical buildings
Swimming
If you wish to camp within the Great Smoky Mountains National Park, one of the best car camping grounds is the Cades Cove.
It's highly accessible throughout the year and offers incredible views of the mountains.
The camping ground has 160 different camping sites. RVs and trailers are also allowed on the grounds, although you will first have to check that yours is the right size for the campground. There are no hookups available for RVs, although there is a dump station.
The greatest attraction to the Cades Cove is the mountains. You get an unobstructed view of the rugged Smoky Mountains, and you can take it all in at this secluded camping ground.
The Cade Cove Valley is also a great place to explore. Here, you will find structures with a rich history like the John Cable Grist Mill or the John Oliver Cabin.
You should also make a point to trekking the 5 miles to the Abrams Falls, whose might and power will leave you refreshed and rejuvenated.
15. Edgar Evins State Park
EAST TENNESSEE
Phone: (931) 646-3080 (click to call)
Address: 1630 Edgar Evins State Park Rd, Silver Point, TN 38582 (click to open in google maps)
Activities and highlights:
Kayaking
Boat riding
Stand up paddling
Hiking
Events & festivals
Cabin options
The Edgar Evins State Park boasts of proximity to the Center Hill Lake, which is the primary attraction to this camping ground.
Thanks to the lake, you can enjoy a wide range of activities such as boating, swimming, paddling, and even kayaking.
The camping ground has 60 campsites, which include tents, RV, and trailers. Some amenities that are available within the campground are flush toilets and bathrooms with hot showers in three different locations.
You can also get wooden tent platforms and hooks if you need them.
Additionally, there are over 30 cabins with different layouts. Whether you want a full kitchen or a cozy sleeping place, rest assured you will get just the right cabin.
16. LeConte Lodge – Best Camping Spot in Tennessee in Winter
EAST TENNESSEE
Phone: (865) 429-5704 (click to call)
Address: 250 Apple Valley Rd, Sevierville, TN 37862 (click to open in google maps)
Activities and highlights of the campground:
Cool cozy cabins
Well-maintained hike trails
Dining options
Heating available in the winter season
This quiet lodge on the slopes of Mt. LeConte is yet another attractive camping ground.
Although it is one of the coziest camping grounds within the Great Smoky Mountains National Park, you will have to earn all the comforts it has to offer. The only way to access the lodge is by hiking up to the top.
There are about five different hiking trails to the lodge ranging in length from 5.5 to 8 miles. As you trek up the path, you get to see the immense beauty that the nearby scenery has to offer. The Lodge is 6,400 feet above sea level, so the view from the top is mind-blowing.
You will spend the night in a handmade log cabin, taking in the magnificent views around you and having a great time.
Dinner is usually a jovial affair, and the hearty meals you will enjoy will be the perfect climax to a beautiful day.
17. Harrison Bay State Park – Best for GOLF lovers
SOUTHEAST TENNESSEE
Phone: (423) 344-6214
Address: 8411 Harrison Bay Rd, Harrison, TN 37341 (click to open in google maps)
Activities and highlights of Harrison Bay:
Fishing
Boating
Swimming
Standup paddle
Great golf course
This state park is near Chickamauga Lake, which is why it is an excellent destination for those who like water sports.
Whether you prefer fishing, boating, swimming, or paddling, the 60-mile long lake is a great place to indulge in your favorite activity. You can also relax by its shores, looking at the serene waters and having a lovely time.
If you like playing golf, you can go to the nearby Bear trace at Harrison Bay, a popular golf course that was designed by the legendary Jack Nicklaus.
The campground has 128 RV sites and 27 campsites. All the RVs have hookups, which is rather convenient.
Whether you prefer a tent or a vehicle, rest assured you will find the right accommodation option.
18. The Walls of Jericho Primitive Camping – Best tent camping in Tennessee
SOUTH TENNESSEE
Phone: (888) 891-8332 (click to call)
Address: Rowe Gap Rd, Belvidere, TN 37306 (click to open in google maps)
Activities and highlights:
3.5 miles hike
Well-maintained
Tent camping spots
This campground has an intriguing name and an equally fascinating story behind it.
A story is told of a 17th Century preacher who was so moved by the rugged beauty of the place that he named it The Wall of Jericho. He performed his baptisms in the area and the name stuck since then.
It's easy to see why the area is so inspiring. The canyon, river, and waterfalls that surround the camping ground give it a magical feel, and you too will feel stirred after hiking through the 7-mile trail in this camping destination.
Camping here is not for the faint-hearted; this is a primitive camping only site, so be ready to use all your survival skills. The only amenities you should expect are two fire pits.
However, finding a good tree to hang a hammock or clothesline should not be a difficult task.
19. Abram's Creek RV Campground
Activities and highlights of Abram's Creek RV Campground
Fishing
Camp Sites: 16
Group Campsites: None
Fee: $17.50 per site, per night
Abrams Creek Campground is located 30 minutes south of Walland. For many visitors to the park, the drive along the Foothills Parkway is itself a destination. Enjoy the scenery and make numerous stops to take in the best views of the Smoky Mountains.
Abram's Creek is a rather private and quiet place. This park has a total of only 16 campsites. The maximum length of an RV that can be parked here is 12 feet. The road leading to the campground is narrow and the turnaround cannot accommodate larger vehicles.
Despite its rustic appearance, there are modern flush toilets with potable water.
This campground is ideal for campers who want to be close to Townsend's grocery stores, restaurants, and other amenities.
The park is known for its outstanding fly-fishing opportunities. Neighboring Abram's Waterfall, which can be reached via the 8-mile loop of the Little Bottoms Trail, is worth a visit.
Frozen Head State Park
Phone: +1 888-867-2757
Address: 3208, 964 Flat Fork Rd, Wartburg, TN 37887
Activities & amenities highlights:
Backpacking
Hiking
Fishing
Hot showers
Camping at Frozen Head State Park offers some of the best basic camping in Tennessee.
This large state park, located in the Crab Orchard Mountains, is a popular destination for backpacking and hiking. The National Autobahn Society has named it one of the best places in Tennessee for bird watching.
There are numerous campgrounds in the Big Cove region of the state park. Two group camping spots are included with the 20 tent campsites. Despite the rustic setting and accommodations, there are modern restrooms with hot showers, flush toilets and drinking water.
There are also 10 backcountry campsites for overnight guests.
Conclusion
The Volunteer State truly lives up to its generous reputation when it comes to camping options.
There are a lot of camping sites throughout the state, and each of them has something unique to offer.
From RV sites to tents to lodges and cabins, accommodation options in the area are also unlimited. If you truly wish to explore Tennessee, pack up your bags, and go camping.
It's the best way to see all the magnificent sites the state has to offer.