For adventurers who are looking to get off the beaten path, Wisconsin is a dream.
This large state, which is easy to reach from most places in the United States, is a wonderland of wild landscapes and secluded spots.
It's bordered by two of the Great Lakes — Lake Michigan to the southwest and Lake Superior in the north — creating endless opportunities for waterfront camping. If you prefer to stay inland, you'll find deep, green forests and picturesque rolling farmland.
Wisconsin has four distinct seasons, each with its own camping character. Summers are warm and sunny, while spring is impossibly green and fresh.
Autumn is a spectacular time to camp in Wisconsin; the thick forests blaze with fall colors, and the air is crisp and pleasant.
Winters are cold and snowy, particularly in the northern reaches of the state — return to your cozy RV or yurt after a day of ice fishing, skiing, snowshoeing, or snowmobiling.
Check out also:
– Best Camping Sites in Minnesota
– Best Camping Sites in Illinois
– Best Camping Sites in Michigan
No matter when you visit, this stunning state ensures a pleasant trip.
1. Edge-O-Dells Resort
Website: edgeodells.com
Phone: (608) 253-4275
Address: N555 US 12 & 16, Wisconsin Dells WI 53965
Available activities:
Swimming
Boating
Water parks
Live music
Campfires
Wisconsin Dells is one of the most iconic vacation spots in the state of Wisconsin. Its main draw is the beautiful Wisconsin River, which is bordered by towering cliffs and dramatic rock formations.
Families love the area for its proliferation of water parks. Around the area, you'll find hiking trails that run along the waterfront and through deep, cool forests, as well as some of the best boat tours in the state.
The Edge-O-Dells Resort is a camping resort that's only open to adults. It's more than just a camping trip — it offers a full vacation experience. Relax in the sparkling pool, spend evenings around the fire, and check the schedule to find one of the many live music performances.
If you don't feel like cooking, the onsite bar and grill have you covered. With campsites, RV sites, and a variety of simple and luxurious cabin options, there's something for every camper.
2. Peninsula State Park
Website: dnr.wisconsin.gov
Phone: (920) 868-3258
Address: 9462 Shore Rd, Fish Creek, WI 54212
Available activities:
Swimming
Biking
Kayaking
Golf
Theatre
Peninsula State Park is undoubtedly one of the most iconic state parks in Wisconsin. It spreads over 8 miles of shoreline near Green Bay and offers a plethora of activities to engage in.
Hike or bike the shoreline, roam the waters on a kayak or visit the historic Eagle Bluff Lighthouse. If you are in search of culture, you can even go see a play at the Northern Sky Theatre. Nearby, you will find the town of Fish Creek which is famous for some amazing cafés, shops, and galleries.
Wondering where to stay? The peninsula is dotted with 468 campsites which boast beautiful views of sunrises and sunsets. However, the best views can be enjoyed from the newly reconstructed Eagle Tower which is open seasonally from May to October.
If you're traveling with a group, you can book one of the three group tent sites. Winter camping is available too in Tennison Bay Campground.
3. Jellystone Park™ Camp-Resort – Best Family Camping in Wisconsin
Website: jellystone-caledonia.com
Phone: (262) 835-2565
Address: 8425 WI-38, Caledonia, WI 53108
Available activities:
Waterslides

Yogi's Picnic Splash

Volleyball

Mini Golf

Playgrounds

Arcade

Fishing
The Jellystone Park™ Camp-Resort in Caledonia provides you with a fun Yogi Bear-themed camping experience that is conveniently situated between Milwaukee and Chicago, just 17 miles south of Wisconsin's largest city.
It offers plenty of on-site attractions, including what is self-described as the "largest inflatable waterpark and obstacle course you've ever seen." Meanwhile, if you come here in the winter, you can enjoy millions of Christmas lights at its Wisconsin Christmas Carnival of Lights.
Its campsites for motor homes include concrete pads and patios and full hook-up for electricity, water, and sewer. In addition, some spots are pull-thru sites.
The camp resort also offers water and electricity sites for those who want to stay in a tent. These areas are roomy enough for you to put up a larger tent for adults and a smaller one for children next to it. No-hook-up tent sites are available as well; fire pits and picnic tables accompany those.
4. Plymouth Rock Camping Resort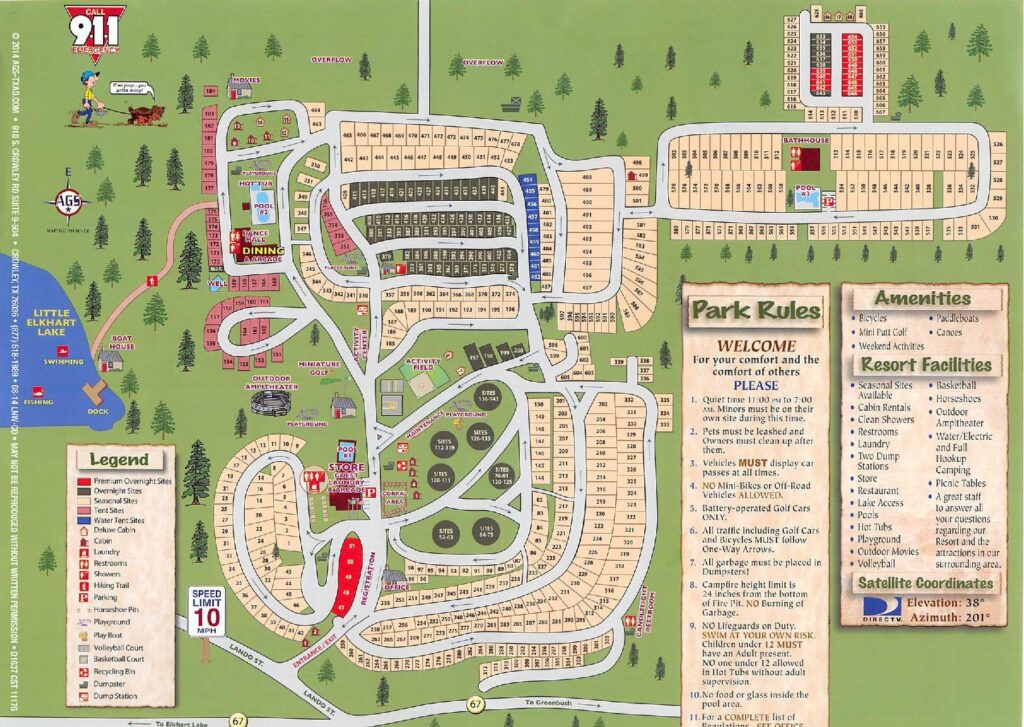 Website: rvonthego.com/wisconsin/plymouth-rock-camping-resort/
Phone: (877) 570-2267 or (920) 892-4252
Address: N7271 Lando St., Plymouth, WI 53073
Available activities:
Boating

Playground

Volleyball

Mini Golf

Swimming

Picnicking

Fishing

Outdoor movies
Sixty miles to the north of Milwaukee is the 180-acre Plymouth Rock Camping Resort, a family-oriented destination where you can unwind in your RV or tent. Several previous guests have also commended the selection of activities that are on offer here.
If you are looking to spend time at Road America, which hosts NASCAR events, you will likely be pleased that this camping resort provides close access to it, sitting less than a mile away.
Available here are a limited number of pull-through sites and hook-ups for electric, water, cable, and sewer. Do note that spots can be difficult to find and maneuver to and that this campsite can be noisy at times. Also, vehicles that use the Road America track are heard here.
The primary person checking must be at least 21 years old.
5. Apostle Islands National Lakeshore
Website: nps.gov
Phone: (715) 779-3397
Address: 415 Washington Avenue, Bayfield, WI 54814
Available activities:
Kayaking
Fishing
Swimming
Sunsets
Stargazing
Boat tours
One of the most spectacular outdoor areas in Wisconsin, the Apostle Islands National Lakeshore is a must-see destination. Here, 21 islands dot the cold waters of Lake Superior, all within a short boat ride of the rocky shoreline.
This is a landscape marked by rugged cliffs, hidden caves, and dense pine forests. Spend your days kayaking under rock arches, and return to your campsite to warm up by the fire. In the winter, the caves are covered in shimmering blue ice, and visitors can hike out across the frozen lake to visit.
Nineteen of the Apostle Islands have campsites; there's also one on the mainland. All of the sites are tents-only to ensure peace and quiet; most are primitive, with vault toilets. On Manitou Island, there's just one site to ensure maximum relaxation.
If you prefer some company, book one of the multiple sites on Stockton Island, Sand Island, or Rocky Island.
6. William G. Lunney Lake Farm County Park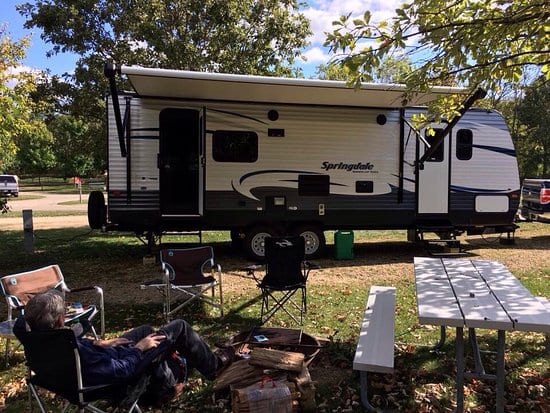 Website: parks-lwrd.countyofdane.com
Phone: 608-224-3730
Address: 4330 Libby Rd, Madison, WI 53711
Available activities:
Paddling
Hiking
Swimming
Fishing
Biking
Cross-country skiing
Tucked away in south-central Wisconsin, William G. Lunney Lake Farm County Park is the perfect home base for adventures near Madison.
This sprawling campground is located in an enormous green park on the shores of Lake Waubesa. Lake Monona and the beautiful Madison downtown are both close by. During your visit, spend time paddling and fishing, or take a drive through the rolling hills of the nearby farms. In the fall, visit an orchard and end the day with a stunning sunset over the water.
William G. Lunney Lake Farm County Park offers 54 sites; 39 of them come with electrical hookups, so you can bring a motorhome. The park offers Wi-Fi, hot showers, bathrooms, and a playground for the kids.
7. Newport State Park
Website: dnr.wi.gov
Phone: 888-947-2757
Address: 475 County Rd NP, Ellison Bay, WI 54210
Available activities:
Hiking
Swimming
Kayaking
Stargazing
Campfires
Biking
Play in the pleasant waters of Lake Michigan when you stay at Newport State Park. Located in stunning Door County, this Wisconsin campground enables you to enjoy the wilderness in peace.
This is a spot that attracts serious adventurers — the remote, rocky shores are unspoiled by crowds, and the limited access means that you're likely to have the beach to yourself. At night, the stars shine brilliantly above, thanks to the lack of light pollution.
Newport State Park has just 16 campsites. Each one is a hike-in site; load up your backpack and head out into the wild for a true off-grid getaway.
Wake up to the sound of Lake Michigan waves, and spend your days hiking through the forests or splashing in the bay. With its mix of white-sand beaches and rugged cliffs, there's always something new to explore.
8. Cedar Falls Campground
Website: wvic.com
Phone: 715-356-5396
Address: 6051 Cedar Falls Rd, Hazelhurst, WI 54531
Available activities:
Canoeing
Fishing
Swimming
Watersports
Hiking
Waterfalls
Located near the charming resort town of Minocqua, Cedar Falls Campground embodies the relaxed northern-Wisconsin vibe. You'll feel it as soon as you get in — the pace is slower, the air is fresher, and the peace of the forest is palpable.
Located deep in the woods, this area is known for its many inland lakes; spend your trip fishing, swimming, or boating. In the evenings, watch the local water-skiing troupe perform stunts. If you're more interested in land activities, there's plenty of hiking to do; don't miss the beautiful Cedar Falls as it tumbles through the trees.
At Cedar Falls Campground, you'll find 42 sites for tents and RVs. Many of the sites offer electric hookups; all sites are first-come, first-served. Nearby, there's a dump station, laundry room, boat launch, and bathrooms with showers for convenience.
9. Merrick State Park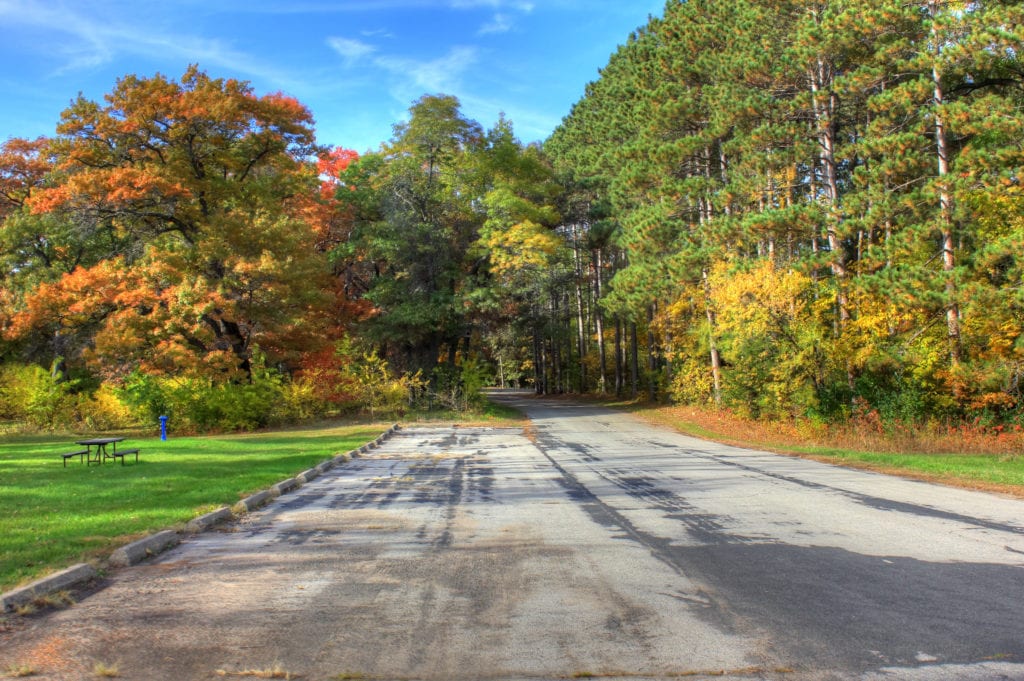 Website: dnr.wi.gov
Phone: (608) 687-4936
Address: S2965 WI-35, Fountain City, WI 54629
Available activities:
Hiking
Playgrounds
Picnicking
Paddling
Fishing
Hunting and trapping
Merrick State Park sits on the shores of the mighty Mississippi River on the far western edge of Wisconsin. At this park, it's all about the water — explore the network of small islands just offshore, enjoy the views over the river, or fish right from the shore.
Paddling, either by canoe or kayak, is the perfect way to experience the region; the water is calm, and there are plenty of beautiful inlets and beaches to discover. The leaves change color dramatically each fall, making autumn a particularly lovely time to visit.
No matter when you come, the 65 campsites in the state park make a great home base. Sites are split between three different areas.
The North campground offers electrical hookups for RVs, the South campground is known for its water views, and the island campground offers basic walk-in sites. With its quiet atmosphere and mostly flat terrain, this spot is popular with families and anglers.
10. Harrington Beach State Park
Website: dnr.wi.gov
Phone: (262) 285-3015
Address: 531 Co Rd D, Belgium, WI 53004
Available activities:
Hiking
Biking
Playgrounds
Horseback riding
Paddling
Swimming and fishing
Get the full Lake Michigan experience at Harrington Beach State Park, which is located right on the shore. With its wide, sandy beaches and exceptional water access, this is the perfect spot for swimming and beach exploration.
If you're an experienced paddler, launch a canoe or kayak right from the beach and navigate the waves just offshore. In the winter, cross-country skiers glide silently through the snowy forests with stunning views of the water.
Inside the state park, a family-friendly campground offers 68 sites. Each one offers a fire pit and a picnic table, so you can enjoy the full beauty of the Wisconsin landscape.
Both tents and RVs are welcome; about half of the sites offer electric hookups, and there's a dump station and water fill-up area nearby. Keep in mind that the campground is only open from May through October. In addition, you can book a single camping cabin or a boat-in-kayak campsite.
11. Big Foot Beach State Park
Phone: (262) 248-2528
Address: 1550 S Lake Shore Dr, Lake Geneva, WI 53147
Available activities:
Swimming
Fishing
Boating
Golfing
Playgrounds
Picnicking
Explore the southern farmlands of Wisconsin from your site at Big Foot Beach State Park. Set up camp under the trees, and walk directly from your site to the calm, shallow waters of beautiful Geneva Lake.
Madison, Milwaukee, and Chicago are all within a few hours' drive, but you'd never know it — the area is known for its small-town vibe and impossibly scenic views.
The state park offers 100 campsites; it's busy during the summer months, so it's a good idea to make reservations in advance. If you're coming in an RV, book a site in the upper loop; they offer gravel pads, and 14 sites have electric hookups. With hot showers and a dump station, this park is comfortable for both tents and motorhomes.
Whether you're kayaking around the Apostle Islands in the far north or sleeping among the rolling farmlands in the south, we think you'll be charmed by Wisconsin's natural beauty. The magic is in the variety — from the rugged Lake Superior coast to the striking Wisconsin Dells to the white-sand beaches of Lake Michigan, there's something for every mood.
When you visit Wisconsin, be prepared for a warm welcome. This is a state that embraces the legendary Midwestern friendliness — it's easy to strike up a conversation to discover local hot spots or the best restaurant in town. In fact, you may find yourself planning a return trip even before the sun sets on the last night of the trip.
12. Fox Hill RV Park & Campground
Heated swimming pool
Hiking trails
Fenced dog area
Picnicking
Biking
Fox Hill RV Park & Campground, located only minutes from the Wisconsin Dells and Devil's Lake State Park, offers premium and basic cabins, forested campsites, and convenient full hook-up (W/E/S) pull-thru RV sites with 20/30/50 amp service to suit even the largest RVs and trailers.
Guests can enjoy the peace and quiet of a traditional camping experience while also exploring the local area's adventures.
A heated pool, weekend pancake breakfasts, a fenced dog area, and plenty of hiking trails are all available to make your stay as enjoyable as possible.
Fox Hill RV Park and Campground is the place to go if you're searching for a family-friendly area to enjoy beautiful Wisconsin outdoors with a small or large group.