When you think of Illinois, the first thing that probably comes to your mind is Chicago. The big, bustling city is the country's third-largest, and it houses millions of citizens; it makes sense that is what you would think of when planning your vacation in this state.
Illinois, though, has much more to offer than just skyscrapers by the lake. There are so many sites to see and things to do in Illinois that don't center around the big city.
Namely, there are plenty of fantastic campgrounds, both state-owned and privately-owned that should draw you to this beautiful area. If you're looking for a getaway and you're sick of the noise and crowd of the big city, these gorgeous campgrounds could be just what you need.
Whatever activities you enjoy on vacation, you can find them in Illinois, from kayaking to hiking and more. Be one with nature, and enjoy the Illinois wilderness.
Here are the eleven best campgrounds in Illinois.
Fish Lake Beach Camping Resort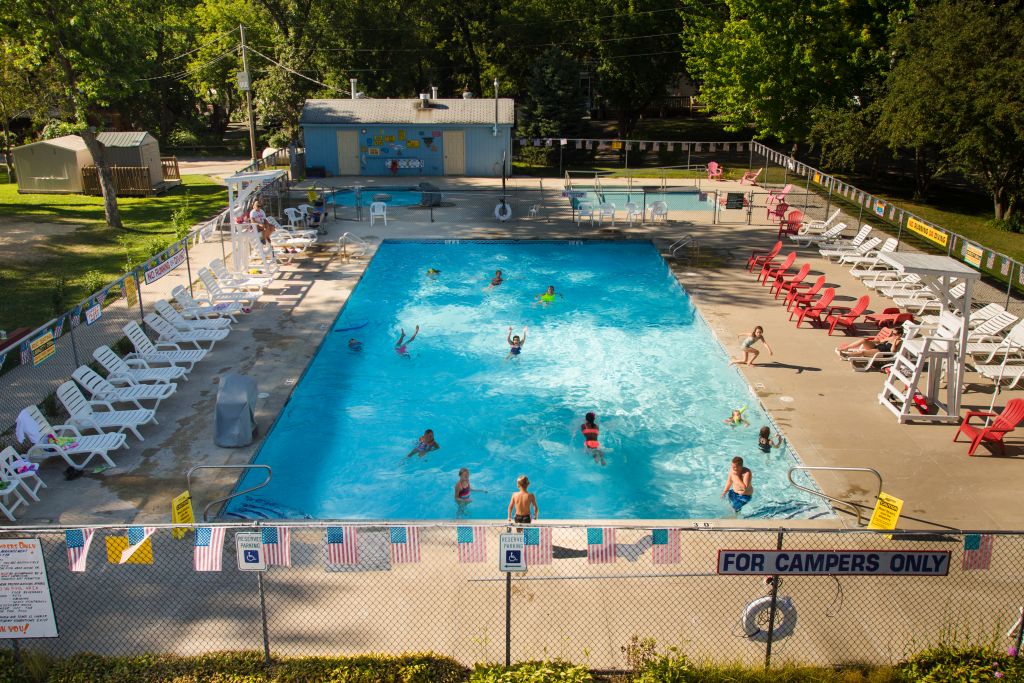 Phone: +18475462228
Address: 32223 N US Hwy 12, Volo, IL 60073
Activities:
Bearing the name of the adjacent Fish Lake, this family-friendly campground is boosted with amenities. Sports lovers can engage in softball, volleyball, basketball, or mini-golf. Then, they can relax in the heated pool or hot tub.
The lake offers various water activities, such as swimming, boating, kayaking, and paddle boarding. The beach features swings, picnic areas, playgrounds, and grills. Whereas fishing enthusiasts can catch bluegill, crappie, bass, northern pike, catfish, striper, carp, and more. There is also a leash-free dog park.
Kids will like the kiddie pool and themed activities organized on a weekend basis.
Campers can choose from water and electricity or full hook-up RV and tent sites. Each of those has its own fire ring and a picnic table. Park model rentals are available too.
Kayak Morris
Phone: +16305674653
Address: 801 Kayak Morris Rd, Morris, IL 60450
Activities:
Kayak school and tours
Boating
Biking
If you're looking for primitive camping near Chicago, how about Kayak Morris? This modest campground, which is at the same time a kayak school, is set on the sandy shores of the Illinois River and offers a truly outdoor experience.
It features shady wooded tent sites, fire rings, and picnic tables. There is no electricity nor showers but if you do need to freshen up a bit you can access the bathhouse in Morris Public Swimming Pool for a little fee (about $2).
There are plenty of activities you can spend your day with. Apart from kayaking, you can engage in canoeing, fishing, geocaching, or hiking. There is also a bike path and a boat launch nearby.
Feel like shopping? Downtown Morris is just steps away from the campground and you will find a number of antique shops, novelty stores, and top-class restaurants there.
Giant Goose Ranch – Best for Fishing
Phone: +13093384595
Address: 25369 N Goose Ranch Rd, Canton, IL 61520
Activities:
This unique family-owned vacation destination in the Midwest is a hybrid of a campground, a sportsman's club, a vacation resort, a working ranch, and a private recreational farm. Surrounded by more than 50 lakes, this place was developed into Sugar Knolls campground in 1954. Blessed with a plethora of fish and traditions, it has been a popular fishing spot in the area ever since.
Spend a night in one of the cozy cabins with spectacular lake views, or rent a water and sewer RV site with 30/50 amp service. All sites are padded and have a picnic tables. Unfortunately, tent camping isn't available anymore.
You can also borrow a boat and a golf cart. Should you get tired of the water activities, you can set off to explore the area's Wildlife Prairie Park, Luthy Botanical Garden, or Caterpillar Museum. You simply can't get bored around this campground.
Matthiessen State Park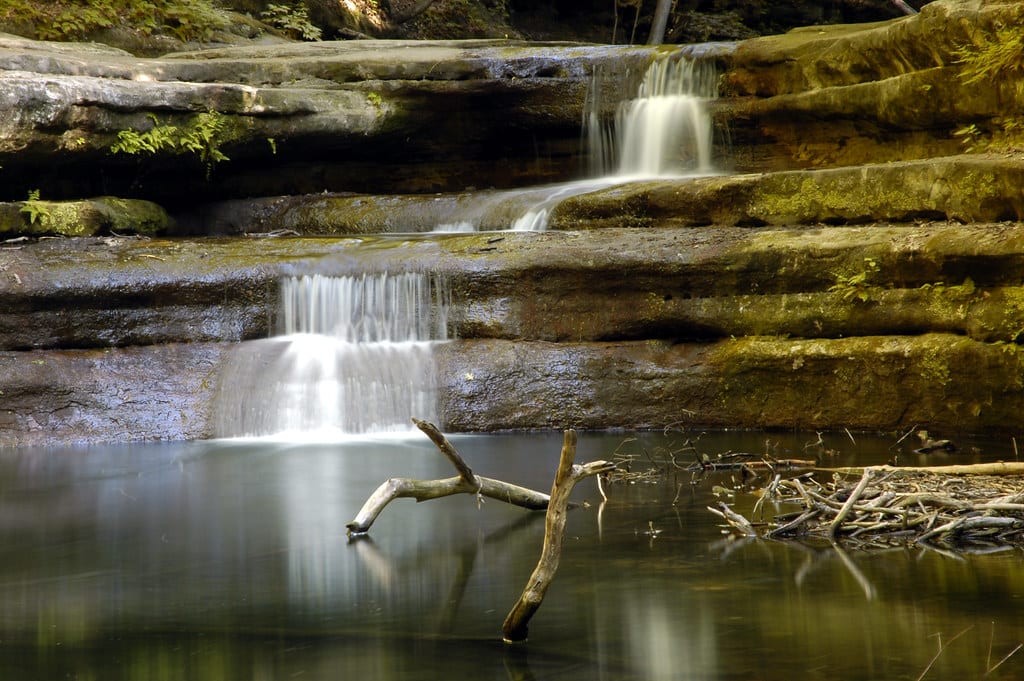 Phone: +18156674868
Address: 2500 IL-178, Oglesby, IL 61348
Activities:
Archery Field

Geocaching

Hiking and equestrian trails
The area surrounding Matthiessen Park is probably the most beautiful in the state. Canyons, waterfalls and hiking trails spot the land around the campground and offer many opportunities for visitors to explore and become one with nature.
Although camping is mostly limited to rustic sites, this greatly appeals to some. Campsites are also very inexpensive each night, so if you're looking for a cheap place to stop for the night or if you're looking for a way to budget your vacation, this could be the campground for you.
Visitors will have a picnic table and a grill and are welcome to bring their generator.
Visitors are in awe of the beauty and peacefulness of the land around Matthiessen State Park, and it shows in the reviews. Many visitors enjoy the peace of the land and the amazing landmarks. The cleanliness and the relatively empty campground also appeals to visitors
Blackwell Family Campground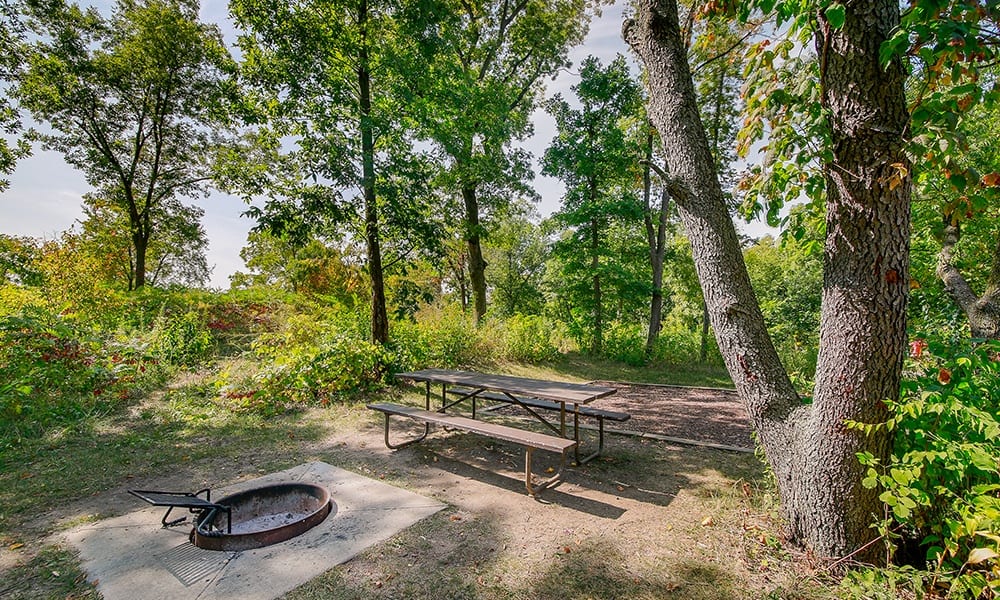 Phone: +16309337200
Address: West Chicago, IL 60185
Activities:
Hiking

Programs for kids and adults

Fishing
Although the campground is close to the big city of Chicago, there are still plenty of ways to get involved in nature. This campground is situated inside the Blackwell Forest Preserve, which includes the beautiful Spring Brook, many nearby hiking trails and an expansive lake. It may be close to Chicago, but there are no signs of the city for miles.
There are options for any type of camping you may be interested in at Blackwell Family Campground. There are wooded and semi-wooded spots with a gravel parking pad, a firepit and a picnic table. Each site offers electricity hook-up. The sites are close together; in a busy season, it might be hard to get some peace, but this is usually not the case.
Reviews boast of the peacefulness that can be found at that campground, and the cleanliness and availability of amenities. It isn't a perfect campground, but it's pretty close.
Castle Rock State Park
Phone: 8157327329
Address: 1365 W Castle Rd, Oregon, IL 6106
Activities:
Hunting

Boating

Hiking and Geocaching
The surrounding area is rustic, to say the least. There are many trails untouched by cars or other vehicles. Although there are small businesses in the general area, you can't find any in the campground. It's beautiful and austere.
This campground is not for the people who like amenities. The campsites can only be reached by kayak or canoe. It means that there are no RVs, no cars, no noise at the site. Campsites are rustic, but those who visit like it that way. It certainly is unique.
There is a lot of love in the reviews for the trails at this park, which is no surprise. Many visitors enjoy the peace and quiet of the small towns around this park and the many walking paths. Although there are a lot of bugs, this quaint area is just plain charming. Many reviews will also urge visitors to check out the small antique shops on their way out.
Whittington Woods Campground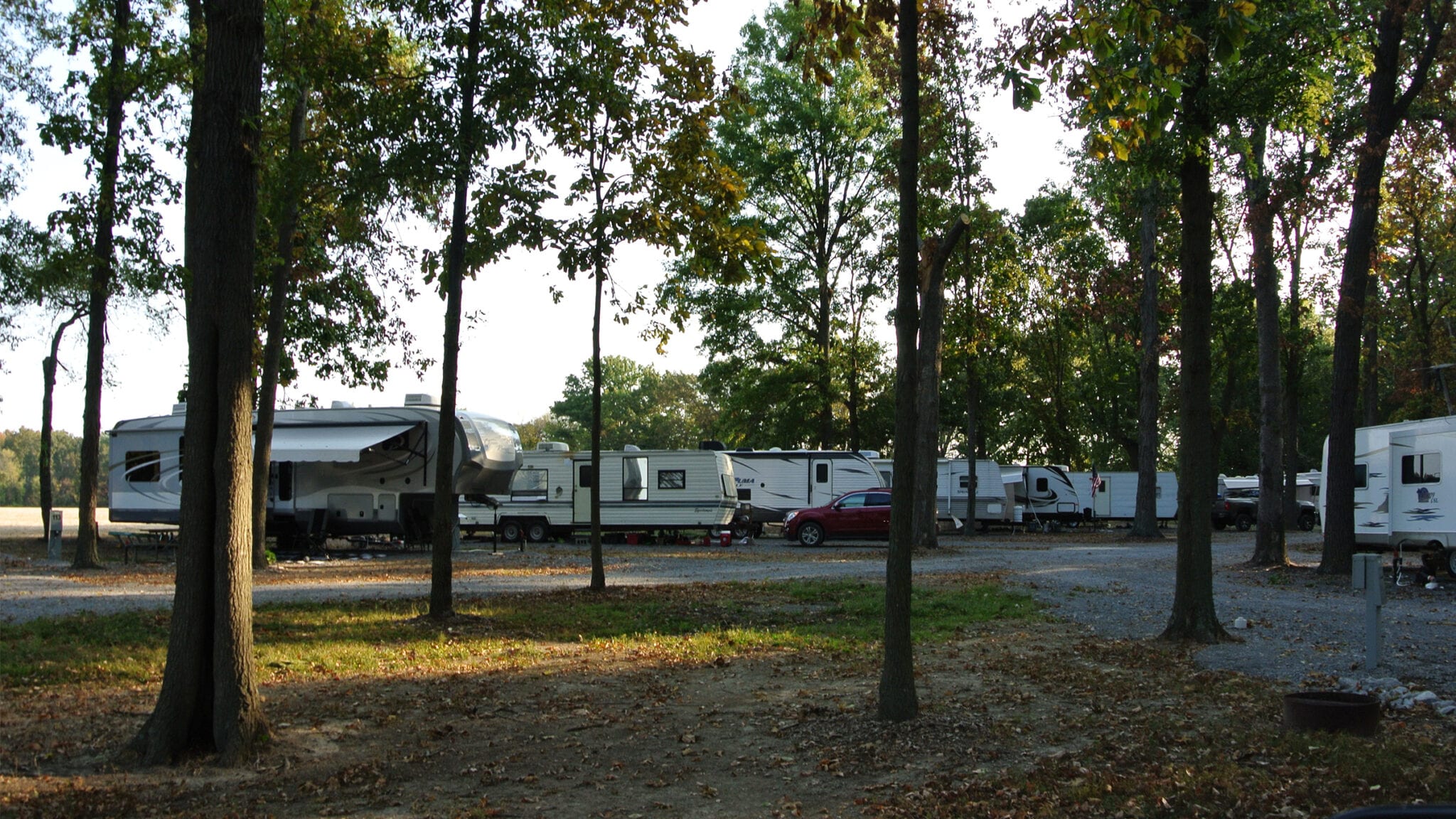 Phone: 6184353401
Address: 14297 IL-37, Whittington, IL 62897
Activities:
Shopping just minutes away

Water activities on and around Rend Lake

Golfing
Not only is this campground surrounded by nature, but there are also lots of opportunities to get out of the sun nearby. There is beautiful Rend Lake, complete with watersports and bike trails that surround the campground, but minutes away are shopping centers, golf courses, dancing halls and wineries.
Whittington Woods Campground offers both cabins to rent and spaces for tents and RVs. They have a wide range of options, so it doesn't matter if you like rustic or glamping, there is an option for you. If you really love the campground, you have the choice to rent by the month.
While the reviews often mentioned the kind hosts and clean campground, the most boasted thing was the chickens. Most people don't see free-range chickens on a daily basis, but you can at Whittington Woods Campground. The novelty of it is thrilling, and the eggs taste fantastic.
Ferne Clyffe State Park
Phone: 6189952411
Address: 90 Goreville Rd, Goreville, IL 62939
Activities:
Rock Climbing

Hiking and Equestrian Trails

Metal Detecting
Here is another pristine campground with a beautiful surrounding area. Waterfalls and scenic trails surround Ferne Clyffe State Park.
Sites provide shade, and there are waterfalls and unique plant communities that grow along the hiking trails. If you love to explore, then this might be the campground for you.
There are so many types of camping that you can do here: modern, primitive, youth groups, backpack or equestrian are all allowed and encouraged. There are many different regions of the campground that offer different amenities. There are options for RV hook-up to electricity, but if a camper wanted a more rustic experience, that's an option, too.
Many reviews of this campground mention the beautiful trails that cut through the surrounding nature preserve. Dog walking, hiking, horse riding and biking are all popular in this area. Visitors love the nature found around this campground.
Crazy Horse Campground
Phone: 2178862089
Address: 2113 Crazy Horse Rd, Ashland, IL 62612
Activities:
Fishing

Participating in planned crafts and activities

Visiting historical sites
There is plenty of nature surrounding this campground, including a lake, but most campgrounds have a lake. What they don't have are the historical monuments that Crazy Horse has.
Crazy Horse has a wide variety of Abraham Lincoln historic sites for visitors to explore and learn about history through.
There are tent sites, RV sites, and cabins for visitors to rent. There are also amenities, but if you aren't interested, you don't have to pay for them. Prices are low, and you're sure to find a site that fits in your budget easily.
The grand majority of the reviews can't resist saying something about the water sports available at the campground. It's true, the pond is stocked with fish, and there is swimming for all. That's not the only attraction, though. The Bluegrass Festival draws people from all over to participate in the food, music, and fun.
Starved Rock State Park
Phone: 8156674726
Address: 2678 E 875th Rd, Oglesby, IL 61348
Activities:
Boating and Kayaking

Hunting

Hiking and Exploration
Although very similar scenery to Matthiessen State Park, there are a few key differences. Both parks feature beautiful scenery, including waterfalls and canyons. Starved Rock State Park is less rustic. If you are interested in a nearby tourist center as well as the gorgeous landmarks, this may be the park for you.
Here is one of the aspects in which this park differs from Matthiessen. Matthiessen offers very rustic sites for less while Starved Rock offers gravel parking pads and an RV hook-up at every campsite. If you were disappointed to learn that you could not bring your camper or RV to Matthiessen State Park, this is the park for you.
Reviews mostly center on the beauty around the campground, and it isn't hard to see why. The land truly is beautiful. Any visitor would enjoy a hiking experience or to gaze out at the waterfalls here.
Hebron Hills Camping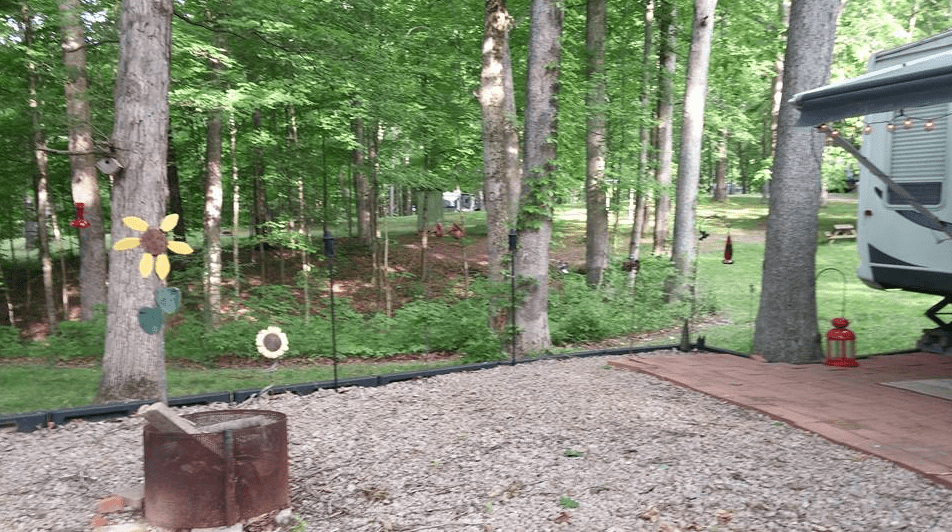 Phone: 2173463385
Address: 14349 N Co Rd 2350 E, Oakland, IL 61943
Activities:
Hiking

Concerts

Badminton, Volleyball and Basketball
Hebron Hills sits right next to the gorgeous sites of Brush Creek. Campsites are wooded, but there are wide open spaces to explore and feel at peace in; the quiet wilderness is everywhere. Although the creek is small, it offers fishing, swimming and paddle boats. The open spaces are perfect for field sports.
They offer anything from primitive sites up to full hook-ups. RVs or tents are welcome. If you're interested in a cabin, that is available, too. Cabins are one room with no running water, but they are clean and well-kept.
The kindest reviews talk about how clean the campground is and how kind the owners are. There are plenty of activities and scenic views, but even these can't compare to the kindness shown at this campground. If you're looking for a clean, relaxing campground that is as welcoming as can be, you're looking for Hebron Hills Camping.
---
So, don't put Illinois in a box. It isn't just for lovers of the urban scene and young college kids looking for a start in a big city. Illinois is the perfect state to vacation in. From very rustic sites that could leave you feeling like a wilderness survival to glamp sites that feel like a home away from home, Illinois is here for everyone.
The scenery and activities are for everyone, too. Illinois is home to many rivers, lakes; it even borders Lake Michigan! Water sports are not only available, but they are also encouraged. Swimming, fishing, boating, kayaking, canoeing: Illinois has it all.
The many reserves and forests boast scenic and well-kept hiking trails that can tempt any woodsmen if you aren't so interested in water activities. Most importantly, people welcome campers of all ages to participate in fun activities. Many reviews mention the kind workers that made the stay so fun and relaxing, and it's no wonder why.
The people of Illinois make a difference in your vacation location.
Are you interested? Book your spot in the campground of your choice today, and enjoy the vacation of a lifetime in beautiful and scenic Illinois.