Michigan is a unique state, especially when it comes to camping. A lot of people tend to focus on camping in the upper peninsula, or U.P., where people associate "wilderness" with widespread cabins and forests.
However, you should never skip out on camping in the lower peninsula, or L.P., because it has a ton of great campsites with amazing features too.
In fact, there are dozens of great camping sites in both of Michigan's peninsulas and this state is ideal for camping because it is surrounded by three of the five Great Lakes.
Only the borders that Michigan shares with Indiana and Ohio are a little shy of campgrounds. The border the U.P. shares with Northern Wisconsin is equally dotted with campsites.
Before you plan your next Michigan camping trip, you should become acquainted with sixteen of Michigan's best spots.
Check out camping sites in the next door states:
North Port Huron Jellystone Park – BEST for Kids

Situated directly across the street from Lake Huron in the middle of Michigan's Thumb area, North Port Huron Jellystone Park encompasses more than 90 acres. Formerly known as Lake Huron Campground, it recently joined the Jellystone family of campgrounds.
The 400 campsites accommodate all kinds of camping styles from tents to pop-ups to large RVs. In addition, there are 38 cabins available for rent. This includes Cabin Village where clusters of individual rustic units are gathered around outdoor kitchens to provide areas for large groups.
Located on a private 20-acre lake, this campground offers a new Water Zone swimming pool complex featuring a full water park with mini slides, an activity pool, and a kiddie pool with spray features. Other new features added recently include pedal carts, walking bridges and nature trails, miniature golf, a gem mining station, and jumping pillows.
Dunes Harbor Family Camp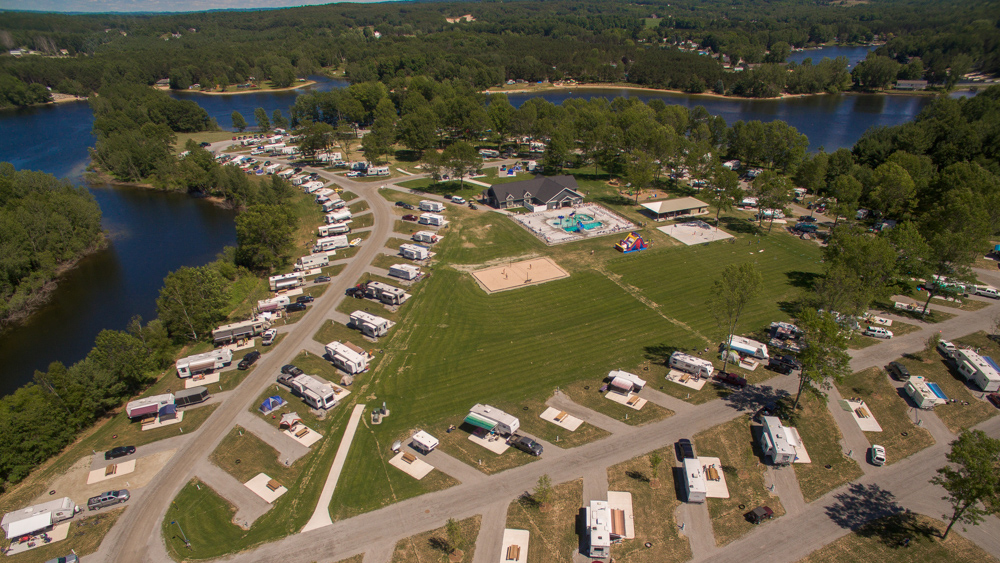 This family-friendly campground is based along the beautiful Silver Lake. Just a mile from the Sand Dune ORV entrance, it's a perfect place for those looking for adventure. Walk the beaches of Lake Michigan, visit the Sable Point Lighthouse, or enjoy some of the many amenities of the campground.
Those include all sorts of family activities, such as horseback riding, archery, movie nights, or arts and crafts activities. Water lovers will like the heated swimming pool with a slide and kayak rentals.
The campground has 128 full hook-up sites, 55 of which face the waterfront. There are also 36 water and electricity hook-up sites as well as rustic cabins. Extra-large and group camping spots are available too.
Sleeping Bear Dunes-Platte River Campground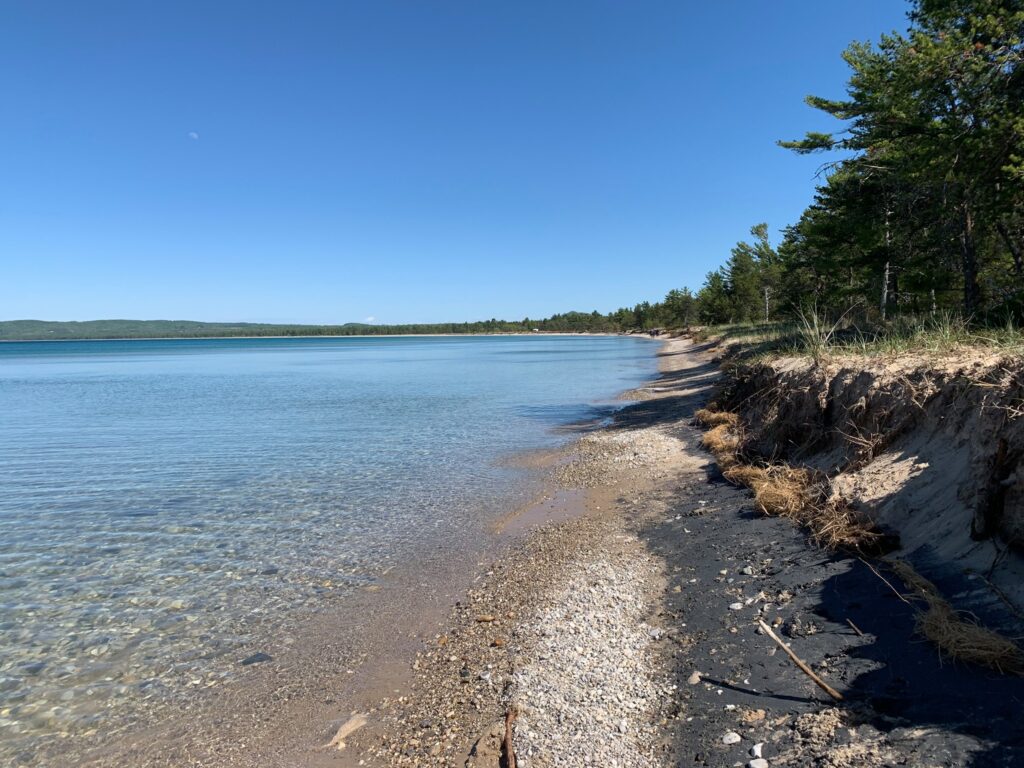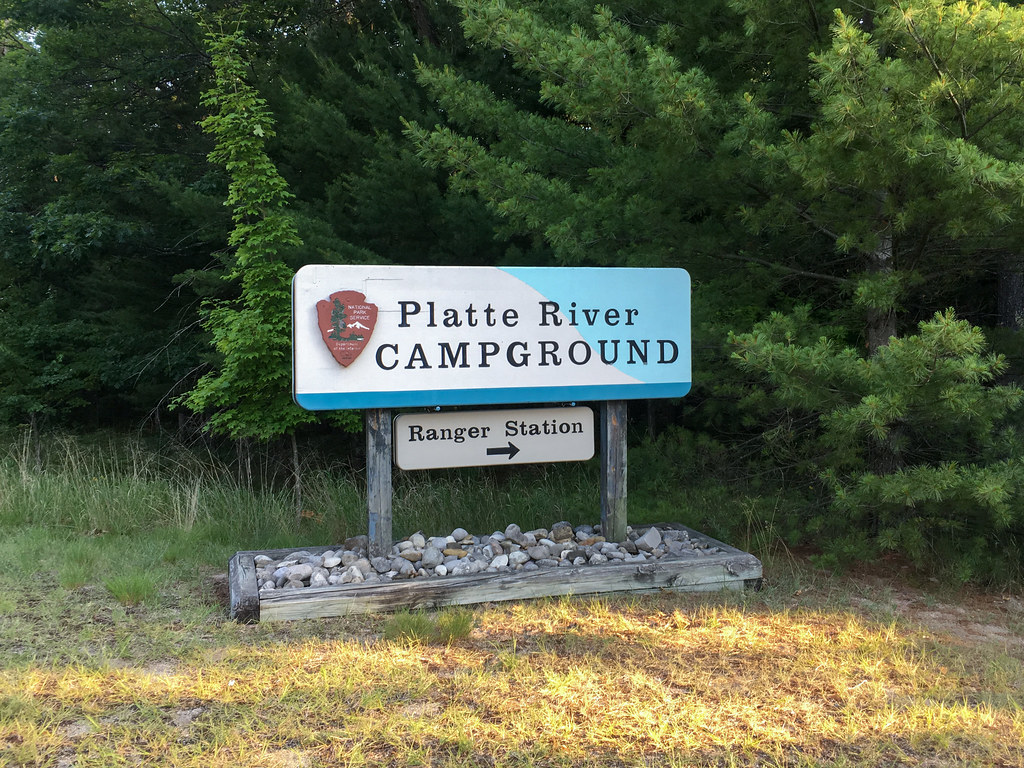 Miles of sand beaches, lush forests, and crystal-clear inland lakes, that's Sleeping Bear Dunes National Park.
There are over 100 miles of hiking trails that can be skied or snowshoed in winter. While the mainland Lake Michigan beaches are a great spot to swim and sunbathe in summer. Adventurers can float the Platte and Crystal rivers.
The campground itself is open year-round and features both back-in and pull-thru sites with electric hook-ups. There are also walk-in tent sites and hike-in group sites. Amenities include flush and vault toilets, hot showers, a dump station, and firewood.
Platte River Campground in Sleeping Bear Dunes is simply a spot for those who'd like to spend a peaceful weekend or vacation in nature.
Mackinaw Mill Creek Camping




A favorite spot for locals and vacationers alike for more than 50 years, Mackinaw Mill Creek Camping sits on 200 wooded acres along a mile of shoreline. With views of the Mackinac Bridge and the Straits of Mackinac, it offers more than 600 campsites and cabins to suit every camper's needs.
These include budget sites for tents and campers, RV sites with 50-amp electric, water, and sewer services, and cabins ranging from one room to two-story three bedrooms with indoor plumbing.
Campers can enjoy bike rentals, exercise area for their dogs, and a full 18-hole golf course, the Mackinaw Club. Well maintained bathrooms with flush toilets can be found conveniently placed throughout the campground. Indoor amenities include an arcade and game room as well as a park store.
A full-sized basketball court, heated pool, and three separate playgrounds allow for outdoor fun. Trails for hiking and biking abound along with free seasonal hayrides and shuttles to the Mackinac Island Ferry.
Harbortown RV Resort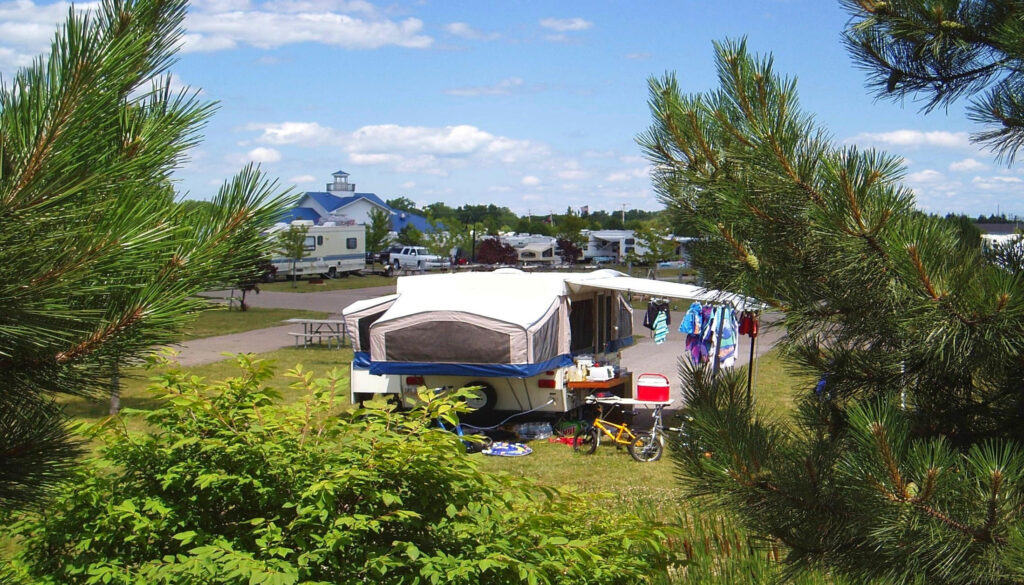 Conveniently located on Lake Erie in Southeast Michigan between Detroit and Toledo, Harbortown RV Resort can be your home base for exploring the area that shines with history, recreation, and much more.
Enjoy fishing, boating, and paddling on the lake or engage in prime golfing. You can also visit the Henry Ford Museum & Greenfield Village, as well as other places of interest. Like the River Raisin Battlefield, the Navarre-Anderson Trading Post, or the Martha Barker Country Store.
The RV park itself features 80 large pull-thru sites with full hook-up and 20/30/50 amp service, which can accommodate even the biggest RV coaches. Cozy log cabins are available too.
Moreover, the campground boasts abundant resort-like amenities, such as a pool, arcade games, mini-golf, batting cages, and others. It is, therefore, a great choice for families.
Warren Dunes State Park
Warren Dunes State Parks is one of the most beautiful places you can visit in Michigan. With 1,952 acres and 3 miles of shoreline, you're in for a great adventure.
It features some of the best campgrounds in Michigan with 185 modern camp spots (all with electric hookups), 24 rustic campsites, and also 3 rustic mini-cabins to rent.
Warren Dunes State Parks has activities for every season of the year. You can enjoy sandboarding, hiking, paddling, birdwatching, or a nice salt-free swim in summer. On the other side, in the winter you can enjoy sledding, sandboarding, cross-country skiing, or look for amazing ice formations.
Tahquamenon Campground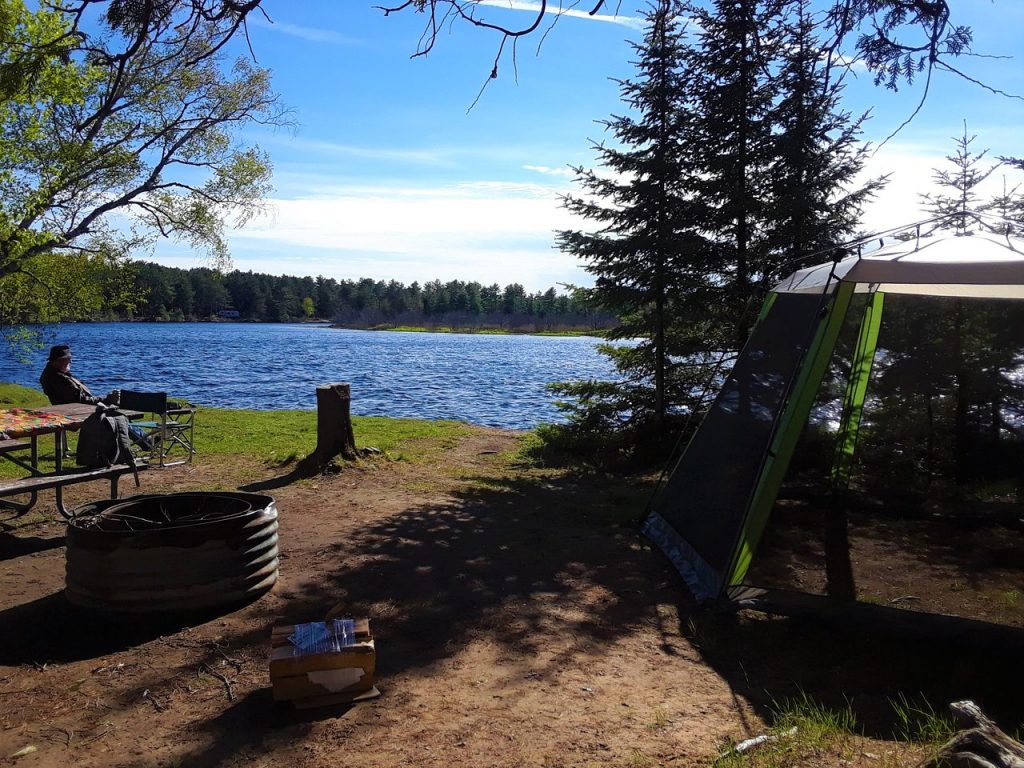 Explore the almost 40 miles of hiking trails, 13 inland lakes, and 20,000 acres of natural beauty at Tahquamenon Falls State Park.
This state park boasts two of Michigan's greatest campgrounds.
Lower Falls Campground has two modern campgrounds with a total of 90 campsites ideal for those who simply want to appreciate nature without having to worry about everyday chores.
Electricity, a fire pit, a table, hot showers, and flush toilets are all available at these modern sites. A picnic area with shelter, a playground, and an in-situ eatery are also available.
Tahquamenon Falls Rivermouth Unit features 136 modern and rustic campsites all with a boat launch along the Tahquamenon River.
These are perfect for people looking for a true adventure. They don't have electricity, but they do have a picnic table and a fire pit. Showers are available at the Modern Unit for a few bucks.
This campground is a little more private than the previous one. Here you can go fishing along the riverbank or stroll over to Whitefish Bay on Lake Superior and walk along the sandy beach.
Ludington State Park and Campground
Comprised of forests, marshlands, wetlands, sand dunes, and sandy beaches situated between Lake Michigan and Hamlin Lake, Ludington State Park and Campground is 5,300 acres with several miles of shoreline along both lakes.
It offers 360 campsites and 3 one-room cabins among its three modern campgrounds – Beechwood, Cedar and Pines. The Cedar campground also has eight tent sites located on a separate loop that do not have electricity but are within walking distance to showers and restrooms.
For more rustic campers, there is the Jack Pine Hike-In Only Campground. It offers 10 tent sites that are accessible only by hiking or bicycling in.
The main campground includes a stretch of the Big Sable River that offers campers with tubing, paddling and fishing opportunities. Campers can also enjoy the 5,000-acre Hamlin Lake which offers a boat launch and a four-mile canoe trail that provides paddlers with an adventurous trip.
Hikers can enjoy the more than 21 miles of marked trails that traverse wetlands, forests and dunes. The park is open all year and hosts guided snowshoe hikes in the winter months.
Taquemonon Falls State Park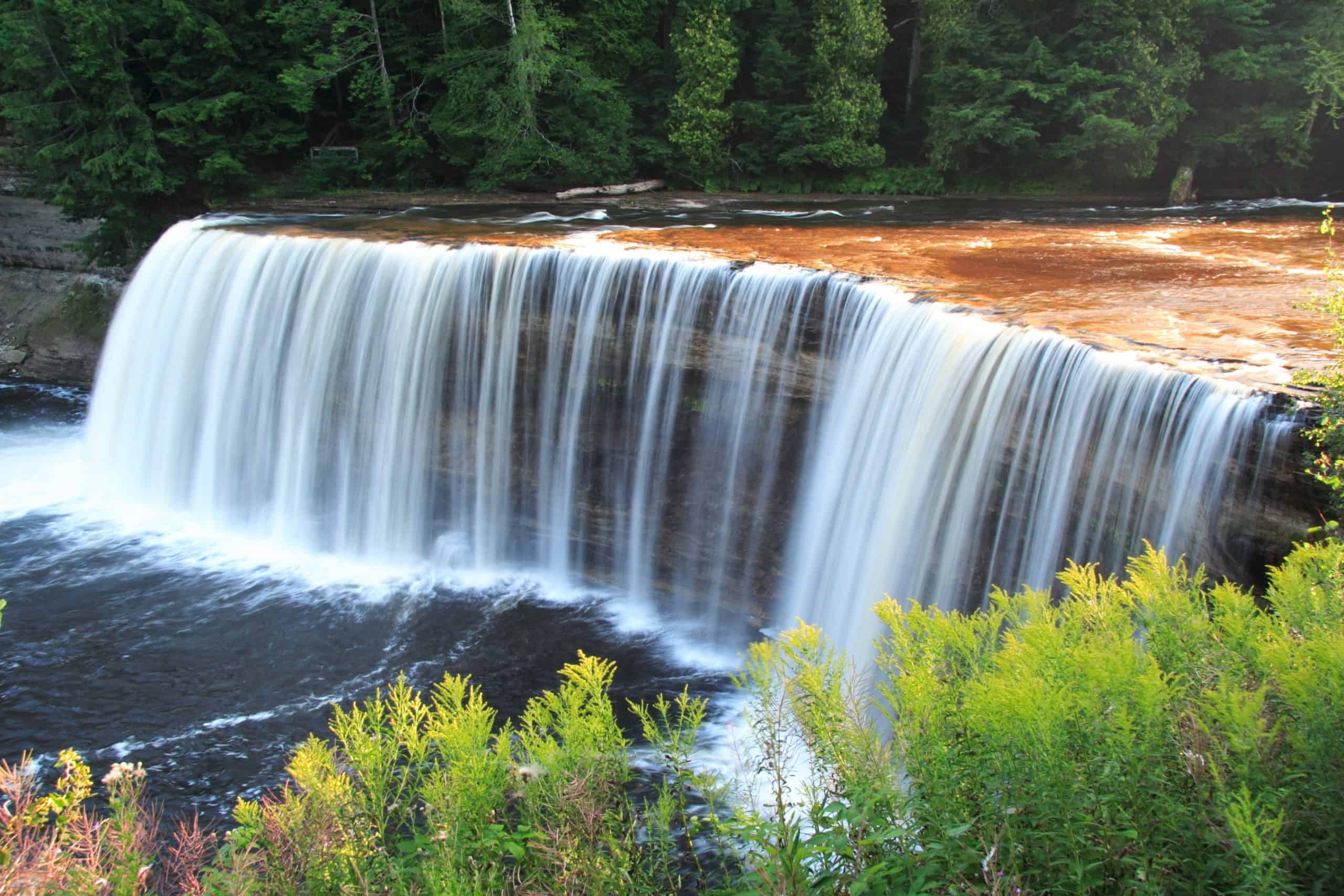 This state park is a jewel in Michigan's U.P. crown. Known for its amazing and scenic waterfalls, thousands of tourists flock here every year just to see the falls and thousands more stay to camp near the falls.
The state park boasts over forty miles of hiking trails and wooden trestle-style trails built into the landscape for easier foot travel.
If you stay in one of the four campsites in this massive state park, you can choose to stay near one of the Great Lakes, or perch yourself closer to one of the thirteen inland lakes belonging to the park.
Tent camping is standard, but there are a few RV and pop-up camper sites available on a first-come, first-serve basis. Reservations are highly recommended, especially during the summer when camping is the most popular.
Here are the four campsites within Taquemonon Park:
Camp offices are in two of the four locations, depending on whether you will stay near the upper falls or the lower falls.
A diner and brewery are located near camp 33, if you don't have enough camp provisions and you don't feel like traveling far to get camp groceries or food for the night.
Wa-Wen Camp Resort on Drummond Island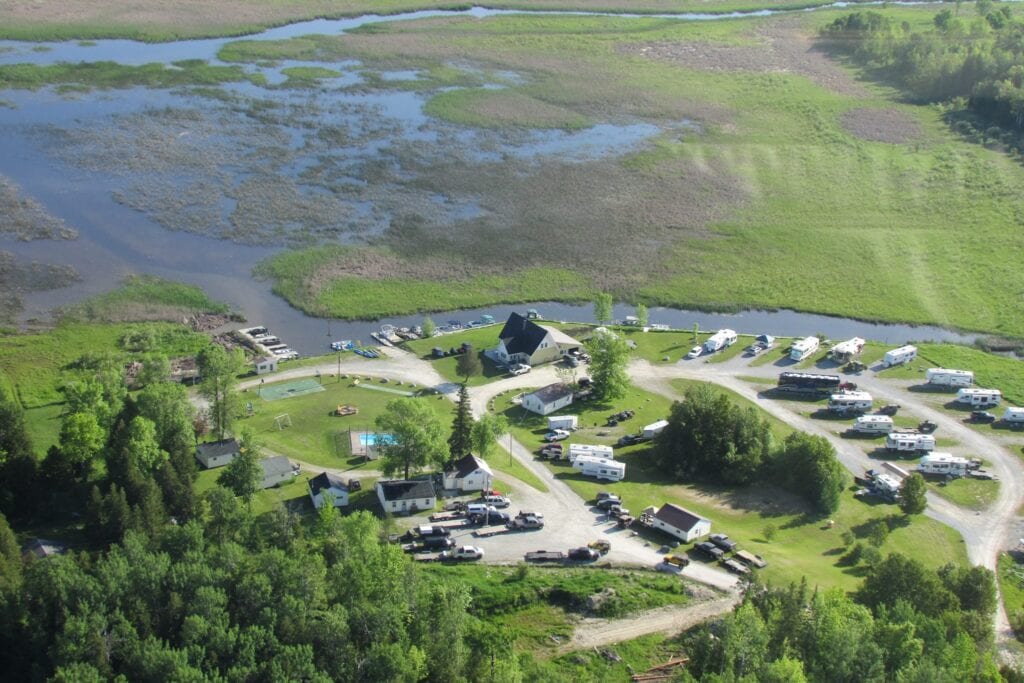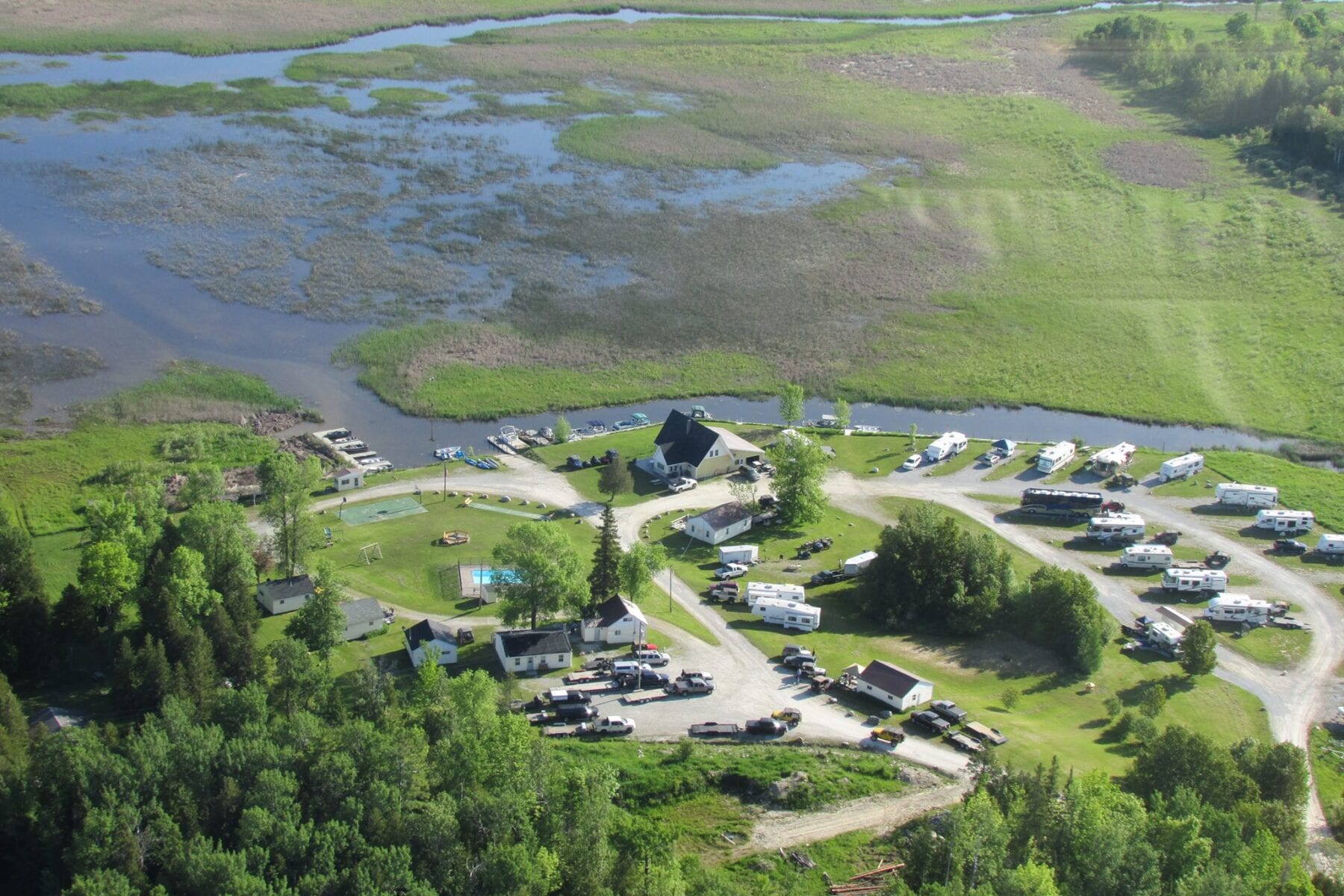 This is camping at its wildest and yet most posh. The island is set up for ATVs and UTVs, golfers, and a half-dozen other activities not generally associated with camping.
You will need to drive your vehicle onto a ferry from the mainland at the tip of the "thumb of the mitten" of Michigan on its eastern shores, and then drive into the resort from the landing point on Drummond Island. While the resort caters mostly to RVs and other camping vehicles, you can set up a tent on your site if you prefer.
In terms of the "posh" camping, there is a shuffleboard, a heated pool, wireless internet and satellite TV, a basketball court, and you can bring your pets for an additional fee.
Swings are available for the kids and a wildly popular activity offered is scuba diving for shipwrecks. Shipwrecks in the Great Lakes region are so common that there are hundreds of ships at rest on the lake floors that are worth the scuba exploration. (You must have either a scuba license or be willing to take a scuba class at the resort before attempting a guided dive.) If you don't bring a vehicle or tent in which to camp, it's not a big deal; there are cabins to rent.
Porcupine Mountains State Park
This state park is affectionately referred to by Michiganders as "the Porkies."
Tens of thousands of Lake Superior coastline are included in the scenic mountain views of this park, and most of the tent campsites are nestled high up in the mountains. The breathtaking views, the rivers, and Lake Superior itself is what bring the campers here.
If you are the type that likes to "rough it," there are 63 backcountry campsites here located off the beaten trail.
Be sure to download a park map and always have it on hand before you enter the park so that you can find your way around. Park ranger stations are present, but they are far between.
Holland State Park
Holland State Park ranks among the most visited state parks in Michigan. And it's not hard to tell why. Thanks to its proximity to two lakes at the same time – Lake Michigan and Lake Macatawa – this state park boasts plenty of swimming and fishing opportunities, paddle rentals, a boat launch, as well as volleyball courts, and a playground.
It offers two large campgrounds – the Lake Macatawa Campground with over 200 paved, grassy, as well as wooded sites, and the Beach Campground with 98 paved sites and 31 full hook-up sites. There is also a cabin that can accommodate up to 6 people. Throughout the park, you will find picnic tables, grills, restrooms, changing areas, and a beach shop.
Note that for its popularity, this state park can get rather busy, so we recommend you arrive early, especially in the summer months.
Wilderness State Park
Mixed campsites that allow tents, campers, and RVs are scattered in Michigan, but at Wilderness you have all of the above options.
There are even tent-only campsites and a campsite with nineteen hookup sites for RVs. There are a dozen-plus campsites within the park, making this Lake Michigan shoreline park a hot spot for summertime camping.
It's likely to be most packed for Independence Day weekend, and again at the end of summer. Even Michiganders will book far in advance to camp here.
Check some top-quality camping gadgets:
Lakeport State Park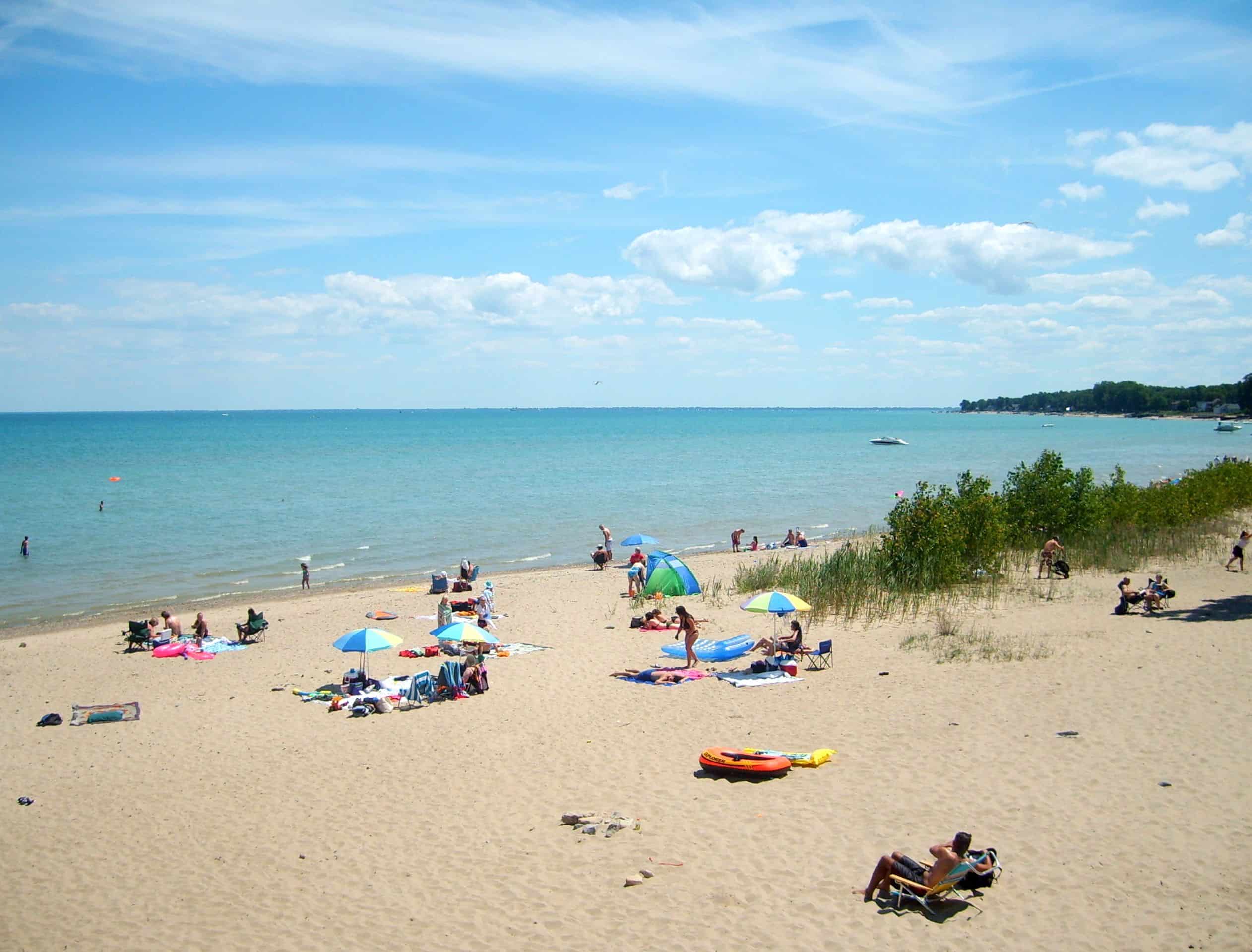 For a unique camping experience that combines camping with beach life, check out Lakeport.
It's situated on the banks of Lake Huron and contains lots of cozy little cabins for rent in the event that you forgot your tent or there are holes in your pop-up.
Sandy beaches host tourists who stay onsite as well as those who just come to play in the waves. On a clear day you can sunbathe, look out over the lake for miles, fish, swim, boat, etc..
All modern conveniences, including plumbing and electricity, are provided. Additionally, a camp store is present in case you need to pick up sunscreen or snacks.
Sleepy Hollow State Park
If you have little ones and you are concerned with the giant lakes washing them away from the shore, consider camping more inland.
Sleepy Hollow is located twenty minutes north of Lansing, on a much smaller lake.
Here, you can still swim, fish, water ski, jet ski, boat, etc., without worrying about the riptides of the bigger lakes. Like Lakeport, there are plenty of sandy beaches to play, excavate beach treasures, and picnic.
Perhaps the most enticing feature of this campsite are the mobility aids provided for people with physical challenges. You can rent these aids in advance to arriving at the park, and with your campsite reservation.
Yogi Bear's Jellystone Camp and Resort
Named for the famous cartoon bear, this franchise of campsites boasts a lot of modern conveniences for campers, including plenty of RV sites and hookups.
If the kids get bored, don't worry. There is a pool, water park, game room, mini-golf, and much more.
Really the only thing that makes this camping is where you sleep at night and whether or not you spend any time on the nearby lakes.
Lighthouse Village
One of Michigan's southernmost private campgrounds, it targets the camper/RV/pop-up groups of campers.
With 250 sites with hookups, you are sure to get a spot regardless of when you come. More recently, "glampers" have come to "glamp" here with their truly robust coach-style campers and "glamp" equipment.
Activities are limited to outdoor recreation like hiking, swimming in the St. Joseph River, and fishing, but if you are just looking for a very relaxing weekend with only the frills your equipment brings, then you might like it here.
Oak Grove Campground/Chippewa Landing
This private campground is located in the Northwestern region of the lower peninsula. Two big sites exist to which you can paddle up in a canoe up to your chosen spot, or you can drive in and hook up to electricity and plumbing.
There is WiFi, and they do allow pets in the park, something a lot of state parks refrain from doing. Essentially whatever you can do on the nearby river, including tubing and fishing, are the available activities.
It's a very quiet and peaceful spot, and loud noises are discouraged so that all campers can enjoy the sounds of the surrounding woods and the bubbling sounds of the river.
Camping is typically by membership only, so you do have to purchase a season pass or membership to camp here.
Camp Dearborn
This centrally-located lower peninsula campground is very unique. The kids may or may not find its unique features boring, depending on their level of curiosity where history is concerned.
Aside from the 191 mixed RV/tent campsites, Camp Dearborn boasts a short drive to the nearby museum filled with Michigan's automotive history'
It's a quiet, out-of-the way, off the highway sort of campground with plenty of things to do nearby if the kids don't want to hike or play outdoors.
Good Resources for Finding out More About Camping in Michigan
With over a thousand campgrounds in this state, you are sure to find somewhere to camp. Each campground has its own features that you may or may not find alluring. If you want to find out more about the campgrounds in Michigan, there are a number of resources that can help.
Pure Michigan: Board of Tourism
Individual city/region travel sites
State Department of Parks and Recreation
Federal Park Listings for National Parks in Michigan
Private park listings
Automobile club guides to camping in Michigan
Trip planning sites that offer camping info
If you are just starting to plan your camping trip in this or to this state, there is no time like the present. Private campgrounds are opening earlier than state or federal parks, which might give you an advantage to booking choice campsites.
Keep a close eye on the state and national parks' websites for information on when the campgrounds in each are planning to reopen for the season.
It also helps to call ahead for updates and availability before you reserve a camping spot as some campgrounds do not check their availability throughout the day and update their sites hourly.
The last thing you want to do is book a campsite online only to find out that it was technically not available when you booked. Then you will have to find a different spot and make a new reservation. It is smart to make all of your campsite reservations a month in advance to your arrival.
Camping in Michigan FAQs
What's the biggest state park in Michigan?
With its immense 60,000 acres of land, Porcupine Mountains Wilderness State Park is considered Michigan's largest state park. For that more than half of it is old-growth forest, it's also believed to be the wildest area of the Great Lakes State.
How much is RV camping in Michigan?
The rates for RV camping differ from park to park, depending on the amenities, location, and the season of your visit. But in general, the prices fall between USD$ 30 and USD$ 80 per night.
Where can you camp for free in Michigan?"
If you're searching for a place to boondock in Michigan, the Upper Peninsula is the right option. Apart from free camping in several national forests, you can also try Hovey Lake Dispersed Campground or Gratiot River County Park. It might take a rather long drive, but you'll be rewarded with pristine waters and breathtaking natural beauty. If you wish to stay in the Lower Peninsula, state forests are a good start.
When does the camping season start in Michigan?
The camping season in Michigan starts in early May and lasts through late September. For those who prefer warm weather and fewer crowds, autumn is the best time to visit Michigan. If you enjoy camping in winter, several campgrounds are open all year round.