Barcelona is one of the rare European metropolitan cities with an amazing sunny climate all year around. It has beaches, amazing nightlife, and a unique artistic vibe so different people are attracted to it from all around the world. It is a melting pot of culture and a truly modern European city with everything that you would expect from that title.
Check our latest posts about:
– How to become a digital nomad
– Best digital nomad jobs to try in 2020
In the past couple of years, it has seen an immense coworking growth in its startup scene with amazing events going on every day.
12 Best Coworking Spaces in Barcelona
Professionals from all kind of industries come here to network and to meet other like-minded individuals that will help them form strategic partnerships for their businesses and projects. Be sure to check meetup.com to be amazed by the sheer amount of things going on daily bases.
Best Coworking Spaces in Barcelona to Check Out in 2021
Marina Port Vell is an award-winning coworking space, praised by Forbes as one of the most unique coworking spaces in the world. The workspace sits directly on Barceloneta harbor, with some of the most incredible views from a cluster of private offices, private desks, and hot desk areas.
OneCoWork Marina Port Vell has a 360° terrace, chose to sit and watch the hubbub of Barceloneta stroll by, or pick a seat and look out across the water.
The coworking space membership comes with unlimited refreshments, access to a printer & scanner, speedy WiFi, private events, city discounts & perks, and 24/7 access. There's also an option to add on-site gym membership and healthy lunch deliveries to your plan.
OneCoWork has a budding community of entrepreneurs, startups, and corporates. You'll be surrounded by great talent and have the chance to meet all the members at regular events across all three spaces in Barcelona city.
Monthly passes, with unlimited 24/7 access, are 195€. Yes, it's a little on the pricey side compared to some of the other spaces in this article, but the luxury and location are 100% worth it.
Locations:
LA VACA is a former dairy shop where people used to buy fresh milk, that is transformed into a coworking space in the heart of Poble Sec.
It's one of the most laid-back coworking spaces in Barcelona with an amazing vibe that rubs off on you immediately. It is the perfect place to get things done and provides you with access to their meeting room, skype room, bike parking and lots of chill areas.
What else could you wish for? with their arrangement of free tea and coffee, you are sure to stay productive all day long and the awesome staff organizes plenty of activities on a weekly basis such as paella days, after work, sport activities, yoga, art events, and exhibitions, but also interesting workshops and networking.
They boast a very international community of 60 members that includes Freelancers, Entrepreneurs and Digital Nomads from all over the world so you will definitely find your crowd.
You can work on your own projects or share ideas with your coworkers, the mentality is work hard, play hard to be ready to hustle! They offer great flexibility in their plans so you will definitely find one that is the perfect fit for you. You should definitely consider joining La Vaca Community and become a "Vaquero"!"
Monthly Price: Starts at 90€
Location: Carrer de la Creu dels Molers, 19, 08004 Barcelona
We recommend: Digital Nomads Barcelona Guide by WebWorkTravel
MOB is definitely a unique coworking space in Barcelona. It strives to be more than just an event venue, makerspace or a school, it is an ecosystem that inspires growth, collaboration, and creation.
Events are organized on a daily basis so people all over the world with different backgrounds can gather and exchange ideas. It's open 24/7 and it allows different packages for different kinds of needs.
Monthly Price: Starts at 60€
2x Locations: Bailen 11, Bajos, Barcelona and Ronda de Sant Pau, 47
Are you NEW digital nomad coming to Barcelona? Check out Best Hostels in Barcelona for soft landing 🙂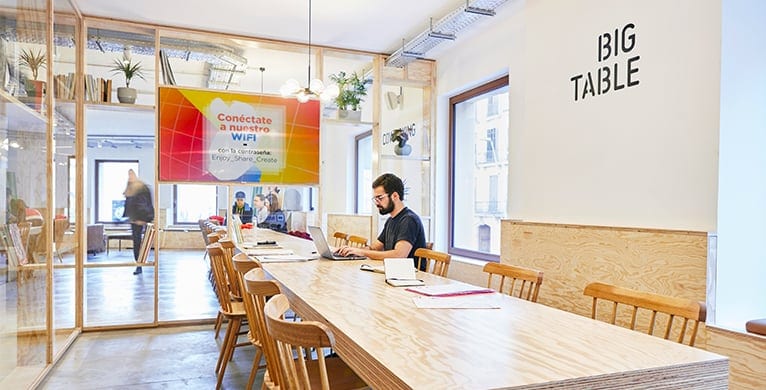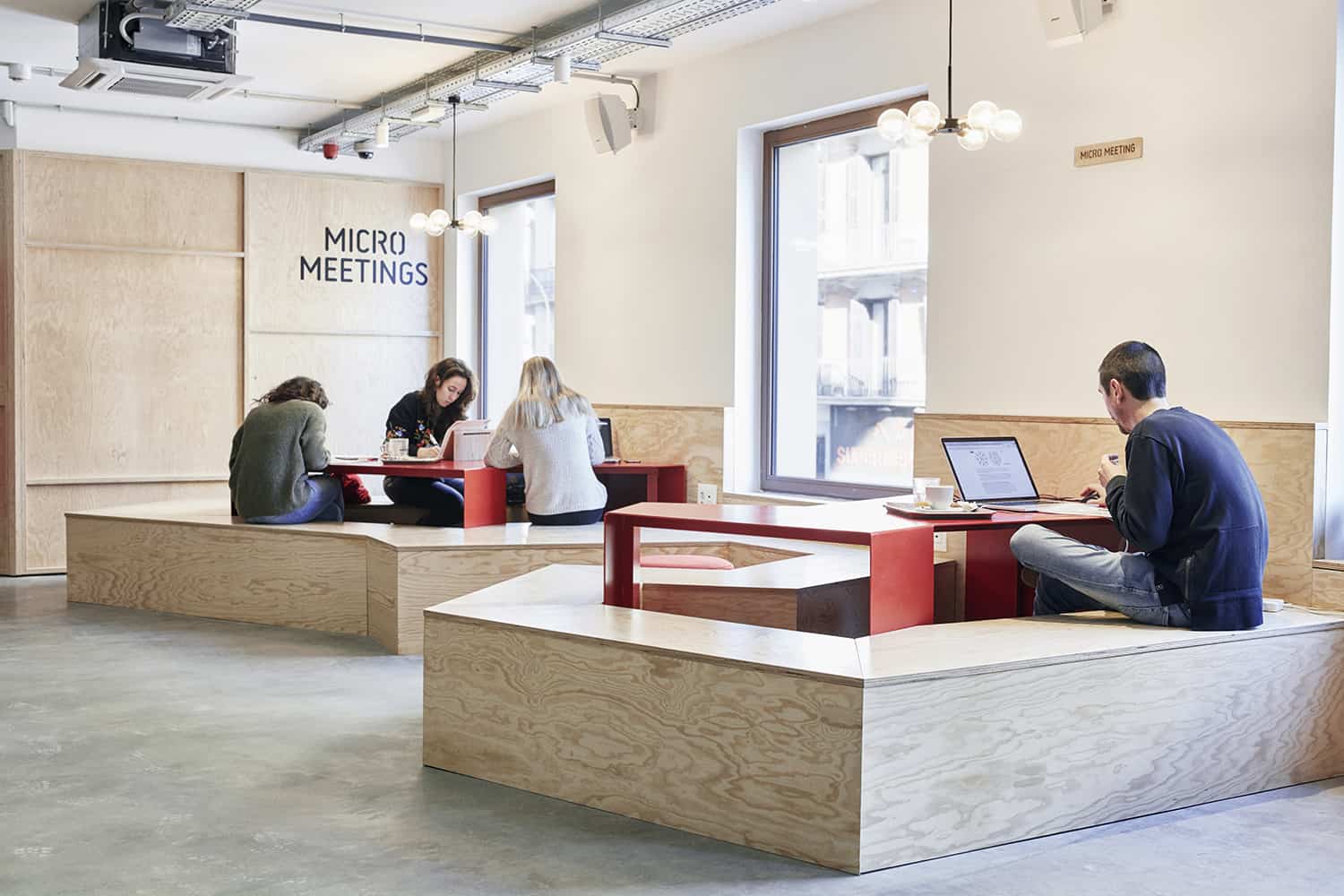 IMAGIN CAFE is a "special" place because it's not just a cafe but also a FREE coworking space in Barcelona. Its central location is very convenient (2 minutes from Plaza Catalunya) and makes it one of the best places for digital nomads that plan to stay in Barcelona only for a few days/weeks.
There is a downside! The place got really popular and if you arrive around lunchtime, it might be hard to score a spot. Therefore, it's best for early birds that can make it there at 9 am or people working late evening because they are open until 9pm.
P.S.: beer is cheap! 😉
Location: Carrer de Pelai, 11, 08001 Barcelona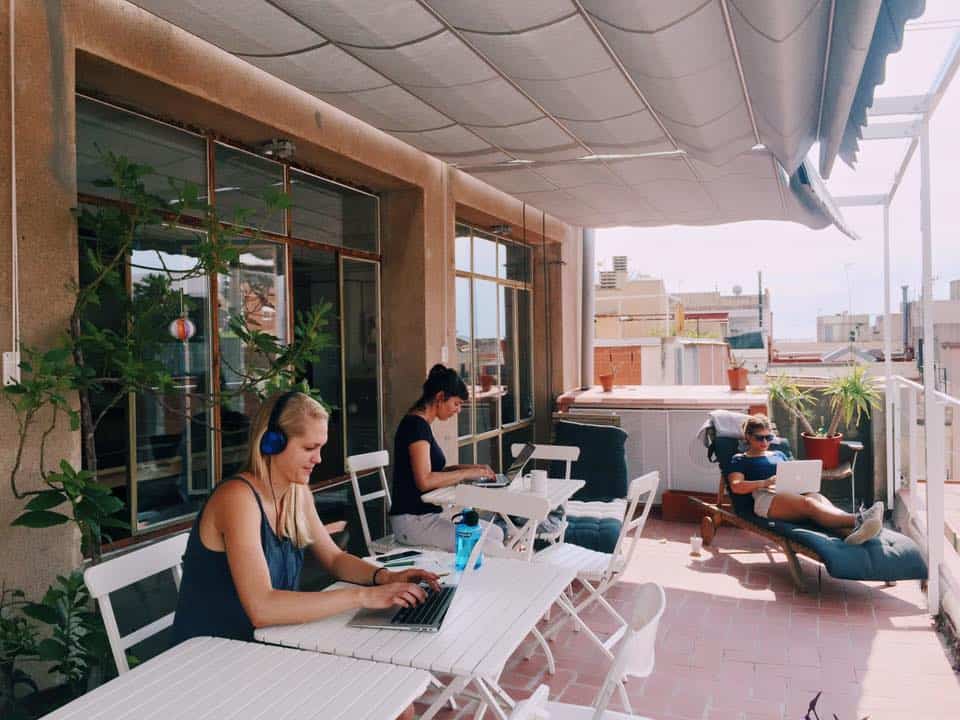 Betahaus, definitely is one of the best coworking spaces in Barcelona, with their almost daily events you are sure to be always ahead of the curve in all aspects of business and technology. The beta stands for always being in beta mode and seeking feedback for constant improvement, the coworking space is a never-ending experiment that will keep evolving in the future.
It's open 24/7 and provides you with high-speed internet, amazing environment and likeminded people to connect with. Don't miss out and join the betahaus coworking environment now!
Monthly Price: Starts at 143€
Location: Carrer de Vilafranca, 7, (08024) Barcelona, Spain
CREC gives coworking a new meaning to the phrase work when you want, where you want. And that is exactly what it enables you to do.
Progressive mindset and an inspiring environment are what is going to take your projects to a new level so be sure to connect with other like-minded professionals in the CREC coworking space!
CREC gives you the opportunity to separate your private life from your professional one and give more visibility to you and your work.
Monthly Price: Starts at 180€
Location: Poble Sec – Blesa 27, 08004 Barcelona
Talent Garden is the place where you sharpen your skills, get fresh ideas and tackle new exciting problems. An environment that promotes collaboration and discussion, while providing you with enough privacy to do your work in peace.
Facilities are open 24/7 and as a member, you can visit any of their campuses worldwide. Talent Garden is an intersection where startups, innovators, and corporations meet.
Monthly Price: Starts at 150€
Location: Carrer de Muntaner, 239, Barcelona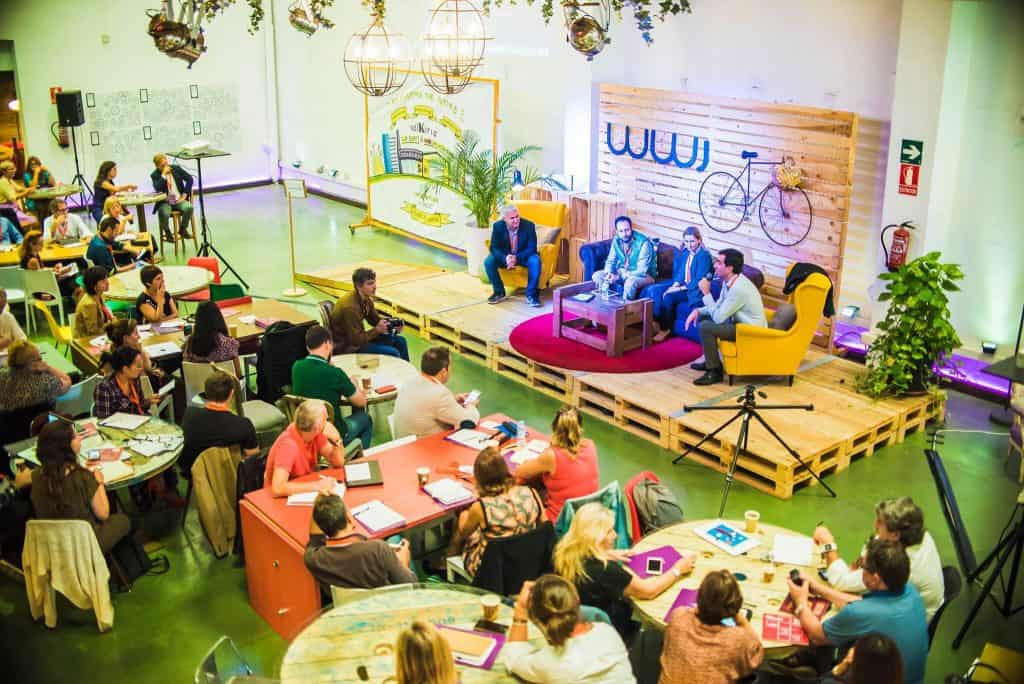 Valkiria is a mecca for social entrepreneurs that want to make a meaningful change in the world. Its 1,500 square meter space, gives it a relaxing chill vibe that is perfect for productivity.
Strong belief in talent, innovation, and creativity create a collaborative environment that provides value, generates ideas and innovates. Coworking, mentoring and event organization, you have it all.
Monthly Price: Starts at 70€
Location: Carrer Pujades 126 (Poble Nou), 08005 Barcelona
Apocapoc Bcn
Apocapoc is the definition of an eco-environment friendly co-working space. Its a 200 square meter co-working space with multifunctional elements that help you optimize your work. It even has outdoor heaven with fruit trees and a roof garden with a giant sunflower.
The plants will put you at ease and make you relax when work gets stressful. It is the perfect experimental playground, so be sure to come here for inspiration for your next idea that will change the world.
Monthly Price: Starts at 117€
Location: Passatge hort dels velluters 5, 08003 Barcelona
What happens if you merge coffee and office? You get a coffice. Its a good alternative from the crowded cafes so if you want to sip your favorite coffee while you work then Coco Coffice is the perfect choice for you!
You can stay for 1 hour, two or even a whole month if you want.
Choose between coffee, tea, and snacks and share your experience with other freelancers and digital nomads.
Monthly Price: Starts at 210€
Location: Calle Manso 17, 08015 Barcelona
Boost your productivity with the perfect work-life balance. Be a part of the perfect collaborative community that will train you to be the best you can be. Access to the best networking opportunities and attend amazing events they have in store for you.
Environmental and social sustainability is something that is much cared about at BCNewt. BCNewt has 2 different facilities, both amazingly decorated and best suited for your own needs.
Monthly Price: Starts at 150€
Location: Calle Llull 47, 3-4, Barcelona, España, 08005
Pangea is designed to promote human interaction, exchange ideas and build a new, better future. Its one of the largest coworking spaces and it can accommodate up to 40 coworkers.
Creation of human relationships makes inhabitants help and learn from each other. Spaces are designed so you can make new friends in the kitchen, dining room, meeting room or the terrace.
Monthly Price: Starts at 250€
Location: Doctor Trueta 113, 08005 Barcelona
---
Barcelona is also the European city with most coworking spaces per square meter, the sheer quantity and quality of these coworking spaces can't be found anywhere else in the world. Freelancers and digital nomads are moving to Barcelona day in and day out because what they have found here they can't find in any other European city.
The community often organizes meetups and events catered just to digital nomads, remote workers, and freelancers so be sure to check them out and network with other like-minded people in your field.
And with a growing community of digital nomads, you can also find a large number of co-living spaces. It is a new form of living, being surrounded day and night with people that live similar lifestyles as you because we all know that working from a laptop the whole day long can get a bit stressful and boring without company.
Nevertheless, Barcelona is becoming the digital nomad capital of Europe with its unique vibe and offer that no other European city can compete with. Come check it out and enjoy the beaches of Barcelona, try the famous tapas and sangria in the evening and get wild in the nightclubs at night. It will be the time of your life that you will never forget.