Bali, or Island of the Gods, as it is known, is one of the most stunning islands on the planet.
The postcard-perfect landscape of hills and mountains, barren volcanic hillsides, scenic rice terraces, pristine beaches, and gorgeous coastline — all provide the quintessential backdrop to the island's narrative of heaven on earth.
The island is home to some of the world's most elite resorts and most of them are located in Ubud, Seminyak, and Nusa Dua.
Culture lovers and spa seekers head to Ubud, while beach and surfing enthusiasts hit the urbane beachfront communities of Seminyak and Nusa Dua. Read on to find out more about the most luxurious hotels on the island.
Alila Villas – ULUWATU
Price starts from 827 USD/night up to 4200 USD/night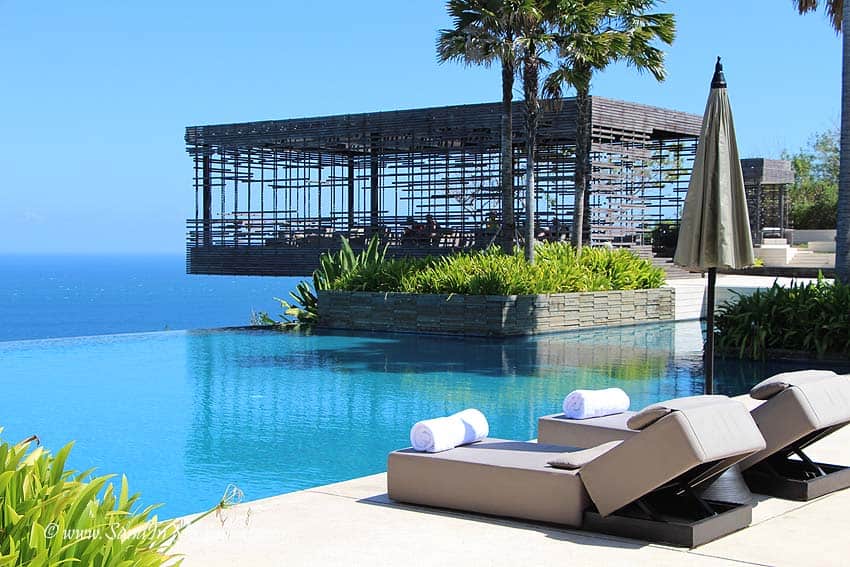 Check out: Best things to do in Uluwatu!
Alila Villas Uluwatu is the most expensive hotel in Bali and the price ranges from 827 USD/night up to 4200 USD/night. The hotel offers one of the best panoramic views of the Island and it's a paradise for photographers and Instagrammers.
The reception, restaurants, and spa are housed in lovely bright white block-like buildings with jigsaw-like paths leading the way. Water gardens and a striking wood-carved structure just add to the whole charm of the place.
The cherry on the cake of this whole landscape is the exquisite blue skies above the beautiful Indian Ocean. The hotel also comprises a yoga retreat.
Potato Head Suites & Studios – Seminyak
Price starts from 600 USD/night up to 2900 USD/night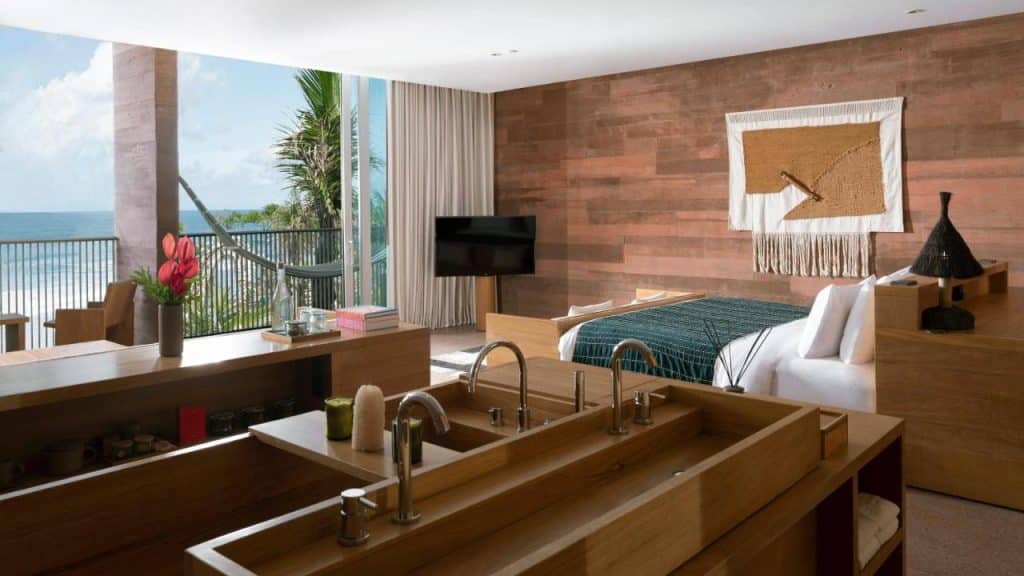 Potato Head Suites at Desa Potato Head is located in Seminyak, close to the beach. If shopping is on the agenda, Seminyak Square and Eat Street are worth visiting, while those interested in the area's natural beauty might visit Seminyak Beach and Petitenget Beach.
Potato Head Suites & Studios offers lodging with a restaurant, free on-site parking, free bikes and an outdoor swimming pool in Seminyak, just steps from Batu Belig Beach. The resort has a bar and a garden, the resort is less than 1 km from Petitenget Beach and 1.7 km from Seminyak Beach. The accommodation offers a 24-hour front desk, airport shuttle service, room service and free Wi-Fi access throughout the building.
There is a sun terrace at Potato Head Suites & Studios as well.
A seating area, a flat-screen TV with satellite channels, a safety deposit box, and a private bathroom with a toilet, bathrobes, and slippers are included in each of the hotel's rooms. Every room has a kettle, and a few of them either have patios or have pool views. Bed linens and towels are also provided in all the rooms at Potato Head Suites & Studios.
The lodging provides à la carte or American breakfast.
Villa Puri Nirwana – an elite haven
Check on Booking.com Google Maps
Price starts: 1,416 USD/night
Experience life like never before. Villa Puri Nirwana is one of the best hotels in Bali, just 1 minute away from the beach with a prime beachfront location on Eastern Bali. You won't find anything like it in a million years. It is a luxurious plantation-style villa with 6 bedrooms.
You can spend your time in the fabulous pool and get spoiled by the 20 people full-time staff. The location is really unique being just across Bali Safari and Marine Park. The house is fully equipped for your leisure, which includes a flat-screen TV, DVD player, and a stocked kitchen.
Relax in the large living areas or on the outdoor sun loungers when you are tired of your air-conditioned bedroom with a view of the sea and the pool. The location is just a 15 min drive from Sukawati Market which is known for its specific traditional art and just a 20 min drive from Ubud.
This villa has it all. When bored you can play billiards, prepare a barbecue with your friends or relax with a full body massage. The staff is really helpful and will assist you with all your needs. Don't miss out on this amazing Villa and book it out while it is still available.
The Samaya Bali – UBUD – The Most Romantic
Price starts: 403 USD/night
Samaya Bali is a luxury hotel that offers rooms equipped with all the contemporary amenities such as free Wi-Fi and air conditioning. Visitors can enjoy different types of massage and beauty therapies at the resort's exclusive spa and wellness center.
The sun-loungers at the garden located at the premises of the resort is just the perfect place for vacationers to lie down and relax. The hotel also features a sauna, steam room, and an outdoor pool. The rooms here have large-screen televisions with satellite connection.
What guests loved about this resort:
Very peaceful and quiet place in the amazing location of Ubud. Definitely, will make you in love with Bali's spirit – Syd, Hong Kong

Stuff is super lovely and it has such a romantic vibe, it's definitely one of the best hotels in Bali for couples or honeymoon – Kate, United States

This place is a dream of every romantic person that wishes to spend lovely time in Bali. – Maria, Germany
Dayu Mirah Resort
Price starts: 515 USD/night
For one of the best resort experiences where you will be pampered as soon as you walk through the door, be sure to book a stay at Dayu Mirah.
After being whisked from the nearby Ngurah Rai International Airport to the resort in comfort and style you will be greeted with the freshest fruits and drinks you have ever tasted. The duration of your stay will include a complimentary breakfast every morning. Tea and coffee are freely served during the afternoon as well.
When you step into your air-conditioned villa, you will be greeted with a kitchen and three bathrooms, each of which includes a hairdryer and necessary toiletries. Your kitchen is equipped with an oven and dishwasher. After you have settled into your room, you are also treated to the resort's garden, where you can relax at your leisure.
You are also welcome to take a refreshing swim in the private pools during your stay. And located near the resort are attractions such as the Rock Bar, only six miles away.
The previous guests of the Dayu Mirah Resort mostly appreciate:
It is a great location as it is only 3.7 miles away from Jimbaran Corner, making it easy to get to all of the best places. Other properties in the area aren't as centrally located.

The value of the Dayu Mirah Resort is superior compared to others in the area. The experience offered is well worth the money spent.
Viceroy Bali, Ubud
Price starts at around 500 USD/night
Perched above the spectacular Valley of the Kings, where shrines and water temples date back to the 8th century, Viceroy Bali is a true tropical sanctuary.
It's located about a 5-minute drive from the bustling village of Ubud, while the airport is a little more than an hour away. If you crave something more extraordinary than a ride in a taxi, you can also arrive by helicopter straight at Viceroy's private helipad.
It's family-owned and operated, and it features 40 villas. All of them have a private pool, either plunge or infinity-edge, and they overlook the jungle valley. They have stone floors, wood furnishing, air-conditioning, espresso machines, and Bower & Wilkins sound systems.
What's more, Viceroy is the only luxury hotel in Bali that has won the Condé Nast Traveller accolade of #1 Resort in the World.
Villa Saffraan
Price starts: 200 USD/night
41 miles from the Ngurah Rai International Airport lies the Villa Saffraan, one of the best hotels in Bali 2019. This beachfront getaway is a private space where you can enjoy a relaxing vacation. Its terrace and garden are open to visitors and are a great place to kick back and forget about life for a while.
When you arrive for your stay you will be welcomed into your three-bedroom villa. Equipped with air conditioning and wi-fi, it will be your home away from home during your stay. Your accommodations include a flat-screen satellite TV and a kitchen, as well as a seating area where you can relax in comfort. You have your choice between an American or continental breakfast every morning. If you choose to, you will even be provided with an in-house cook to prepare your meals.
To explore the world surrounding Villa Saffraan you always have the option of renting a bike to ride. You will find that area attractions include several breathtaking waterfalls that must be seen in order to be believed. Located only 14.9 miles away is the Sekumpul Waterfall. If that's too far for you the GitGit Waterfall is only 11 miles away. For one even closer, the Aling, Aling Waterfall is only nine miles away. All three of them are worth seeing if you don't mind the trip to each one.
The previous guests of the Villa Saffraan mostly appreciate:
The value of a visit to Villa Saffraan exceeds the value of visiting other similar sites.

The staff of the Villa Saffraan is committed to providing the quality of services guests expect when they check-in.
Ombak Luwung Beachfront Estate
Price starts: 1,637 USD/night
Ombak Luwung Beachfront Estate is one of the most expensive hotels in Bali! It's a true dream place. It has a mesmerizing ancient look to it that will leave even the pickiest architecture lovers breathless.
It is just a short 2 min walk from the beach. And you have access to the large pool and an outdoor barbecue. Relax on the terrace, find rest in any of the 5 bedrooms, unwind in the living room or snack in the well-equipped kitchen.
This Villa truly has it all. The flat-screen TV is amazing for watching movies after you have stopped exploring Bali for the day. And the villa is conveniently located in Canggu just a 13 min walk from Echo Beach and 1.4 km from Vue Beach Club. We feel in love with the dreamlike essence of this property and we are sure you will too. Book it as soon as possible as it is rented out for most of the year!
The Cloud Unique Beachfront Villa
Price starts: 839 USD/night
You should stay in this villa with an absolutely stunning design that you haven't seen before anywhere in the world. It's an only 1-minute walk away from the beach and 15 km away from Taman Ayun Temple. Amenities are included such as a hot tub, free wifi, and a sitting/kitchen area. The beautiful terrace will make your time there unforgettable and a luxurious flat-screen TV will definitely keep you entertained.
You even have access to daily continental breakfast offers and different a la carte menus. If you want to prepare some food fast, you have access to a microwave and if you fancy a tea or a coffee, there is a kettle as well. The bathroom is full of free toiletries and you also have access to a wider offering of wellness facilities such as a hot tub and an indoor pool. It is the best-rated property in Tanban and you definitely won't regret choosing it… What are you waiting for?
Previous customers loved:
Very spacious, clean and the staff was amazing – Maria, Russia

Stayed in a few places around Bali, but this place has an amazing design and attention for details – Zoya, UK

Located right in from of the beach in a beautiful area. Definitely, the best place we stayed in Bali – Mike, US
Ametis Villa – Canggu
Price starts: 320 USD/night
Ametis Villa is known to offer all the modern amenities in an authentic Bali setting, making it one of the most unique resorts on the island.
The resort is home to 14 guestrooms that offer all the comforts that a vacationer needs. This luxury resort offers world-class facilities including spa, massage and a separate beach.
The Purist Villas & Spa Bali – UBUD
Price starts: 195 USD/night
Located in Ubud, the Purist Villas and Spa is one of the best hotels in Bali. The suites here are built in a distinct style with the private villas creating an amazing fusion of superlative conveniences and traditional components from various islands of Indonesia. A few of the other villas are inspired by other islands such as Java and Timor.
On the outside, the huts feature beautiful woodcarvings while the interiors are carved with ornate designing. A few of the villas have separate pools with personal Balinese huts that have cushions and mattresses. While other villas have sober designing with Balinese artifacts and sandstone flooring.
The previous guests loved:
Everything perfect! The staff was really nice. I arrived sick and they helped me out and took care of me. – Charlotte, Spain
It's very spacious with attention to lovely details. Made for your perfect holiday in Bali you always dreamed about. I also really enjoyed breakfast. It was cooked / fresh for us every morning. – Pier, Singapore

A perfect balance between luxury and pure Bali spirit. We felt in amazing harmony in this place. Highly recommended for everybody. – Georg, Austria
The Balé Resort Bali – Nusa Dua
Price starts: 352 USD/night
A healing Center — the Balé — offers some of the most majestic views of the Indian Ocean. It comprises of about 26 rooms, all with their own separate pools. The resort offers some remarkable spa therapies, health & well-being programs along with a sandy beach. Serenity is what people find at this beautiful tranquil place.
The entire facility invokes a sense of peacefulness. Take a stroll through the soothing walkways; from the revitalizing pools to the cooling courtyards. Visitors can indulge in Tai Chi, yoga or opt for something else from an inspiring set of choices from Reiki to customized therapies.
Pandawas Villas – Sanur
Price starts: 295 USD/night
Opened in 2010, Pandawas Villas is inspired from one of the greatest Sanskrit religious epics, the Mahabharata. The 4 luxury villa rooms are named after four characters from the text: Nakula, Sahadewa, Bhima, Yudistra. Each of the rooms features a central lounge, a large washroom and a spacious dressing room.
Guests can relish some delectable cuisines at the restaurant. The little ones can enjoy several games and books in the Krishna entertainment room.
The Chedi Club – UBUD
Check on Booking.com Google Maps
Price starts: 443 USD/night
The name Tanah Gajah has been derived from the Goa Gajah elephant temple located nearby. The Chedi Club at Tanah Gajah is situated just a few miles from the city center of Ubud. Expansive lodging is provided offering complete privacy and comfort.
Nestled in the picturesque backdrop of Ubud, each villa is lavishly designed and equipped with elegant furniture and creative flair. The Club lounge and restaurant offer scenic views of rice paddies or you take a trip to world-famous Bali's monkey forest! The open-air pavilion offers day bedding in an intimate lounge. Tea and an exotic selection of cocktails are served to the guests.
Alam Villas Bali – UBUD
Check on Booking.com Google Maps
Price starts: 119 USD/night
Nestled in a tropical rainforest, Alam Ubud is an expansive resort known to offer comfortable lodging, top-notch conveniences and the renowned Indonesian hospitality. Fresh air with greenery all around, this is the perfect place for travelers to relax and rejuvenate.
The Ungasan Clifftop Resort, Uluwatu
Price starts: $716 USD++ per night for a 1-bedroom villa
​Ungasan offers crystal blue waters, pristine white sand and warm palm trees above you. Experience complete seclusion in your own private pool villa, where you can also indulge in the comforts of a personal butler in your room. You will not have to travel far for a great lunch thanks to the world-class Selatan Restaurant.
Choose from a private one-bedroom villa for a romantic retreat with your partner or a large five-bedroom villa for a family vacation. Discover your own piece of paradise at Sundays Beach Club, set in stunning beachfront scenery with a few scattered rock pools and pristine waters.
Private Butler
Private Beach Access
Spa and Wellness Centre
Private Pool Villas
Beach Club
Fitness Centre
The Samaya Villas Bali – Semyniak
Check on Booking.com Google Maps
Price starts: 705 USD/night
Right on the beach in Seminyak, is the Samaya Villas, offering its visitors a variety of dining, shopping and entertainment choices.
The hotel features about 24 villas. Guests can choose from different aspects of accommodation, including king and queen sized options with separate Jacuzzis or plunge pools.
Komaneka at Bisma – UBUD
Check on Booking.com Google Maps
Price starts: 282 USD/night
Counted amongst Bali's best luxury resorts, Komaneka at Bisma has a world-class fitness facility and an outdoor pool. For guests traveling with children, the hotel offers babysitting and various services for the little ones.
The rooms are equipped with large screen televisions with satellite and cable connections. Every room is air-conditioned and has a minibar, fridge and a safe.
Jamahal Private Resort & Spa – Jimbaran
Check on Booking.com Google Maps
Price starts: 275 USD/night
Jamahal Private Resort and Spa is pretty popular among outdoor enthusiasts owing to its close distance to a private beach offering various water sports activities and sunbathing. The hotel offers one, two and three-bedroom accommodations.
Each villa is furnished with internet access, cable TV and private gardens. A few of the luxury villas have separate swimming pools. Nestled amidst tropical gardens, the hotel offers modern lodging facility. The resort also features an Indonesian Spa center that offers a variety of spa therapies.
Bali Mandira Resort & Spa – Legian
Price starts: 150 USD/night
The Bali Mandira Resort & Spa is located directly on Legian Beach, the famous golden sandy beach of Bali.
The Bali Mandira Resort & Spa has long been a favorite among families. The resort offers a variety of world-class amenities and activities for visitors of all ages, including a kids' club, oceanfront lagoon-style swimming pools with two waterslides, elegantly designed sun loungers, private cabanas and swim-up bars, an ultra-modern beach club in a stunning bamboo structure with a rooftop infinity pool overlooking the adults-only exotic spa.
In a chic tropical beachfront hideaway, Bali Mandira Beach Resort & Spa offers guests a luxurious experience at its best. Perfect for those looking for the right environment to unwind and enjoy a fantastic beach life in comfort and ease.
Mandapa, a Ritz-Carlton Reserve – UBUD
Check on Booking.com Google Maps
Price starts: 685 USD/night
Mandapa is the perfect place for those looking to explore Balinese culture. The resort has its own ancient temple and a rice paddy. Spanning across 14 acres, Ayung River passes through the facility. The main pool is located at the heart of the hotel offering scenic views of the rice paddies.
Guests are served refreshing mocktails, gazpacho soup, fruit skewers, and infused face towels. Villas offer the exclusive benefits of under-the-stars-showers and separate tropical gardens. The riverside spa features a separate vitality pool, a yoga room and 6 treatment rooms.
COMO Shambhala Estate – Payangan
Check on Booking.com Google Maps
Price starts: 754 USD/night
One of the world's most popular destination spas, COMO Shambhala Estate features one of the most spectacular settings. World-class yoga and fitness sessions, splendid sightseeing tours, treks up volcanoes and bike rides through paddy fields; it offers one of the most incredible experiences to the visitors.
There are a number of infinity pools along with rivers and waterfalls. The estate also houses several treatment rooms where one can opt for reflexology, acupuncture, hot stone massages and Ayurveda.
Suarga Padang Padang – Uluwatu
Check on Booking.com Google Maps
Price starts: 304 USD/night
Book your ticket and head to one of the most eco-friendly and luxury hotels in Bali. Suarga more than justifies its Sanskrit name, which means "Paradise." The resort and the restaurant overlook one of the best surfing beaches in Bali, Padang Padang.
Beautifully crafted roofs and imposing bamboo architecture give the resort a very unique setting and denote progressive thinking. At the same time, the structures have been made using traditional artisanal methods of Indonesia, proudly displaying their culture.
Reasons to stay in Bali's luxury hotels:
High-end accommodations and amenities, such as private pools, spas, and gourmet restaurants.
Personalized service and concierge assistance.
Beautiful and well-maintained grounds and gardens.
Access to exclusive facilities and activities, such as golf courses and private beaches.
Privacy and seclusion from the hustle and bustle of the more touristy areas.
Often located in picturesque and tranquil settings, such as on cliffs or by the ocean.
High level of safety and security.
A great option for honeymoons or romantic getaways.
Often offer all-inclusive packages for an easy and stress-free vacation.
A great option for those who want a luxury and upscale experience for a reasonable price.
Luxury Hotels in Bali FAQs
Where do celebrities go in Bali?
There is plenty of celebrity villas in Bali. Some of the most popular choices are Seseh Beach Villas, Iniala Beach House or Villa Saengootsa.
Where do the rich stay in Bali?
Bali offers some expensive luxury hotels and resorts such as Alila Villas, Sumaya or Six Senses.
Which is the best area to stay in Bali?
Seminyak or Uluwatu are considered the best areas to stay on your holiday in Bali.
---
We hope you've enjoyed our handpicked collection of the most luxurious hotels in Bali, the island of Gods. As you can see above, you can find plenty of amazing places for a decent price in Bali.
If you're planning your honeymoon in Bali or you enjoy luxury holidays in TOP hotels you can't go with any of those hotels. Make sure you read reviews on TripAdvisor or booking, just to make sure your expectations will be fulfilled and you won't face any disappointments.
— PIN IT —