If you are an avid traveler looking for wanderlust quotes, you have come to the right place. These inspiring quotes will spark your desire to take a trip and experience new places as well as revive the memories from your past traveling excursions.
Here are 15 of the best wanderlust quotes available in (Pinterest, Instagram, and FB version), along with a brief look into the lives of the authors who created them.
"Do not dare not to dare." – C.S. Lewis
[download id="82″][download id="83″][download id="84″]
Widely considered to be one of the best fantasy authors of modern times, C.S. Lewis was an Irish novelist. Born in Belfast in 1898, Lewis loved creating stories about other worlds with his older brother, Warren.
He received a scholarship to study literature at Oxford University and later served in the British Army during WWII. He may be best remembered for his series of seven children's fantasy novels, The Chronicles of Narnia, and several other religious works.
"Travel is never a matter of money but of courage." – Paulo Coelho
[download id="40″][download id="41″][download id="42″]
(PINTEREST & LANDSCAPE QUOTES are available for preview at the bottom of the article)
Paulo Coelho wrote one of the most popular books in 1988, The Alchemist, which is the most translated novel around the globe by an author who is still alive.
He is a writer born in 1947 in Rio de Janeiro, Brazil, and has published many different books. Coelho experienced a spiritual awakening in 1985, which inspired him to start his writing career by creating The Pilgrimage, his first book.
"Our battered suitcases were piled on the sidewalk again; we had no longer ways to go. But no matter, the road is life." – Jack Kerouac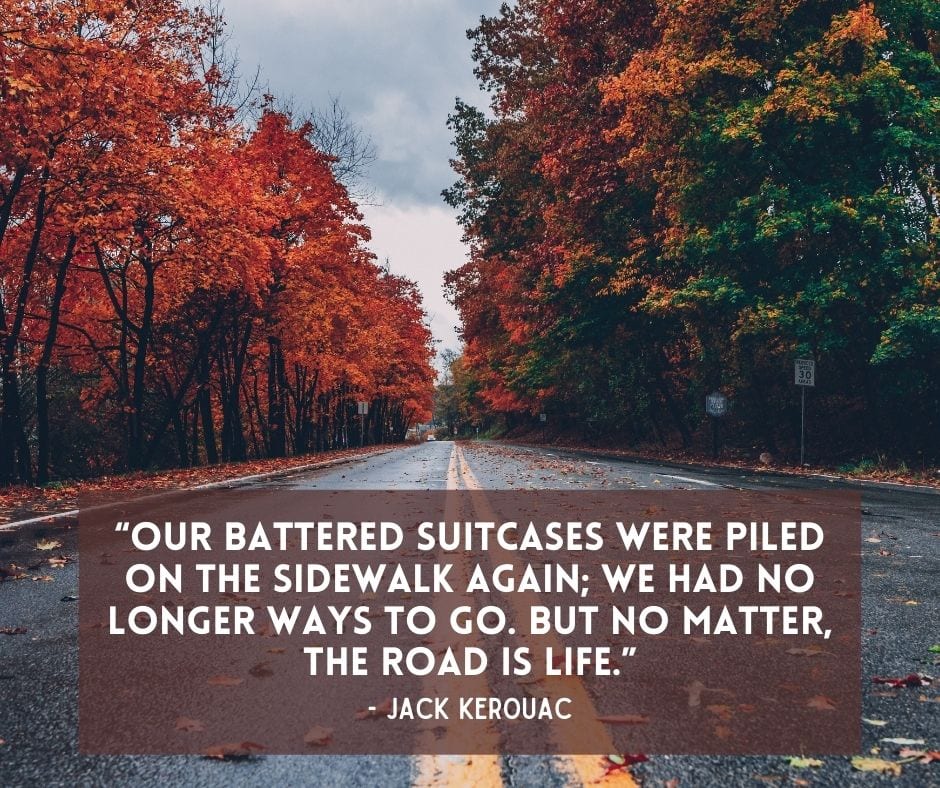 Jack Kerouac was a Massachusetts-born pioneer of the Beat Generation. He's well known for his most famous work, On the Road, as well as several other novels and short stories.
He suffered childhood tragedies and a military discharge before moving to New York and befriending Allen Ginsberg and William Burroughs, two other prominent Beat writers.
His stories of travel and "spontaneous prose," as he called the style in which he wrote, would go on to immortalize his alternative image and influence generations to come.
"Never let your memories be greater than your dreams."
– Douglas Ivester

[download id="85″][download id="86″][download id="87″]

Douglas Ivester is an American businessman. Originally from New Holland, Georgia, he studied accounting at the University of Georgia and graduated in 1969. Ivester started with the Coca-Cola Company in 1979, allowing him to travel the globe.

Ivester was elected chairman of the board and CEO of Coke in 1997 and retired in 2000 at age 57. Passionate about education and philanthropy, Ivester and his wife Kay developed the Ivester Foundation in 2011, which works to improve student academic success. Check out more of his wanderlust quotes.
"The best dreams happen when you're awake." – Cherie Gilderbloom
Cherie Gilderbloom is an American writer and fine art photographer. She attended Central College from 2000-2004, graduating with a degree in Elementary Education and Teaching.
She is perhaps best known for her autobiographical essay, "The Best Dreams Happen When You're Awake," which was published online by her professor and has since gone viral. She currently serves as a Development Coordinator for the National Kidney Foundation, and runs her own photography studio, Cherie Renee Photography, in her spare time.
"I travel not to go anywhere, but to go. I travel for travel's sake. The great affair is to move." – Robert Louis Stevenson
Robert Louis Stevenson was a Scottish essayist and author. After attending the Univeristy of Edinburgh in 1867, he spent four years traveling across Europe, publishing essays about his adventures walking and canoeing
. After meeting the love of his life and moving to the United States, Stevenson wrote perhaps his most famous work, Treasure Island, a coming-of-age adventure story. Stevenson is also well known for his novel The Strange Case of Dr. Jekyll and Mr. Hyde.
"Jobs fill your pocket, but adventures fill your soul." – Jamie Lyn Beatty
Jaime Lyn Beatty is an actress and voice artist from New York City. An early passion for theater led her to LaGuardia High School for Performing Arts. While earning a BFA from the University of Michigan in 2009, she became a founding member of the renown musical theater troupe, Team StarKid.
Over the past seven years, she has performed in ten of Team StarKid's original musicals, earning her an international fan-base. She has also performed off-broadway and studied improv.
"Life is either a daring adventure or nothing at all." – Helen Keller
[download id="43″][download id="44″][download id="45″]
(to preview PINTEREST & LANDSCAPE QUOTES scroll down to the bottom of the article)
Hellen Keller was born in the state of Alabama in 1880. Before her second birthday, she became very sick, which resulted in her becoming blind and deaf. In 1887, she began learning how to read, speak, and write with the help of her teacher, Anne Sullivan.
Keller was very smart and went on to attend Radcliffe College, where she became the first deaf and blind person to graduate with her Bachelor of Arts degree in 1904. Keller started her career as a writer while still attending the college, and her autobiography was first published in 1903.
"The less I needed the better I felt." – Charles Bukowski
[download id="46″][download id="47″][download id="48″]
(PINTEREST & LANDSCAPE QUOTES are available for preview at the bottom of the article)
Charles Bukowski is a poet, who was born in 1920 in the town of Andernach, Germany. In 1923, he and his family migrated to Los Angeles, California. When he became of age, Bukowski began traveling to many different cities around the United States and started writing articles and short stories about his travels.
In 1954, he experienced an internal hemorrhage and was in the hospital for over a week. This was a life changing experience, which resulted in him writing poetry and becoming a well-respected American poet of the 20th century.
"How is it possible to feel nostalgia for a world I never know?" – Ernesto Che Guevara
[download id="118″][download id="119″][download id="120″]
Ernesto "Che" Guevara, often referred to as Che, was an Argentinian physician, Marxist revolutionary, and author.
His novel The Motorcycle Diaries recounts his trip through Argentina, where he and a colleague treated those suffering from Leprosy.
After witnessing the injustices of colonialism and wealth disparity throughout Latin America, he would go on to become, along with Fidel Castro, the driving force behind the Cuban Revolution. After leading the rebellion, he unsuccessfully attempted a coup in the Congo before being assassinated in Bolivia in 1967.
"The journey not the arrival matters." – T.S. Eliot
[download id="121″][download id="122″][download id="123″]
One of the most prominent figures in modern poetry, Thomas Stearns Eliot was born in Missouri in 1888.
He won the Nobel Prize in Literature in 1948 and penned arguably the 20th century's most influential poem, The Waste Land. His style and themes, which focused on the melancholy of his generation, provided a glaring contrast to the works written in the previous centuries.
Before his death in Kensington in 1965, he won countless literary awards and was considered one of the world's most influential authors.
A traveler without observation is a bird without wings. – Moslih Eddin Saadi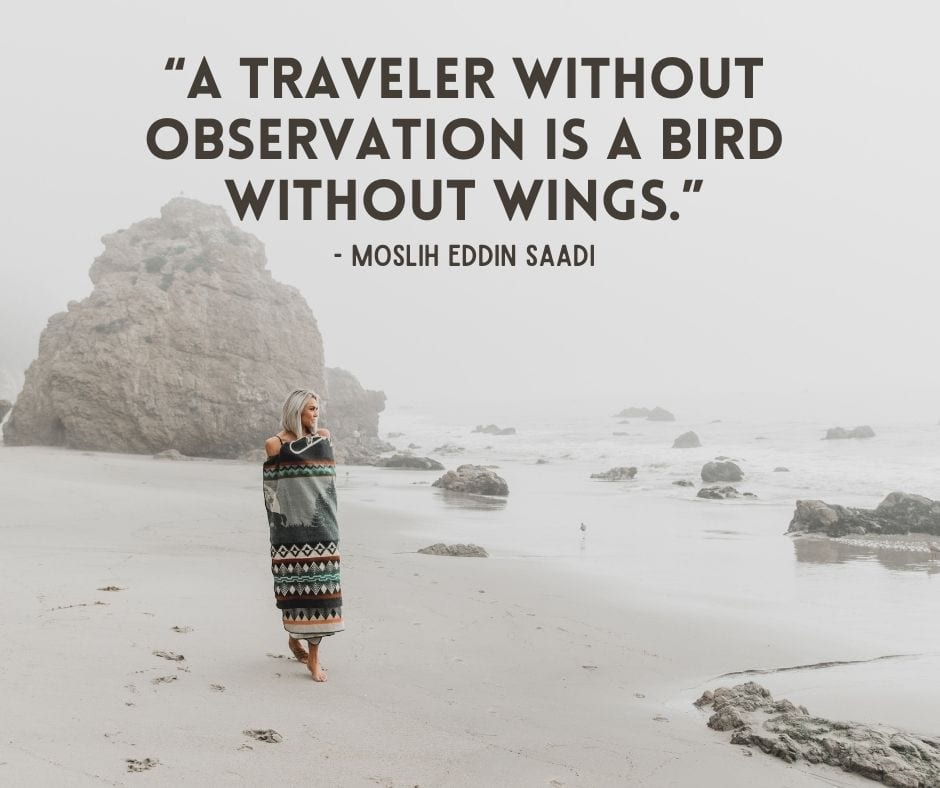 [download id="124″][download id="125″][download id="126″]
Moslih Eddin Saadi was a Persian poet and traveler in the 13th century. He drew on his experiences with inhospitable lands, caravans, and contacts with other displaced refugees during the Mongol invasion to produce some of his most famous works.
His novel Gulistan, which some consider one of the 100 greatest literary works of all time, was influenced by this period. Centuries after his death, he is still revered for his humorous and poignant reflections on the ridiculousness of the human race.
"Wherever you go becomes a part of you somehow" – Anita Desai – one of the best wanderlust quotes
[download id="49″][download id="50″][download id="51″]
(to preview PINTEREST & LANDSCAPE QUOTES scroll down to the bottom of the article)
Anita Desai is a novelist from India. She was born in 1937 and graduated from the University of Delhi with a Bachelor of Arts (B.A.) in English in 1957. Desai speaks English, German, and Hindi. She has written various novels about the Indian life as well as books for children and young people.
Her first written novel was Cry, the Peacock, which was published in 1963. Since then, she has become a professor, a mother, and an admired awardee for her writings.
"The world is big and I want to have a good look at it before it gets dark." – John Muir
[download id="52″][download id="53″][download id="54″]
(to preview PINTEREST & LANDSCAPE QUOTES scroll down to the bottom of the article)
John Muir was born in 1838 in Dunbar, Scotland. In 1849, he and his family relocated to America and settled in Wisconsin. He studied at the University of Wisconsin for three years but did not graduate. Muir is one of the famous founders of the Yosemite National Park and Sequoia National Park.
He is also known for publishing many articles and books that provide details about his journeys to different places as well as his knowledge of protecting and appreciating nature.
"With age, comes wisdom. With travel, comes understanding." – Sandra Lake
Sandra Lake is the author of several different books, such as The Iron Princess, The Northman's Bride, and The Warlord's Wife. She grew up in Canada and married her crush from childhood.
Lake, her husband, two sons, and their dog currently live in Quebec, Canada. She focuses on writing her novels and being the mother of her musically gifted children.
"A journey is best measured in friends rather than miles." – Tim Cahill
[download id="55″][download id="56″][download id="57″]
(to preview PINTEREST & LANDSCAPE QUOTES scroll down to the bottom of the article)
Tim Cahill is a writer who focuses on travel. He was born in Nashville, Tennessee in 1944 and now resides in Livingston, Montana. He is the founder and creator of the popular magazine called Outside.
The National Geographic network declared his book, Jaguars Ripped My Flesh, as one of the top books ever written about travel. Cahill has written eight other books and co-wrote four screenplays, which gained nominations for Academy Awards.
His quotes became one of the most popular travel friends captions used Instagram and other social media channels.
"To belong nowhere is a blessing and a curse, like any kind of freedom." – Leah Stewart
Leah Stewart is an author of several books. She was born in Texas in 1973 and moved from place to place often as a child. Stewart attended Vanderbilt University for undergraduate studies and University of Michigan for her graduate studies. After college, she became a writer for a few different universities and is currently a professor and head of the English Department at the University of Cincinnati.
"The wanderlust has got me… by the belly-aching fire." – Robert W. Service
Robert W. Service was a well-known poet. He was born in England in 1874 and wrote his first poem at the young age of six. Service was raised in Scotland and was immediately intrigued by books and poetry.
He studied English Literature at the University of Glasgow and was an exceptional student in poetry even though he did not graduate. He began seeking adventure in Canada and started publishing collections of his poems in 1907.
"Wherever you go, go with all of your heart." – Confucius
[download id="58″][download id="59″][download id="60″]
(to preview PINTEREST & LANDSCAPE QUOTES scroll down to the bottom of the article)
Confucius is a historical figure for East Asia. He was a Chinese philosopher, who developed great influence on Asians as well as many other populations.
Although Confucius has had a huge impact on people throughout the world, there is not a lot of detail about him. His words of wisdom and advice are still followed today.
"Men cannot discover new oceans unless he has the courage to lose sight of the shore." – Andre Gide
Andre Gide was a French writer, who was awarded the Nobel Prize in Literature in 1947. He was born in Paris in 1869, where he spent most of his life. Gide has recognized for his fiction writings as well as his autobiographical writings.
His writings were considered inspiring, as they focused on teaching how to completely be yourself without deceiving your morals and values.
"I travel not to go anywhere, but to go. I travel for travel's sake. The great affair is to move." – Robert Louis Stevenson
Robert Louis Stevenson was born in Edinburgh, United Kingdom in 1850. He wrote many different books, but his most favored were Treasure Island and The Strange Case of Dr. Jekyll and Mr. Hyde. Stevenson attended the University of Edinburgh and taught himself how to become a writer.
He graduated from law school but never practiced. Instead, he decided to travel and write books about his journeys to France and America.
"Remember that happiness is a way of travel – not a destination." – Roy M. Goodman
[download id="88″][download id="89″][download id="90″]
Roy M. Goodman was an American politician who served as a state senator for New York's 26th congressional district from 1969 to 2002. After receiving both his undergraduate and master's degrees from Harvard University, he served in the U.S. Navy.
Considered by many to be a moderate Republican, Goodman sponsored over 1,200 bills during his tenure on rent regulation, arts programs, education and more. He is famously remembered for his wanderlust quote "happiness is a way of travel – not a destination."
"We wander for distraction but we travel for fulfillment." – Hilaire Belloc
Hilaire Belloc was born in France in 1870. He attended the Oratory School in Birmingham, England and became a journalist. After enlisting and serving time in the army, he attended Balliol College in Oxford.
He graduated with a respectable degree in history and became president of the Union. Belloc officially began his writing career in 1895 when his book, Verses and Sonnets, was published.
"A journey of a thousand miles begins with a single step." – Lao Tzu
[download id="36″] [download id="37″]
Lao Tzu was the founder of Taoism, which is a type of religion or philosophy based in China. He was also the author of Tao-Te-Ching, a popular religious book that provides details of his thoughts and beliefs for others to follow.
Taoism is thought to have developed long ago and is still practiced by individuals all over the world. Check more quotes by Lao Tzu.
"To travel is to live." – Hans Christian Anderson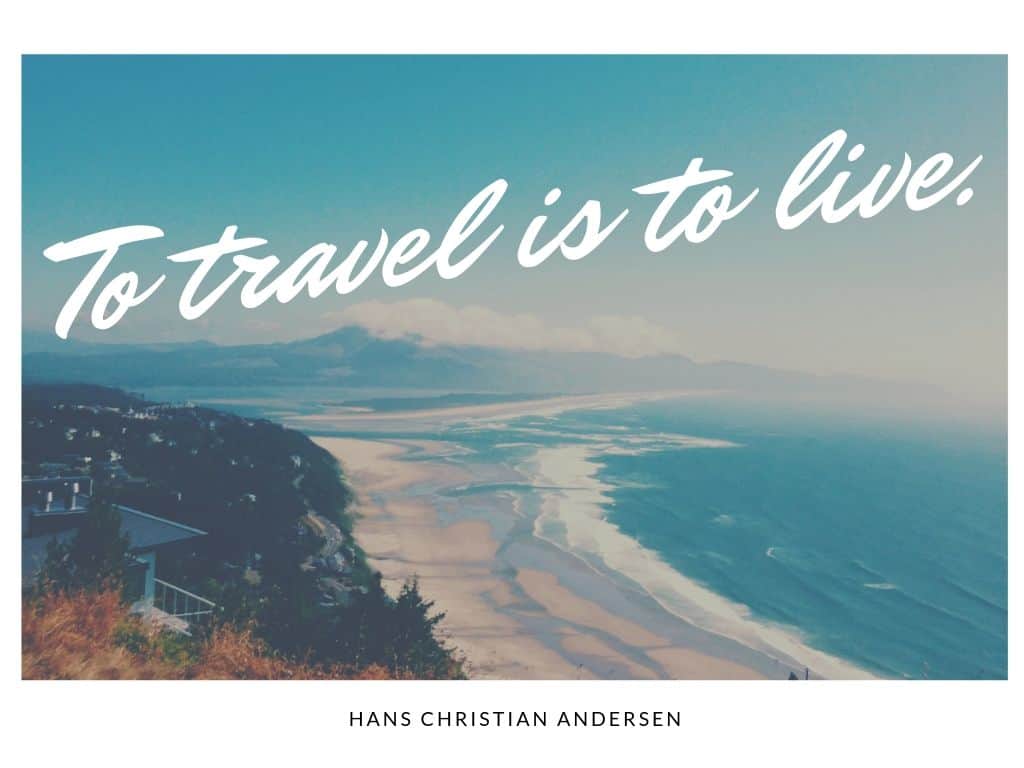 [download id="3″] [download id="4″]
Hans Christian Anderson was born in 1805 in Odense, Denmark. He was one of the first writers to create various fairy tale stories, which grew in popularity. His fairy tales were translated into 125 different languages and influenced the storyline of several films, ballets, plays, and more. People from different cultures, ages, and countries fell in love with Anderson's stories, and some are still well-known today.
After reading this list, you may feel motivated to travel and see the mountains, beaches, cities, and forests of the world. You may even want to create your own quotes like these authors did. Wanderlust quotes are powerful in stimulating one's urge to go on an adventure.
If you feel the excitement of travel tugging at you, you should take the opportunity to explore the world and its many sceneries, cultures, languages, and populations. Don't wait, pack-up and get on another backpacking adventure.
Wanderlust Quotes Landscape
Wanderlust Quotes Pinterest
In case you come up with some amazing quotes for wanderlusts and you would like to contribute, feel free to contacts us via form or you can submit a comment below the article.
---
References:
About – Leah Stewart. (2019). Leah Stewart. Retrieved from: leahstewart.com/aboutleahstewart
Andre Gide. (2020). Fantastic Fiction. Retrieved from: fantasticfiction.com/g/andre-gide
Anita Desai. (2020). Encyclopedia Britannica. Retrieved from: britannica.com/biography/Anita-Desai
Hans Christian Anderson. (2020). American Literature. Retrieved from: americanliterature.com/author/hans-christian-andersen
Hellen Keller biography. (2020). American Foundation for the Blind. Retrieved from: afb.org/about-afb/history/helen-keller/biography-and-chronology/biography
Hilaire Belloc. (2020). Encyclopaedia Britannica. Retrieved from: britannica.com/biography/Hilaire-Belloc
John Muir: a brief biography. (2020). Sierra Club. Retrieved from: vault.sierraclub.org
Mark, J. (2012). Lao-Tzu. Retrieved from: www.ancient.eu
Meet Charles Bukowski. (2020). Michael Phillips and Millionaire Brand Bathtub Gin. Retrieved from: bukowski.net
Paulo Coelho. (2020). Biography. Retrieved from: biography.com
Richey, J. (2020). Confucius (551 – 479 B.C.E.). Retrieved from: iep.utm.edu
Robert Louis Stevenson. (2020). Poetry Foundation. Retrieved from: poetryfoundation.org
Robert w. service. (2020). Academy of American Poets. Retrieved from: poets.org
Sandra lake. (2020). Penguin Random House. Retrieved from: penguinrandomhouse.com