Beautiful Massachusetts has so much to offer residents and visitors alike. It's a place filled with historical trails, booming cities and some of the best food along the eastern seaboard.
It's also a place to admire the outdoors. From interior hills glowing with colorful leaves and perfect places to hike to so many miles of incredible shoreline along the coast, this is a state that remains a nature lover's ideal location.
One of the most delightful things about a stay here are the state's many wonderful camping sites.
If you're thinking about camping in this storied New England state, you'll find a great deal to appreciate. Camping in this part of the United States is both easy and a lot of fun. The following state camping sites offer a marvelous chance to appreciate varied terrain, see hidden corners and experience the natural world in a congenial setting all year long.
Check out also camping in neighboring states:
– Best Camping Sites in Connecticut
– Best Camping Sites in Maine
Normandy Farms Campground – BEST FAMILY CAMPING

Phone: 866–673–2767
Address: 72 West Street, Foxboro, MA 02035
Activities:
Situated between Boston and Cape Cod, Normandy Farms has been the destination of choice for those in search of the luxury camping experience for over four decades. They offer full hookups for those with their own RVs. If you'd like to stay on at their facilities, choose from yurts, deluxe cabins and safari tents.
More than twenty-three miles of hiking trails make this one a good choice for people who want to get to know beautiful Foxboro State Forest from the ground up. The Creative Arts Center offers endless activities centered on the arts for the whole family.
There's also a well stocked fitness center and a dog park for your furry friends. This is one for those who want to get to know all part of the state. Stop off here on the way to Boston or the cape or make this your fun weekend destination getaway.
Horseneck Beach State Reservation
Phone: (508) 636-8816
Address: 5 John Reed Rd, Westport, MA 02790
Activities:
Bird watching

Sailing

Swimming

Biking
This lively park in a convenient location offers a chance to go camping right on the beach. Residents and visitors alike can come to this part of Cape Cod for a stay next adjacent to the shore.
During the day, wade into the clean waters a short walk from the site and enjoy the refreshing cold Atlantic coast waters and gentle waves. Make sure to bring your binoculars along with your tent. This is also a popular site for bird watching. Flocks gather here in large numbers. They're easily visible from many points after you've pitched your tent.
The site is an easy one for campers. You'll find showers to shake the sand off your feet, well kept toilets, and even a fire pit for family s'mores time at night. The little ones can play with friends in between dips on the water with modern playground.
Nickerson State Park, Brewster
Phone: (508) 896-3491
Address: 3488 Main St, Brewster, MA 02631
Activities:
Biking

Fishing

Kayaking

Swimming

Hiking
Convenient Nickerson State Park is an excellent place to make your home base in Cape Cod. It's an ideal place to hit in between exploring many nearby Cape Cod beaches.
The inland park has eight amazing freshwater ponds with sandy shores that are surrounded by towering trees and lush greenery. The ponds are a gem.
You can go fishing, bring your own kayak or just swim on a hot day. One of the best parts about a stay here is there are over four hundred camp sites to pick from. That makes it easy to find the one you like best. You'll find group campsites ideal for a larger party.
If you want something smaller, book a yurt. These canvas backed structures allow four to six people to relax in sheltered comfort with bunk beds. This site has hot showers as well as flush toilets.
Boston Harbor Islands
Phone: 617-223-8666
Address: 15 State Street, Suite 1100 Boston, MA 02109
Activities:
Bird watching

Hiking

Swimming

Star gazing
If you're a resident of Boston or in the area and want to see the region's shoreline up close, the Boston Harbor Islands campground is for you.
These islands are located just offshore from the city. That makes them the perfect day trip. If you want to stay longer, you're in luck. Camping is permitted on four islands: Peddocks, Lovells, Grap and Bumpkin.
Thirty other islands await your discovery. Bring your kayak and hit the waters with family and friends. Cool off in the waters along the shores when you're done. This is also an ideal place to go hiking. You'll be rewarded at the end with stunning views. There are several types of camping sites available.
Choose from individual camping sites where you can pitch a tent, group tent sites for much larger numbers or well kept yurts just right for your entire family.
Prospect Mountains Campground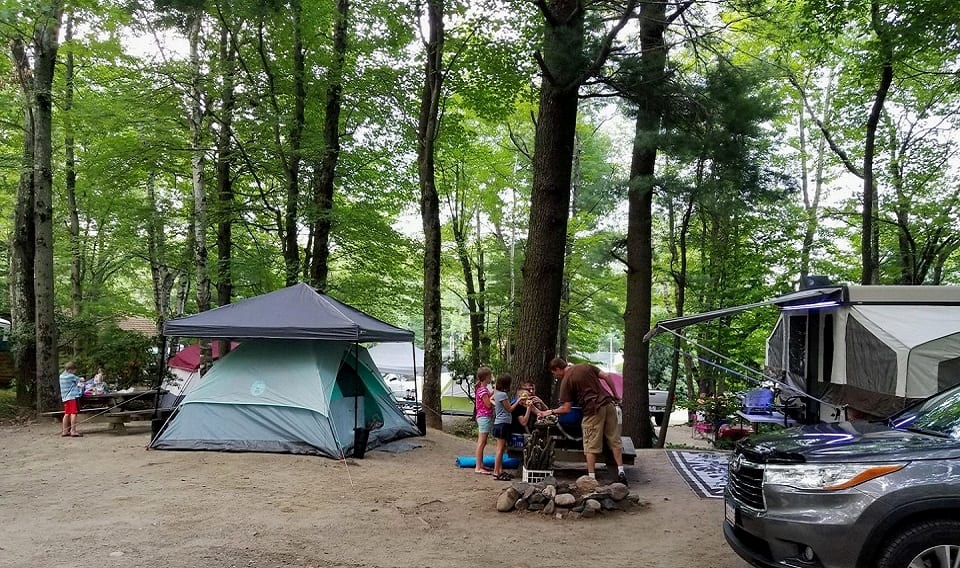 Phone: (413) 357-6494
Address: PO Box 323, Granville, MA 01034
Activities:
Hiking

Swimming

Hayrides

Games
Perched at the foot of the Berkshire mountains, this sprawling campsite is ideal for those who want to get to know interior Massachusetts better.
As a family-owned and operated site, it's also perfect for those who want to bring their own family right here. The site offers varied kinds of facilities for any type of camping you have in mind. Campers can opt for a personal tent or bring along their RV. Log cabins are also available for rent.
When you're done settling in, you'll find lots of things to do with the entire family. Hiking trails of varied difficulty allow visitors the chance to get to know the beautiful rolling hills in person. The site lies along the Connecticut River so you can do plenty of fabulous shore activities or just sit back and dip your feet in the water when you're done hiking. There's also a swimming pool and organized activities by the camp owners.
Northampton / Springfield KOA
Phone: 413-527-9862
Address: 139 South Road Westhampton, MA 01027
Activities:
Located a short distance away from the bustling college town of Northampton, this KOA site makes a great home base. People can park their own RVs, put down a tent or find a cabin for rent.
The site offers lots of things to do including two large swimming pools. This is a good place for dog lovers. The off leash dog park means your favorite pet can exercise in a safe location.
When you're done relaxing, this camping site also makes an ideal place from which to explore the entire Pioneer Valley and the nearby Connecticut River. This is a good choice if you're thinking about attending college here or have a teenager ready to see which college might suit them. Charming Northampton is one of several places with a lively cafe scene, movie theaters and easy paths just right for a long walk.
Winter Island Marine Park
Phone: (978)745-1875
Address: 50 Winter Island Road, Salem, MA 01970
Activities:
Hiking

Historical trails

Swimming
A narrow causeway connects this pretty island to mainland Massachusetts. The park is a short distance from historic Salem. This small camping site is perfect for those who love both history and the natural world. You can take your own RV onsite or make arrangements to rent a well equipped tent site. The site has bathrooms and showers as well as small shops to buy those little necessities.
For those who want to get away, this one is well worth the trip. The secluded island is centrally located but it's also a bit off the beaten path. Visitors can walk around the green island and admire views from onshore. In between, it makes a great place from which to discover historic Salem on person. The city is a short distance away. Boston is also an easy day trip, making this a good choice for those want to save money.
Salisbury Beach State Park
Phone: (978) 462-4481
Address: State Reservation Road , Salisbury, MA 01952
Activities:
Boating

Fishing

Hiking

Swimming
Head north from Boston and discover this wonderful 521 acre park. Nearly four miles of beaches make this one a must for the beach and nature lover. Over four hundred camp sites make it very easy to pick out one that's just right for your plans.
The site offers clean bathrooms, fireplaces and hot shower. There's also a well kept boardwalk and a nice playground for small children. If you are planning to bring your own boat, you'll find a ramp making it easy to get into the water directly.
This site a good one for those who love all the Atlantic coast to offer. It's a wild area where people can walk along the dunes and watch the tides flow in and out. Head off shore and discover rich fishing areas that make it easy to catch dinner. This is a good space for those who love the shore and want to get to know it better any time of the year.
Historic Massachusetts is one of those places that brings people back again and again. From Cape Cod to the mountains and college towns, this is a place to live and a place with a great deal for the visitor. Under these circumstances, it's no wonder that so many people choose to visit this part of the United States. Cities like Boston and Salem offer a chance to get to know the country's roots. Outdoor activities like fishing, swimming and boating are another way to discover the land here in person.
If you're heading to this part of the country, the campsites shown here have all you need for a good time. Head to the state's lovely interior and see towns like Northampton with plenty of cultural offerings along the way.
The state's many public forests and marvelous Connecticut River makes for wonderful boating while the Berkshires are an ideal chance to go hiking. The campsites here make it easy to create a home base. If you're hitting the seashores or Boston, the sites listed make a convenient and pleasant home base. See Massachusetts in person with any one of these fabulously fun camping sites.