Indiana entered the Union in 1816 and is also known as the Hoosier State. Over 6.6 million people live in Indiana, with the largest cities being Indianapolis, Fort Wayne, Evansville, South Bend, Carmel, and Bloomington.
The state maintains 4.7 million acres of forestland (over 20% of the state) and 4.6 million acres of timberland, which makes it an ideal location for anyone looking to enjoy nature. And enjoy the nature they do!
In fact, 70% of people who visit Indiana's state parks participate in hiking, while 52% participate in camping. Tent camping is particularly popular with 51% of park visitors participating in this form of camping, and 98% said they would recommend visiting these parks to others.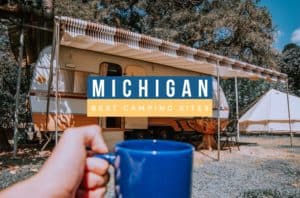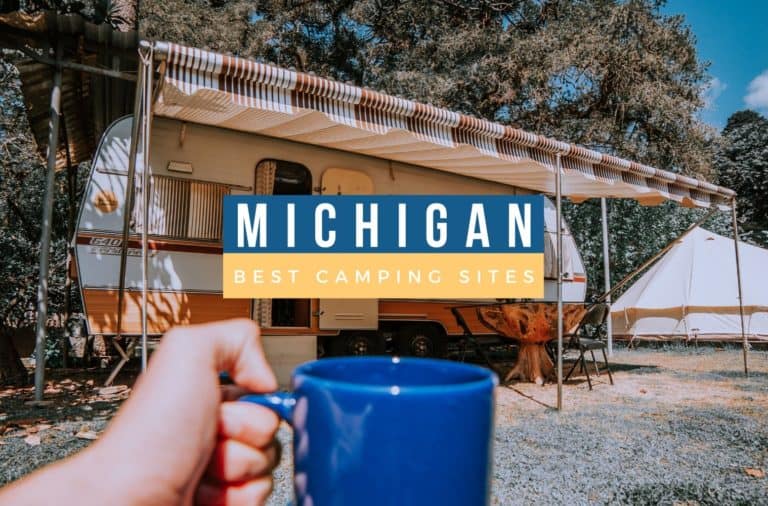 In this article, we'll take a look at some of the most highly rated campgrounds in Indiana, many of which are located inside these glorious state parks.
Best Campgrounds in Indiana
Sycamore Springs Park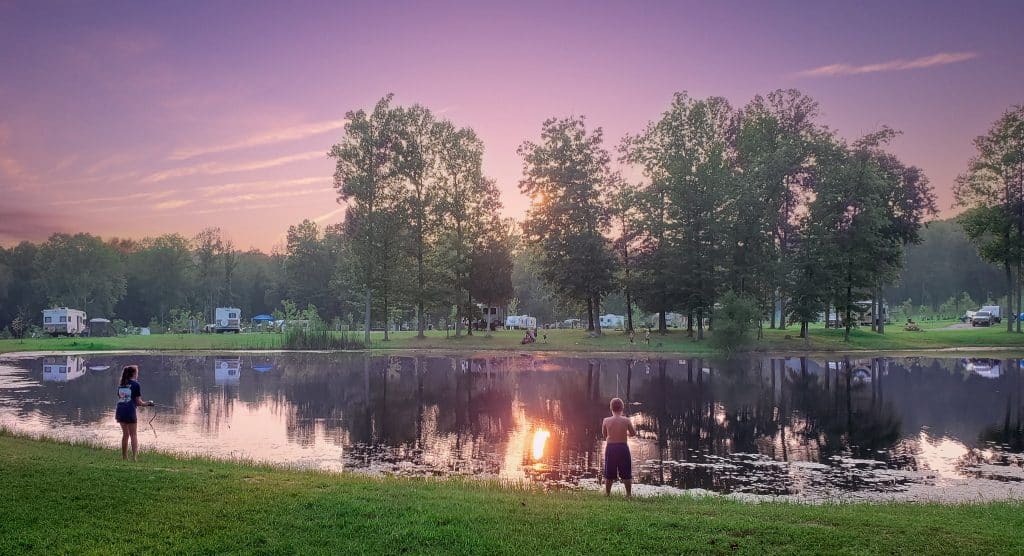 Phone: (812) 338-3846
Address: 717 W Tunnel Hill Rd, English, IN 47118
Activities:
Hiking
Fishing
Kayaking
Playgrounds
Wedding chapel
Located in the quiet town of English in Crawford County, Syncamore Springs Park is a great choice for a family getaway.
The park offers 35 tent camping sites, 62 RV sites, 10 shelter houses, 2 large restrooms, playgrounds, picnic tables, 3 fishing ponds, softball field, and basketball court. Are you planning a countryside wedding? Then, this might be it. Not only is the park spacious but there is also a wedding chapel.
Guests can enjoy fishing, hiking in the area, biking, as well as kayaking in early spring. There are multiple fire pits but you might want to bring your own grill, especially if you come along with the whole family. Firewood is furnished for free.
Note that as this campground is family-focused, there is no alcohol allowed in the park. On the other hand, pets on the leash are welcome.
Lake Haven Retreat
Phone: +1 317-783-5267
Address: 1739 W Edgewood Ave, Indianapolis, IN 46217, United States
Cable TV
Paddle and boat rentals
Showers
Wireless high-speed Internet
Laundry service
A dog park
One of the best campgrounds in Indiana, Lake Haven Retreat, is just a short drive from Indianapolis. There is a full-service campground on site that offers both pull-through and seasonal sites.
Basic tent camping is also available. Laundry service, showers, wireless high-speed Internet, cable TV and paddle boat rentals are available as extras. Campfires are permitted at designated sites.
The park also features a dog park, a new laundry and a playground (which is far from the campers). Best of all, it has one of the lowest daily, weekly and monthly rates for RV parks in Indiana.
The park is conveniently located close to Indianapolis attractions, making it a fantastic place to stay if you want to explore the city. Because of its location, the Indianapolis Zoo, the Indianapolis Motor Speedway, and the Indy 500 are all easily accessible to campers.
Indianapolis KOA Holiday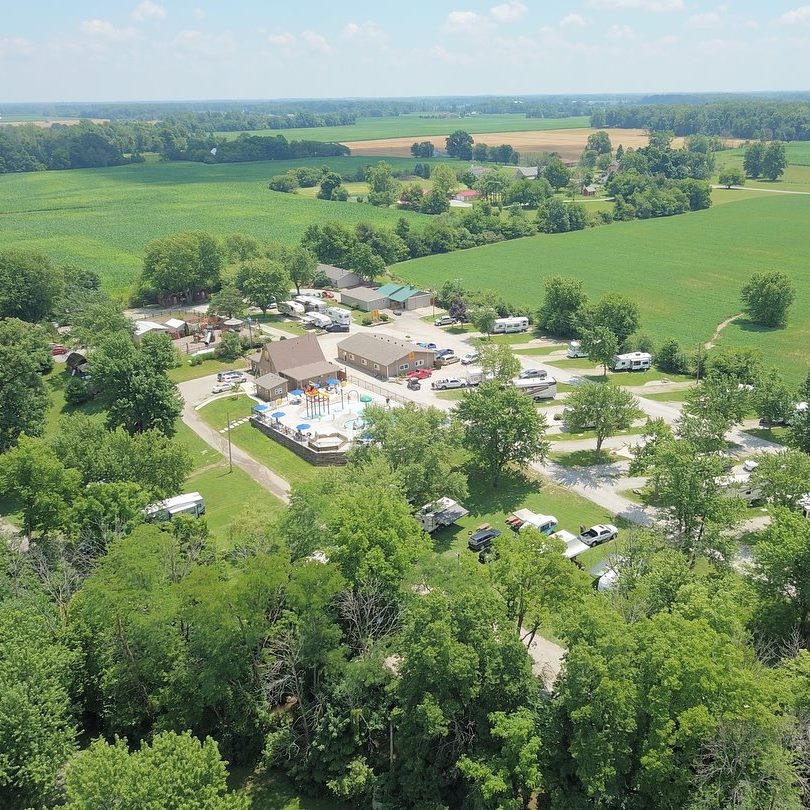 Phone: (317) 894-1397
Address: 5896 W 200 N, Greenfield, IN 46140
Activities:
Water park

Dog run

Numerous area attractions
Conveniently located just a short drive from downtown Indy, yet far enough to feel like country camping. This is Indianapolis KOA Holiday, a spot to relax after a busy working weekend.
Right at the entrance to the campground, you will meet horses at the corral. Park your RV at one of the extra-long sites with patios, pitch a tent, or rent a vacation cabin. Then, set off exploring the campground.
Both kids and adults will appreciate the new water park featuring a pool, slides, a dump bucket, and gaga ball. There is also a dog run, snack bar, and group pavilion.
Area attractions feature Indianapolis ZOO, the Children's Museum, Lucas Oils Stadium, the famous Motor Speedway Hall, as well as malls.
Does it sound like you? This KOA has you covered!
Grandpa's Farm Campground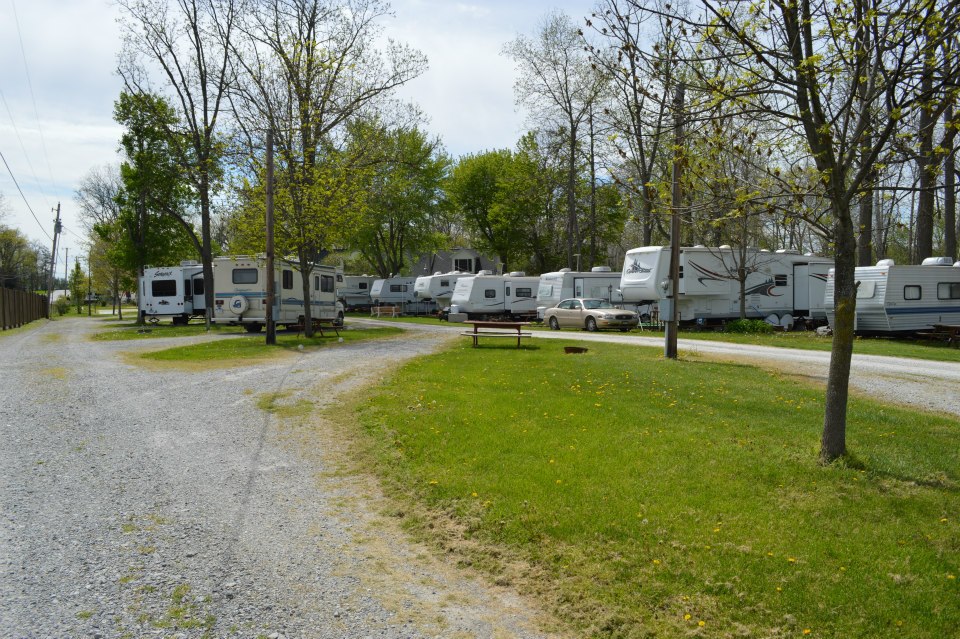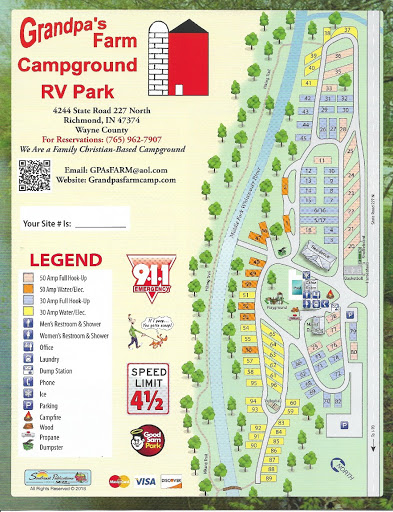 Phone: (765) 962-7907
Address: 4244 IN-227 N., Richmond, IN 47374
Activities:
Arcade games and ping pong

Horseshoes and shuffleboard

Basketball and volleyball

Hiking

Fishing

Swimming
Grandpa's Farm Campground is an especially attractive place for those who want to get away from the hustle and bustle of Indianapolis and other major cities.
It is also naturally decorated with trees while the Whitewater River flows through it, providing fishing and wading opportunities for those who enjoy those activities and a feast for the eyes for the rest of the campers. Meanwhile, those who would rather spend time in a swimming pool have that option as well.
In addition, several planned activities are available for campers to take a part of. These can include arts and crafts events, bingo and chapel services.
Its facilities include tent and RV sites, some of which are situated along the Whitewater River. Full hook-ups, picnic tables, fire rings, restrooms, showers, a laundry room and a dump station are available. Those who have stayed here in the past have commended its clean bathrooms and other facilities.
Note that there is some noise from the nearby road during the day but that it quiets down at night.
Indian Lakes RV Campground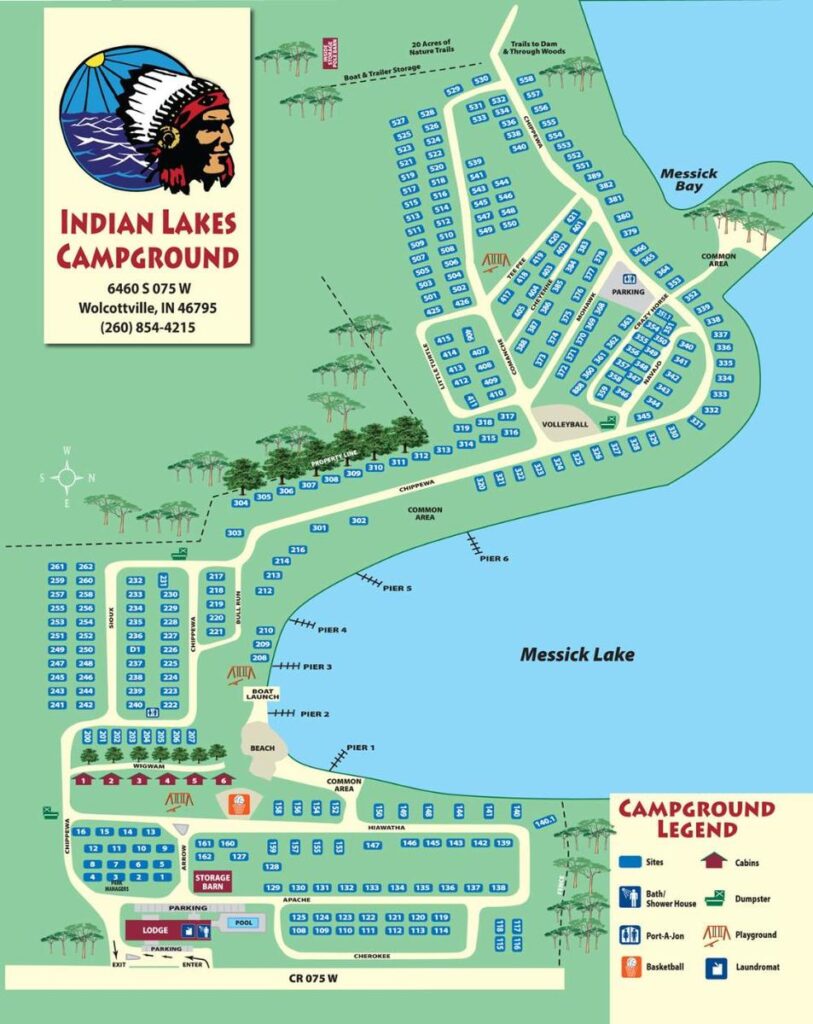 Phone: (888) 481-6348
Address: 7234 E. State Rd. 46, Batesville, IN 47006
Activities:
Volleyball

Arts and crafts

Bingo

Mini golf
Indian Lakes RV Campground is conveniently situated within an easy drive from Indianapolis, Cincinnati and Louisville, Ky. Its rustic cabins provide easy access to a number of waterways while its playgrounds are well-kept. Fishing is also offered here with no license necessary to take part in that activity.
Pull-thru sites are available with electric up to 50 amps. So is tent camping. Meanwhile, those who want to stay in cabins have several choices available to them, ranging from accommodations that sleep four to those that sleep eight.
Take into account that some users have reported that upkeep here could be improved. In addition, some parts of the park appear to be top-notch while others are not near that quality. Also, some sites are shaded while others are not.
Eby's Pines RV Park & Campground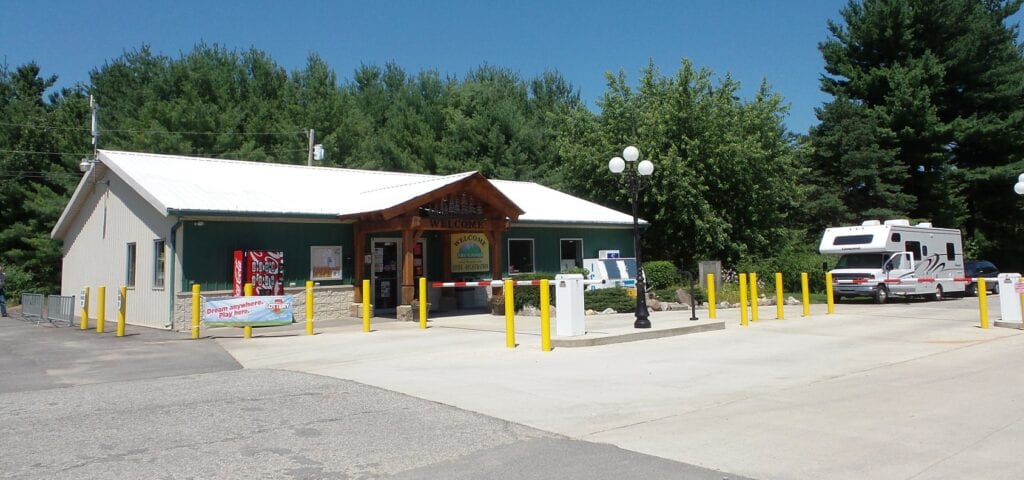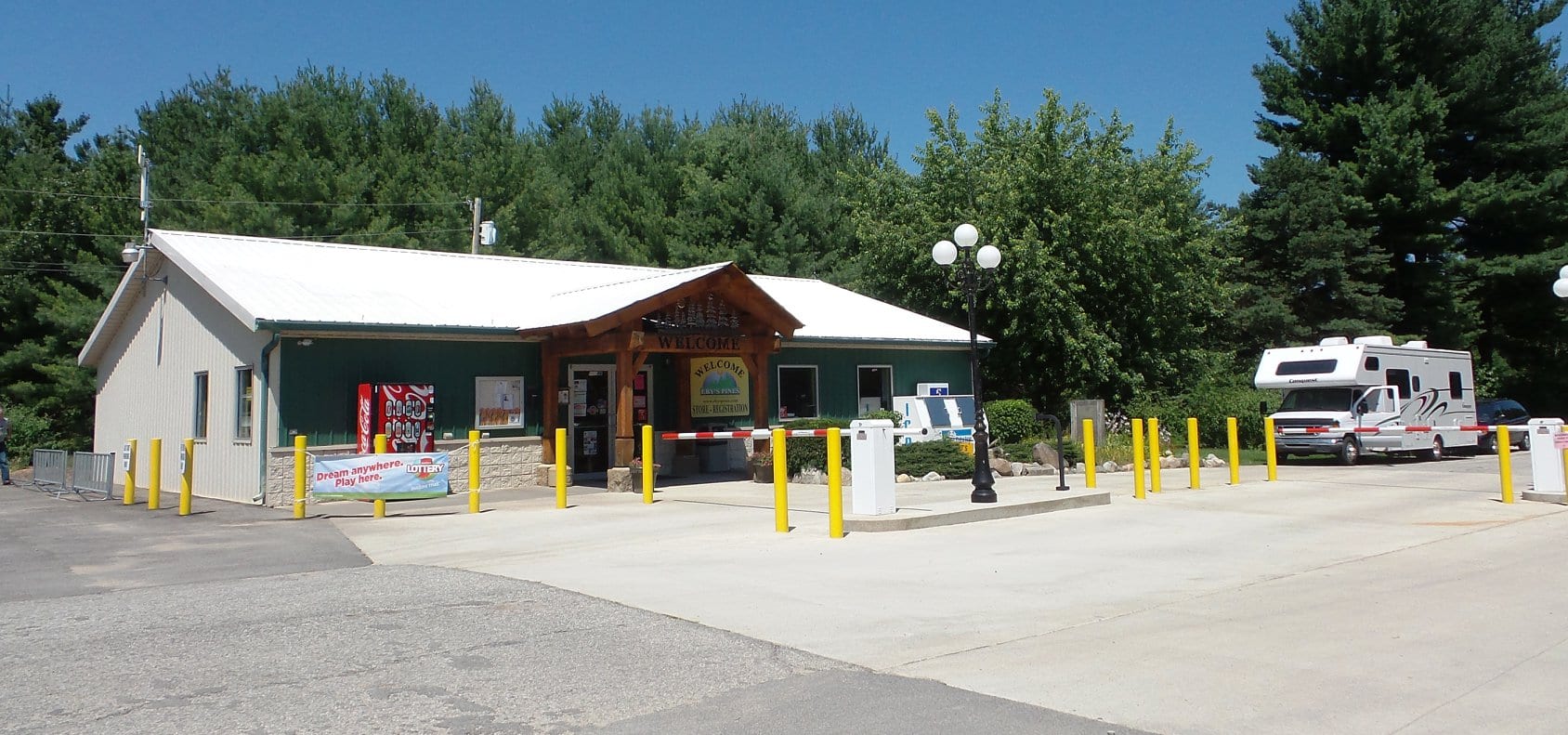 Phone: 574-848-4583
Address: 14583 IN-120, Bristol, IN 46507
Activities:
Swimming
Camp store
Indoor roller rink
Laser tag
Snowmobile trails
Hiking trails
Fishing pond and river
Game room
Sport courts
Playground
Scheduled activities
Shelter houses for rent
Catering available
Eby's is a family owned and operated campground that has been in business since 1968. Camping is allowed here on a seasonal, monthly, weekly, or daily basis. RV and tent camping is permitted.
Cabins are available for rent. RV sites and some tent sites come with full hook-ups and primitive sites are available for tents. This campground is sprawled out across a large field, dotted with trees and surrounded by a river and forest.
This is an ideal campground for families looking to do simple, modern camping. Pets are allowed in this campground and there is a swimming pool on site, which makes this an ideal spot for a family camping getaway.
Hardin Ridge Recreation Area
Phone: (812) 837-9453
Address: 6464 Hardin Ridge Rd, Heltonville, IN 47436
Activities:
Hiking

Fishing

Cycling

Nature viewing
Located just 30 minutes south of Bloomington by Lake Monroe, Hardin Ridge Recreation Area is a fantastic place for a peaceful holiday or a weekend getaway from the city.
There are six campground loops able to accommodate both tents and RVs, each of which offers modern restrooms and shower facilities. Don't want to rough it? Book one of the two rental cabins on the lake. There are also two picnic areas and three shelter houses, a great option for family gatherings, group outings, and other celebrations.
Activities include fishing, boating, swimming, and hiking. The trails are also suitable for biking. Hardin Ridge Recreation Area is simply the best bet for outdoor enthusiasts who love to stay at quiet and private campsites.
Shipshewana North Park Amish Log Cabin Lodging & Campground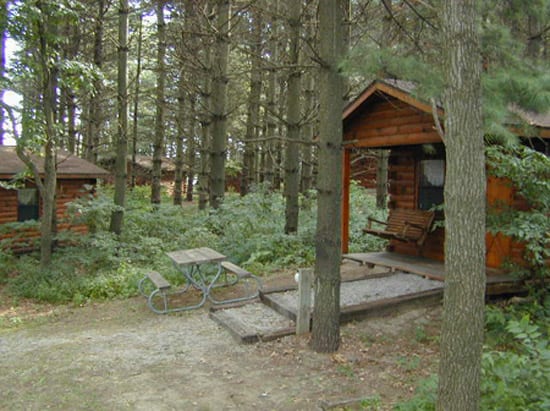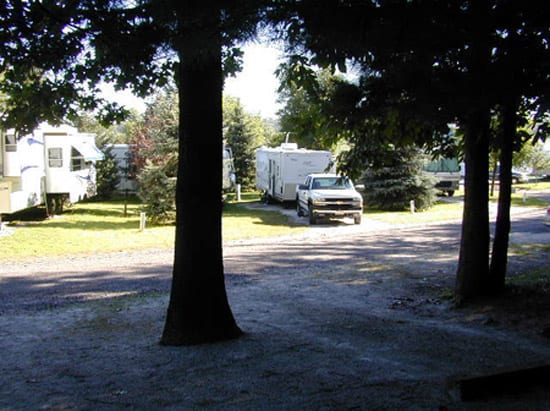 Phone: 260-768-7770
Address: 5970 IN-5, Shipshewana, IN 46565
Activities:
Florida room
Red barn conference center
Ice cream and frozen custard stand
Flea market nearby
Blue Gate theatre nearby
Millers Buggy Line Tours nearby
Shipshewana North campground is located 3 miles north of the Town of Shipshewana. The campground is surrounded by pine forests and features an Amish theme throughout.
The campground features sites with full hook ups and permits RV and tent camping with cabins available for rent. Shipshewana offers 55 campsites and modernized rest facilities are available. The town of Shipshewana has only 670 residents, but it receives over 2 million tourists each year who come to enjoy all that "Shipshe" has to offer, including its rich Amish culture, the largest flea market in the Midwest, and it's plethora of hand-crafted goods.
Shipshewana North campground is the ideal choice for antique and craft lovers who are looking to enjoy the classic feel and serenity of small-town America.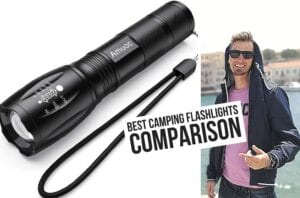 Dunewood Campground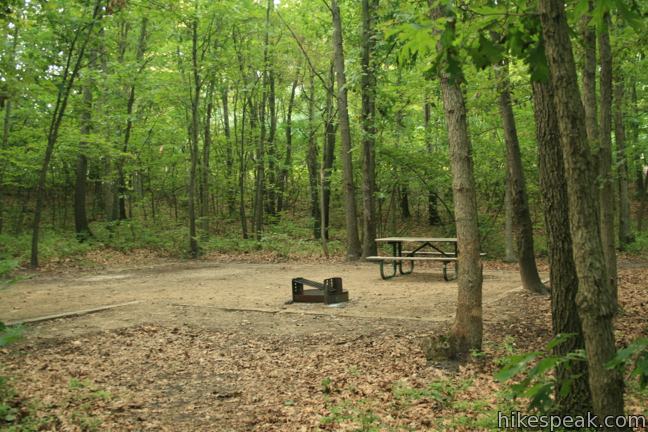 Phone: 219-395-1882
Address: 645 Broadway Avenue, Beverly Shores, IN 4630
Activities:
Beaches nearby
Educational displays and videos
Bookstore
Visitor center
Hiking trails
Birding
Dunewood campground is located in the Indiana Dunes National Park. The park features beaches, rugged dunes, forests, and wetlands. The 15,000 acre park is one of the most biologically diverse parks in the U.S., home to over 1,100 native plant species.
One of the most wonderful aspects of the Indiana Dunes National Park is that it rests on 15 miles of pristine Michigan Lake shoreline. The campground is open April 1st through November 1st and features 67 campsites. RV and tent camping is available, however, none of the campsites features electric or water hookups.
A handful of sites are wheelchair accessible. Ample restrooms and showers are provided on-site, as well as a dumping station for trailers. The Town of Beverly Shores features a gas station, shopping, and railroad station with passenger service that connects with Chicago and South Bend.
Suggested: Best Camping in Nebraska
Yogi Bear's Jellystone Park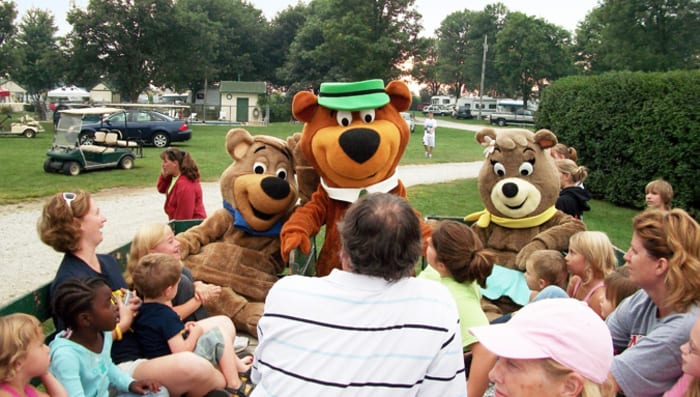 Phone: 765-737-6585
Address: 5964 IN-109, Knightstown, IN 4614
Activities:
Themed weekends
Daily activities
Crafts
Swimming pool
Games
Yogi Meet&Greet
Jump Pad
Playgrounds
Basketball and Volleyball Court
Horseshoes
Fishing
Paddle Boating
Pedal Karts
Wagon Rides
Bingo
Dancing
Jellystone is a family-centric campground that features a wide range of activities and attractions for kids and families.
The campground is set across many acres of well-maintained lawn space and concrete roads. All activity spaces and facilities are in great shape and the whole campground aligns with a rustic, wilderness, Yogi Bear theme.
Cabin and camping trailers are available for rent. There are a number of Yogi Bear's Jellystone Park Camp-Resorts scattered throughout the midwest. The chain of resorts was originally founded in Sturgeon Bay, Wisconsin in 1969 and today, each location is run as a franchise.
Brown County State Park
Phone: 812-988-6406
Address: 1801 Indiana 46 East, Nashville, IN 47448
Activities:
Outdoor swimming pool
Park Events: Smokey Safety Day, Snake Fest, Nature Fest, Brown County Survivor, Wildflower Meadow Workday, Sunset Nature Ride, Halloween in the Hills
Dining facilities
Conference facilities
Indoor Water Park
Hiking
Mountain biking trails
Interpretive services
Saddle barn/guided horse rides
Horse trails
This campground features a historic covered bridge and amazing natural scenery that is especially awesome in the fall months.
The campground is surrounded by 16,000 acres of rugged wilderness, full of hills, ridges, and ravines; this is one of the most beautiful glacial parks in the United States. Nearby, the Town of Nashville, Indiana supplies unique shopping experiences, dining locations, local arts and crafts, historical activities, entertainment venues, and various outdoor exploration and adventure activities.
The campground at Brown County State Park supports TV, trailer, tend, and equestrian camping. There is also a lodge in the park which offers motel rooms and cabins for rent.
Potato Creek State Park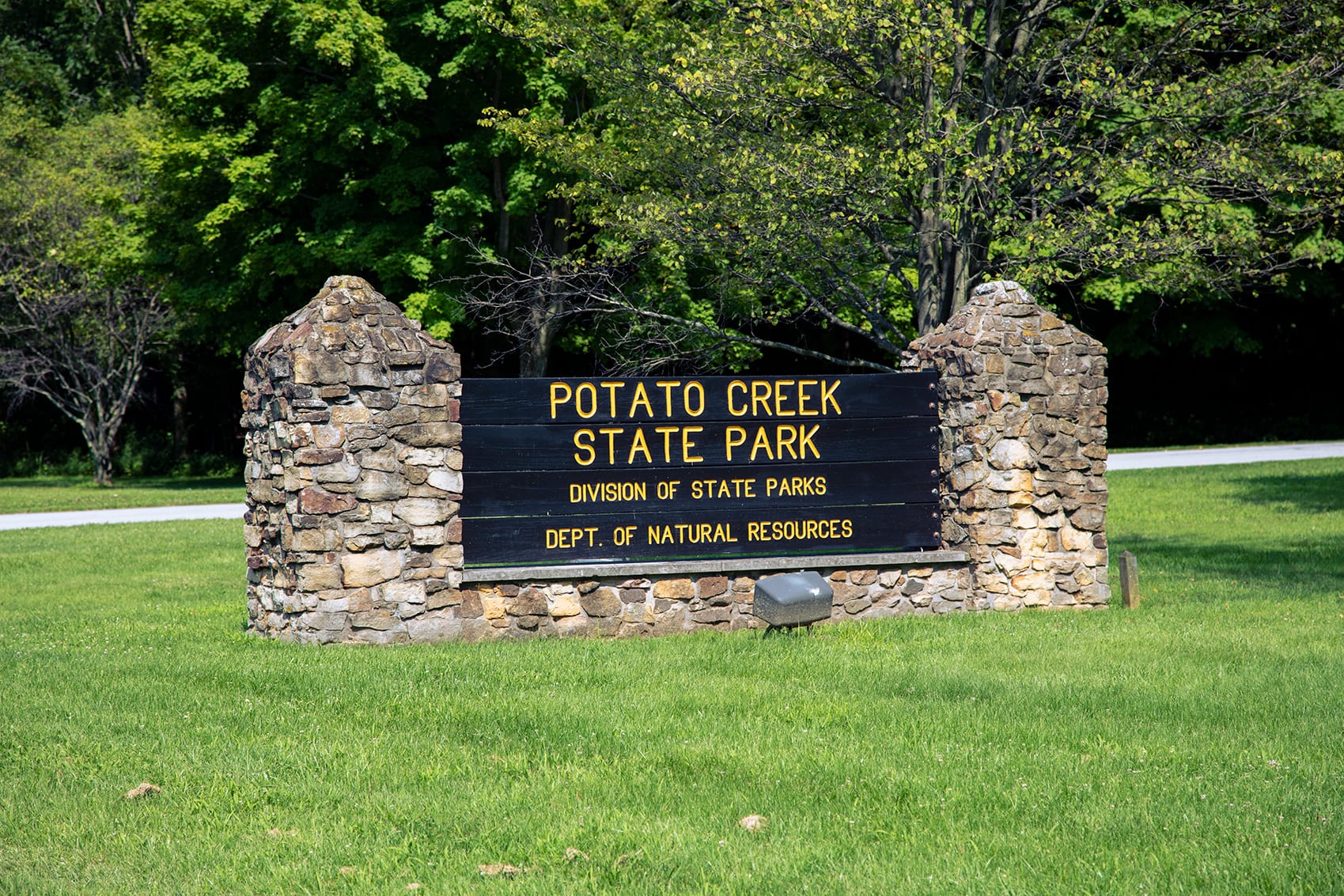 Phone: 574-656-8186
Address: 25601 IN-4, North Liberty, IN 46554
Activities:
Park Events: Help Feed the Birds, Yoga on the Beach, Women's Learn to Kayak Fish, Osprey Observation, Cemetery Tour, Eagle Hike, Hike the Bluebird Trail, Owl Prowl, Worster Lake Evening Paddle Adventure, and Star Party
Worster Lake
Nature observation and center
Biking trails
Boat launch
Horse trails
Fish cleaning station
Playground
Canoe, paddleboat, rowboat, kayak, and bicycle rentals
Swimming beach
On-site store
Potato Creek is located in north-central Indiana and offers activities year-round. Natural scenery includes 327-acres of lake, old fields, woods, prairies, and wetlands. The nearest major city is South Bend, which is 12 miles away.
This campground features nicely decorated cabins, horse camping, and electric sites. Recreation buildings are available for rent. Tent and trailer camping is allowed with reservations recommended.
Supplies and souvenirs can be purchased at the park store spring thru fall. Potato Creek is the perfect camping destination for anyone who loves horses or wants to bring their own horses on their nature adventure.
Ouabache State Park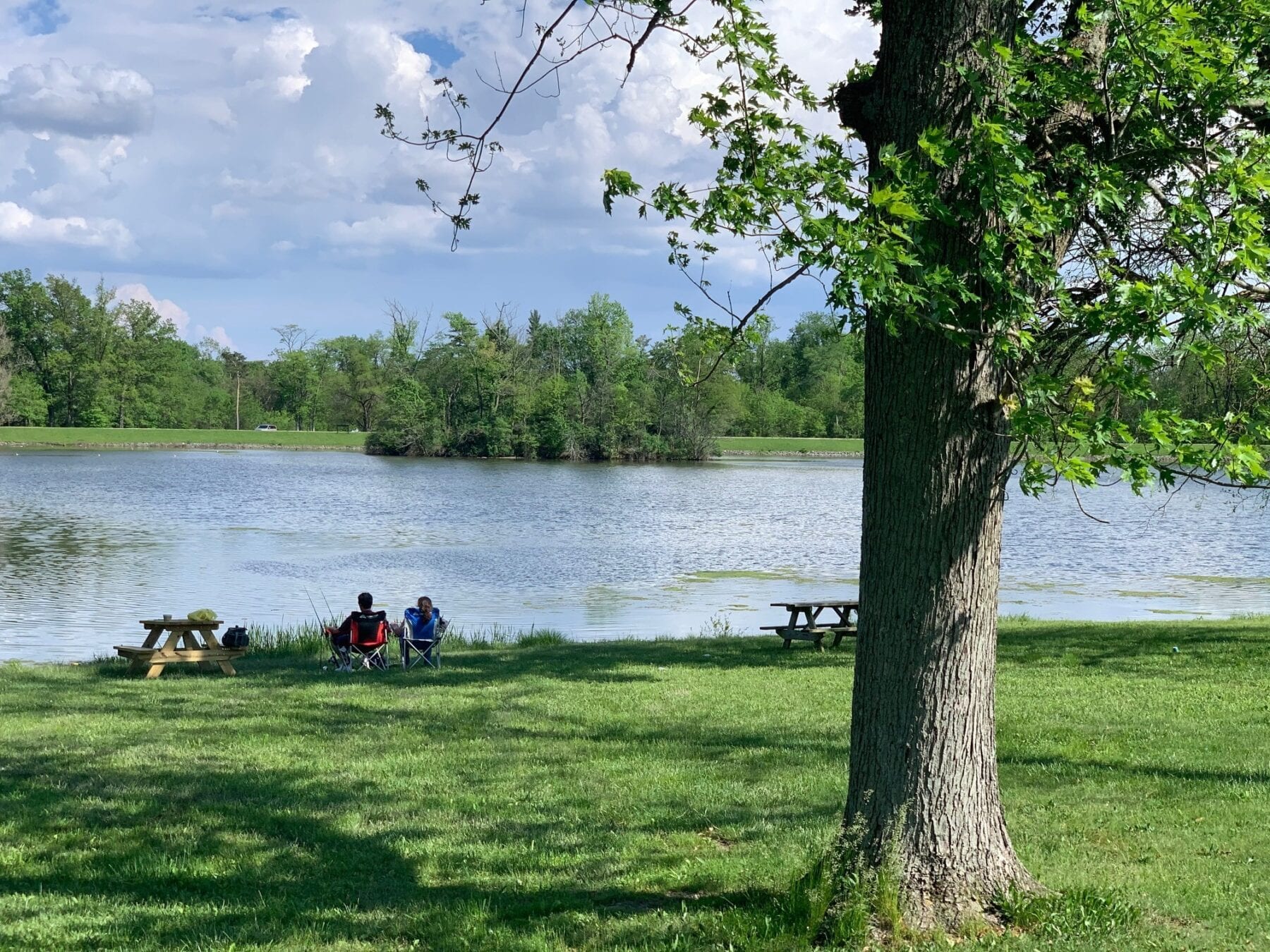 Phone: 260-824-0926
Address: 4930 IN-201, Bluffton, IN 4671
Activities:
Fishing and boating
Nature center
Gathering spaces
Beach
Hiking
Biking trails
Tennis courts, basketball courts, volleyball courts
Playgrounds
Quabache (pronounced "Wabash") supports tent camping, RV, and trailer camping. Some sites have full hookups and are wheelchair accessible.
Surrounded by a state park, the campground is less than a mile away from the nearest town, which has antique stores, museums, arts, churches, dining, and a medical clinic. Within 10 miles of the campground, there is golfing, a gas station, and a grocery store.
One of the defining features of this state park is the Wabash River (correctly spelled as written), which runs straight through the park. This river is ideal for fishing. Additionally, a 100 foot fire tower is open to the public for amazing scenic views.
The park is located 30 miles south of Fort Wayne, so this is a great option for anyone looking to camp far away from any major city.
Monroe Lake (Paynetown Campground)
Phone: 812-837-9546
Address: 4850 S. State Rd. 466, Bloomington, IN 47401
Activities:
Biking
Bird watching
Boating
Fishing
Hiking
Horseshoes
Jet Skiing
Playgrounds
Sailboarding
Swimming
Water skiing
Monroe Lake is the largest lake in Indiana. Nearby the campground, situated on the lake, is a resort that provides a marina, hotel, restaurant, and bar.
This is a man-made lake created in 1965 and spans 10,750 acres of water. Thousands of acres of state and federal forested land surrounds the lake.
Tent, RV, and trailer camping is permitted. Previously known as the "dead sea" due to limited fish populations, Monroe Lake is now flourishing with healthy populations of crappie, lunker bass, and big catfish. Walleye and bluegill can also be found in this lake.
Boat rentals are available, as well as places for dock fishing. Monroe Lake is the perfect camping destination for any nature lover!
FAQs about camping in Indiana
What's the biggest state park in Indiana?
Also known as the Little Smokies, Brown County State Park is the largest state park in Indiana. It spreads over nearly 16,000 acres of rugged hills, ridges, and ravines and is particularly known for its mountain biking and horseback riding opportunities.
How much is RV camping in Indiana?
Rates for RV camping in Indiana differ from campground to campground. They highly depend on the season, location, and facilities of the park. However, in general, you can expect rates between USD$ 30 and USD$ 40 per night.
Where can you camp for free in Indiana?
Dispersed free camping is permitted in Indiana's public lands, such as some state forests and state parks, including Hoosier National Forest and Morgan-Monroe State Forest. Note that free camping isn't allowed within developed campgrounds and recreation areas.
When does the camping season start in Indiana?
Camping in Indiana state parks is allowed all year round. However, the main camping season starts in May and lasts through October. While summer is the most popular season to travel to Indiana for its weather, fall in Indiana offers agreeable temperatures and some incredible views of the fall foliage.
Why you should go camping in Indiana
As you can see, Indiana is a state that is not only rich in nature, it's also rich in exciting camping getaways that have something for everyone. For families who want a camping experience filled with water sports, look no farther than Monroe Lake.
If it's a family-friendly equestrian experience you're after, Brown County State Park is the one for you! If you're looking for enriching nature-filled experiences, Potato Creek has what you need!
If you want the ultimate beach vacation, head to Dunewood Campground and bask in those 15 miles of Lake Michigan shoreline! Of course, the classic Yogi Bear Jellystone experience is always the perfect go-to for anyone camping with young kids.
Eby's Pines can't be beat for RV camping, Ouabache is where you'll want to head for amazing scenic views and photography opportunities, and last but not least, Shipshewana is sure to charm the heart of any antiques lover.
No matter who you are, Indiana has a campground for you! So what are you waiting for? Grab the family, pack the bags, and hit the road; Indiana is calling you for a great adventure!