If you're venturing through South America, chances are Bogotá is on your list of cities to visit. Nestled among the Andes peaks, Colombia's capital is renowned for its art, parties, and colonial architecture.
The city's urban charm has grown rapidly in popularity in recent years, catering to travelers seeking a modern and historical blend of Colombian life. We've narrowed down a list of the best hostels for backpackers to stay in Bogotá.
Going to Medellin as well? Check our backpackers roundup of Best Hostels Medellin!
Selina Chapinero Bogotá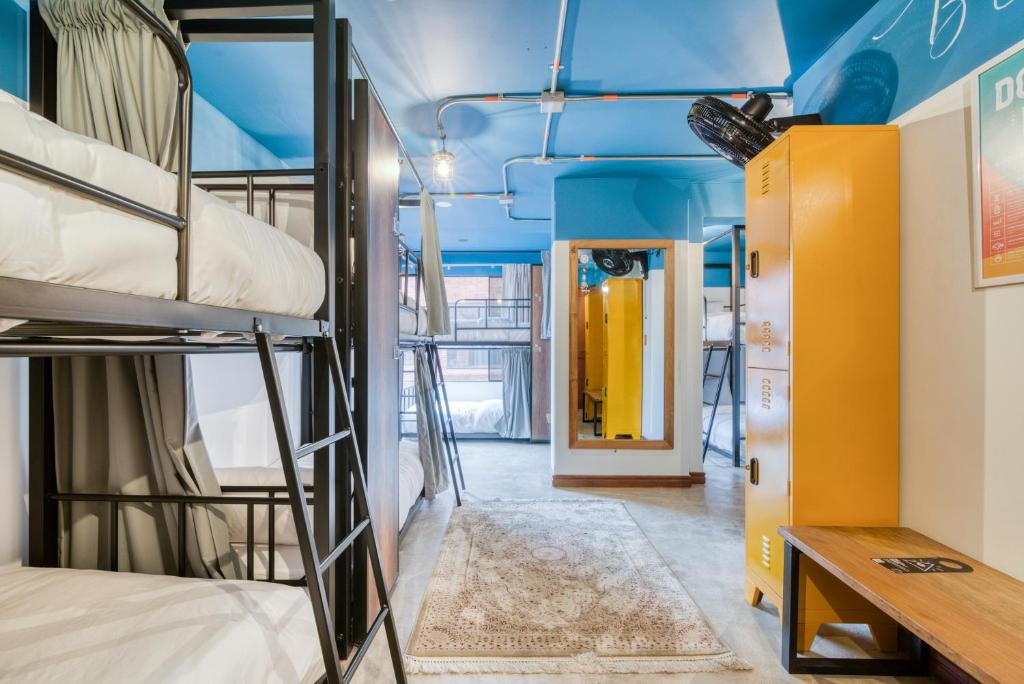 **SPECIAL 10% SELINA DISCOUNT* Use Our Coupon: "TRAVELING-SELINA" while Booking on Selina's Website to Get Exclusive Discount.
Book on Hostelworld Book on Booking.com from $18 / 4-dorm 4.5/5 Map
**Prices are shown for weekdays in mid-season (August)
Set in the heart of the trendy Zona Rosa, Selina Chapinero is a hip community-like hostel featuring modern rooms and a plethora of facilities. Have a bite at the restaurant, respond to your emails in the co-work, relax over a cup of coffee in the coffee shop or see the newest blockbuster in the movie room.
Selina also offers a variety of activities on a daily basis, including yoga and salsa lessons, live music, and theater performances. Would you rather explore the surroundings? It has never been easier. You are right in the center of the city!
Try some of the best local eateries, such as Club Colombia, Criterion, or Harry Sasson. Whereas party animals will appreciate the famous club Theatron.
Stay in either a dorm or a private room. Family and deluxe rooms are also available. Whether you come on your own, as a backpacker, digital nomad, or in a couple, Selina Chapinero will become your home away home in Bogotá.
Viajero Bogota Hostel & Spa
Book on Hostelworld Book on Booking.com from $13 / 6-dorm 4.4/5 Map
**Prices are shown for weekdays in the high season (March)
You've surely heard of the Viajero chain of hostels – they are simply amazing. Now hold on to your seats – the one in Bogota is the first one to have a spa included.
It features a sauna, steam bath, and a hydromassage circuit. You can also book a massage with one of their qualified masseuses.
On the other hand, the newly remodeled rooms feature soundproof windows. So even though the hostel is set just a few steps from downtown Bogota, you would always have a good night's rest. And of course, you can choose from both shared dorms and privates.
Viajero also has its own restaurant with a bar, where you can grab breakfast in the morning and a drink in the evening before you go out to explore the city.
Pet owners, alert! Small dogs are allowed in private rooms, so you can take your four-legged friend with you.
Botanico Hostel Bogotá
Book on Hostelworld Book on Booking.com from $5 / 8-dorm 4.7/5 Map
**Prices are shown for weekdays in mid-season (August)
Known for its abundance of plants and tropical gardens, Botanico Hostel is ideal for travelers looking for a little green in the busy metropolitan city of Bogotá. Boasting stunning views across the La Candelaria Centro neighborhood, guests can unwind with a book in the garden hammocks (or take a nap to recover from the night before).
The hostel has private rooms or dorms, where each bed has an individual curtain for privacy. A locker and power outlet also come with the beds, and towels and breakfast are included in the booking. There's even free coffee available throughout the day, so caffeine lovers can sample a true taste of Colombia. Plenty of restaurants are within walking distance, as well as artisan and fruit and vegetable markets which are great for picking up presents for friends.
Nicknamed 'la nevera' (meaning 'the fridge' in Spanish) Bogotá's temperatures can fluctuate rapidly. Botanico has a fireplace for the chillier nights, where guests can gather to talk in a cozy setting. Reception is open 24 hours a day and the staff speaks English.
Masaya Hostel Bogotá
Book on Hostelworld Book on Booking.com from $8 / 6-dorm 4.6/5 Map
**Prices are shown for weekdays in mid-season (August)
Immerse yourself in the Colombian lifestyle at Masaya Hostel, a spacious house set in La Candelaria, treating guests to a real South American experience. Three large patios line the hostel, offering space to stretch out and sip on a cool drink. Three common areas — complete with a pool table, ping pong table, and board games — make the hostel a great place to meet other travelers and start a little friendly competition.
The hostel also has a packed agenda, offering weekly events celebrating Colombian culture in the form of music, cooking classes, and salsa. A big promoter of international talent, be sure to check out the talent exchange at Masaya Hostel, where backpacking musicians and performers can stay free for a night by playing for hostel guests.
Breakfast is included in the price for private rooms and serves eggs, arepas (traditional Colombian maize snacks), cereal, fresh juice, and of course, Colombian coffee. A vegetarian restaurant is located next door to the hostel, offering a tasty menu for non-meat eaters.
Heading to Colombian paradise? Check out: Best Hostels in Santa Marta
The Cranky Croc Hostel
Book on Hostelworld Book on Booking.com from $9 / 10-dorm 4.4/5 Map
**Prices are shown for weekdays in mid-season (August)
Found in the historic Old Town of Bogotá, The Cranky Croc Hostel is close to cultural attractions, restaurants, and nightlife. The stunning remodeled colonial house is a blend of traditional Colombian colors and modern touches, like the large screen TV, WiFi, and multiple electric sockets for recharging your items.
Relax in the sun on the patio or grab a drink at the bar and get chatting with other guests — the hostel is open-plan to encourage socializing. If you prefer quiet accommodations, the Cranky Croc is great for both a chilled stay and a fiesta. Many guests head to Zona Rosa (the club and bar region) in the evening, so the building is calm and easy to nod off in.
The hostel regularly hosts social events, ranging from bar crawls to board games to book exchanges. Breakfast isn't included but there are great cafes worth visiting; there's also a fully-equipped kitchen for visitors to cook their own meals. Other facilities include hot showers, free towels, lockers for securing bags, hooks in the dormitories, laundry, and tourist information.
Fatima Hostel Bogotá
Book on Booking.com Book on Hostelworld from $7 / 4-dorm 4.3/5 Map
**Prices are shown for weekdays in mid-season (August)
Located right in the heart of La Candelaria, the city's Old Town, Fatima Hostel (formerly known as Graffiti Hostel) is a funky retro space offering a games room, spacious common areas, and a welcoming bar. Featuring vibrant colors and quirky designs characterized by its graffiti decor, the hostel is full of character and creative vibes that make it an exciting place to hang out with other travelers.
Contrasting the lively splashes of color in the shared spaces, the rooms reflect a more simplistic, zen style. Fatima Hostel offers comfortable private rooms or dorm rooms with well-equipped shared bathrooms and spacious storage lockers. To make sure you have everything you need, there is also a laundry and ironing service, a tour information desk with free maps, and staff available 24 hours.
Fatima Hostel features optimal social areas, from a shared lounge and kitchen to an alluring games room and bar area. Have some fun getting to know other travelers by challenging them to a board game over a pint of beer from the bar, or join one of the fun activities that the staff organizes, like salsa lessons. The hostel's friendly staff are also more than happy to help organize other unique activities around the city, like walking, biking, or graffiti tours.
When you're ready to venture out into the city, you won't need to wander far from the hostel. Fatima Hostel is only 500 meters away from Plaza Bolívar, Bogotá's main square, from where you can explore all of the capital city's rich culture and history.
Anandamayi Hostel & Hotel
TEMPORARILY CLOSED
With the mantra "love all, serve all", Anandamayi is a low-cost, tranquil, hippie-esque hostel, best-suited to nature lovers and backpackers looking to rest in Bogotá. Hammocks fill the patio, while the garden has a small waterfall and fish ponds, visited by hummingbirds from time to time.
The decor is welcoming and the staff is friendly; the hostel typically attracts creatives: writers, painters, and photographers looking for inspiration in Colombia's capital. On weekends, guests can sign up for ecological treks to explore ancient roads and lavish scenery outside the city. Alternatively, head up to the attic room to watch the sunrise from behind Monserrate and listen to the church bells ring out from the Cathedral.
Found in the bustling La Candelaria neighborhood, Anandamayi is close to cafes, restaurants, and bars. Linens and towels are complimentary, along with luggage storage.
El Pit Hostel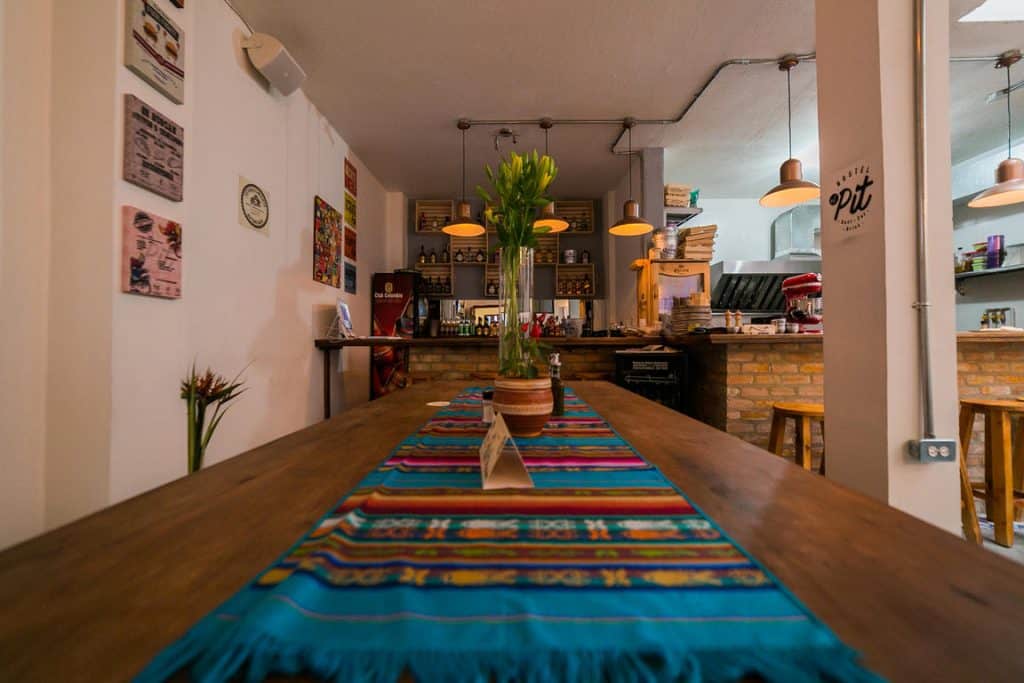 TEMPORARILY CLOSED
In the old Macarena neighborhood, El Pit Hostel's bohemian atmosphere makes it a favorite with backpackers, who welcome the chilled ambiance and delicious food options. The hostel has seven sleek, clean dorm rooms, a restaurant with dishes from Colombia and other countries, and a snazzy bar with an impressive collection of liquor.
There's a TV room for watching movies or playing video games, and a computer room to keep in contact with everyone back home. There's even an adorable dog to welcome visitors as they arrive. Get stuck into one of the hostel's varieties of activities: stretch your legs on a bike tour, enhance your culinary skills with a cooking class, or recenter with a yoga class. And when you need to be still, curl up in one of the reading spaces.
Guests at the hostel automatically get a 10 percent discount off food and drinks at the bar and restaurant and some local shops. Extra bits like electrical adaptors are available at reception, as well as hairdryers and ironing equipment too.