Boracay is a small island in the Philippines that is known for its great beaches and resorts. It is a very well-known tourist spot for people who want to have fun under the sun. You can meet and party with new people every day. There are a lot of places to meet new people.
Boracay has recently been opened for business again after a 6-month rehab to clean the ocean and shore. It is now back to its magnificent form. Traveling might cost a lot of money, so it is essential to plan. Staying in Boracay shouldn't be expensive. There are a lot of great hostels that offer cheap but good quality rooms and services. Here are the top eight best hostels to stay at in Boracay:
You might also wanna check out: Best Hostels in Manila for Backpackers
Frendz Resort and Hostel Boracay
HostelWorld (*9.4) Map Starts at ($11) for 8 bed-dorm
**prices are shown for weekdays in Mid-season (March)
Frendz Resort and Hostel Boracay is a family-run business that is situated at a great location, just a few meters away from White Beach which is in the middle of stations 1 and 2. The place also has great scenery, just like in Horizon Terraces in Tagaytay. For a little price of under 500 pesos, you can stay in this hostel.
Even with its low cost, Frendz Resort and Hostel will go the extra mile to make their guests' vacation a fun and memorable one. On Wednesdays and Sundays, they have free pasta and music night. They also set up a designated beach chair area right outside on the white beach. You can also ask for their help in booking an island hopping expedition. Another excellent reason for staying in Frendz Resort and Hostel is that they are partners with other restaurants, dive shops, and kite-surfing schools that offer a discount to their guests.
Chillax Flashpackers
HostelWorld (*9.1) Booking.com (*9.1) Map Starts at ($18) for 8 bed-dorm
**prices are shown for weekdays in Mid-season (March)
Chillax Flashpackers is not like any other hostel. It has a new and unique design that is the main attraction of this hostel. Chillax Flashpackers are for the eco-friendly backpackers out there. They upcycled shipping items to design the place.
The swimming pool is an upcycled dumpster which creates a fresh new vibe with swimming. It also has a game room, bar, table tennis, and outdoor movie screening with free popcorn. There are a lot of things to do in this hostel. It is also ideally situated near the beaches which are only a few meters away. They offer both dorm and private rooms. The rooms also have their own bathrooms and balconies.
Chill Out Hostel Boracay
HostelWorld (*8.3) Booking.com (*7.5) Map Starts at ($9) for 10 bed-dorm
**prices are shown for weekdays in Mid-season (March)
As the name suggests, this is simply a hostel to CHILL. It's set in the middle of the island, so you have it close to both the famous beaches – Bulabog and White beach.
You can stay in a mixed dorm, a female-only dorm, or in a private room. All rooms are air-conditioned plus each bed in the dorms has its own spacious locker. The common areas include Chill Dine and Lounge bar offering fresh food and drinks. There is also a lounging area with different activities and a garden with BBQ.
Breakfasts are included in the price. From Monday to Friday, you can also enjoy free rum nights.
W Hostel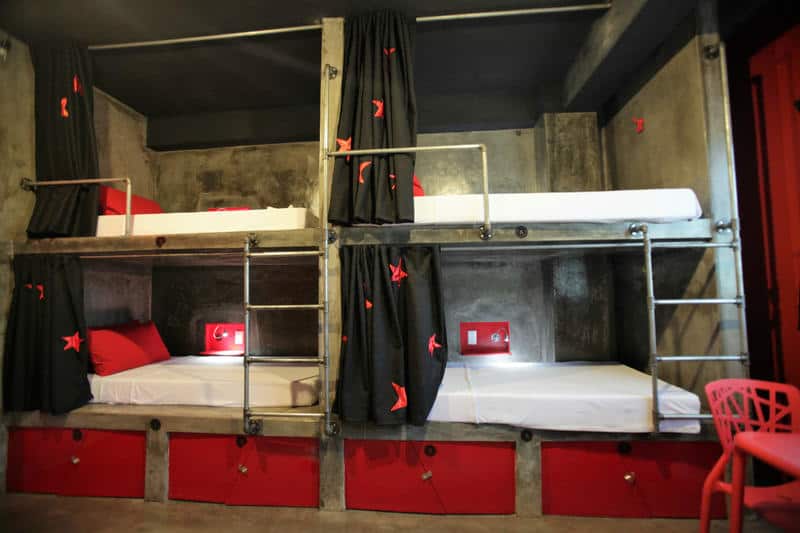 HostelWorld (*8.2) Map Starts at ($12) for 8 bed-dorm
**prices are shown for weekdays in Mid-season (March)
W Hostel is the perfect place for any tourist looking for a place to stay in Boracay. It offers six accommodation types, from dormitories to private suites. The rooms all have free wi-fi, and others have TVs and lockers. W Hostel treats all guests to free access to the hostel's amenities, such as a game room, massage, and a mini-theater. They also have daily housekeeping to keep your room clean.
W Hostel also prides itself in its excellent 24-hour room and security service. The hostel has a unique artsy and colorful design that can attract customers. W Hostel is located near D Mall and other beaches, which are only a few meters away. Their staff is amicable and helpful to their guests, which is a huge plus in making a vacation very pleasant.
Second Wind Bed, Bunk, & Breakfast Hostel
**prices are shown for weekdays in Mid-season (March)
Second Wind Bed, Bunk, & Breakfast offers different accommodations from dormitories to private rooms. It is very budget-friendly but offers excellent quality service. Most reviews are positive, stating the cleanliness of the place. This place is also a good value for your money. The rooms may not be huge, but they have managed to maximize its space and not make the room look suffocating. The beds and bathrooms are immaculate. The bathroom also has a hot and cold shower. Dorm rooms are also a great choice if you want to spend a lot less for your stay. The dorm rooms are air-conditioned and have enough space for eight persons. Each guest in the dorm room also has their own locker.
The best part of the hostel is the common area, a place where most guests spend their time eating, reading, or smoking. The kitchen is also part of the common area and has a refrigerator to store your food properly. This place is ideal for coffee and tea lovers as they have unlimited coffee or tea for their guests. It is located near the main road and just a few minutes away from the beach. Guests even have a discount on food and drinks at Damiana's Filipino Restaurant, Boracay Beach Pub, and Kubo Restaurant. You can avail of their discount by showing your room key from Second Wind Bed, Bunk, & Breakfast. You can reserve a room online to make your check-in a lot faster.
YB Hostel
PERMANENTLY CLOSED
YB Hostel is one of the best hostels for Boracay travelers. YB Hostel offers different rooms depending on your needs. They have dormitories and private rooms. Dorms have their own safe, wardrobe, and writing desk. The 24-hour reception desk is accommodating. They also offer different types of massages to help you relax after a long night of partying. A lot of restaurants are within a few meters of this hostel. So, it is very convenient for guests to go out and grab some food before heading out to bars for another night of partying. The hostel even has 24-hour security which is crucial for a good night's rest.
Jeepney Hostel and Kite Resort
PERMANENTLY CLOSED
Jeepney Hostel and Kite Resort are one of the most famous hostels in Boracay. It has two locations both situated on Bulabog Beach. They have all types of rooms, from dorms to suites, to cater to different budgets. Its facilities which are located on Bulabog Beach are composed of two restaurants, the Fusion Sports Bar, and the Swingers Lounge rooftop bar. They are all connected to each other, making it easy for guests to go to these places.
They also have pool tables, darts, and movies night. The Jeepney Hostel gives customers discounts on tours and kite school. They are also partnered with Going Native Adventures, for jungle trekking and mountain biking, and Boracay Kite Center, for kite and surfing lessons and rentals.
Mad Monkey Boracay
PERMANENTLY CLOSED
Mad Monkey Boracay is also situated near the beach. They have clean and affordable rooms for different prices. If you came to a party all day and night, this is the hostel for you. Music blaring into the wee hours is the norm in this place.
Parties are done throughout the day, so if you want a quiet and chill place, then this place is not good for you. But if you came to party hard, you should be staying with Mad Monkey! The swimming pool and bar are great places to meet new people who will join your fun adventures. Mad Monkey also provides tours for their guests, including go-karting and going to the beach. For under 1000 pesos, you can stay in this hostel.
Wrapping up
Boracay is still one of the best places in the world to party on the beach. But, always remember to plan your trips to lessen expenses. Look for these great hostels to save time and money while having fun in Boracay.
Author's Bio:
Angelo Castelda works as a contributor to a news magazine in Asia. He loves to learn and understand diverse cultures and aims to share through writing his experiences.