April makes a wonderful month to get out of your home and hit the road, especially after winter times.
Spring is when the warm weather starts to show up, making it easy and totally enjoyable to be outdoors. It's also when many places are at their best. If you are making plans to travel at this time of the U.S, here are fifteen fabulous destinations that are just right for the trip of your dreams.
Check out also:
– Best Places to Visit in US in May
– Best Places to Visit in US in June
You'll find each one an inviting place with lots of things to do and see. These are incredible places for a single person or for a trip with friends and family.
25 Best Places To Visit In April USA
1. Palm Springs, for arts and music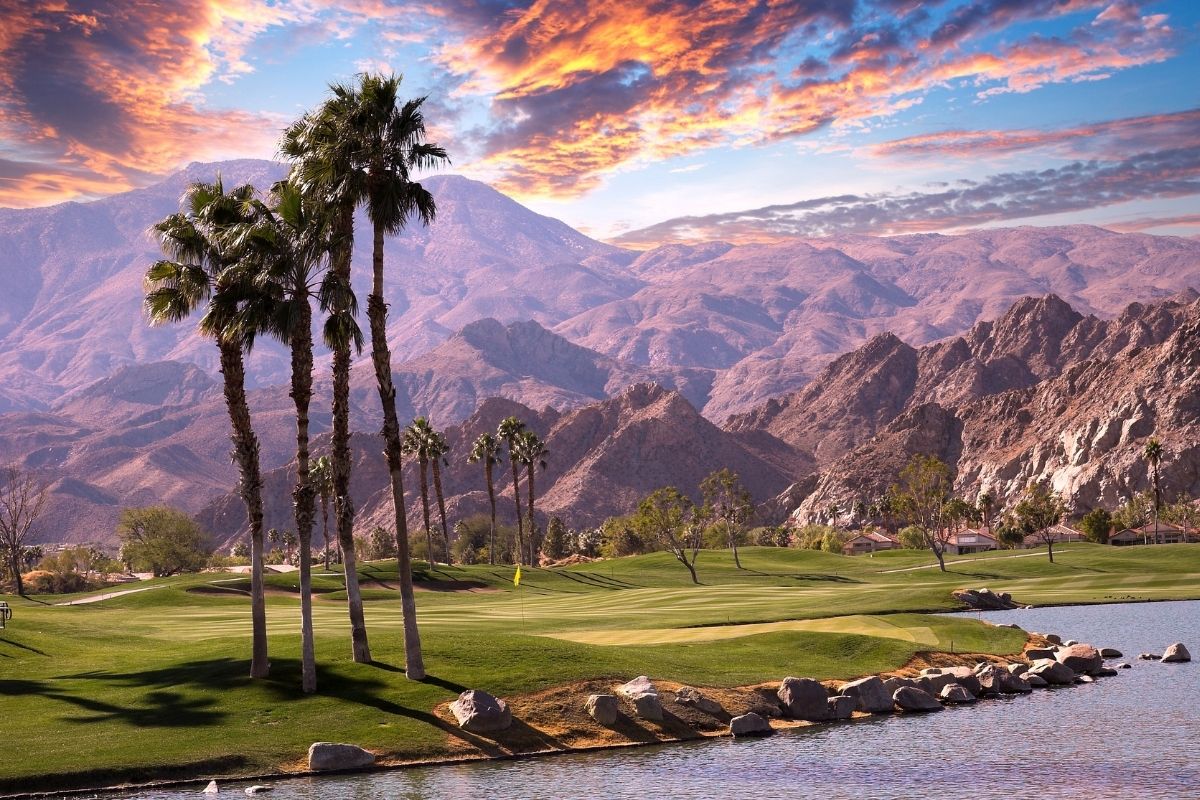 Palm Springs has been a top destination for many years. it's known for its natural hot springs, hotels, restaurants, golf courses and sunny weather, as well as being a favorite of Hollywood stars.
Palm Springs is also a true architectural and design hotspot, having the country's highest concentration of mid-century modern buildings.
Palm Springs is definitely one of the best places to visit in April in USA! The weather is warm and inviting, perfect for driving, hiking, sitting by the pool, or relaxing at the spa. Fall temperatures are almost as lovely. Instead, summer temperatures might easily exceed 100°F.
Lots of visitors are flocking to Palm Springs this April for the famous Coachella Festival.
Artists of a number of genres gather together for the yearly festival, which lasts about ten days and begins every year in early April!
2. Philadelphia for Spring Walks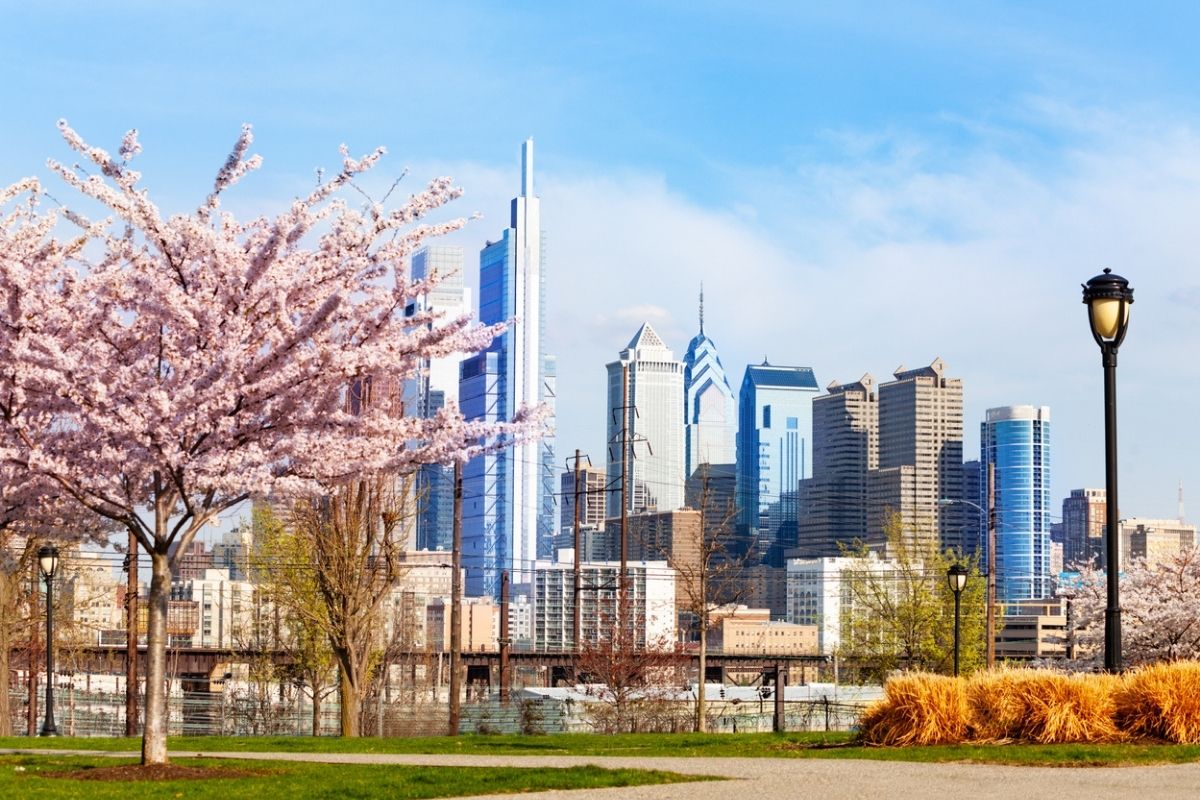 Philadelphia is one city that is made for walking. It's all about having a chance to enjoy this American city when the leaves and flowers are coming in.
When it gets rainy, you'll want to see one of the city's amazing museums. Philly also has a lot of other treats. The zoo is well worth a visit to see many animals. There's also a chance to stop by the river and take in some early summer sun with locals. Have a cheesesteak or some other wonderful items at the Amish market and get to know the area's squares in person.
3. Denver for Outdoors
The Mile High City has only grown into a world-class destination in recent years. It's one city that has a nicely mild climate during the spring so it's easy to be outdoors in light clothing.
Walk down the 16th Street Mall. The Mall has free bus service. That makes it easy to hop on and hop off as long you like. The nearby Rockies are a must for those who love the great outdoors. You'll also want to sample one of many local beers at the city's long list of impressive breweries.
4. Williamsburg for History
Williamsburg, Virginia is an entire city in itself. It's also a recreation of a city that was once one of the most important places in the United States. That makes it a must for history buffs as well as those who enjoy great architecture.
Come here before the summer heat descends. You'll find customed history reenactors happy to answer your questions. The area is also well worth a few days.
Nearby Jamestown is another historic recreation that is well worth at least a few hours of your time. Have lunch at a local tavern and sample classic colonial American cuisine.
5. Skagit Valley, Washington for its Tulip Festival
The Skagit Valley is one of Washington's most popular birding spots. Farming, fishing, wildlife, and art are all part of its culture.
Skagit Valley is one of the top destinations to visit in April due to its Tulip Festival. Over 1 million visitors come each year to see the 300 acres of colorful flowers.
The Festival lasts the entire month, so no matter when you visit in April, you'll be able to enjoy the gorgeous flowers. It's a once-a-year experience that will leave you speechless.
The Skagit River forms the third largest watershed on the west coast of the United States with a delta of farms and wildlife refuges.
Note that this place is a bit colder than others on this list. A high of 58°F and a low of 41°F is forecasted.
6. The Grand Canyon to Enjoy Without Summer Heat
The Grand Canyon should be at the top of your bucket list. That's because it has unmatched views and a chance to see natural history op close. The South Rim is open to visitors and well away from the heat that marks out other times of the year.
Adventurers can hike for miles in the Grand Canyon. This place also offers activities such as rafting, which allows you to see the massive canyon from a different perspective as you raft down the river.
Helicopter rides can also be a fascinating opportunity to take in the breathtaking views of this natural wonder.
7. Washington, D.C. for Cherry Blossoms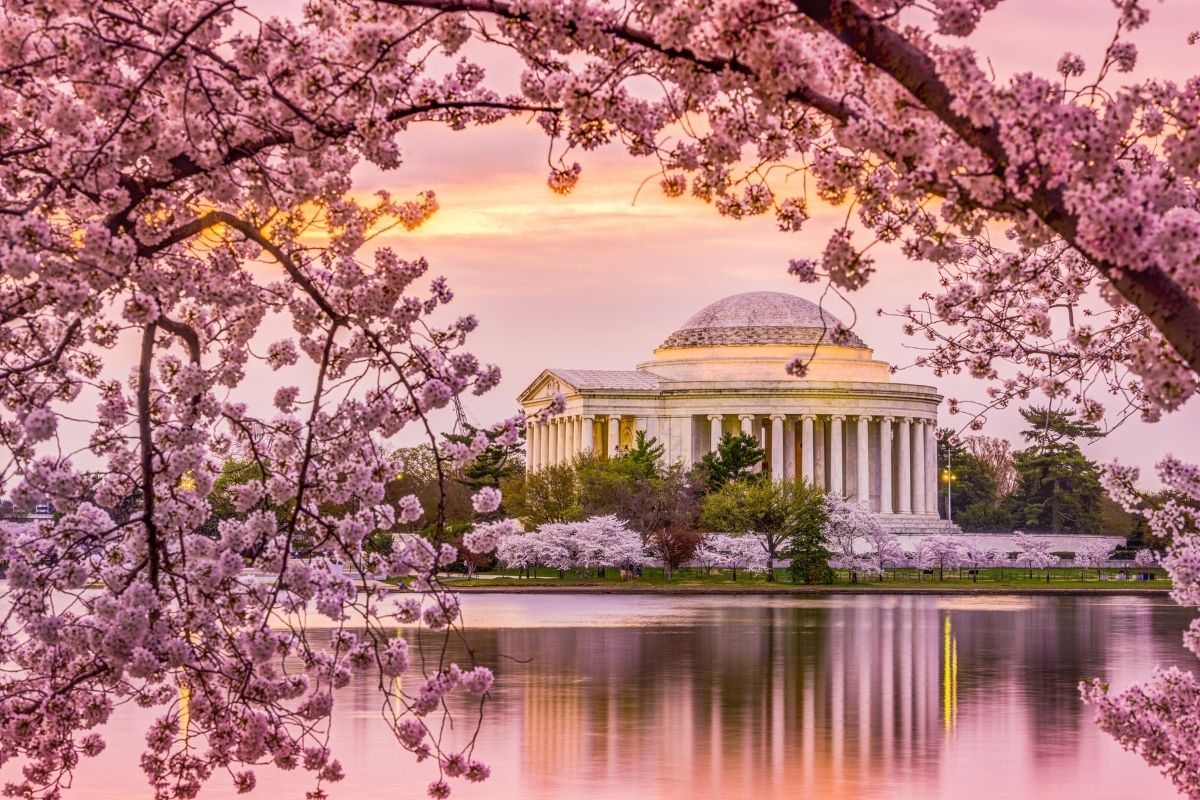 Washington, D.C. is another American city that comes alive in every way in the spring. This is the season of cherry blossoms. They're everywhere in amazing bloom. Take the time to smell the enticing air along with the Jefferson memorial as you admire the views across the entire region.
The rest of the city is just as enchanting. Indoor museums like the Smithsonian are free so they fit nicely in any budget. This is a good time to have your lunch outdoors. Chinatown offers a full meal or a nice selection of dim sum.
8. Boston for History
Historic Boston is one of the most important all-American cities. With a history stretching back more than two centuries, it's also a place that is at once filled with historical sites and yet entirely modern at the same time.
April is when Boston comes to life with students and lot of people just taking a stroll along the Charles River. Walk The Freedom Trail and enjoy the light and airy weather. Hit the North End for a fabulous slice of pizza made by hand and some well-made gelato to cool down when you're done.
9. Las Vegas for Festivals
Apart from being one of the most thrilling nightlife destinations, Las Vegas is one of those unique cities that has something special for everyone.
The streets of Las Vegas are less busy in April, and the average temperature ranges from 45F (7C) to 81F (27C).
It has incredible museums, world-famous restaurants, world-class hotels, as well as lots of music and festivals!
Some of the concerts to head to in Las Vegas in April include:
On April 1, Carrie Underwood will perform at Resorts World
On April 1, Billie Eilish will stop by T-Mobile Arena
On April 9, Megadeth is hosting a rock concert at Mandalay Bay Events Center
On April 15, The Killers will be at the Las Vegas Theater
On April 15, The Killers will also perform at the Las Vegas Theater
On April 29, John Legend will be at Zappos Theater
On April 31, Kansas will perform at the Smith Center
One of the benefits of visiting Las Vegas in April is that you can get some great hotel and airfare deals.
10. New Orleans for Its Famous Dining Scene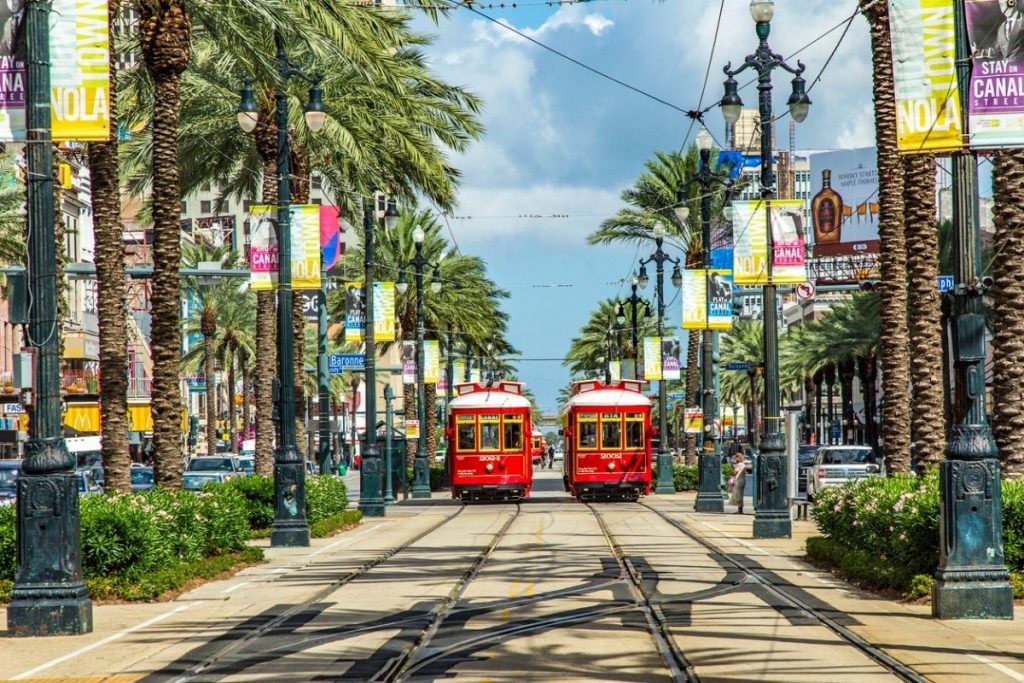 New Orleans is thriving again. Rising from the aftermath of hurricane Katrina, the city is once again a delight for all the senses.
April is ideal as it allows you ample time to spend outdoors as you sample the region's deservedly well-known dining scene.
11. Delray for Perfect Beach Time
As winter finally gives way to the warm spring months, you'll find yourself yearning for the beach.
That's one of many reasons why you're going to want to stop at Delray Beach. This is a small town with the kind of big-city amenities everyone loves.
It's got miles of some of the best Florida beaches just waiting for you to explore. It's also an easy trip from many parts of Florida and the east coast. Settle down by a beach and watch a fabulous sunset that reminds summer is just around the corner.
12. Santa Fe for Mexican Flavours
Santa Fe is where American culture meets Mexican culture to the benefit of both. This is where you'll find so much that is good about southwest.
Mild days with little chance of rain is one of the many joys of taking the time to visit this part of the Americas.
The city is also noteworthy as home to a thriving, modern art scene. Visit the region's galleries and grab a meal using local produce. It's so easy to appreciate this city in April when the heat is at an ebb and the skies are clear and blue.
13. Austin for Its Vibrant Vibe
Austin is a vibrant and modern city that makes a great visit for the modern traveler. It's all about having fun doing things such as exploring the city's wonderful music scene.
April means no colder weather or even snow so it's easy to be outdoors when you're here. Head out and sample the many wonderful things you will find to eat here. Texas barbecue is something to savor in every way. Try the ribs and then load up your plate with lots of popular local dishes and plenty of marvelous sauces.
For more TX ideas: check out best beaches in Texas to visit in April
14. Nashville for Music & Food Scene
Lively, fun Nashville is one city that has so much to offer. Summers can be quite humid. Coming here during the spring months makes it easy to see as many sites as possible without the need for a large hat.
That's a great time to get to know the local country music scene in person. Live music is everywhere.
It's also a chance to taste lots of southern foods by expert cooks who know just how to use regional produce and techniques. A well-crafted lunch with lots of flaky biscuits and well-fried, crispy chicken is truly ideal.
15. Anchorage for Nature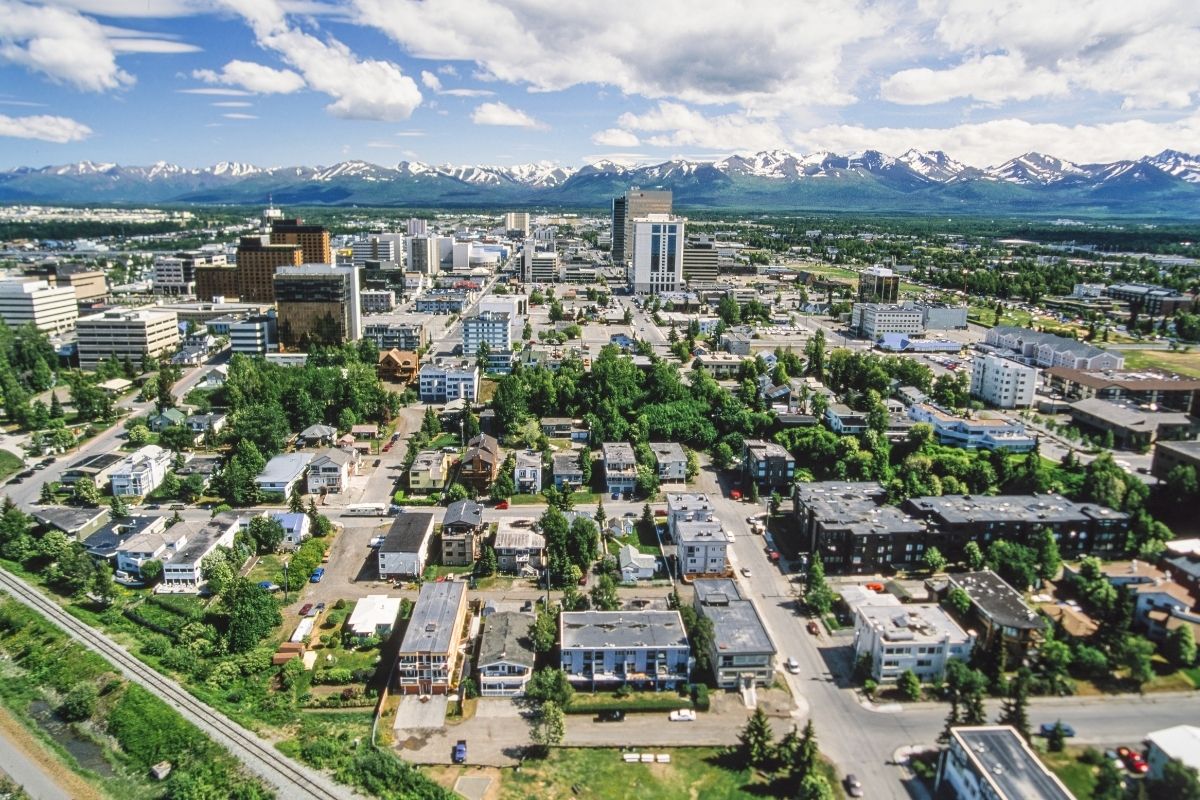 Gone are the cold nights of an Alaskan winter that can be hard on the skin. Instead, you'll find the warmer weather lets you see as much as you want of the city and surrounding countryside in the vivid daylight.
Get on a boat and watch as whales cavort in front of you. This is the time to enjoy the natural world and all that offers. This is also a great time to visit Alaska for the traveler on a budget. It's less crowded and less expensive. That makes visiting here even more enjoyable.
16. Seattle for Its World-class Qualities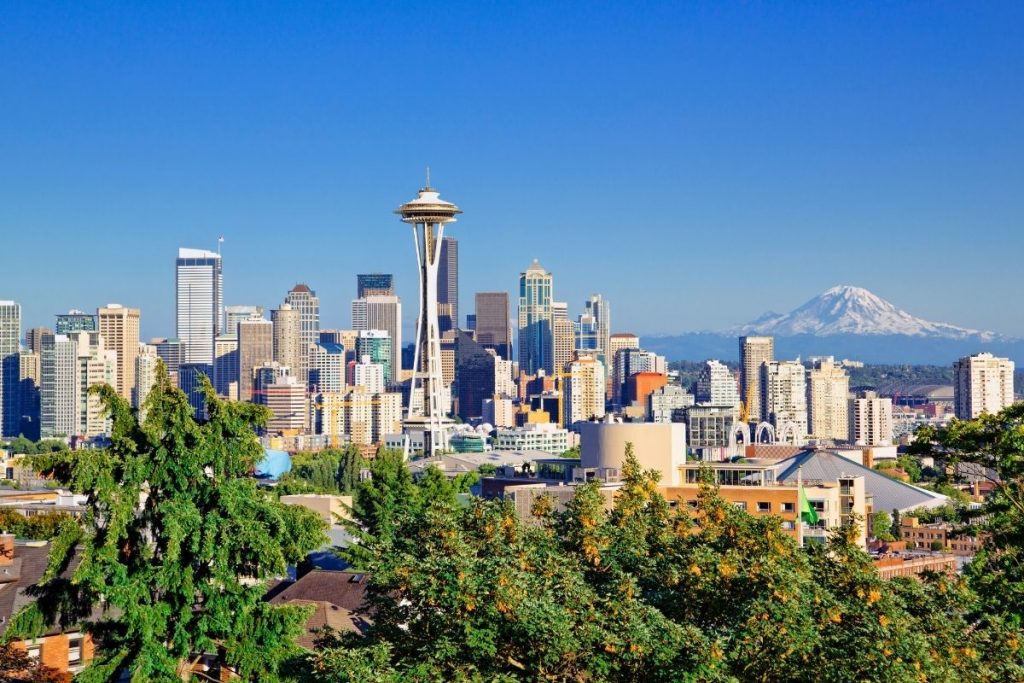 Seattle is a world-class city that everyone should explore at least once in a lifetime. It's also a city that has a lot of things to do at this time of year.
That is why so many people make this their home. It's also why so many people choose to visit here. The warm spring is when it all comes together. Have a snack at Pike Place Market and then admire the wonderful views at every turn. April means lots of deals that make this one an affordable option for any contemporary traveler.
17. Park City for Last Ski Trip
The last of the winter snows are just about to melt but you can still get in lots of marvelous skiing.
Wide-open spaces are of the many attractions in this all-American town. It's one place that isn't too big to make your way around and get a chance to do everything you want to do in a single trip.
You can go snowboarding one morning and then hit the hiking trails the very day. That makes it easy to plan a lot of outdoor activities during a sing trip here.
18. The Outer Banks for Outdoors
Just off the coast of North Carolina, the Outer Banks are a place of incredible sites at every turn.
April temperatures are rarely hot in this part of the country. That lets focus your attention on being outdoors without the need for layers of sunscreen.
Visit the monument to flight where the Wright Brothers first took off. Take a Wild Horses Tour and have an amazing encounter with some very lively locals. See one of many lighthouses that dot the islands and still keep visitors safe today.
19. Naples, Florida for Luxury Shopping
The "Paradise Coast" is ideally placed in Southwest Florida along the Gulf of Mexico.
The miles of pristine beaches are home to world-class resorts while the land between beach and bay is known for its world-class shopping and international cuisine.
From famous Vanderbilt Beach to historic Naples Pier and to peaceful Marco Island, the Naples Gulf Coast boast a myriad of beach settings primed for a getaway weekend. In fact, Naples beaches have even been voted among the top ten beaches in the United States!
Fifth Avenue South and Third Street South are the hot spots for shopping in the historic downtown area where you'll find numerous art galleries, chic clothing boutiques and home decor shops.
Despite the luxury, Naples is also an affordable option for families with children, especially in spring.
The city is not only a great place to get a tan on the beach, but it's also a terrific place to escape to the Everglades or the Ten Thousand Islands or to attend the Chubb Classic, a PGA event that takes place in April.
April is an excellent month to come because the weather is warming up (about 74°F | 23°C), there is less rain, and lodging costs are quite affordable.
Naples is easily accessible from Miami, along the famous Tamiami Trail. In comparison to Miami, it's also a more laid-back place to stay.
20. Moab, Utah for Biking
Moab closes our list of best places to travel in the U.S.
This small town on the western border of Colorado is known for being home to Arches National Park.
The town is a popular base for mountain bikers who ride the extensive trail network, including the Slickrock Trail, and for off-roaders who come for the annual Moab Jeep Safari.
Also nearby are Canyonlands National Park and Dead Horse Point State Park, as well as other attractions such as Corona Arch, gigantic mesas, and stunning buttes.
To avoid the summer heat, April is the best month to visit Moab. The average high temperature in the desert is 73°F, with lows of 42°F in the early morning and evening.
Visiting Moab in the spring or fall is a solid rule of thumb. The weather is warm, the camping is fantastic, and the majority of the activities are in the world.
21. The Texas Panhandle for outdoor recreational experiences
The Texas Panhandle is a rectangular region in north Texas bordered by Oklahoma to the north and east and New Mexico to the west.
It offers a variety of outdoor recreational activities that are best enjoyed in mild to warm spring temperatures rather than in the stifling summer heat.
Nearby are numerous state and national parks where you can camp, hike, swim, bike and enjoy other natural activities. These include Alibates Flint Quarries National Monument and Lake Meredith National Recreation Area, which are only 12 miles apart.
22. Santa Catalina Island, For Breathtaking Scenery
One of the most beautiful islands you can visit in April is this stunning destination, which is part of the California Channel Islands and is located 22 miles off Southern California.
You can enjoy the stunning beauty of the island before the tourists start flocking here in the summer, and the atmosphere is much more relaxed at this time of the year.
White sandy beaches, palm trees, a tiny harbor with gently bobbing boats, and breathtaking sunsets dominate the scenery on this rocky but extremely attractive island.
There are many different accommodation options on the island; you just have to figure out how to make it there. It only takes 15 minutes by helicopter, and there are also passenger ships that take an hour to get there.
23. Sedona, Arizona – For Outdoor Fun
Sedona lies within the Coconino National Forest, which is home to a variety of ecosystems, including alpine tundra, pine forests, and deserts. Winding between Sedona and Flagstaff, the fabled Oak Tree Canyon is a popular travel and hiking destination.
In addition to being known for its natural beauty, the town is popular with artists, some of whom host programs to help you discover your inner artist. There are also many resorts and retreats here where you can relax amidst the natural beauty of the region.
You may recognize much of it, as Sedona has served as the setting for at least 60 Hollywood movies in the past. When you visit Sedona, you'll see why New Agers consider this place sacred.
24. Nā Pali Coast, Hawaii – for a tropical spring holiday
Are you going on a spring break? With mildtemperatures (about 28 degrees) but not yet too hot, this month is a fantastic time to visit the 50th State.
The stunning Nā Pali Coast in northwest Kauai offers every traveler views of the spectacular, razor-sharp mountains and rocky terrain they'll never forget.
There are hiking trails and kayaking excursions for the daring and catamaran and helicopter rides for the less daring. There are pristine beaches, breathtaking natural beauty such as waterfalls, and even historical sites to explore and enjoy.
Some of the best activities on the Nā Pali Coast include sailing and snorkeling to explore the 17 miles of coastline, taking a helicopter ride to see the dramatic cliffs and breathtaking scenery, or hiking the Kalalau Trail to enjoy breathtaking views of the ocean and vegetation.
25. Grand Teton National Park, Wyoming – For Nature Lovers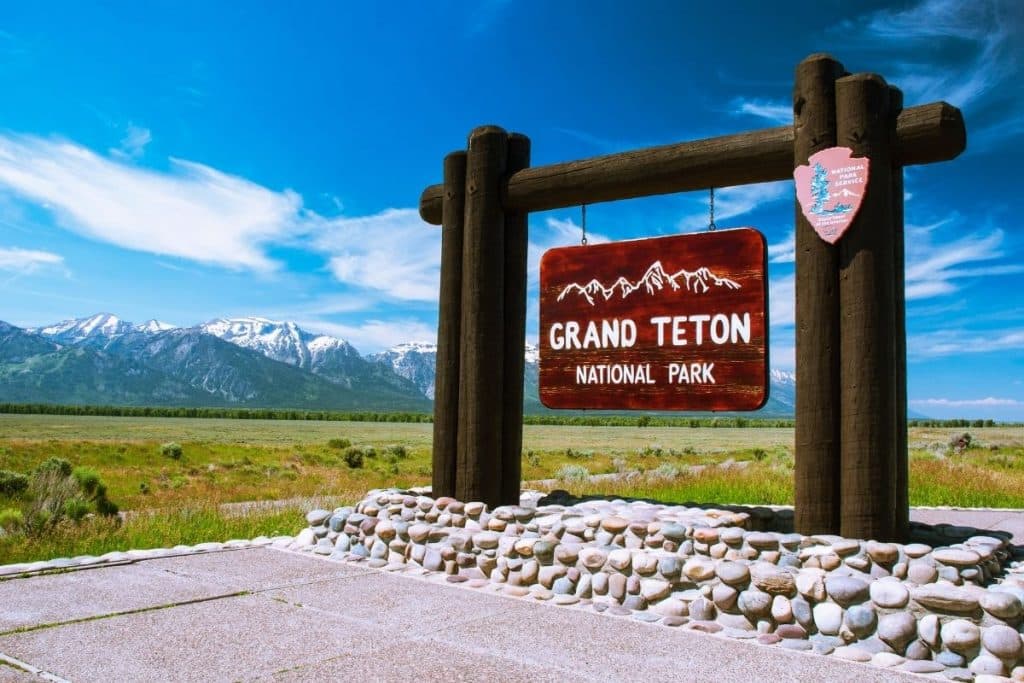 The Teton Range, a magnificent mountain range in the Rockies a few miles south of Yellowstone, is separated from the lowlands of Jackson Hole by a prominent fault. Several of the local lakes feed the Snake River, which flows through the range.
April is an excellent month to visit this stunning place, as ski season ends around late March or early April, too early for the summer crowds. Remember to dress warmly, as it is still quite chilly in April.
The park has more than 300 km of trails to explore; a single visit will not do it justice. The wildlife in the park, which includes large populations of bison and other animals living in a pristine and essentially untouched environment, makes it more than just a destination for mountaineers and hikers.