Early summer is the perfect time of year to travel in the United States. With warm weather, special summer pricing packages, and fewer crowds than later in the season, June is an especially good month to plan your next trip.
This article will share some of the best United States travel destinations for the month of June. Whether you are looking for a relaxing view of the ocean, an energizing stay in the city, or something in between, this list has something for everyone.
Suggested:
– Best Places To Visit in July 2022
– Best Places To Visit in August 2022
1. Yellowstone National Park for Most Beautiful U.S. Nature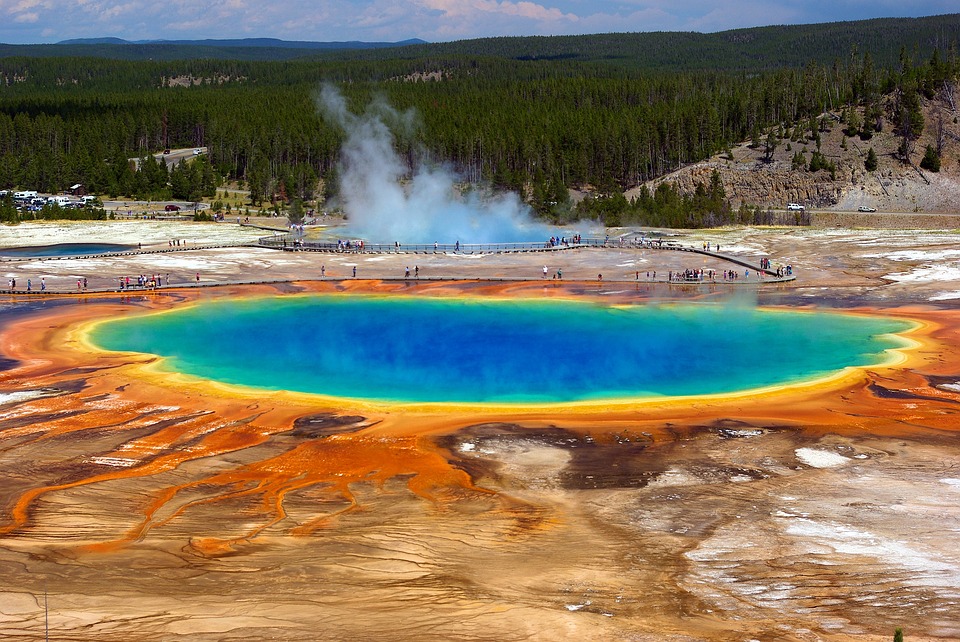 Yellowstone national park is frequently listed as one of the best parks in the country. With breathtaking views, peaceful lodging options, and many opportunities for outdoor recreation, this trip is perfect for the active or adventurous traveler. If you decide to travel in a group, Yellowstone has activities for everyone.
Hiking, kayaking, trail riding, and fishing are just a few of the amazing opportunities to connect with nature. Of course, the natural spectacles in the park are enough by themselves to make the trip worth your while. There are mountain ranges, rock formations, and plenty of wildlife to watch.
2. Cape Cod for Beautiful Sandy Beaches
Located in New England, Cape Cod is a small town with a lot to offer. From shopping centers to quiet beaches, the province will please kids and adults alike. June is an excellent time to make this trip. For much of the year, the weather is too cool to enjoy thoroughly. June in Cape Cod, however, is lovely.
History buffs will enjoy a trip to Cape Cod since the city is home to one of the earliest American colonies. Other popular attractions are on the coast. The shores are sprinkled with picturesque lighthouses and animal lovers will relish the opportunity to go whale watching.
3. Myrtle Beach for Perfect Beach Weather
For a warmer trip, travelers should consider visiting South Carolina's Myrtle Beach. The beach covers more than 60 miles, and the average temperature during June is 88° Fahrenheit. With weather like this, the coastal Atlantic ocean is warm enough to swim comfortably.
Myrtle Beach also has affordable lodging options, making it a popular destination for families. When visitors leave the beach, many enjoy dinner shows, the local aquarium, and other local attractions.
Of course, we would be remiss if we failed to mention the legendary golf courses in the area. These courses are often the sites of PGA and LPGA tournaments. Whether you are a new golfer or have been enjoying the sport for many years, do not miss out on the opportunity to play on Myrtle Beach's legendary courses.
Check out the post about best beaches in South Carolina
4. New Orleans for Foodies
New Orleans is located in the southernmost part of Louisiana. The city is a melting pot of cultures with plenty of diversity. Foodies will rejoice at the local cuisine which most prominently features seafood, comfort food, and bold Cajun flavors. The city also offers hundreds of concerts, festivals, and tours to captivate visitors of all ages and interests.
New Orleans has rich French, Spanish, and African American historical roots. Because of this, there are opportunities to expand your mind in museums and other attractions. The city is also known for its vibrant nightlife filled with unique bars and clubs.
5. Sitka for Alaskan Adventures
If you have been avoiding a trip to Alaska because of the sub-zero temperatures, this destination is for you. The average temperature in Sitka during June is around 55° Fahrenheit. The city is perfect for outdoor lovers and offers both land and water-based recreation.
Fishing, whale watching, boating, and hiking are all common activities in Sitka. Rustic cabins in the mountains, however, give visitors quite the spectacle to take in on their own. The quaint urban areas are home to delicious restaurants, museums, and shopping strips.
6. Cincinnati for Baseball and History
Although this location is often left out in conversations about travel, you will not want to miss out on Cincinnati. The town is known for its local eats, unique museums, and will enthrall urban explorers.
This northern Ohio metropolis is also home to many sports teams. In June, The Cincinnati Reds baseball team is an especially popular attraction.
Visitors would be remiss to neglect the Ohio River on their trips to Cincinnati. Take a stroll on a river trail, or sit down and relax on the serpentine wall to take in the natural beauty of the river. Or, if you are more adventurous, book a tour on a riverboat.
7. Denver for Great Music and Festivals
Denver, Colorado combines natural beauty with exciting city life to create a positive experience for all visitors. Many tourists flock to Denver during the colder months for ski trips and other winter-related activities. During the summer, however, the city is less crowded and more conducive to leisurely site seeing.
Visitors who enjoy music will be glad to know that hundreds of concerts and music festivals take place in Denver each summer. The legendary Red Rocks Amphitheater, for example, is a one-of-a-kind venue that attracts famous musicians and bands from across the world.
Local parks, gardens, and zoos also allow tourists the opportunity to get outside and enjoy the natural scenery. The city itself is safe, clean, and family-friendly.
8. Glacier National Park for Hiking
Nestled in the northwestern corner of the United States, Glacier National Park is the perfect summer getaway. Cabins, condos, and hotels with views of the surrounding mountain ranges are all available near the park. Hiking, biking, and rafting are common summer activities for visitors.
The late-summer months are the busiest times to visit, making June an optimal time for a trip. Because many parts of the park are frozen in the months leading up to June, though, be sure to check the local conditions before planning your itinerary.
9. Nashville for Country Music
Nashville, Tennessee: The home of country music. Between concerts, honky tonks, and street performers, visitors will be surrounded by some of the country's most talented singers and songwriters. Of course, music is not all that Nashville has to offer. The town is also famous for its hot chicken.
Be sure to visit Broadway for a one-of-a-kind party experience with multi-level bars and restaurants lining the street. For those who prefer music other than country, check out the summer Jazz Festival or catch a concert at the Schermerhorn Symphony Center.
10. Outer Banks for Island Life Experience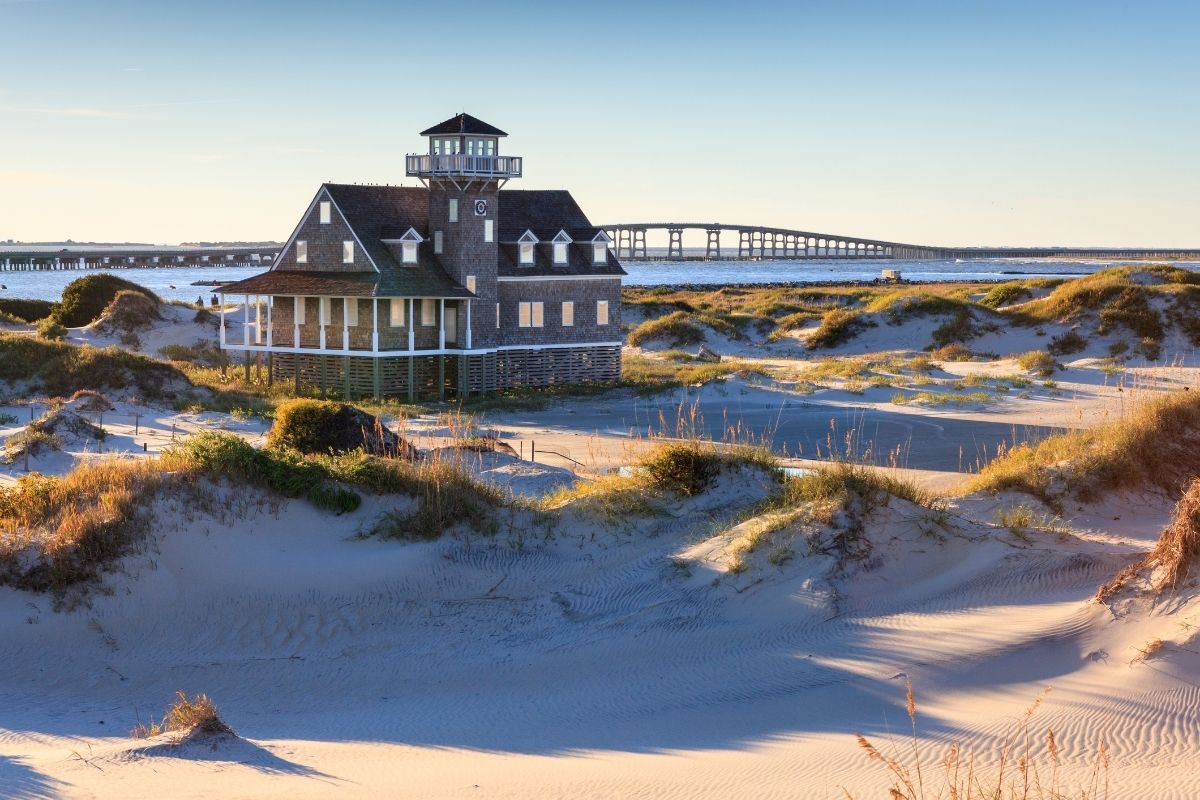 Your next getaway location could be nestled off the coast of North Carolina. The Outer Banks are a group of small islands along the coastline. One benefit of the Outer Banks is that visitors get the full island experience without having to travel hundreds of miles from the mainland.
Many visitors chose to take an RV or a camper to the Banks and enjoy cheap lodging that way. Fishing and boating are prominent activities, and the clean beaches provide hours of entertainment. With an average high of 83°, the island chains are comfortable and affordable during the month of June.
11. Sedona for Peaceful Desert Vibes
For travelers looking to avoid the beaches and busy cities, Sedona is an excellent choice. The central Arizona province is a desert town. It is known for its breathtaking rock formations, canyons, and lakes. Visitors will also enjoy learning about the rich Native American culture and history that surrounds Sedona.
There are plenty of museums, exhibits, and tours to enjoy. Aside from hiking, exploring, and other forms of sightseeing, visitors will want to bring a camera. Sedona has some of the most photographed natural structures in the United States.
Since it can get hot during June, visitors can cool off in the river by swimming or kayaking.
12. Gatlinburg for Hiking
Gatlinburg is located near the Great Smoky Mountains National Park. Hike, explore caves, and visit waterfalls to get the full experience. Open-air chair lifts and white water rafting opportunities also provide fun for groups. Many visitors chose to stay in a rustic mountain cabin during their stay.
The city itself, although it is of modest size, has attractions for tourists of all ages and interests. Gatlinburg's museums, for example, are some the most unique in the country. There is a Pinball museum, a Hollywood Star Cars museum, a Ripley's World Records museum, and more.
13. Maui for Best Hawaii Experience
If you enjoy warm sunshine, gorgeous beaches, and clear waters, then Maui in June is an excellent vacation choice. Visitors love snorkeling off the coast, exploring the state parks, or simply relaxing at resorts with a tasty Pina Colada.
Curious travelers should note that swimming in Maui is safer in June than it is in any other month. This is because there are less tropical storms during June, meaning more time around the water on your trip. For those who prefer to remain on solid ground, Maui's volcanoes, valleys, and villages provide endless opportunities for exploration.
14. Lake Tahoe for Winter Activities in Summer
Lake Tahoe is popular during the winter months because of the renowned ski slopes in the area. During the summer, and June in particular, crowds have died back. One valley, however, the Squaw Valley, keeps its slopes open for skiing even into the summer. This means that visitors who go in early summer can enjoy the best of Tahoe's summer and winter activities.
As the name indicates, the main attraction of Lake Tahoe is the lake itself. The water in the large body of water is some of the purest in the entire world. Travelers come from abroad to fish, swim, and engage in other boating activities.
The average high temperature in Lake Tahoe for June is 73°, with the average low being 44°.
15. San Diego for Best California Vibes
While there are many attractions worthy of tourist attention in the state of California, San Diego stands out from the rest. The beaches are one reason for this distinction. Many surfers love catching waves off the city's 70-plus miles of coastal beaches.
Children are sure to enjoy the San Diego zoo, which is one of the best in the world. The city is also remarkable, providing a safe and clean environment to enjoy a vacation. Enjoy California cuisine, authentic Mexican food, or seafood in bliss at the many local restaurants for a one-of-a-kind experience.
As you can see, there are many amazing opportunities for travel in the United States. From the east coast to the west coast and everything in between, the locations on this list make perfect getaways in the month of June.
Few more ideas for summer spots:
Grand Teton National Park
Blue Ridge Parkway, North Carolina and Virginia
New York City
Niagara Falls for Stunning Nature
Oregon Coast for Outdoor Fun
Black Hills, South Dakota for hiking
Santa Barbara, California – For Outdoor Activities
Chicago, Illinois for a buzzing summer city break 
Portland, Oregon For Great Craft Beer And Fantastic Food Carts
Cannon Beach, Oregon for Beach Activities
Duluth And The North Shore, Minnesota