Where should I go for my next vacation? Is it time to pack my bags and head out of town? If you want to get away from the hustle and bustle of everyday life, then consider visiting some of these beautiful places.
Texas has a wide variety of natural beauty, from the rugged mountains to the sandy shores. Whether you prefer relaxing at a beach or hiking through the woods, there's something for everyone.
Before we begin our list of the best beaches in Texas, you must know how much they cost if you plan on visiting them more than once while you're on your trip. The average price per person ranges from $50-150 dollars depending on your stay. It is always cheaper to pay per night rather than per day because when you book directly through the website, you can usually find discounts of up to 50%. Some websites also offer discounts to students and military members. However, this will be based on availability, so check before booking. In addition to the price, don't forget to watch for any additional fees such as taxes, parking, etc.
If you'd like to save money on accommodation during your visit, try searching online for the best deals. Several sites will display all available rooms and prices, making it easy to compare them side-by-side. When you arrive at your hotel room, take note of what else costs extra, such as Internet access, parking, and breakfast. You might be able to negotiate with the front desk to lower these charges, but most hotels have set rates that cannot be altered without prior notice.
Check out also: Best camping in Texas
Best Beaches in Texas MAP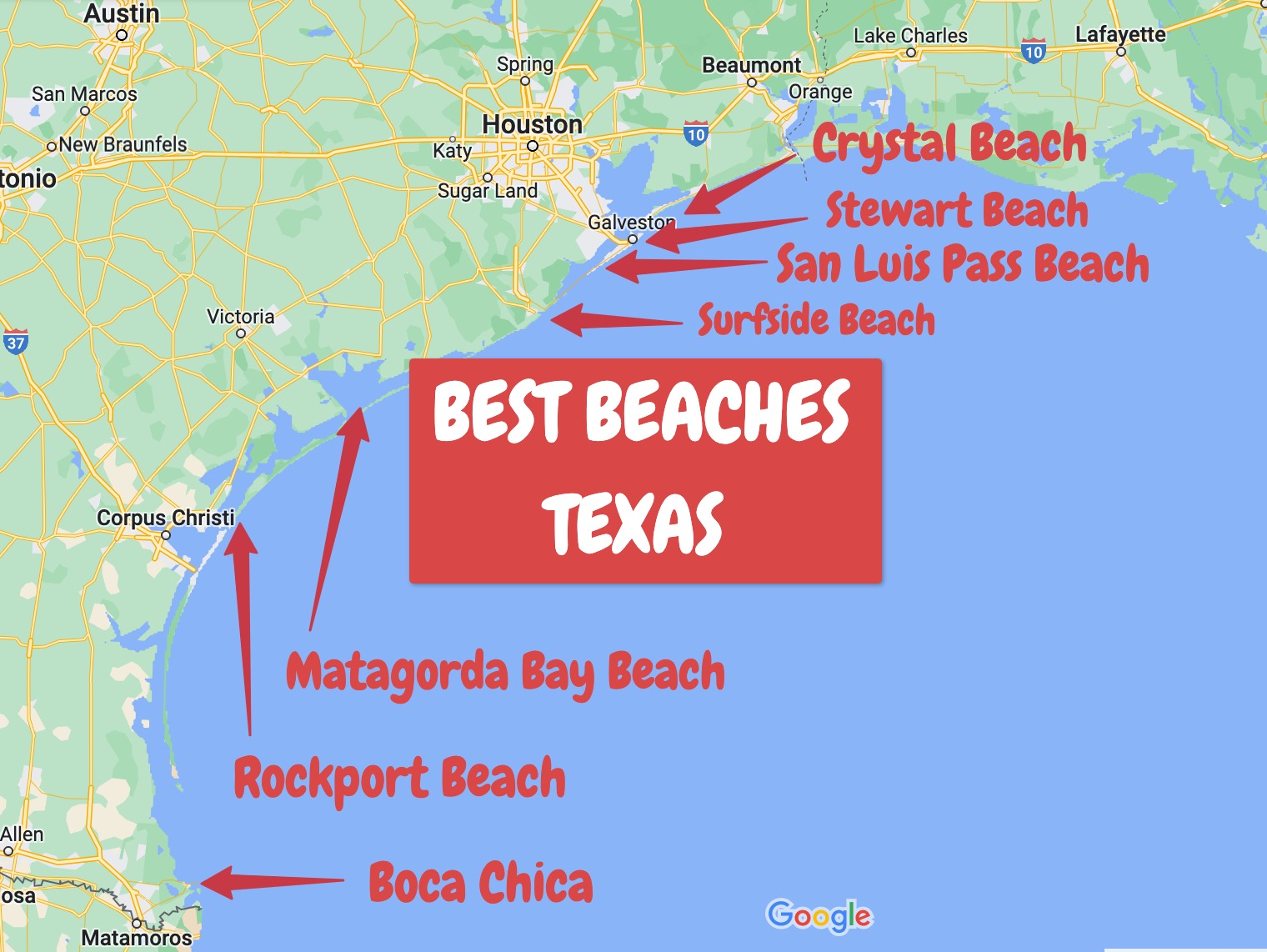 16 Texas Beaches to Visit in 2023
Padre Island National Seashore — Corpus Christi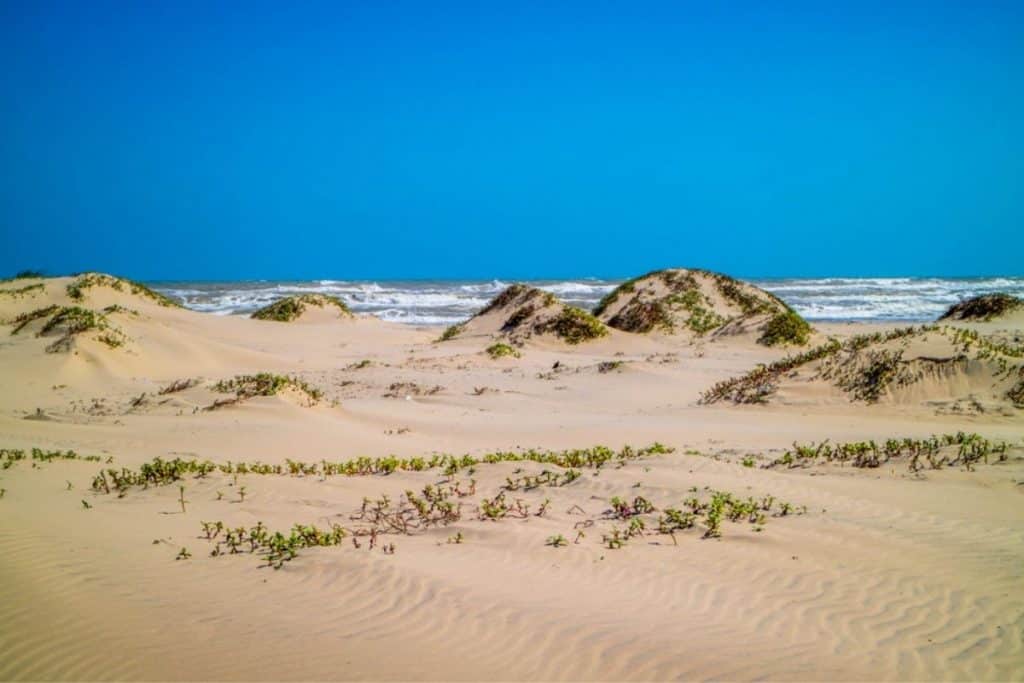 Padre Island National Seashore is one of the most breathtaking beaches you can visit, as the island forms a natural barrier.
Visitors can camp, kayak, windsurf and swim in this protected area. The soft and wide coastline is ideal for long walks.
In addition, aspiring naturalists can learn more about the local wildlife and conservation efforts from park rangers as they participate in informational programs.
During the summer, the Padre Island National Seashore hosts public sea turtle hatchling releases; don't miss out if you get the chance!
Padre Island National Seashore is breathtakingly beautiful, whether you visit at sunrise, sunset, or any time in between.
San Jose Island
San Jose Island is privately owned. Originally a ranch, the island is now primarily managed for wildlife. Guests are welcome to use the public beach areas on the island. This is an excellent place to view a variety of bird species, search for shells, and fish!
There are about 20 miles of wonderful sandy beaches throughout the island. So if you feel like taking a walk, you are sure to find a quiet spot for you and your family!
However, do not expect to find typical beach amenities here. There are no small stores where you can buy ice cream or drinks, no outdoor showers where you can wash off the sand, and most importantly, no restrooms.
You can take a boat to the island at Fisherman's Wharf in Port Aransas. Adult tickets are $12, children are $6. There are departure and return times each day.
Pets are also welcome on the island. Although you can let your dog run free here, keep in mind that the island is home to rattlesnakes.
Jamaica Beach
Located in Galveston County, Jamaica Beach is a beautiful Texas beach to visit if you are looking for somewhere a little quieter and less crowded.
City Jamaica Beach is pristine, making it one of the best beaches in Texas. The fine brown sand is ideal for children's activities and castle building. The ocean is cleaner and saltier than surrounding beaches.
About 1000 people live in this Galveston Island town and there are just enough hotels and activities to make it a great day-trip destination. Parking is right on the beach, so you can rent water sports equipment and enjoy the ocean here.
There are beach houses for rent that allow you to experience the sunrise and sunset without having to get up or leave early.
The wind can sometimes be heavy here – even at night – but that will not stop you from enjoying the beach.
Lunch and dinner are available at local eateries, with seafood being a popular choice.
Remember that there are no lifeguards on duty at this beach, so be careful if you are with youngsters.
Rockport Beach
Located 30 minutes west of Corpus Christi, Rockport Beach is considered by many people to be the best beach in Texas.
Visitors flock here for relaxation with calm waters, white sand, and gorgeous sunsets.
The only drawback to this location is the lack of shade. To combat this problem, the city recently opened two new public parks where you can relax under the trees or enjoy a picnic.
Visitors often return to this spot year after year, and even though there are other great beaches nearby, many Texans consider it their favorite. If you don't want to rough it, several comfortable RV parks are located within walking distance from the shoreline.
It's also close enough to San Antonio that you can easily spend a weekend exploring all that South Texas has to offer.
If you like fishing or photography, try to visit when migratory birds pass through the area during the spring. This is one of the most popular spots for birdwatching because the winds blow away pesky insects and keep the mosquitoes at bay.
So pack a lunch, grab a pair of binoculars, and set up a camp in the grassy areas near the shoreline. The views will take your breath away!
If you're looking for an excellent place to relax with your family, then check out Rockport Beach.
San Luis Pass Beach
This beach is just south of Houston, near the Galveston Island State Park. It offers stunning views, as well as plenty of activities to engage in.
The waters there are calm but it is recommended that visitors do not swim within 100 yards of the waters due to the danger posed by riptides. However, swimmers can enjoy fishing and boating away from the shore.
Nature lovers will appreciate the nearby Brazoria National Wildlife Refuge. This wetland complex offers several trails to walk, birdwatching spots, and fishing opportunities.
Stewart Beach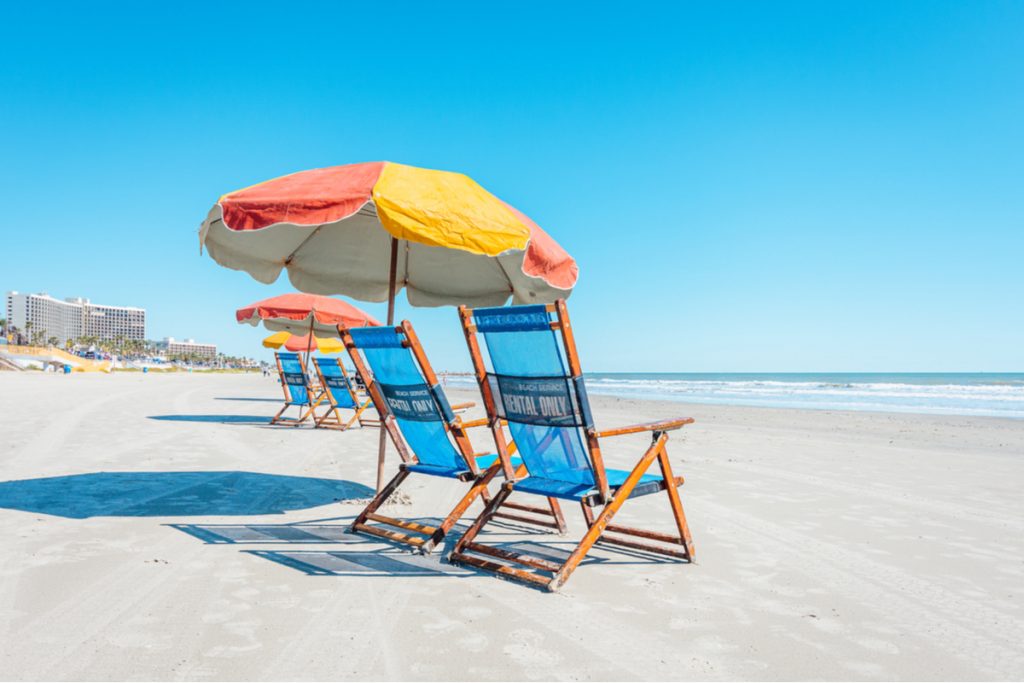 Stewards Beach is also located on Galveston Island, close to downtown. You can drive or take a bus to get there, but the trip may be too long for most visitors.
Once at the beach, you can walk along the boardwalk past the shops before reaching the main attraction: the Gulf of Mexico.
Many people choose to spend their time strolling along the famous Strand district. Several seafood restaurants and bars are offering live music.
Other attractions include the historic Moody Gardens theme park and the famous Museum of Science & History.
The beach is also family-friendly. Families with young kids can also enjoy its various activities.
Boca Chica
If you're looking for an isolated beach that offers solitude and serenity, look no further. The Boca Chica State Park lies off the coast of South Padre Island.
On any given day, you'll find families having fun together as they relax on the expansive sand.
The beach has a wide range of amenities, including restrooms, showers, volleyball courts, and a snack bar.
You should avoid walking across the wet sand at high tide because it's extremely dangerous. Note that swimming isn't allowed in the surf zone.
Surfside Beach
Surfside Beach is one of the few beaches in the U.S. that provides free Wi-Fi access and it is open daily from sunrise until sunset.
You have to drive down a sandy road to reach the beach, which makes parking a little complicated but it's definitely worth it.
Hungry? There is a small food concession stand to buy snacks like ice cream cones and popcorn. There are also several eateries and hotels in the center of the town.
Matagorda Bay Beach
This beach is known for its crystal clear waters and stunning views during daylight hours. At night, you can see ships pass by on the bay.
It is surrounded by numerous restaurants, hotels, and stores. You can also rent lounge chairs and umbrellas for $10 per person per day.
A warning sign reminds visitors to stay alert while walking near the water. This area is home to alligators and many sea turtles as water temperatures here are warmer than in other parts of the state.
The Matagorda County Park District has a full-service marina that rents boats, kayaks, jet skis, surfboards, paddleboards, fishing rods, and more.
You can enjoy fresh seafood at local eateries like Bob's Fish Camp and Captain Billy's Seafood Shack. These businesses also provide accessible parking.
Crystal Beach
This beach is located 15 miles north of Houston, near the city of Baytown. This is a popular spot with locals who come here to enjoy the crystal clear waters. You can walk along the shoreline or rent kayaks or paddleboards to explore the area further.
This beach was featured in "Gattaca," starring Ethan Hawke and Uma Thurman. The actors built their own houses along the shore during filming, which you can still see today.
Anglers love the water conditions around Crystal Beach, and the fishing pier provides an excellent place to watch the action.
The Mustang Island
Mustang Island State Park is a five-mile stretch of sandy beach along the coast of Mustang Island where visitors can have the state park experience without having to venture far from the amenities of Port Aransas.
Mustang Island has magnificent trails to explore with your kayak or paddleboard. The park includes three sections of paddling trails that total over 20 miles and are known for both their beauty and abundant shallow water fishing.
This beach not only offers crystal clear waters and a beautiful coastline, but also a campground for tourists and locals to enjoy.
The park also offers hiking and biking trails, bird watching (over 400 species in the area) and extensive fishing options.
Magnolia Beach
Set in Lavaca Bay, Magnolia Beach is a serene fishing village with about 8 mile-long stretch of sand that is just perfect for a family camping trip.
Yes, you read it right! You can camp at Magnolia Beach, and the best part about it is that it's free. Moreover, you will have access to picnic shelters, grills, benches, a playground, a volleyball court, and public restrooms with showers.
Popular pastime activities there include fishing, shelling, bird watching, crabbing, and surfing. There is also a boat launch and a marina where you can get bait, set off for a deep-sea fishing charter, or have an amazing lunch.
Note that Magnolia Beach can get rather windy, so make sure to bring some warm clothes and a windproof jacket.
Malaquite Beach
Malaquite Beach in Texas can fulfill your ideal of a beach with fine white sands, spectacular azure seas and just the right amount of salty wind. Malaquite Beach is the ideal place to start your oceanfront vacation if you are visiting the area near Corpus Christi for the first time.
Visit the Malaquite Beach Visitor Center to learn more about the area and take advantage of the facilities, which include a bathhouse, restrooms, and a covered pavilion. There are picnic tables right on the beach, so find a spot and spend the day swimming and walking on the beach. Sand dollar finds are not uncommon on this stretch of beach.
Malaquite Beach is a wonderful destination if you want to observe wildlife and nature. The natural beauty of the area is unique compared to other places on the Texas coastline, and bird-watching and observing the shoreline from the elevated overlooks are excellent ways to pass the time.
Seawall Beach
Seawall Beach is one of Galveston's most popular beaches, as it is located along the famous Seawall Walkway in the center of the island.
On any given day, you can see beachgoers enjoying the waves and relaxing by the water, while the bustling Pleasure Pier can be seen in the distance.
It's easy to rent cabanas on this beach and find a comfortable spot on the sand. Swimming is a popular pastime at Seawall Beach, but you can also just relax and take in the scenery by strolling along the sand or admiring the statues along the boardwalk.
There are no concessions or restrooms at Seawall Beach, but during the day you can simply cross the street to find restaurants and other amenities.
Isla Blanca Park & Beach
This beach receives high marks for both its scenery and amenities, which include a boardwalk, easily accessible restrooms, picnic areas, covered pavilions, and concessions.
This beach is located in the southernmost part of South Padre Island and offers plenty of space for activities such as beach biking, kite flying, clam digging, and sandcastle building. Because of the reliable waves coming in from the Gulf, this beach is very popular for swimming. The other end of the beach near the pier is a great place to watch the boats passing through the shipping channel, and where local fishermen look for the catch of the day.
Isla Blanca Park is a convenient place to spend a day on the water without having to return to the hotel or go in search of meals. There is a daily fee to use the park. The park is accessible from many locations and hotels on South Padre Island, as the Island Metro stop is located there.
Port Aransas
Spring breakers adore a Texas beach party. In Port Aransas, close to Mustang Island, there are several enjoyable activities to partake in Port "A," both on and off the shore.
Hotels in Port Aransas are fully booked for spring break, and don't expect to snag a reservation at the last minute; you'll need to book well in advance.
During Texas Spring Break, families may opt to visit Rockport or Fulton, which include music venues and bars but a much calmer environment than Port A.
Port Aransas is a popular spring break destination for Texas vacationers due to its vibrant nightlife scene.
There are various attractions in the area to keep everyone engaged. During the high season, visitors can enjoy exquisite dining at local restaurants in Port A's downtown area or attend live performances!
Other Beaches In Texas
The above list of seven is frequented by visitors and locals alike. Other serene beaches you can visit include San José Island, Mustang Island, or Lighthouse Beach. If you feel like getting away from civilization, you can even go camping on remote coves like Conejos Point.
Apart from sunbathing, the beaches offer many other activities, including surfing, fishing, paddleboarding, kayaking, snorkeling, playing golf, hiking, bird watching, boating, horseback riding, scuba diving, sailing, swimming, shopping, sightseeing, and more. You can bring your equipment if you prefer this option instead of renting it from local vendors.
Texas' beaches vary widely depending on what type of weather and climate you'd like to experience; thus, we've listed them based on temperature ranges from coldest to warmest.
Weather in Texas in Spring
Weather in Texas in Fall
Weather in Texas in Winter
Texas Beaches FAQs
What's the most popular beach in Texas?
Boca Chica and Crystal Beach are two of Texas' most popular beaches. They have the best atmosphere and are well-liked by both locals and visitors.
What's the weather like in Texas?
Texas is generally a hot state. In the winter months, days often begin cool but quickly heat up until highs reach the low 80s in Texas. In summer, the temperatures usually hover between 85 and 90 degrees but can climb up to 100 degrees.
Is the sea warm in Texas?
During the summer, Texas has some of the warmest ocean swimming. Most visitors find the ocean in Texas relatively warm to swim in from April to October. This is when the water temperature at the state's coastal beaches is usually above 70 °F (21 °C).
When does it start getting warm in the South of Texas?
The exact timing of when it starts getting warm in the southern part of Texas can vary depending on the specific location and year, but generally speaking, the warm season in this region begins in late spring and lasts through early fall. The hottest months tend to be June, July, and August.