The great state of Texas is a great place to avoid the cold of winter. From the Dallas metro area to the beaches south of Houston, you can skip the snow and ice, enjoy a spot in the sun, and relax.
While you're in Texas, make sure to enjoy local culture and cuisine. From the seafood of Galveston to the steaks of Fort Worth to the delights of Mexico in San Antonio, Texas won't let you leave the state hungry.
The history of Texas is vast and endlessly interesting. Plan a visit to the art museums of Fort Worth, the Gem and Mineral displays at the Houston Museum of Natural Science, and go check out live music in Austin.
Texas is a treat for all the senses. Get your RV ready, pimp it with some RV hacks and hit the road.
Related:
– Best Beaches in Texas to Visit
– Best camping in Texas: 20 Campgrounds
Here are the 12 best RV parks in Texas
Sandpiper RV Resort – Best Beach RV Park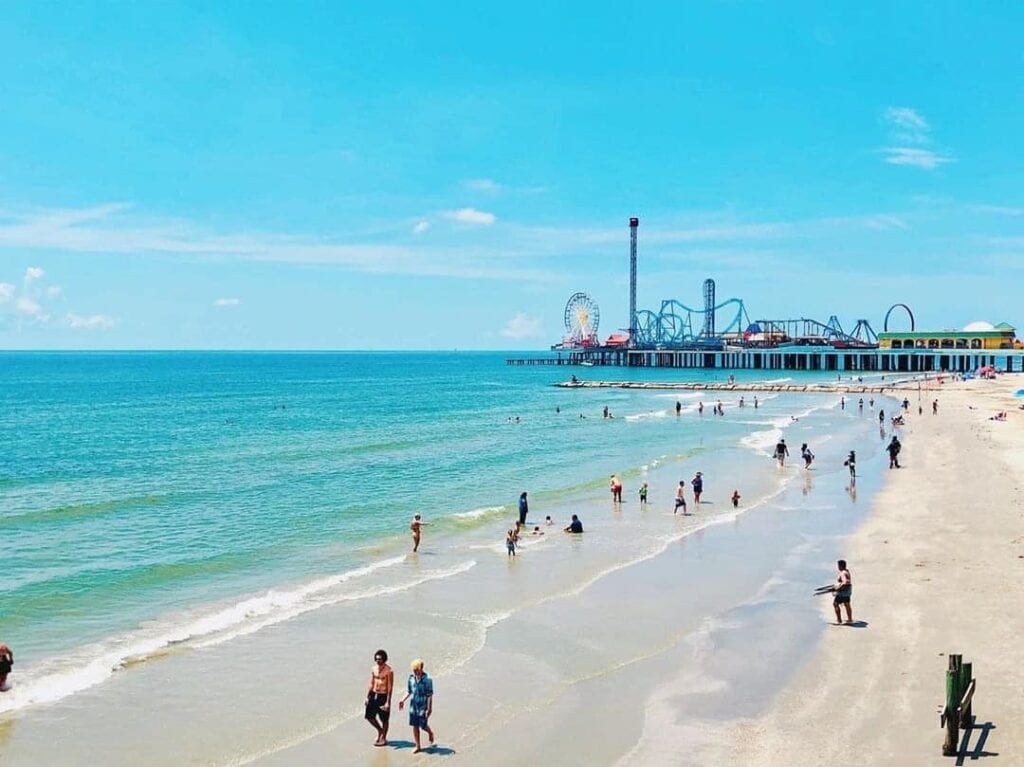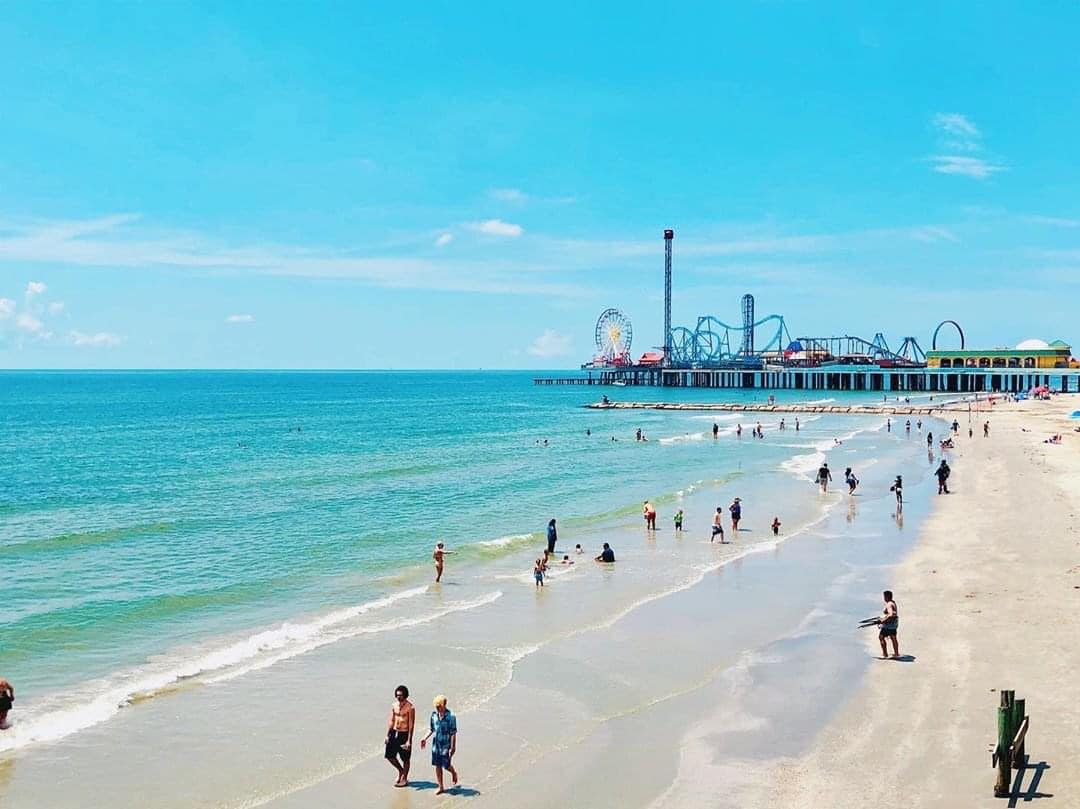 Phone: 409-765-9431
Address: 201 Seawall Blvd, Galveston, TX 77550
Activities:
If being on the water gives you peace and joy, you have to get to Galveston. The Sandpiper RV Resort is right on the Gulf Coast. This kid and pet-friendly RV park have multiple pull-thru sites and plenty of space for large RVs.
You'll find a spotless laundry facility, a group kitchen, and a clubhouse for a fun spot to hang out. There's also a pool where you can cool off at the end of a long walk on the beach.
Make sure you get some seafood! Gaido's is top-notch for dinner and stroll the old downtown for additional options. It's hard to leave Galveston hungry.
Dellanera RV Park
Location: 10901 Termini-San Luis Pass Rd., Galveston, TX 77554
Phone: 409-797-5102
Resort amenities are:
Wi-Fi

Pets allowed

Picnic tables and barbecue pits

Adjacent beach
If you are looking to spend some time amidst palm trees at the edge of Texas, you should consider staying at the Dellanera RV Park. It is situated next to 1,000 feet of beach on the Gulf of Mexico. In fact, the waves are only 150 feet from some of its spaces. Walking trails in the immediate area also await you while animals such as rabbits and seagulls call the place home as well.
This RV park is home to 65 full hook-ups and day parking spaces. It also offers Wi-Fi, but note that it can get spotty, particularly if the weather is poor. Additionally, keep in mind that a freeze on Galveston Island in 2022 caused damage to its toilets, showers, and laundry facilities, so, if you need access to those, make sure to contact the park and see if they have been fixed.
Hueco Tanks State Park
Phone: 915-857-1135
Address: Hueco Tanks Park, El Paso, TX 79938
Activities:
Hiking (guided tours available)
Rock climbing
Petroglyphs
If rock climbing and hiking are your things, you should definitely not miss Hueco Tanks State Park. Set just outside of El Paso, there are plenty of amazing climbs and historic paintings next to the campground. In order to preserve them, campfires aren't permitted. Also, some parts of the park are accessible only with a tour guide, which isn't a problem to arrange.
Compared to the busy seaside RV parks, each spot in Hueco Tanks offers a lot of privacy and shade. There are restrooms, showers, and both water and electricity hookups are available. Thanks to little to no light pollution from the city, you can enjoy star gazing right from your RV.
To reserve a spot at this campground, you will have to call their office. Also, if you plan to arrive early in the morning or later at night, beware of wildlife – you are likely to come across rabbits and even javelinas on the road.
Mill Creek Ranch Resort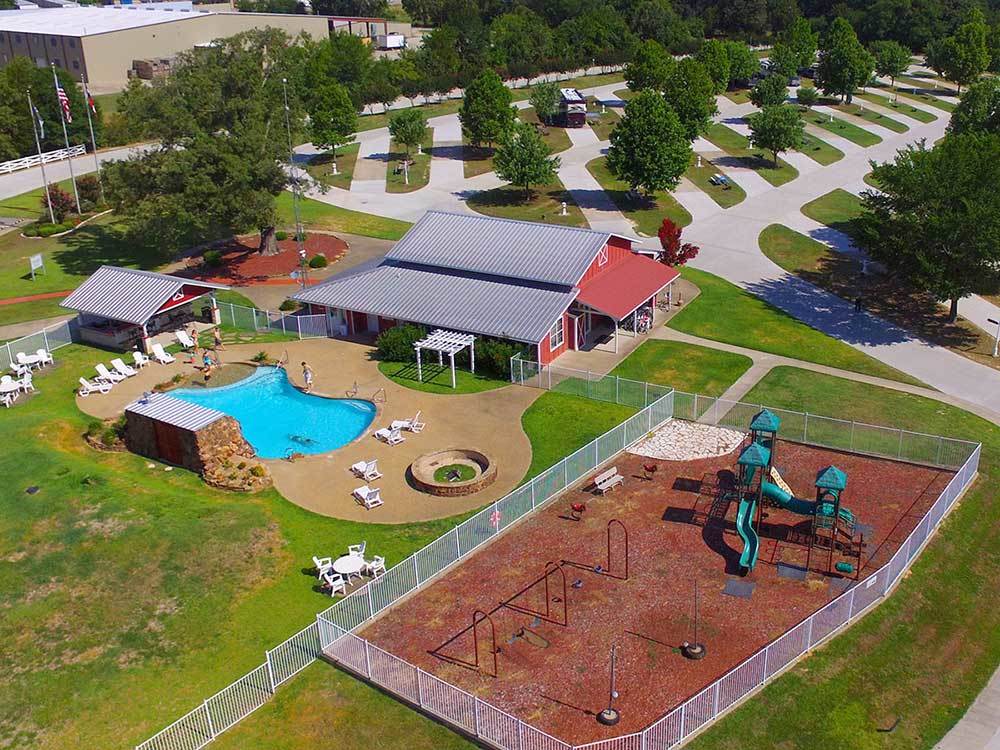 Location: 1800 N. Trade Days Blvd., Canton, TX 75103
Phone: 866-488-6020
Resort amenities are:
Pools and ponds

Fire pits

Beach/swimming hole

Horseshoes, basketball and volleyball

Trails
Mill Creek Ranch Resort offers a serene respite for those who want to be within an hour of Dallas and enjoy a picturesque setting amongst 200 acres of nature. Some of the activities that you can engage in here include catch-and-release fishing, paddle boating, bird watching, hiking, biking, or relaxing in a hot tub. Live music on Friday nights will also likely return at some point.
You will have access to water, electric, and sewer connections as well. Meanwhile, its internet availability allows you to experience that connection with the modern world.
Keep in mind that if you are timing your stay here with First Monday Trade Days, a famous and historic flea market that occurs the four days prior to the month's initial Monday, you should make your reservation well in advance. Of course, if that event is what attracted you to Canton, Mill Creek Ranch Resort sitting 1-1/2 miles from it is a significant plus.
Oasis RV Resort Amarillo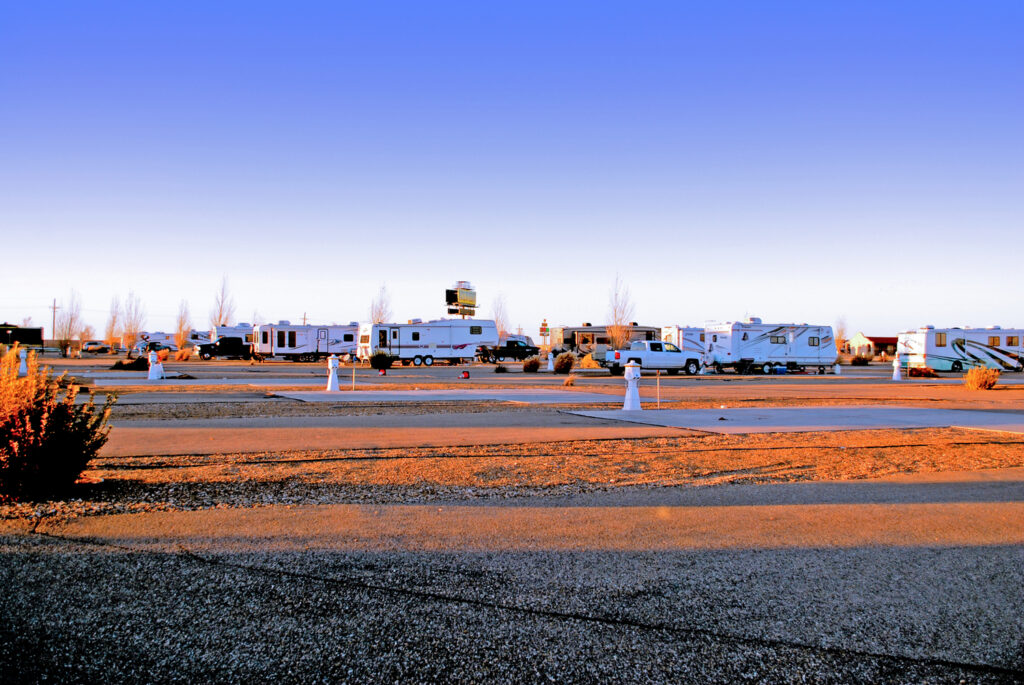 Phone: 806-356-8408
Address: 2715 Arnot Rd, Amarillo, TX 79124
Activities:
Oasis RV Resort Amarillo lies down the road from the famous Cadillac Ranch and just minutes of drive from the center of Amarillo. Its proximity to Interstate 40 and the historic Route 66 makes it the right place to stop by while traveling through the area or on a road trip.
Cool down in their swimming pool or relax in the spa after a long day of wandering. Feeling hungry? Have a pizza, burger, or chicken wings at their on-site bistro. Also, the RV resort is both kids and pet-friendly, with a games room, playground, and a dog park to your service.
Stay at one of their 178 full hook-up RV sites with concrete and level pads, or rent a vacation cottage. And it's not only for the great amenities and multiple lodging choices that this RV resort is so popular. Guests also often emphasize the extra cleanliness of the whole property.
Fredericksburg RV Park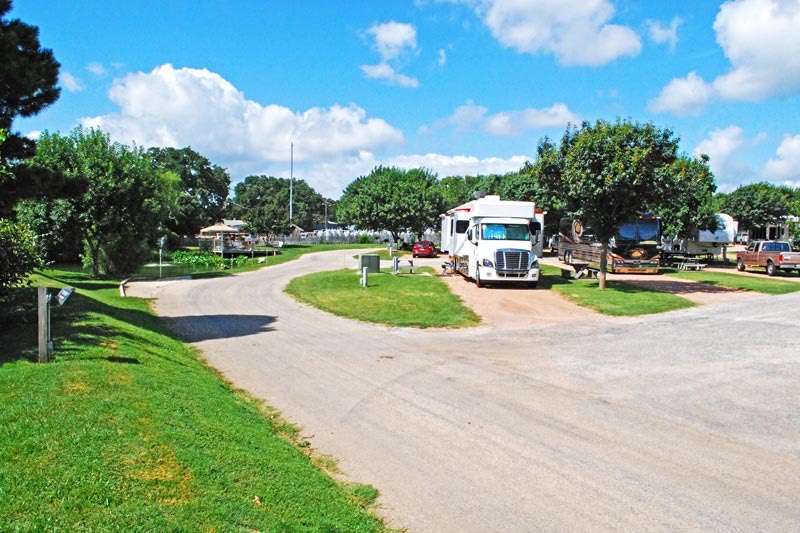 Phone: 830-990-9582
Address: 305 E Hwy St, Fredericksburg, TX 78624
Activities:
Clubhouse

Horseshoes

Great location
Located in the Texas Hill Country, known for its diverse area attractions, Fredericksburg RV Park is the perfect home base to explore the surroundings.
Get to know the city of Fredericksburg, its museums, galleries, and restaurants, or engage in swimming, fishing, kayaking, or hiking in local state parks. Golf enthusiasts will appreciate the lush and large golf courses around. There are also some exquisite wine bars and wineries in the area. Texas Hill Country is simply an RV vacation paradise.
The RV park itself features full hook-up sites with 30/50 amp service, concrete pads, picnic tables, free cable TV, and Wi-Fi. For group gatherings, there is a large clubhouse.
Whether you come for just a day or a prolonged weekend, you'll have a blast at Fredericksburg RV Park.
Blazing Star RV Resort – Luxury RV Park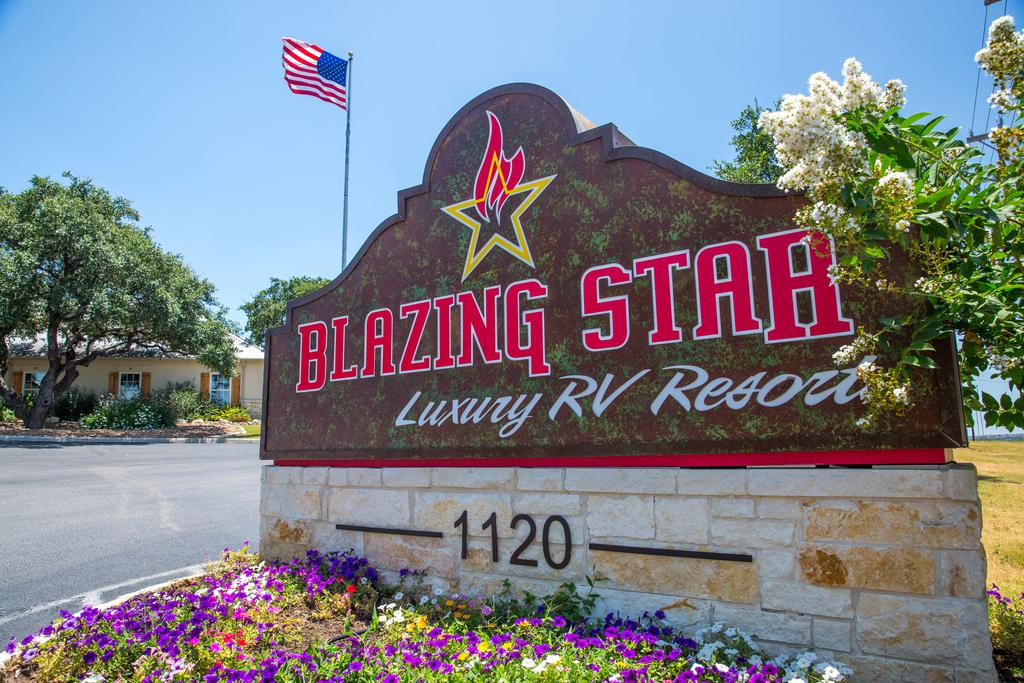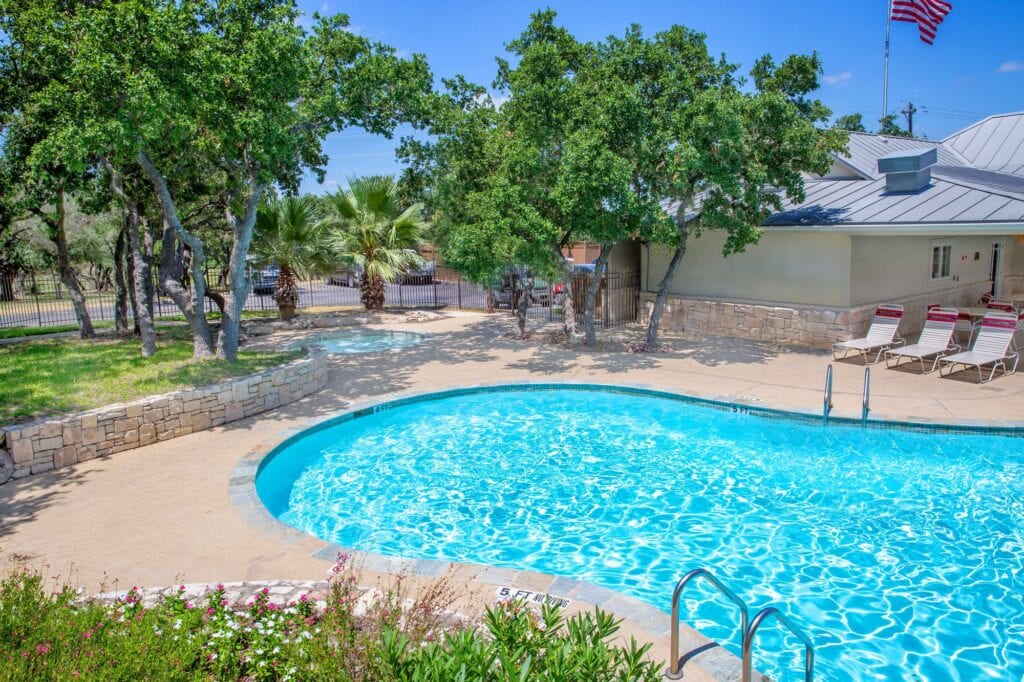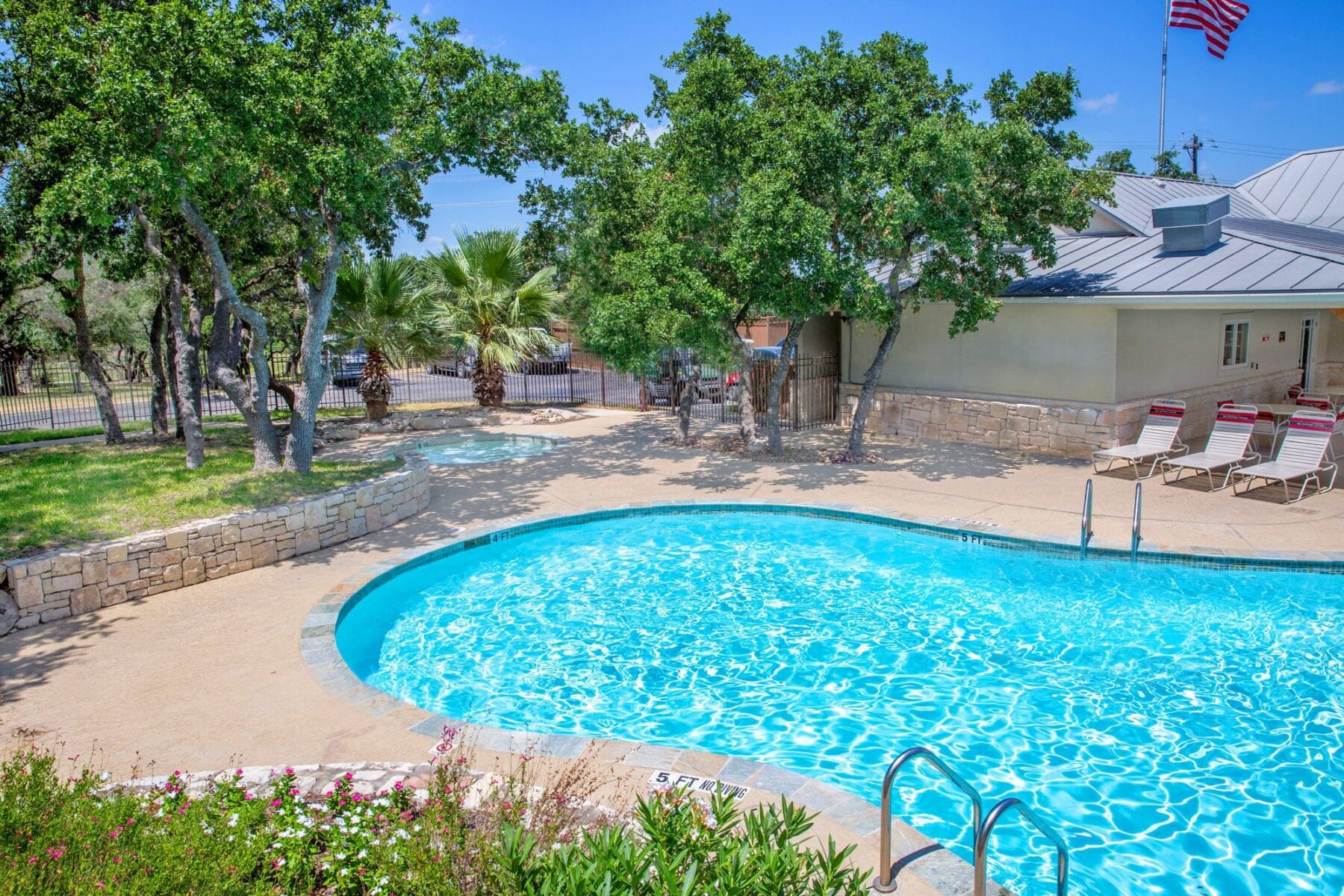 Phone: 800-207-1188
Address: 1120 West Loop 1604, San Antonio, TX 78251
Activities:
Swimming
Waterwalk
Strolling
Your trip to San Antonio can be as action-packed as you like, but you won't be bored! The Blazing Star RV Resort is only 5 minutes from Sea World – San Antonio, and once you get into the city, you can take a water taxi to the Alamo or north to the San Antonio Art Museum. No matter your travel and RVing goals, Blazing Star RV Resort is ideally suited for family fun.
The park offers a pool and a playground to keep the kids happy. Adults will enjoy time in the gym, and the laundry facilities will make your trip back home a lot simpler.
If you're planning a long stay and want to invite family, consider renting one of the cabins and having a little reunion time! There are pull-thru sites and the pads are quite large. Visitors will find 260 sites in this park, as well as cabin spaces.
Oak Forest RV Park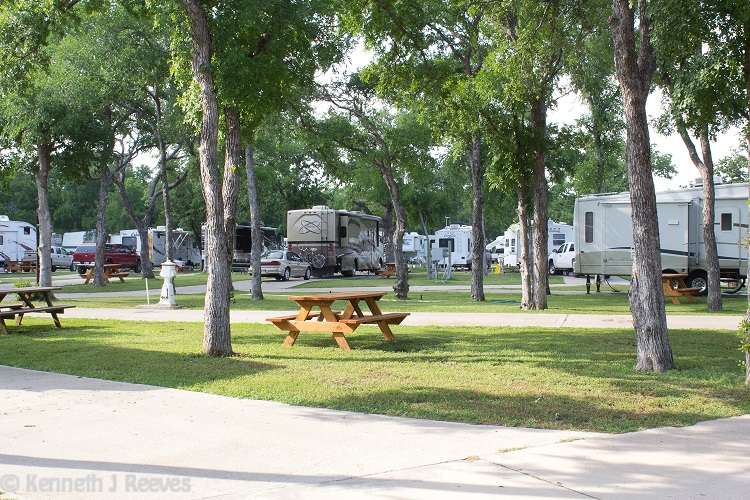 Phone: 512-697-4206
Address: 8207 Canoga Ave, Austin, TX 78724
Activities:
Oak Forest RV Park is ideally suited for gatherings of all sizes. There's a large picnic shelter for parties, and this park has a total of 160 sites, many of which are pull-thru and have space for the biggest rigs on the road. Your stay in Austin can be as busy or as relaxing as you like!
Plan to spend a day in Austin, and try to get there after the morning rush. Texas is a driving state, so there is always traffic. Once you're in the city, consider strolling the River Walk around the lake, stop for lunch at The Oasis, and head back to Oak Forest RV Park before the evening rush.
Oak Forest offers a variety of dwelling and rental options, from RV sites to cabins to tiny homes. No matter your travel goals or life interests, you can find plenty to do and enjoy at this park and in the Austin area.
Grand Texas RV Resort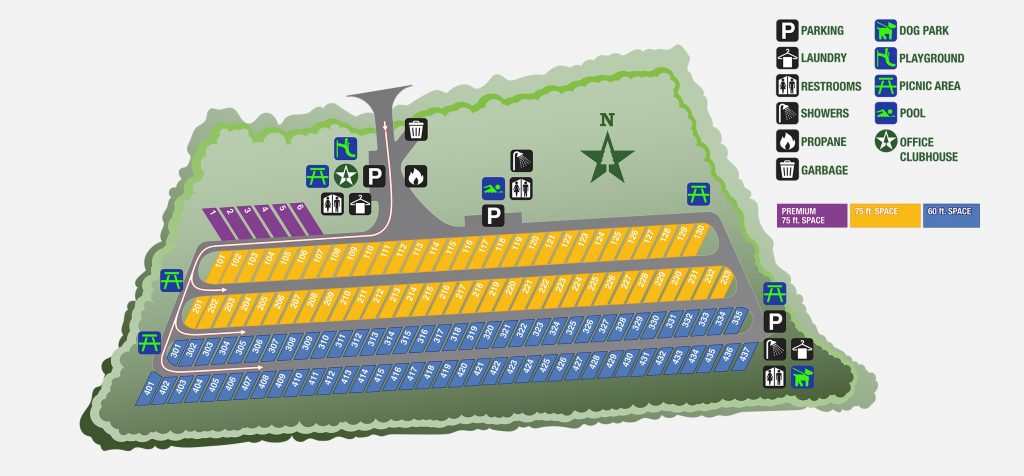 Phone: 832-543-5547
Address: 22846 TX-242, New Caney, TX 77357, United States
Some of the relaxing activities available in the Grand Texas RV Resort include golfing, bird watching, and historic tours.
Park amenities include 60- and 75-foot pull-through and back-in sites. Each site is on the ground level and has water, sewer, cable TV (offering over 100 channels), 50 amp and 30 amp power and WIFI.
Getting to and from the park is easy and convenient, as it is located just off the interstate and close to Houston. The park's amenities are top-notch, ensuring your comfort throughout your stay.
Nearby attractions such as the beautiful Lake Houston Wilderness Park and Grand Texas Theme Park offer biking, paddling, canoeing and kayaking, and Brew Trek Houston wine excursions.
The Vineyards Campground & Cabins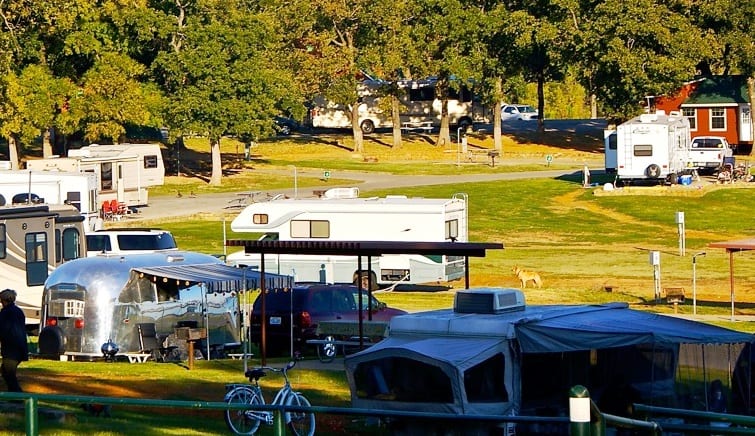 Phone: 888-329-8993
Address: 1501 N Dooley St, Grapevine, TX 76051
Activities:
Swimming

Hiking

Easy access to Dallas and Fort Worth
The city of Grapevine is part of the Dallas Fort Worth Metro Area, so once you're settled at one of the 113 sites, you can take the DART train to nearly anywhere in the metro area.
The Vineyards is a lovely slice of outdoor heaven, a haven from metro stress and a great place to enjoy the water, some sunshine and the gorgeous sunsets and sunrises of Texas. There are plenty of pull-through sites and space for the big rigs. You can also book your RV pad and rent a cabin for family and friends to join you.
The Vineyards is both kid and pet friendly, featuring a large playground and a designated pet area. There's a store on-site where you can get propane and firewood. Nomads will love the wifi access and your whole clan will enjoy time on the beach. If you're ready to beat the summer heat and get in the water, book a space at The Vineyards.
Local amenities include Legoland, multiple museums focused on art and history, the Dallas Aquarium, and The Texas Book Depository.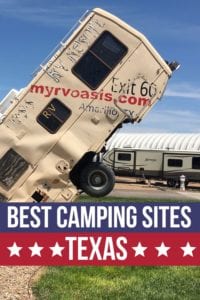 Midway Park COE
Phone: 254-756-5359
Address: 2332 W HIGHWAY 6, Waco, TX 76712
Activities:
Midway Park COE in Waco is a great spot for larger rigs and folks who need pull-thru access. This is strictly an RV Park with no cabin access, but the pad sizes and plenty of grassy space will give everyone loads of room. Kids will love the playground and the recreational trails, as well as time on the water.
Make sure to visit Mammoth National Monument while you're in the area. In the city, you'll find bike trails along the Brazos River and an historic suspension bridge that offers great views of the region.
Waco offers plenty of chances to stretch your legs. Consider a stop at the Magnolia Market, made famous by Chip and Joanna Gaines, for some shopping and a bite to eat. A stop at the Branch Davidian Compound will fascinate the history buffs in your clan.
Lake Casa Blanca Int'l State Park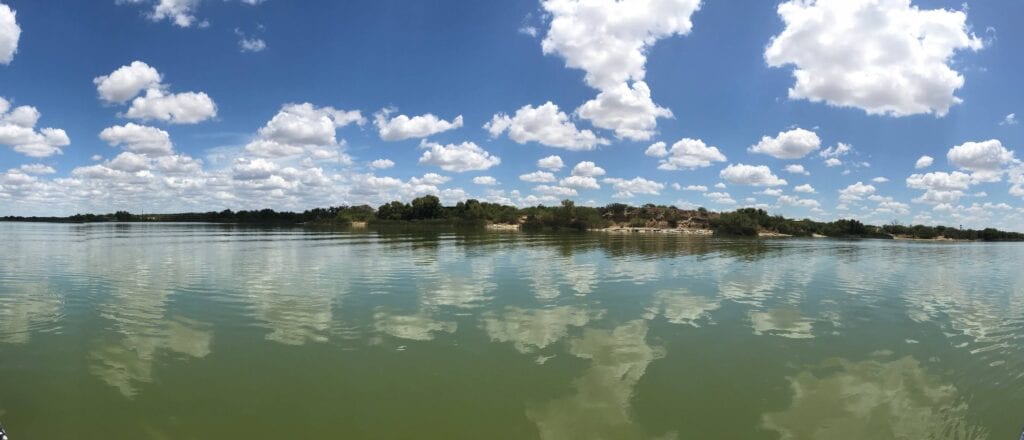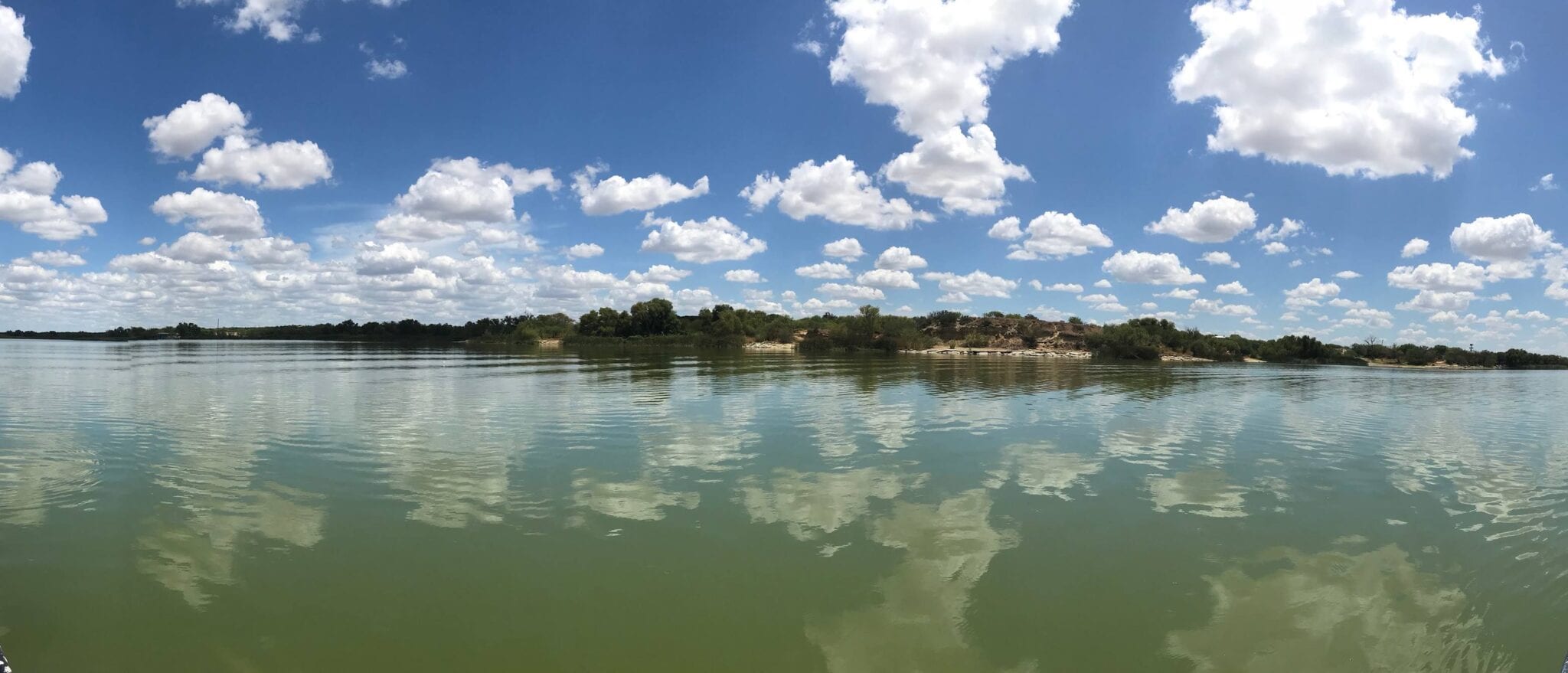 Phone: 956-725-3826
Address: 5102 Bob Bullock Loop, Laredo, TX 78041
Activities:
The RV Park on Lake Casa Blanca is one of the best state parks around in Austin, TX!
It's a great place to get away from the world, plug in your rig, and relax. This park offers 65 sites, many suited for large rigs, and offering pull-thru parking.
There's space for group camping, a kid-friendly playground and hiking trails where you can wander and stretch your legs. In addition to space for RVs of all sizes, this park offers tent camping.
It should be noted that this park is easier to access from the south. When you leave, you'll have an easier time of it if you head north. The park is near the airport and may require a u-turn to head south of the park as you exit. Head south into old Laredo for some history and fun shopping. Don't forget to stop at Rudy's for barbecue!
There are multiple water access points as you drive or walk through the park. In addition to a clubhouse and covered picnic areas, you'll find an amphitheater and many loop hiking trails.
Gulf Waters RV Resort


Phone: 361-749-4978
Address: 5601 State Highway 361, Port Aransas, TX 78373
Activities:
Water, water everywhere! Your stay at the Gulf Waters RV Resort means that you can spend time on the beach, in the pool or just cozied up in your rig. There are 150 sites, many with room for large rigs and several with pull-thru access.
This is a kid and pet-friendly site, so there's room for the whole family to spread out and have some fun. Get out early in the day and take a walk on the beach or check out the hiking trails. When you're ready for a break from the heat, hit the pool and relax in the rec room.
Not only does this region offer great food and easy access to shopping, but there's a RV supply store in the area, as well as an RV repair professional. If you hit a bump and need some help, Port Aransas will make it easy for you to get repairs done so you can relax and get back on the road.
If you'd like a bit bigger metro area, Corpus Christi is just 30 minutes away. There's great food in the area, and you can even take the ferry over to Rockport for more options!
Midland RV Campground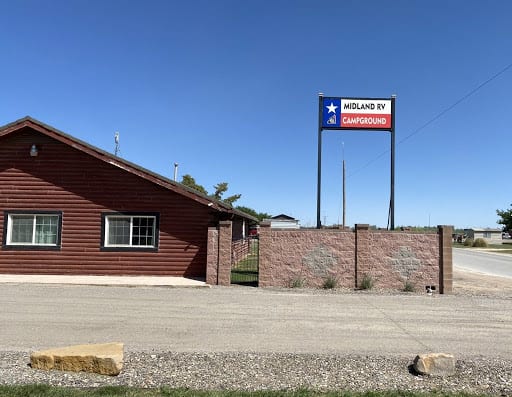 Phone: 432-697-0801
Address: 2134 S Midland Drive, Midland, TX 79703
Activities:
Presidential Museum

Petroleum Museum

Peach harvest
If you're on your way through west Texas and need a place to rest for a time, the Midland RV Campground has plenty of room. This park features 195 sites with space for a wide variety of rigs.
The amenities of this park are extremely clean and easy to access. Like a lot of RV parks in West Texas, this park caters to folks who work in the oil fields.
If you're ready to stretch your legs, consider a stroll over to the baseball diamonds for a Rockhounds game, or a walk to one of the presidential museums. In addition, the Permian Basin Museum is very close to this park and there's a game preserve in the area.