So we set off to experience the nature of the west part of the states. We didn't have an exact plan of the trip, which is typical for our lifestyle. All we knew was the return date and that we want to see Yellowstone and some of the national parks in Utah. We spent on the road 25 days, travelled over 8000 km within 6 states. 20 days camping in nature, mastering cooking on an open fire, countless memories and priceless experiences. Let the adventure begin.
The Route
LA – BigSur – SF
From LA we were heading straight north to SF via legendary Pacific Coast Highway. Everything went smooth and we were admiring the views along the way. Before sunset we reached Big Sur National Park and found a place to camp.
Majestic hills of BigSur
Big Sur was recommended to us by every person we met, everyone was using superlatives trying to describe it however the reality is that there is no language to describe such a beauty. Tall mountains rising out straight from Pacific Ocean acts like silent guards of cold waters and mysterious mist.
When ocean meets the Highway no.1
The serpentines copying the rocky coast take you out from reality and you don't even realize that you are living a dream without sleeping.
Blue everywhere
The PCH is full of spectacular views
Because sometimes life is cruel we must left the paradise. On the way to San Fran we stopped for 3 days in Santa Cruz where we visited our friends. Santa Cruz was sweet surprise where we were trying to swim with dolphins and seals but unfortunately they were far away (and the water was freezing cold). At least we could swam near by and close enough to observe them. I never saw a dolphin before.
Memories of the dearest in Santa Cruz
San Francisco is an amazing city with heart touching spirit. That kind of place where you don't want to leave because there is so much to do and to see. Unfortunately we spend there two days which is not enough at all but on the other side the weather was cold and windy so I was happy when we were leaving 🙂 . Golden Gate, Chinatown, Little Italy & Pier. Everything is worth to visit. San Francisco is a must while travelling on a west coast.
Touching spirit of SanFran
SF – Lake Tahoe – Yellowstone
Through Sacramento we arrived to Lake Tahoe area late at night. Lake Tahoe is surrounded by tall mountains which makes it even more beautiful. The water is clear, the air is fresh, the sky was without a cloud and the nature seems untouched. The feeling is impressive. Just chilling out, no big hikes, just silently admiring the nature.
Lake Tahoe
The next day we spent all day in car driving boring Nevada's and Idaho's highways. Two endless strainght lines of asphalt are boring as hell. So why not to test the top speed of our car. Result: we got caught twice by police for speeding. Once in Nevada and few hours later in Idaho. We were lucky, we got out just with warnings 🙂 and the second officer was so kind that he recommended the nearest camp so we could go to take a rest as it was close to midnight.
Highways in Nevada – Never ending story 
Yellowstone – The Burning Mountains
The Burning Mountains that's how the native Americans – Indians called The Yellowstone. Obviously due to a large number of geothermal springs and geysers. Finally we are here, entering the famous and the oldest national park in the world.
Golden meadows
Yellowstone welcomed us in big style. Wildlife, canyons, geothermal waters, waterfalls, gold colored meadows, deep forests, stunning views, lakes, rivers and much more. If you want to see it all you have to spend there at least a few weeks. We had 3 days, not enough at all.
Bisons – Some still think they are wildlife
Old Faithful Geyser can shoot water up to 50 meters
Geothermal waters creates wonders
Temperatures in geothermal springs are around 70°C
The night temperatures were little bit lover than our expectations so sometimes there was cold in sleeping bag. There was only one rainy night when our tent couldn't resist the "storm" and my sleeping bag went wet so the rest of the night was cold and unpleasant but the following morning was warm and beautiful. This all is part of experience.
Yellowstone – Salt Lake City – Salt desert – Southern Utah
We left Yellowstone early in the morning and were heading to Salt Lake City via Grand Teton National Park. Teton reminded me of our homeland for the similarity of the mountains and lakes which I love so much.
Welcoming High peaks of Grand Teton
High peaks were reflecting in steady surface of Jenny Lake. The whole day spent among mountains with the freshest air is never a waste of time.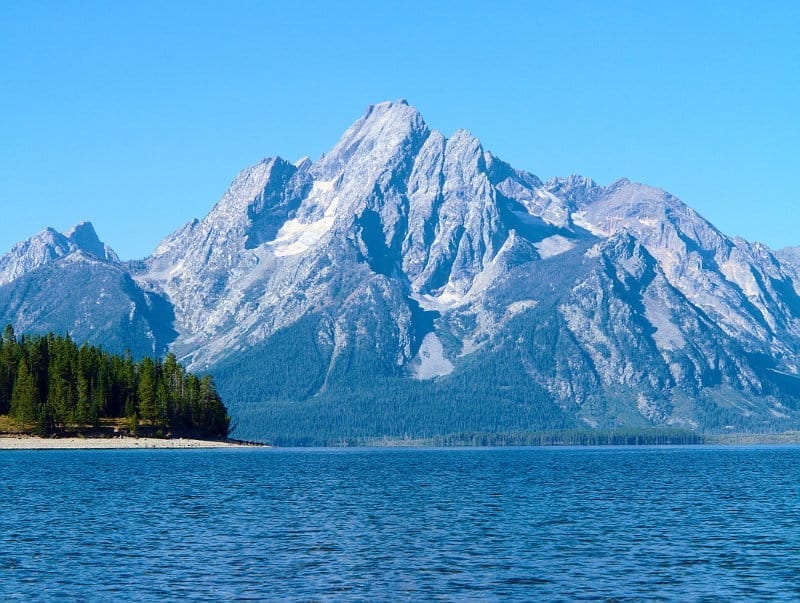 A piece of Slovakia in USA
Capital of Utah, Salt Lake City, is a pleasing place with splendid church. That building with gardens in the backyard could be the centre of peace. One have the feeling that time stops there, suddenly there is no rush around.
Temple of The Church of Jesus Christ of Latter-day Saints
Not far away from Salt Lake City there is the Great Salt Desert. A place like from sci-fi novels. White, straight, endless surface under magic blue sky with no single cloud creates terrific nature wonder. Ideal for getting stuck with front wheel drive car. It happened to us, of course only because we are stupid enough but lucky enough to get help from the passing traffic. Two good persons with huge trucks towed us back to highway and we were back in the game. Thank you guys, unfortunately we were so stressed out that we didn't take a single picture from the rescue operation.
Salt desert – vast area of salt
Arches – Canyonlands
From now on the whole trip was about enormous rock wall formations and canyons. Canyons of all sizes, shapes and colors. South Utah is a rock paradise. I remember that feeling when I saw it first time.
Rock paradise
It was in Arches National Park and I couldn't understand how is this possible. Actually I still can't. Arches, holes, towers, great walls, desert… all in one. A highlight of Arches NP is The Delicate Arch.
Delicate Arch – Unique natural wonder 
Apart from it everything else is unique and breathtaking. We set our base camp in Canyonlands under sky with millions of shining stars where the Milky Way is clearly visible.
Deep valleys
Grand Staircase – Calf Creek – Escalante
Crossing southern Utah and avoiding highway no. 12 is a big sin and we don't wanna be even bigger sinners that we are now. It is legendary for the scenery around, for the early inhabitants, ancient paintings on the rocks and deep red canyons. All spectacular and interesting but the best part of no.12 was just about to come.
Scenery of Highway #12
Few miles before Calf Creek the route elevates to the top of the mountains and continues through the top with massive ditches from both sides. Like driving in heaven observing the small world underneath you.
Views like this for several kilometers 
Now it's time to make a short hike. Calf Creek is a popular destination with hundreds visitors per day. A short walk in a bush under melting sun is rewarded at the end in the oasis by shadow and waterfall both like from fairytale. Cold and humid wind saves you from getting sunburned. Daredevils can cool down in chilly small lake. As I mentioned, Fairytale.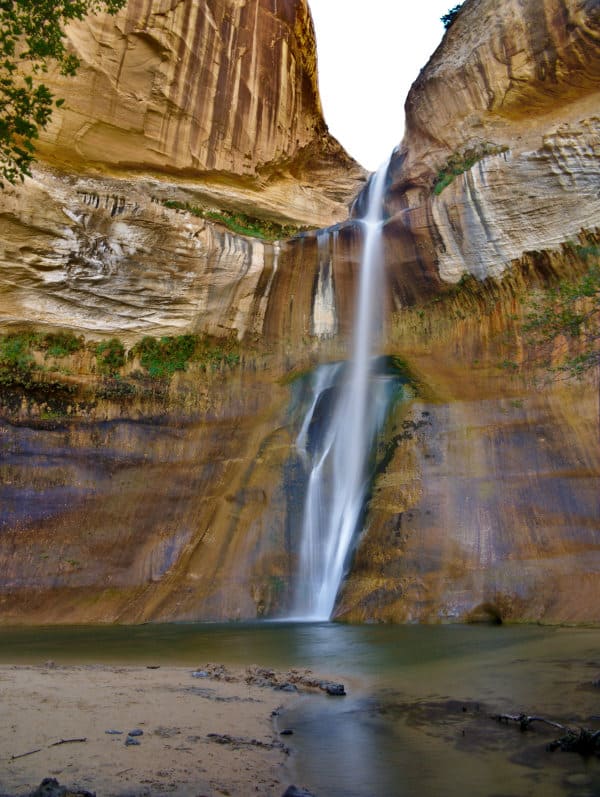 Waterfall at the end of the trail
The day ends in Escalante, small town where we met a group of amazing young people. These guys do hard manual labor in canyons, deserts, bushes and forests across united states. They clean and maintain the environment in order to preserve the ecosystem in good condition. An evening accompanied with these amazing young folks full of talks and laughs. Standing around fire, talking, drinking. One of them had adviced us about the 'narrow canyons' and gave us a detailed description how to get there. One of the best nights we had during the trip. We cooked dinner and breakfast together. Goodbye to each other on the following morning and let's go.
Mushroom picking in Dixie National Forest
A night near Glen Canyon and the following day exploring Glen Canyon. This National Park recommended by many was truly amazing. The day was relaxiing as we we not in rush at all. One of the lazy days. We arrived close to Zion National Park late in the night pretty tired from long day, set up the tent and went to sleep.
Narrow Canyons – Glen Canyon – Zion
The road to 'narrow canyons' is not marked on the route neither on the map. So it could be difficult to get there. 20 miles by unmaintained road with top speed of 30 mph was boring and uncomfortable at the same time. The surface was hard apart of one loose sandy section. We got stuck second time. In the sand, we couldn't move forward nor backward. Fortunatelly there was pretty heavy traffic and one of the passing trucks has towed us back few metres. The same guy took us the rest of the road. They were travelling in group of few families and we became a part of this big family for a short time.
Narrow canyon
The 'narrow canyons' are stunning and spooky at the same time. It could be difficult for the 'bigger' ones to worm through. The overall experience was fabulous and at the end I was excited to do it once again.
No suitable for everyone…
Safety has to be on the first place so one should always watch step because wet rocks with narrow paths is dangerous combination. One guy infront of us slude and fell into slot. He got badly injured and all we could hear was crying and panic of young family.
Under the sky, in the middle of desert…
Zion – Grand Canyon – Horseshoe
Zion National Park is something like a gem in a crown of american nature. Well maintained red serpentines are cutting through red rocks. Everything is red because of the high content of iron in the rocks.
Virgin nature is admired by millions of visitors from all over the world. People travel from the other end of the planet to see and to admire. One of the hardest and longest hikes in Zion goes to viewpoint called Angels Landing.
Elevation of the hike trail was killing us 🙂
We couldn't resist this challenge. The path is easy from the beginning but later as you go up the hill it becames harder and harder. As a reward one can see the beauty like the birds do. With the increasing elevation it gets more gorgeous.
Like the birds…
Now I know why it is called Angels Landing. There must have been angels landing, there is no better place for such an occasion in the world 🙂
The secret spot where the angels are landing
At the end of the day we met with our friend from LA and her crew from around the world. We had dinner together – the Italians cooked pasta. The evening was enjoyable with lots of talks and laughs. We had a great time. Thank you Kathrin.
We were woken up by the sun warming up the tent and soon left for the legendary Grand Canyon.
Majestic Grand Canyon – North Rim
It's huge, amazing and incredible at the same time. There is no point from were it looks bad. One of the highlights of Grand Canyon is a place called Horseshoe.
A million dollar viewpoint
Scenery of this viewpoint is highly photogenic and it's becoming more and more popular. Definitely one of the best viewpoints during the trip.
Navajo National Monument – Sedona
Navajo Monument Valley is a home to ancient inhabitants of america. It is a must see if you want to experience the beauty of ancient times when Indians were rulers of their own land.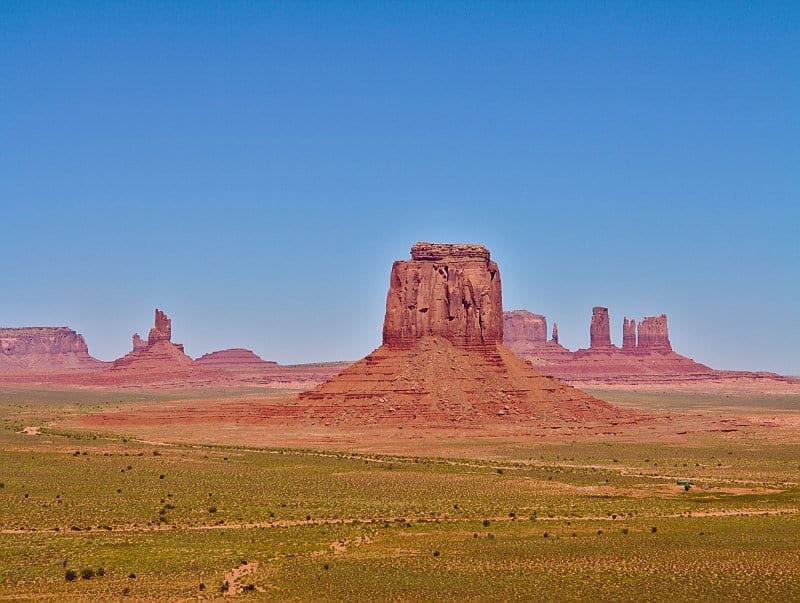 We all saw it in the movies
Many books were written and many famous movies were filmed in this iconic area. The scenery is ideal for a western movies so one has a feeling like traveling back in time is possible.
Silent guards of cruel history
Other iconic place few hundreds miles south-west is called Sedona. Small town nestled among 'western movie' style rocks is popular in Hollywood history. It was home to shooting outdoor scenes for more than 60 Hollywood productions. The main attraction are the rock formations that change color while sunrise and sunset.
Rocks are changing colors while sunset
Sedona – Joshua tree – LA (Huntington Beach)
The last days were tiring and we wanted to get back to LA as soon as possible. 25 days of traveling is tough challenge. The idea was clear, the direction set. Los Angeles. On the way we stop in Joshua Tree National Park to camp. We set the camp during the daylight which was unusual for us. Fried beans with toasted bread and cold beer has made this evening superb.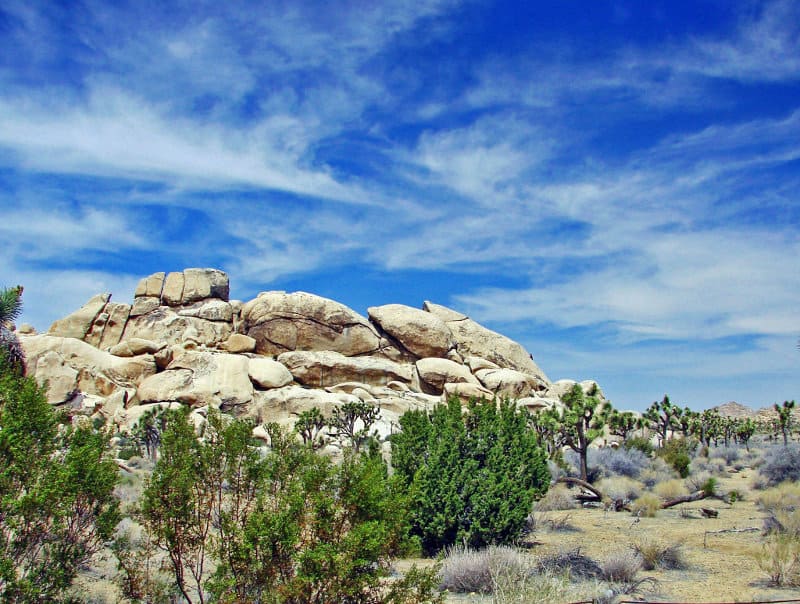 Joshua Tree is desert but beautiful desert
The night was pleasing and warm not like Yellowstone at all. The following day we spent in car. The first destination was famous Huntington Beach. The weather was ideal, water temperature perfect and the waves amazing. So much fun in a short time. Just pure fun like only ocean can provide.
Sunset at Seals Beach
I guess this is the end. There can't be better ending of a road trip than on the beach.