We met Yasik Smirnoff aka. Ruso Loco at the couchsurfing meeting which we organized in Playa del Carmen in Mexico. Once he started with his crazy traveling stories we couldn't stop listening! He's really great motivator and has a lot to share with other fellow travelers. Therefore, we decided to write about Yasik, interviewed him and share some of his stories.
Introduction
Interesting facts about Yasik Smirnoff:
traveling for almost 4 years
from Siberia (Russia)
only 21 years old
traveled 3 countries completely NAKED!
had his own business in Honk Kong (17 years old)
married (18 years old) / now divorced
started travel and spoke only "Russian and Chinese"… now speaks 6 languages
– – scroll down to see the interview – –
Check more travel quotes for inspiration!
Why did you decided to travel the world?
Child dream!
Traveling is an instrument for me. To challenge myself in different types of situations and right now is the way of thinking. I don't see myself in one country, I see myself everywhere. It's like one part of the planet is my kitchen, other part my bedroom or my playground.
All my projects which I have right now and the ones I will have are global. So whole my life I will move around the world. But travel doesn't mean just move around. For me it's not just to chase another geographical location. Traveling for me is to try to become a local person. For example, to become a masai in Africa, buddhist monk in Tíbet or torero en Mexico (bullfighter). I always try to make place (neighbourhood) where I live a better place!
Do you travel alone? Why?
You're never alone!
You have nature, yourself, and god, kirshna, allah, whatever you want to call it. But of course I meet a lot of amazing people during my trip. It's one of my biggest successes in my life that I have friends in more than 80 countries. I mean real friends who I helped to pass some difficult situations in their lives. I can go to their door in the middle of the night, they'll open and be happy to see me.
That's one of my biggest successes for sure!
What countries had you visited before your 4+ years journey?
Many of them but just in my dreams. I lived in China and Russia.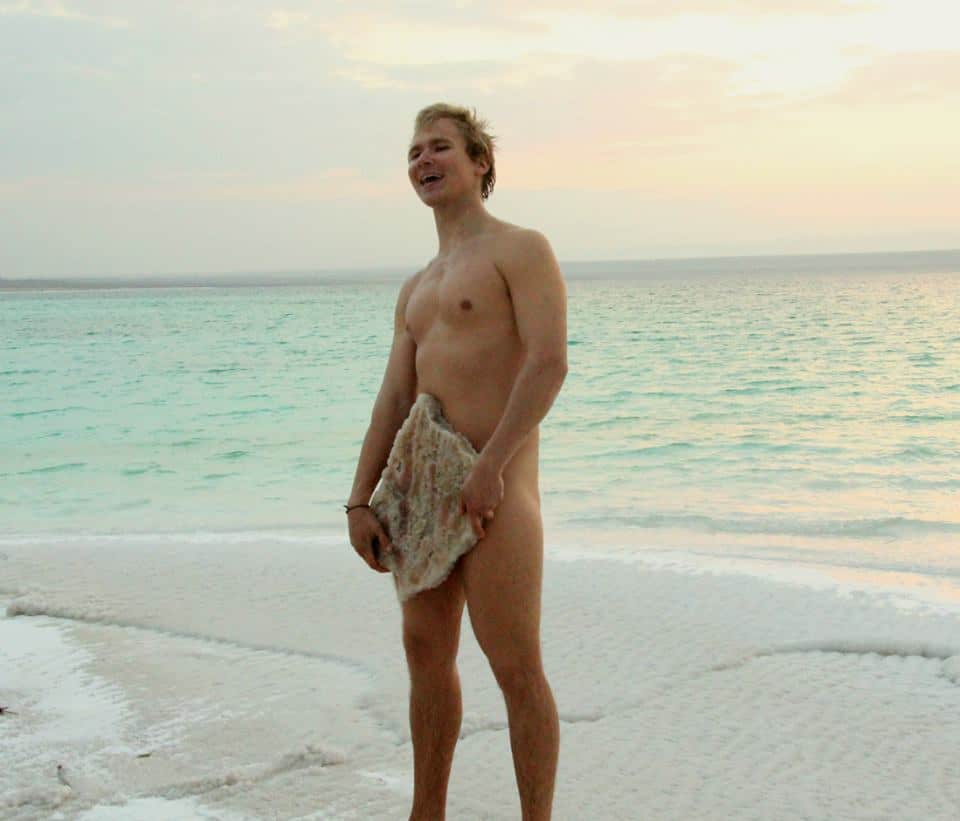 What's your most favorite country and why?
It's never country but people in the country!
For example, I really love the Syrian people. I've been there during the war conflict and hospitality of those people and the way how they took care of me amazed me a lot.
Anyway, I love every country I've been to because I've learnt something different in each one of them. If you just ask me to choose one country, it's like to choose between green and sweet. It's two different categories.
Architecture is interesting, nature is amazing but people and their life stories is what's the most important for me.
300 km from Australia -> Island with only 200 people! Guess which one!
What's the most unusual, scary, memorable thing you've seen?
Not seen but done myself!
It's more important for me to experience something than just to see it! That's why I've tried more than 200 jobs during my trip and tried plenty of challenge which put me in very dangerous situations.
I got lost in the Gobi desert, alone, with no water, no food, no navigation. I've been walking 2 days without stop. Fortunately, one wegor found me… I don't think it was just luck. After that, I've been 3 days in a comma.
The people in the region of Gobi desert say, in this kind of cases… "inshala". It means "god's will".
I had also some amazing experience in Africa. I worked there to protect wildlife from rich people who kills them, so I worked in wild lines. It was amazing.
As well, two years of my 4 years trip. I spent with tribes and rare native groups in different parts of the planet… we have to learn so many things from them!
What's been your least favorite country and why?
Any country in which people put on mask on themselves and lie to each other!
Do you aim to visit every country in the world?
Yes I do!
But it's not my goal. Because numbers of countries doesn't make any sense. For example at the age of 21, I've visited 107 countries already.
My goal right now for next 30 years is to grow the percent of altruist people in the planet at least 1 more percent of altruist people in every country. That's what i want to do and it's my goal right now.
Yasik with kids in Uganda
What country are you looking forward to visit the most?
Not the country! But people, interesting personalities is what I really want to meet. But in geographical way it's the amazonas. Because I want to stay there with the natives.
How many languages can you speak?
Eyes are the most important language!
That's the thing you learn from the tribes, to have a connection with someone you don't need many words! Too many words can be just lies… or if you want to put a "mask on" that's when you use many words.
But of course I do speak russian, chinesse, english, some arabic, a bit of spanish but again the most important is your body language and your eyes. Because they don't lie!
What has been the best food you have eaten and where was it?
Fresh hot blood from the neck of cow in the Bodi tribe in Etiopia, haahahha.
But for my taste, the best food is in Uzbekistan, Syria, Mexico and of course my mother's food.
Have you made friends along the way?
I've already answered this question and as well I have a very good friendship with myself.
It's very important to be a good friend with yourself and understand your own mind!
One last message to our fellow travelers and all the people outthere?
Don't be pussy and move your ass!
I know it's rude… but it's working. Because, if you want to accomplish any dream in your life you should be brave and do something for that everyday!
… and guys have fun in your life!
… without love and happiness life doesn't make any sense!
Follow Yasik Smirnoff (Ruso Loco) on Facebook or add him as friend on FB
Check one of the many TV interviews with Yasik Smirnoff aka. Ruso Loco!