Are you looking for a great beach vacation this year? Look no further than South Carolina. This state has some of the best beaches in the U.S. whether you're looking for a quiet spot to relax or want to enjoy some exciting activities, South Carolina has something to offer everyone.
In this blog post, you will learn about the best beaches in South Carolina. So, pack your sunscreen and get ready for an amazing beach adventure.
Check out also:
– Best beaches in Georgia
– Best beaches in North Carolina
Best Beaches in South Carolina MAP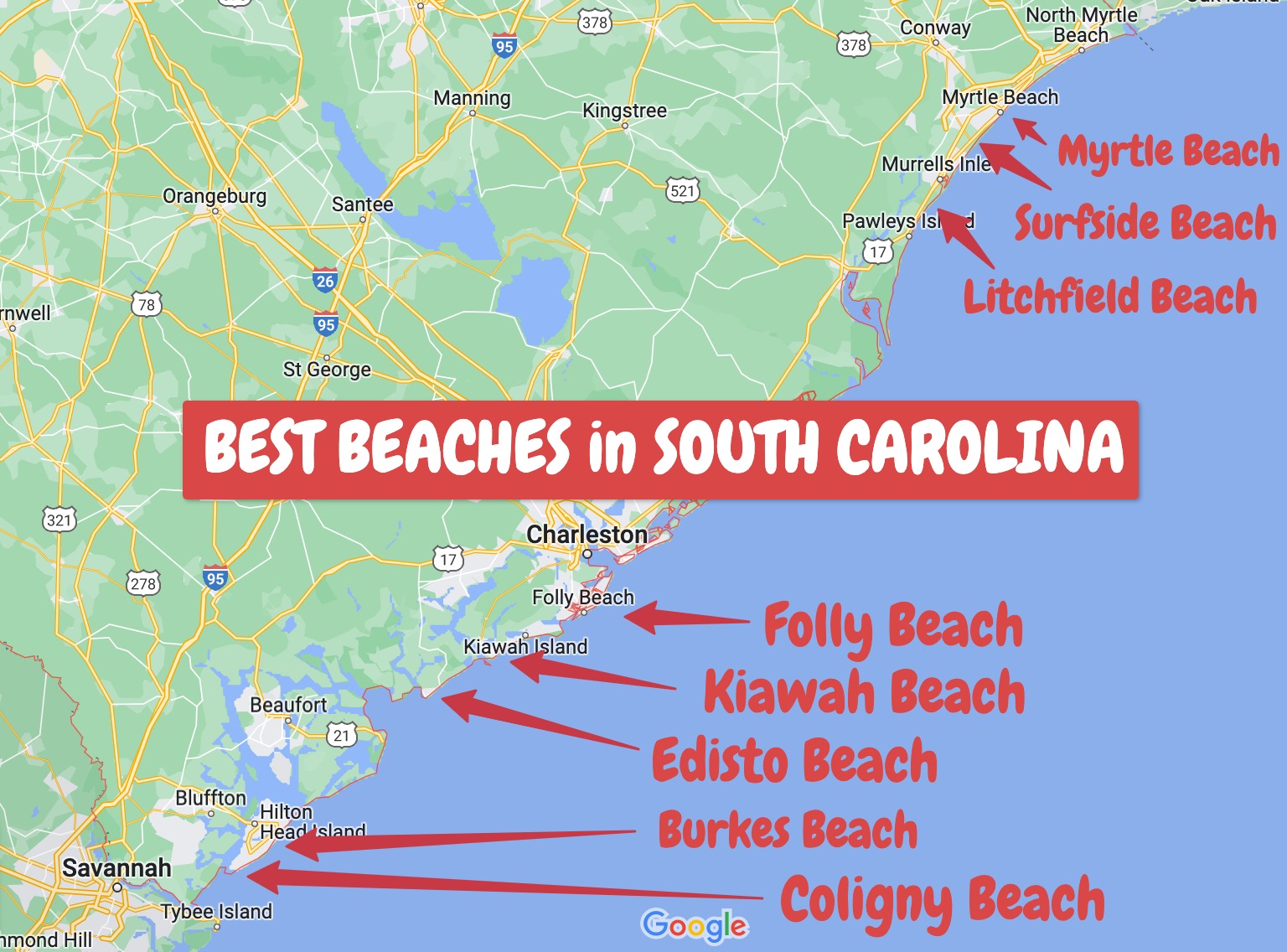 Myrtle Beach
Myrtle Beach offers 60 miles of coastline and plenty of activities for everyone. With its stunning white-sand beaches and a wide variety of tourist attractions and beachfront resorts, Myrtle Beach is perfect for anyone looking for a relaxing beach vacation.
The white-sand beaches and surfing spots are ideal for recreation, while scuba diving and collecting shells are great for all water lovers.
The sandcastles are a must-try for kids and adults alike, and the relaxation that comes with being near the ocean is unbeatable.
There is also a variety of tourist attractions, such as Ripley's Aquarium, Family Kingdom Amusement Park, Pelicans Ballpark, and the Carolina Opry Theater.
Besides, if you desire someplace quiet and less busy, try North Myrtle Beach. It's a perfect place to relax and recharge. With its tranquil beaches and laid-back atmosphere, you can get some peace and room for meditation. And don't forget to enjoy the fantastic views, take a swim, or parasail in the sea.
On the other hand, if you're looking for more excitement, try kayaking or sailing. You may also want to sunbathe and let your body absorb natural vitamin D.
No matter what you choose to do, be sure to have a great time at Myrtle Beach.
Pawleys Island
If you're looking for something low-key, there is Pawleys Island. It's located about 25 miles south of Myrtle Beach and is actually one of the oldest summer resorts on the East Coast.
However, don't expect it to be crowded with tourists. Pawleys Island is rather quiet, it hasn't still been commercialized, and boasts a charming atmosphere of the good old days.
Except for nearly 4 miles of white sand beach and picturesque creeks, visitors can spend their day at Brookgreen Gardens or the 9,000-acre wildlife preserve and botanical sculpture garden. They can also engage in boating, kayaking, and canoeing through the marshes. Surfing is popular there, too – the conditions are good.
What's more, a short drive from the island, there are ten renowned golf courses and a tennis complex.
Folly Beach
Folly beach is the place to be for a fun-filled getaway. This stunning spot offers excellent fishing from the pier, breathtaking ocean views, and plenty of opportunities for romantic selfies.
If you're looking for some aquatic activities, paddleboarding, kayaking, and surfing are great options.
There are also dolphin spotting cruises available if you want to go out on the water and search for these fantastic creatures. You are likely to see other famous marine animals too, such as bonnethead sharks or stingrays.
You will be spoilt for choices at Center Street, from elegant restaurants and bars to shops. What's more, Folly beach is home to several restaurants that have received statewide recognition for their offerings in cuisine and atmosphere.
Once you are done exploring the beach and looking for a little more space for accommodation, plenty of rental homes and villas are available nearby.
Edisto Beach
Edisto Beach is one of the most beautiful beaches in South Carolina. It is located on Edisto Island, part of Colleton County, South Carolina. This beach is famous for offering a family-friendly atmosphere and no crowds.
The Edisto Beach area has a variety of shops and restaurants to choose from and many historical sites to visit. The free public beach offers plenty of room to spread out, and there are biking and hiking trails nearby if you want to explore the surroundings.
There are also many places for family fun, including mini-golf, water parks, and amusement centers for children. Also, Edison Beach features miles of unspoiled shoreline, making it perfect for swimming, kayaking, and fishing. You can also explore Edisto Beach State Park and its many nature trails, or take a relaxing sunset cruise.
And don't forget to check out the dolphins – they're known to put on a show. The 2-mile stretch of seashell sand is also a significant draw.
Visitors can enjoy all that the town offers while staying at one of the many vacation rental homes or campsites in the area. So, whether you're looking to relax on the beach, catch some fish, or explore the great outdoors, Edisto Beach is a perfect choice.
Litchfield Beach
Are you looking for a quiet, uncrowded beach to relax and play? Look no further than to the 20 miles long Litchfield Beach.
Litchfield Beach is a beautiful place to visit, with plenty of activities to keep everyone in the family happy. The natural setting is stunning, and there are plenty of amenities nearby to make your visit enjoyable.
The beach has white sand and turquoise waters perfect for swimming, relaxing, sunbathing, and fishing. Golfers will love the nearby golf courses, while nature lovers will enjoy the Waccamaw Neck Bikeway.
Additionally, this beach has numerous eye-catching cottages, sunbathing, and swimming opportunities. If you're looking for a more active beach experience, kayaking, and jet skiing are also available. And don't forget your fishing gear – Litchfield beach is a great spot to catch some fish.
The only downside is that parking can be tight and is only available to those arriving early.
We should also mention that the water here is shallow and calm, making it ideal for families with small children or people who do not swim well. Thus if you're looking for a breathtaking beach destination to add to your travel bucket list, put Litchfield Beach at the top.
Read: 10 Best camping South Carolina (campsites, RV parks, campgrounds)
Surfside Beach
Surfside Beach is a family-friendly beach located near Myrtle Beach in South Carolina. It is known for its beautiful white sand and clear blue waters, making it the perfect place to enjoy the summertime. The beach stretches 2 miles long and features 36 access points, making it easy to get in the water.
Surfside Beach has something for everyone with its wide beach, ample parking, and nearby restaurants and shops. Visitors to the beach can enjoy spending time in the sun, swimming in the ocean, or just relaxing on the sand.
Surfside Beach has also got many family-friendly attractions that will keep your children busy and entertained during your vacation, including a mini-golf course, a water park with slides and rides, sand for building castles, and an opportunity for flying kites. There are also plenty of opportunities for fishing, crabbing, and exploring nature.
With its world-class fishing pier and rental shops, this beach is a great place to relax and enjoy your time away. The hotels and resorts offer all the amenities you could want, while the vacation rentals give you plenty of space to spread out.
And if you're looking for some nightlife, the bars and restaurants will keep you entertained all night long. Also, there are several campgrounds where you can stay overnight.
Surfside Beach will surely please you no matter if you're looking for a day trip or a more extended vacation destination.
Coligny Beach
If you're looking for a beautiful, sandy beach to relax on while in Hilton Head, Coligny Beach is your place.
Coligny Beach is perfect for sunbathing, swimming, and fishing with crystal-clear water and soft sand. If you need a break from the sun, check out the public gardens or take a swing in one of the many swing seats.
It can get quite crowded during the summer months, but there's plenty of space to move around. A shuttle bus service is available for public use to help you get around, and there are several parking lots close by for personal vehicles. You can also rent bikes and ride along the beach path or just walk around.
Let's not forget that this beautiful beachfront complex offers everything you need for a perfect day at the beach, including food options, souvenir shopping, and beach accessories. If you need to get online, don't worry. Coligny Beach offers free Wi-Fi access.
Coligny Plaza is also home to various clothing stores and a movie theater, so you can enjoy a full day of fun without having to leave the complex.
And if you're looking for live entertainment, you'll find that at Coligny Plaza. Thus whether you're after a day trip or a more extended vacation spot, Coligny Beach is sure to please you as well.
Burkes Beach
This beach is perfect for those searching for a quiet place to relax and enjoy the beautiful scenery. With its stunning views of the water and nearby marshlands, Burkes Beach is the perfect spot to take a stroll or sit back and enjoy the view.
Burkes Beach is also a great option for a day of fun in the sun with your family and pets. This broad sandy beach offers plenty of room to spread out, and the waves are perfect for swimming. There are also cycling trails that run through the area. Chaplin Community Park is just a short walk away, complete with a dog playground.
The only downside is that there are no restrooms, but plenty of outdoor showers are on site.
Fortunately, this expansive, quiet beach offers plenty of stunning views of the Atlantic Ocean. The fantastic sunset views and plenty of room to run, play, and picnic makes the beach a must-go if you intend to explore South Carolina. What's more, you can even play basketball there.
Just park your vehicles at Chaplin Community Park – it's the only place to avoid getting towed. Metered parking is available nearby, and parking is never a hustle in Burkes Beach.
So, if you're looking for a piece of paradise away from the everyday hustle and bustle, be sure to check out the Burkes Beach area.
Kiawah Beach
Kiawah Island is a private island located 10 miles off the coast of South Carolina. The island is surrounded by lush marshes and dunes and is home to maritime forestry and wildlife. Visitors can also enjoy the beach at Beachwalker County Park, free for the public.
Besides, you can easily access lifeguards for swimming, and there are many outdoor showers you can refresh afterward. The scenic waterfront views are splendid to capture memorable photographic moments. There are also several scenic trails for hiking and biking and two championship golf courses.
In addition to swimming and sunbathing, you can also enjoy SUP rentals, kayaking, and fishing here. Be sure to stop by Bohicket Marina Market for some snacks or souvenirs, and remember that littering is prohibited at the beach. Make sure to pack your trash bag to help keep the beach clean.
Additionally, the Kiawah Island Golf Resort offers luxurious accommodations and world-class service.
Moreover, if you are looking for a pet-friendly beach getaway, Kiawah Beach is the perfect choice in South Carolina. Your furry friend will have a blast with miles of coastline to explore and plenty of places to take a break. Don't forget to bring your leash.
Hunting Island State Park, Beaufort
Hunting Island State Park offers not only beach fun, but also provides visitors with many other enjoyable activities to do in this beautiful corner of South Carolina.
The island is the most popular state park in South Carolina. It attracts more than one million visitors annually and is home to a variety of terrestrial and marine wildlife, including loggerhead sea turtles, bald eagles, deer, alligators, raccoons, diamondback rattlesnakes, and hundreds of bird species.
Climbing the park's iconic 130-foot Hunting Island Lighthouse for stunning views is possible (and recommended).
The beach itself is spotless and pristine. It consists of five miles of white sand on one side and 5,000 acres of marsh and forest on the other.
It's also a fantastic spot for those looking for a wonderful camping experience. There are various campgrounds, and most of them are close to the beach.
Sullivan's Island Beach
Sullivan's Island is located at the mouth of Charleston Harbor and borders the Isle of Palms. The island offers an inviting combination of open beaches and water sports, history and folklore, local restaurants and stores, and tranquility.
This largely unspoiled resort-free area is popular with day-trippers for its natural setting.
The beach may not be ideal for families with young children as there are no public facilities, but couples and travelers with teenagers will appreciate the space to spread out on this beautiful beach.
Also, this beach has a wide range of rental options, from jet skis to surfboards.
Despite being one of the smallest populated islands on the South Carolina coast, there is a wonderful sense of community here. The inviting local restaurants, stores, and B&Bs add to that.
Front Beach, Isle of Palms
The Isle of Palms, a charming coastal resort popular with locals and out-of-towners alike, can be reached by taking a beautiful 40-minute drive east from Charleston.
Most visitors head to Front Beach, which has at least 50 public access points and is known for its convenient beach access and good public parking.
In addition to the usual beach activities, sea turtles use the area as a stopover to nest and lay their eggs. Pay attention to the warning signs and avoid the dunes where they nest. Sea kayaking excursions, sunset cruises, fishing, surfing and paddle boarding are all popular pastimes here.
Weather in South Carolina
The average temperatures and weather in South Carolina vary depending on the specific location within the state. Generally, the coastal areas tend to be milder than the inland areas.
Average Winter Temperatures in South Carolina
In the coastal city of Charleston, the average low temperature in December and January is around 42°F (5.6°C), while the average high temperature is around 60°F (15.6°C). In the inland city of Columbia, however, the average low temperature in those same months is around 35°F (1.7°C), while the average high temperature is around 57°F (13.9°C).
Average Spring Temperatures in South Carolina
In the coastal city of Charleston, the average high temperature in March and April is around 68°F (20°C), while the average low temperature is around 48°F (9°C). In the inland city of Columbia, the average high temperature in those same months is around 70°F (21°C), while the average low temperature is around 47°F (8°C).
Why Visit South Carolina?
South Carolina has beautiful beaches of all sorts. You can visit vibing buzzy beach towns or camp on remote islands.
The biggest advantage is the weather! As it's located in the South of the U.S., South Carolina temperatures are stable all year round and fairly warm until October/November. It's not Florida but it's still amazing!
Conclusion
Whether you're looking for a place to relax and sunbathe or want to enjoy some activities in the waves, South Carolina has something for everyone. If you still can't decide which beach to visit, check out the above list of the 8 best beaches in South Carolina.
With so many unique places to choose from, you'll have a great time exploring everything this beautiful state offers. So, pack your bags and put these unique destinations on your travel list. And, most importantly, have fun!