Tranquility meets epic parties on Gili Trawangan. Usually referred to as Gili T, the island is part of Lombak off the coast of Bali, Indonesia. The three Gili islands are among the few remaining beach destinations that are still somewhat preserved. Investors are developing the Gilis at a dizzying pace. But for now, Gili T remains an island paradise for backpackers and nature-lovers.
Pristine coral reefs surround the island and offer incredible opportunities for diving and snorkeling. Only four miles around, Gili Trawangan remains closed to motorized vehicles. You can spend your days biking around the island, practicing yoga right on the beach and snorkeling with sea turtles.
Heading to Bali? Check out: Best Hostels in Canggu
Relax and refuel after all of that activity with fresh seafood, tropical fruit and an ice-cold Bintang at one of the many beach-side restaurants. Then, hit the west coast to watch sunset views of the volcanoes on Bali. When chill-time ends, head to Gili T's legendary party zone on the east side of the island.
At night Gili T lights up with live music, DJs, and major blow-out parties, many of which take place in the island's most celebrated hostels. Let's take a look at some of our favorite hostels, so that you can relax and find your groove on the island of Gili Trawangan.
My Mate's Place
Book on Hostelworld Book on Booking.com from $15 / 3-dorm 4.6/5 Map
Highlights of the Hostel
Free Christmas dinner

Free continental breakfast

Mate's Rates discounts

My Mate's Place Gili App

Cheap Happy Hour drinks
Hostelworld awarded My Mate's Place the 2019 prize for Best Hostel in Indonesia. My Mate's Place even has its own app for direct bookings. The hostel offers special Mate's Rates discounts when you book directly from their website or app. If you reserve seven days directly through the app or website, you can claim a free My Mate's Place t-shirt. Guests also receive discounts on diving expeditions and courses.
The hostel's in-house Jungle Bar boasts the cheapest Happy Hour drink specials on Gili T. The Jungle Bar is a popular pre-party spot for its safe, mixed drinks and frequent beer-pong tournaments.
Mad Monkey
Book on Hostelworld Book on Booking.com from $13 / 3-dorm 4.6/5 Map
Highlights of the Hostel
Beachfront infinity pool

Bike rentals

Possible free stays for travel bloggers

No deposit and no cancellation fees

Daily events
Mad Monkey is one of the most popular hostel chains throughout Asia. Mad Monkey's motto is, "No stress, no worries." Mad Monkey Gili Trawangan offers guests exactly that. The hostel's comfortable dorms and private tepees delightfully combine luxury with rustic island details. Think glamping on steroids.
Mad Monkey's enormous infinity pool looks out over the ocean. Rest with a cold Bintang by the pool or party the night away at the hostel bar. Mad Monkey offers a wide array of daily events, including snorkeling tours, game nights, live music, beer-pong tournaments and much more.
If your plans change, the hostel won't charge you a cancellation fee. No worries, no stress. Plus, travel bloggers and influencers have the chance to pitch for free stays.
Heading to Bali? Check out: Best Hostels in Ubud
Gili Castle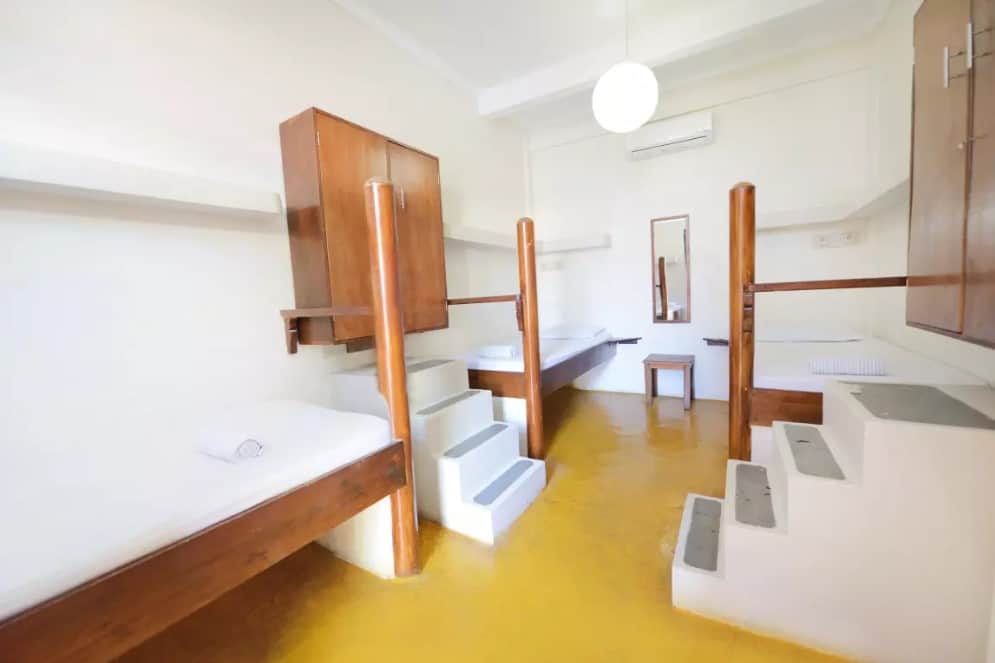 Book on Hostelworld Book on Booking.com from $9 / 3-dorm 4.2/5 Map
Highlights of the Hostel
Pool

Climbing wall

24-hour bar with cheap drinks

Live music

Thirsty Thursdays Pool Party

PADI-certified diving instructors
Gili Castle mixes old-school island charm with a serious party atmosphere. Gili Castle boasts plenty of spacious common areas. If that's not enough, guests get free access to the facilities of the sister hotel, Gili Mansion.
Adventurous travelers can take the plunge from the top of a 6-meter climbing wall into the hostel's enormous pool. You can practice for the big jump from a wooden bridge above the pool. Guests who book expeditions with Gili Divers get discounts on accommodation.
The lively hostel bar hosts rowdy parties featuring specialty cocktails and potent, Joss shots. If you're a hard-core party animal, Gili Castle is the place for you. When you're ready to ring out the toxins, you can book an on-site yoga class.
Gili Mansion
Book on Hostelworld Book on Booking.com from $11 / 3-dorm 4.2/5 Map
Highlights of the Hostel
Pool with 5-meter jumping platform

Aerial yoga

Use of Gili Castle facilities

Beats and BBQ Pool Party
Gili Castle's sister hostel, Gili Mansion, has a slightly more upscale vibe. Guests enter through huge castle doors opening into an opulent pool area. Realistic murals of stunning beach-scapes flank the spacious pool. Tropical plants and custom details give Gili Mansion the feel of an authentic luxury resort.
But don't let all this luxury talk fool you. Gili Mansion hosts killer throw-downs. The bar features daily happy hours and raging nightly events. Every Sunday afternoon, the hostel hosts weekly Beats and BBQ Pool Parties with DJs and drinking games. You can try your hand at the drink discount Wheel of Fortune, but watch out for that free-shot space.
The Exile Bar nearby hosts evening aerial yoga classes for travelers looking for a more mellow experience.
Gili Beach Bum
Book on Hostelworld Book on Booking.com from $9 / 3-dorm 4.1/5 Map
Highlights of the Hostel
Free pancake breakfast

Gili's original hostel

Pool with swim-up bar

Cool artwork
Gili Beach Bum attracts artists and musicians from all over the world. An enormous portrait of Jimi Hendrix greets you as you enter the hostel. All of the dorms and private rooms have been masterfully painted by local artist, Daniel Emet.
Gili Beach Bum proudly claims to be the first hostel on the island. Originally called Gili Hostel, the "budget hotel" changed the name when the local government banned dorm rooms of more than three beds, among other restrictions.
After the changes, Gili Beach Bum became an even more popular hotspot for socializing and partying. In the evenings, the Lava Bar comes alive with locals, ex-pats and tourists from around the world. A Turtle Conservation area lies just 300 meters away, which makes the hostel a perfect location for volunteers.
La Boheme
Book on Hostelworld Book on Booking.com from $25 / 6-dorm 4.4/58 Map
Highlights of the Hostel
Swimming Pool

Vegetarian Restaurant

Free pancakes

Free delivery from Le Petit Restaurant

Tons of common space
Rustic La Boheme retains that funky island vibe. Accommodations range from colorful three-bed dorms to thatch-roofed bungalows. La Boheme offers an abundance of shared spaces, including semi-private loft areas. Comfy bean bag chairs surround the luscious, outdoor pool area, and the garden area is the perfect spot for chatting over a communal barbecue.
The palapa lounging area has an authentic bohemian flair. Brightly-patterned oriental rugs and cushions combine with bean bags and hammocks. It's the perfect spot for digital nomads who may need to squeeze in an afternoon snooze.
La Boheme has earned Trip Advisor's Award of Excellence for getting stellar reviews. Guests love La Boheme for its laid-back, friendly vibe. The hostel even offers free banana pancakes from 7 am to 3 pm, every day.
---
Gili T offers some exciting opportunities for volunteers. Eco Trust Gili Trawangan runs a number of community programs. Every Friday, the organization hosts a beach clean-up party and provides free beers to volunteers. Eco-friendly diving operations contribute funds to local fishermen to prevent coral-damage and overfishing in reef areas. As a result, marine life around the island has made an astonishing comeback. Tourists who go on diving expeditions can help local divers remove illegal fishing nets.
When you're ready for a break from Gili T, any of the hostels will be happy to book day trips to Gili Mele or Gili Air. The two smaller islands are less developed, but you'll still find plenty to do.
Enjoy your trip to Gili Trawangan!