Croatia has grown as a destination for holidaymakers and backpackers over the last few years.
Once you witness its beautiful landscapes, friendly locals, and diverse cities bursting with history and culture, it's easy to see why.
Situated on the Dalmatian Coast, Split is the second-largest city in Croatia with plenty of things to do.
Perfectly located for backpackers interrailing around Europe and hopping from city to city and country to country, the popular city can be reached by land air, or sea.
For this reason, there are many low-cost hostels that cater to the needs of backpackers, offering simple and clean form beds or private rooms for an additional rate.
To guide you through the mind-boggling range of options, we've rounded up some of the best hostels in Split for backpackers, from quiet and quaint to lively and loud.
Quick Split Hostels Overview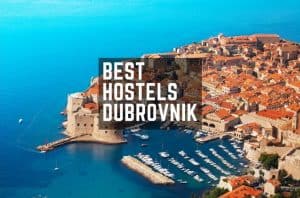 Here we go, Best Split Hostels:
Split Hostel Booze & Snooze – Best Party Hostel in Split
Book on Hostelworld Book on Booking.com from $29 / 11-bed dorm 4/5 Map
**Prices are shown for weekdays in Mid-season (July)
From one end of the spectrum to the other, this lively hostel certainly lives up to its name where the emphasis for guests here is definitely more on boozing than snoozing.
Made up of predominantly young guests who are looking to party their way around Split, with a little bit of sightseeing thrown in for good measure, Split Hostel Booze & Snooze certainly know how to cater to their market by offering a no curfew policy, free organised social events and only a few minutes to a plethora of beaches, bars and clubs.
Ideal for those on a tight budget, there are a number of cheap food markets within walking distance and the average cost per night of this hostel is priced less than USD$ 30.
Tchaikovsky Hostel (T-Hostel)
Best reviewed Split hostel!
Book on Hostelworld Book on Booking.com from $31 / 6-bed dorm 4.5/5 Map
**Prices are shown for weekdays in Mid-season (August)
Set in the downtown Split, this cozy boutique hostel is the perfect option for those who would like to stay close both to the historical center and the beaches. The UNESCO World Heritage area is just a few steps away, while the beach is about a 15-minute walk distance.
The hostel itself features 4 and 6-bed dorms, where every bed is equipped with its own night light, shelf, and electric socket. There is also a common area where visitors can enjoy a cup of complimentary tea, and there is a free storage room.
Even though this hostel is rather quiet, it will please party-goers, too. The nightlife scene of the town is at Tchaikovsky's doorstep. Also, there is no curfew, so you can come back from your outings whenever you want to.
En Route Hostel
Book on Hostelworld Book on Booking.com from $39 / 18-bed dorm 4.6/5 Map
**Prices are shown for weekdays in Mid-season (August)
En Route Hostel opened up its doors to travelers in 2016. Very soon, it became one of the best-rated hostels in the whole of Split.
It's located just about 5 minutes from the city center and the popular Bačvice Beach. The port of Split is about 10 minutes away, in case that you want to visit some of the nearby islands. There are also a couple of restaurants, pubs, and bars around if you get hungry.
The hostels itself boasts modern rooms and facilities. Each room has a privacy curtain, a power outlet, and a reading light. There is also free Wi-Fi, air conditioning, lockers, and an area with a table and chairs to hang out. On the other hand, the communal space is equipped with couches, a TV, vending machines, and refrigerators.
If you wish to explore Split a bit more, the En Route Hostel can help you arrange kayaking or bike tours, rock climbing, and other memorable experiences.
CroParadise Green Hostel
Book on Hostelworld Book on Booking.com from $41 / 4-bed dorm 4.1/5 Map
**Prices are shown for weekdays in Mid-season (August)
Set just minutes from the Old Town of Split, CroParadise Green Hostel belongs to the most popular hostels in the area.
It provides various lodging facilities, including dorms, studios, and apartments, all of which are equipped with a TV, A/C, free Wi-Fi, and an iMac. A fantastic common terrace and cozy balconies are spread around the property. Guests can also make use of the communal kitchen and enjoy free tea and coffee all day.
For your entertainment, pub crawls are organized on a daily basis in summer. If you wish, the staff will also help you find guided tours and other fun activities.
No matter what type of traveler you are, CroParadise Green is ready to meet your needs. However, it's a great choice for groups of friends and couples looking to stay near the center.
Split Guesthouse & Hostel – Ideal for Solo Travelers
Book on Hostelworld from $23 / 3-bed dorm 4.8/5 Map
**Prices are shown for weekdays in Mid-season (July)
Voted one of the top-rated hostels for 6 years in a row, Split Guesthouse is perfect for social solo travelers who want to meet other backpackers in a welcoming and friendly environment whilst exploring the city of Split.
With a certificate of excellence from TripAdvisor and 86% "excellent" and 12% "very good" traveler reviews from previous guests, this family-run hostel will make you feel at home, with home-cooked meals and endless amounts of free tea and coffee.
The owner also gives guidance on where to go and may even escort you himself to cool, underground gems in Split that are off the common traveler's route.
The hostel also hosts regular, informal nights, such as pub crawls, karaoke, and dinner nights so if you're traveling alone, you'll soon have a new set of friends with which to explore the city.
Grand Hostel LerO
Book on Hostelworld from $48 / private room 4.8/5 Map
**Prices are shown for weekdays in Mid-season (July)
Whether you're traveling solo, as a couple or part of a small group, the Grand Hostel LerO achieves a homely feel whilst having all the modern facilities, such as wifi and air conditioning, that a hostel needs.
Run by brothers from the local area, they are very welcoming and able to give you recommendations and insider info on hidden gems and things to do in Split.
Just a seven-minute walk from the town center and a stone's throw from the coast, this hostel offers the ideal base for backpackers visiting Split.
Backpackers Fairytale – Best View
Book on Hostelworld Book on Booking.com from $29 / 4-bed dorm 4.5/5 Map
**Prices are shown for weekdays in Mid-season (July)
Backpackers Fairytale offers travelers cozy accommodations that make their stay in Split comfortable.
Free WiFi throughout the hostel makes it easy for you to stay in touch with friends and coworkers around the globe.
The hostel offers amazing natural light and views of the city's central square. The hostel's balconies are the perfect place to sit down with a nice cup of coffee or go out for a quick smoke.
Their mixed dorms have large comfortable beds that come with clean bedding to keep you comfortable.
Guests rave about the hostel's central location and about the views. Their staff of experienced staffers are able to answer guests' questions.
The vibe of the place is truly special according to a guest who also commented on the cleanliness at the Backpackers Fairytale.
The hostel is located in a nice quiet corner of the city that helps you get a good night's sleep.
Hostel 101 Dalmatians
Book on Hostelworld from $22 / 6-bed dorm 4.4/5 Map
**Prices are shown for weekdays in Mid-season (July)
If you have a little more cash to splash, 101 Dalmatian is a fun, comfortable, and friendly place to stay.
With glowing reviews from guests on TripAdvisor, the hostel offers great hotel amenities, such as free, high-speed wifi, free parking, air conditioning, a dry cleaning and laundry service, as well as a bar/lounge and restaurant on site.
A little further out than some of the other hostels on the list, the 101 Dalmatians is located a 10-minute bus ride or 20-minute walk to Split old town.
The bus station is conveniently located just 50 meters from the hostel and also offers a direct line to Split Airport.
Although a hostel with mainly dorm-style rooms, private rooms can be arranged for groups or families. If you're a solo traveler, this hostel has a great common room with a games console, Netflix, and other entertainment where you can get to know others and make friends.
Fun fact: The hostel is named due to having exactly 101 beds, each of which is named after an island, with interesting facts about each island, such as population, latitude, and longitude, on each bed wall.
Beach Hostel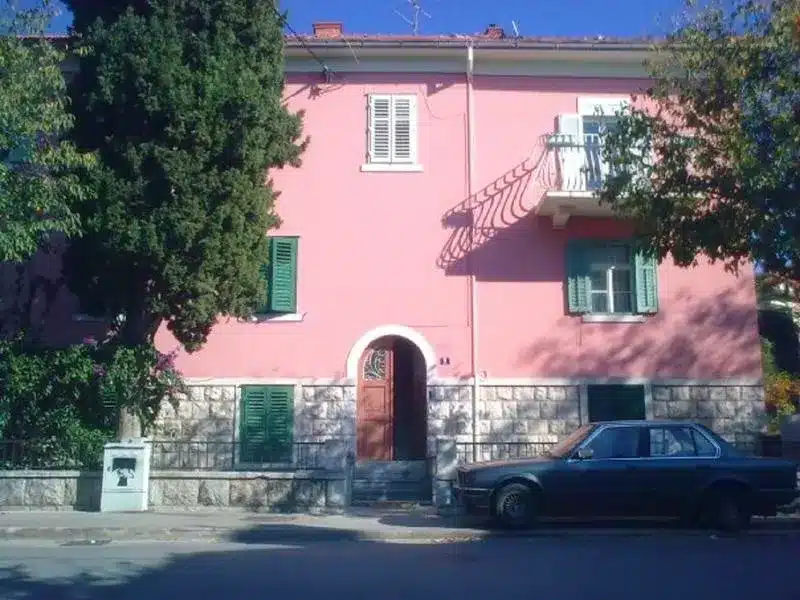 Book on Hostelworld from $60 / 8-bed dorm 4.4/5 Map
**Prices are shown for weekdays in Mid-season (July)
As you can already tell from its name, Beach Hostel is a perfect choice for those who come to Split for the sunny beaches. It's set just steps from the popular Bačvice Beach and Firule Beach. At the same time, you can reach the city center in about 15 minutes.
It offers both private rooms and dorms with colorful decor, a common room with books and board games, and a fully equipped kitchenette where you can get free tea and coffee all day. There is also a nice terrace to chill and meet other guests.
Note that Beach Hostel is not a party place – drinking isn't allowed there after 10 pm due to city noise restriction laws. However, Bačvice is a fantastic option for a crazy night out – it boasts plenty of restaurants, cafés, bars, and clubs, which are open till late morning hours.
Al's Place
Book on Hostelworld from $32 / 6-bed dorm 4.3/5 Map
**Prices are shown for weekdays in Mid-season (July)
If you're looking to stay somewhere where you can meet other backpackers without being a party hostel, then Al's Place boasts an intimate, relaxed vibe with a pleasant, sociable common area that is sociable without being overbearing.
With only 14 beds, this intimate yet friendly hostel is open from Easter to October and is the perfect base for solo travelers who want to make the most of being in a central location.
Located in the heart of the old town, this hostel is just a 2-minute walk from the seafront and under 10 minutes from all of the main ferry terminals, bus, and train stations.
The English and German-speaking staff can all point you in the right direction of things to do, after all, they themselves have traveled through five continents and as backpackers, will know precisely what you are looking for.
So, whether you are a backpacker who is simply looking for a comfortable place to rest your head in between a few days of sightseeing before heading off to your next destination or a solo traveler looking to make the most of your time in Split by forging friendships with fellow travelers and testing out the nightlife in Split, there is an abundance of affordable hostels on offer to cater to your preferences.
Now that you know all of the best hostels in Split, you can plan your next backpacking adventure to the coast of this breathtaking country and enjoy the sights and soak up the culture and atmosphere that the truly wonderful city of Split has to offer.
Downtown Split
Book on Hostelworld Book on Booking.com from $36 / 8-bed dorm 4.2/5 Map
**Prices are shown for weekdays in Mid-season (July)
If you're looking to immerse yourself in Croatian culture, then the Downtown Hostel is a perfect choice.
Located within the old city walls in the heart of the old town's Diocletian Palace and just meters from the sea, this hostel is a popular choice for backpackers looking to experience the more authentic side of Split.
Although a fantastic spot for discovering the historic landmarks of Split, it is important to note that due to its prime location right in the center of the hustle and bustle of the old town, this may not be the right choice for you if you are looking for a quieter stay.
Old Town Hostel – Best Location
Book on Hostelworld Book on Booking.com from $32 / 8-bed dorm 3.9/5 Map
**Prices are shown for weekdays in Mid-season (July)
Similar to the Downtown hostel, the Old Town Hostel sits within the walls of Diocletian's Palace, a 1400-year-old Roman imperial structure, and a Unesco Heritage site.
Find all of Split's major tourist destinations right on your doorstep, from lively bars, quaint restaurants, cozy cafes, and shops.
If you are looking for a more lively hotel right in the heart of the city, this hostel welcomes "party people and heavy boozers", so much so, that they kindly advise that it may not be suitable for children under the age of 17, adults over 50 and families during peak summer months.
Old Town Hostel also offers free cancellation if booked more than 7 days in advance, perfect for backpackers who may decide to change course or stay somewhere else for a little longer.
FAQs about hostels in Split:
What's the best hostel for solo travelers in Split?
Split Guesthouse and Hostel is an ideal choice for solo travelers. It boasts a home-like atmosphere, helpful staff, as well as a plethora of social events. From family dinners to karaoke nights and pub crawls, you're likely to make friends at this hostel real quick.
What's the best party hostel in Split?
As you can guess from its name, Split Hostel Booze & Snooze is considered one of the best party hostels in town. Situated just minutes from the beaches, bars, and clubs, you can enjoy the rich local nightlife scene. The hostel also organizes plenty of free social events, and there is no curfew policy.
How much is a hostel in Split?
Split is a very tourist place. Therefore, hostels there are usually between USD$ 20 and USD$ 30. If you prefer a private room in a hostel, rates are usually from USD$ 40 to USD$ 80 per night.
Are hostels in Split safe?
Split is generally a safe place, and so are its hostels and other facilities. However, we recommend you take the usual safety precautions, such as keeping your valuables in a locker, not walking alone at night, or avoiding deserted areas.
---
Author bio: Isobelle Miller is a student and freelance writer. It was during her first year of studying that she discovered a love for writing which sparked her desire to explore the world of freelance. Following a gap year traveling around Europe, Isobelle began growing her impressive portfolio whilst working on behalf of the Immigration Advice Service and writing numerous articles for a range of sectors, including travel, business, digital, finance, and fashion.