Some people seem to believe that the holidays are over at the end of August, but there is always a good time to travel in the U.S. as it has all four seasons and places that never get too cold.
Traveling Lifestyle has compiled a list of vacation ideas and places for Americans and foreigners that should have on their bucket list in 2022.
Fort Lauderdale, Florida
Famous for its beaches, nightlife and world-class events, Fort Lauderdale is one of America's favorite Spring Break destinations.
Visit the historic district of this "Venice of America," shop on Las Olas Boulevard, or enjoy a gondola ride among the canals.
A ride on Fort Lauderdale's water taxi gives you a front-row seat to the mansions and yachts that line on the "Millionaires Row."
In spring the weather is hot enough for tanning on its pristine white sandy beaches or swimming in its crystal clear waters.
You can also engage in water activities such as snorkeling, scuba diving, or take a yacht ride across the Gulf to explore the wildlife-rich national parks.
Hunting Island State Park, South Carolina
The park draws more than a million people each year with its pristine beaches, marine forests, historic lighthouse and special nature center. The state's only lighthouse open to the public is also located there.
The island has a saltwater lagoon, an ocean cove, and a fishing pier. Many visitors camp here to enjoy the beautiful oceanfront location.
It is a fantastic time to travel to the island and swim in the attractive lagoon, as the sea is still warm even in January.
The nearest major airport is in Charleston, about 70 miles away. However, there are also some very small local airports open to light aircraft in the area, as well as limited public transportation services.
American Samoa, U.S. Pacific Ocean territory
American Samoa is a collection of seven beautiful islands located in the heart of Polynesia, halfway between Hawaii and New Zealand.
When tired of the crowds take a 4-hour direct flight to American Samoa. You can also reach it from Independent Samoa, which is just a 35-minute-flight away.
A particular cultural feature of the entire archipelago is the peaceful coexistence of modern American lifestyle and Samoan traditions when it comes to the language, clothing, food, and ways.
The tourism industry is small by most standards. All hotels and accommodations are locally owned, which makes visiting American Samoa a unique place to experience an international culture – inside – the United States.
Palm Springs, California
If you are looking for outdoor activities, Palm Springs offers two internationally recognized dark sky parks and breathtaking desert hikes (Joshua Tree National Park and Borrego Springs).
Nearby, more than 110 golf courses are available, or you can swing a racket on hundreds of tennis courts and emulate your favorite stars.
In addition, Palm Springs is home to renowned spas, handcrafted cocktails and world-class dining establishments.
Take in the sights as you spend a half-day soaring from the desert floor into the untamed wilderness of Mt. San Jacinto State Park.
in between adventures? Of course, relax by the pool and enjoy the breathtaking desert scenery.
Hilton Head, South Carolina
Nestled between Savannah, Georgia, and Charleston, South Carolina, this 12-mile barrier island offers a less crowded atmosphere than these two more popular destinations.
Hilton Head, popularly known as "The Golf Island," has a long list of recognized golf fans. Golf Digest readers even ranked it No. 10 on their list of the best golf courses in the world, and Travel Pulse named it the best island in America.
In spring, the island with its beautiful beaches and small-town atmosphere is also an ideal place for a family vacation.
The coastline is picture-perfect, and there are family-friendly museums, boutiques in Harbor Town, and local restaurants serving delicious Southern dishes.
Palm Desert, California
Palm Desert is the ideal winter retreat, with its natural hot springs, luxury hotels, country clubs, gourmet restaurants, golf courses, and sunny weather.
The city boasts over 360 days of sunlight each year, with temperatures hovering around 80F in January.
Its neither too hot nor too cold weather makes the city suitable for all kinds of relaxing activities from hikes and treks to sunbathing and golf. Easily one of the nicest spots to visit in the United States in January or February.
Just keep in mind that this year's Palm Springs International Film Festival has been canceled "to ensure the safety of our patrons, filmmakers, and staff."
Puerto Rico – Perfect All-Year-Around Destination
Puerto Rico, in the heart of the Caribbean, is an ever-warm and inviting destination. With its tropical climate, the island enjoys balmy temperatures year-round, making it a haven for sun-seekers no matter the season. Whether you're looking to relax on its palm-fringed beaches, explore its lush rainforests, or savor its rich culinary delights, Puerto Rico offers endless opportunities for adventure and relaxation under the perpetual warmth of the Caribbean sun.
Gulfport, Mississippi
The state's second-biggest city offers world-class beaches and unforgettable wildlife encounters; in fact, one of the biggest populations of dolphins in the U.S. can be found off Mississippi's shores!
Gulfport boasts beaches that span 62 miles (100 kilometers) along the coast. Casinos that offer entertainment services 24/7, exquisite seafood and of course, the well-known southern hospitality.
Every day may be a new adventure in a city with over 30 parks and water recreation areas. The Gulf Islands Water Park offers rides and pools for the entire family.
Located in the Gulf of Mexico, it enjoys a warm subtropical climate, with hot and humid summers and short, warm winters.
While temperatures do drop, it rarely gets below freezing. With an average high of 90℉ during the summer and a low of 40℉ in winter layers, scarves, and gloves may be needed.
Southern California, L.A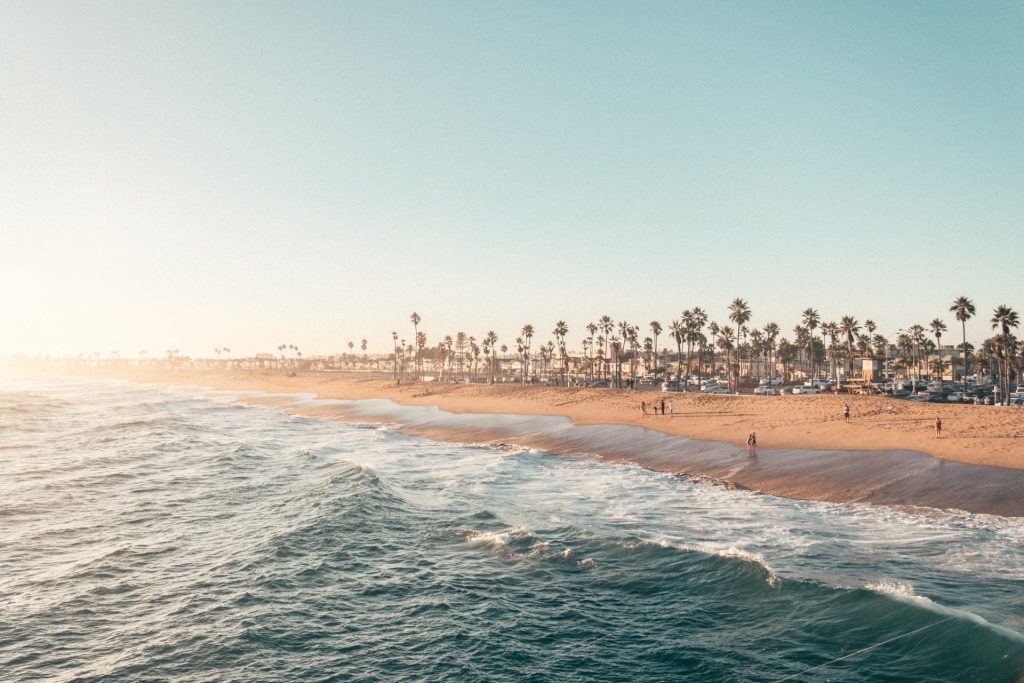 Southern California is one of the best destinations to be during the winter months. With daytime temperatures in the upper 70s, winter will be the last of your worries.
Even though is not really cold outside, multiple cities in Southern California dress up for the Holidays and put on a real show in December. Here are some cool things in Los Angeles and around.
Surfing and snowboarding on the same day in L.A.
How many cities do you know where you can go snowboarding in the morning and surfing in the afternoon? Not many, right? Los Angeles is one of the blessed ones!
Take an easy 55-minute drive (46.9 mi) via CA-60 E to Mount Baldy, the closest ski resort from Downtown L.A. Then head up to Malibu, a straight 42-minute drive (32.8 mi) on I-10 W and CA-1 N for a pleasant afternoon at the beach.
The Hollywood Christmas Parade
With lots of marching bands and a large number of famous characters, the Hollywood Christmas Parade is of the events you must experience in L.A.
Ice Skating at the L.A. Kings Holiday Ice Rink
One of the most fun things to do in Los Angeles in December is ice skating. Kids and adults alike can ice skate in the pop-up rink, operating is open between November 30 to January 12, including Christmas Eve and New Year's Day as well.
Ice skating is one of the most enjoyable activities in Los Angeles these months. The pop-up rink, which is available from Nov. 30 to Jan. 12, is open every day to both children and adults.
Mustang Island State Park, Texas
Majestic Mustangs used to run free across the Mustang State Park until the last of these magnificent creatures vanished in the 1800s. The state park is still awesome and still keeps their name.
Overall, this is a fantastic destination to visit for a short stay. Here are some of the things you can do at the park – Autumn time or early Spring is the time to go to Mustang Island. Otherwise, it is hot!
Savannah, Georgia
Savannah, GA is an enchanting city overflowed with amazing architecture and history. Proud of its Georgia heritage, the city is not afraid to tell you about its accomplishments and failures.
The historic district is a must see for any visitor to Savannah. The historic homes and cobblestone streets are unique in the State.
Forget about the zillion tour trolleys and take a walk to the house around Forsyth Park and up towards 37th. Then go from Forsyth to the River to see hundreds of historic sites, including the Mercer-Williams house where much of the movie Midnight in the Garden of Good and Evil was filmed.
While Savannah is mostly known for its history, there is also the touristy side. Walking tours, trolley tours, paddle boats, The Pirate's House restaurant and tons of restaurants, bars and antique shops are there to relieve you of your money, but you will never regret it!
Savannah is not to be missed and as a fact, Savannah is one of the warmest places in the U.S., therefore is a great place to visit in the U.S. in december!
Tybee Island, Georgia
Tybee is a barrier island located just 30 minutes from the small city near Savannah. The best getaway for those who need an escape from routine while enjoying the ocean breeze.
The island is home to very well-maintained beautiful beaches and offers delicious local food and lots of shops. Even when lots of people are visiting, the beach does not feel too crowded.
One of the aspects we love about Tybee is that it is pretty dog-friendly. You can bring your furry friend into bars and even almost all restaurants. However, the beach is out of limits for our little friends.
But there's a lovely reason behind it. The beach is also home to a number of interesting rare birds and lots of sea turtles that wouldn't want to be chased by our doggos.

Tybee Island also has a good number of bars offering patio seating. But if you are looking to have a romantic date the Deck Beachbar & Kitchen will serve you directly on the sand on Tybee's Mid Beach.
Hawaii Islands
Hawaii, a paradise in the Pacific Ocean, is an enchanting archipelago that consists of eight main islands. Renowned for its natural beauty, Hawaii offers diverse landscapes, from lush rainforests to volcanic craters and pristine beaches with crystal-clear waters. Each island has its unique charm and attractions, making it a haven for outdoor enthusiasts, beach lovers, and culture seekers alike.
Oahu: Known as the "Gathering Place," Oahu is home to Honolulu and Waikiki Beach, offering a mix of vibrant city life and beautiful beaches.
Maui: Often called the "Valley Isle," Maui boasts stunning landscapes, including Haleakalā National Park and the scenic Hana Highway.
Hawaii (Big Island): The largest of the Hawaiian Islands, it's famous for its active volcanoes, like Kīlauea, and diverse climate zones.
Kauai: Known as the "Garden Isle," Kauai is celebrated for its lush landscapes, dramatic cliffs, and Waimea Canyon, often called the "Grand Canyon of the Pacific."
Molokai: Often considered the most authentic Hawaiian island, Molokai is known for its unspoiled beauty and the historic Kalaupapa National Historical Park.
Lanai: Also known as the "Pineapple Isle," Lanai offers luxurious resorts and rugged landscapes, including the otherworldly Keahiakawelo, or Garden of the Gods.
Niihau: Often referred to as the "Forbidden Isle," Niihau is privately owned and typically inaccessible to tourists, preserving its unique culture and traditions.
Kahoolawe: Once used for military training, Kahoolawe is currently being restored and is not yet a major tourist destination.
Austin, Texas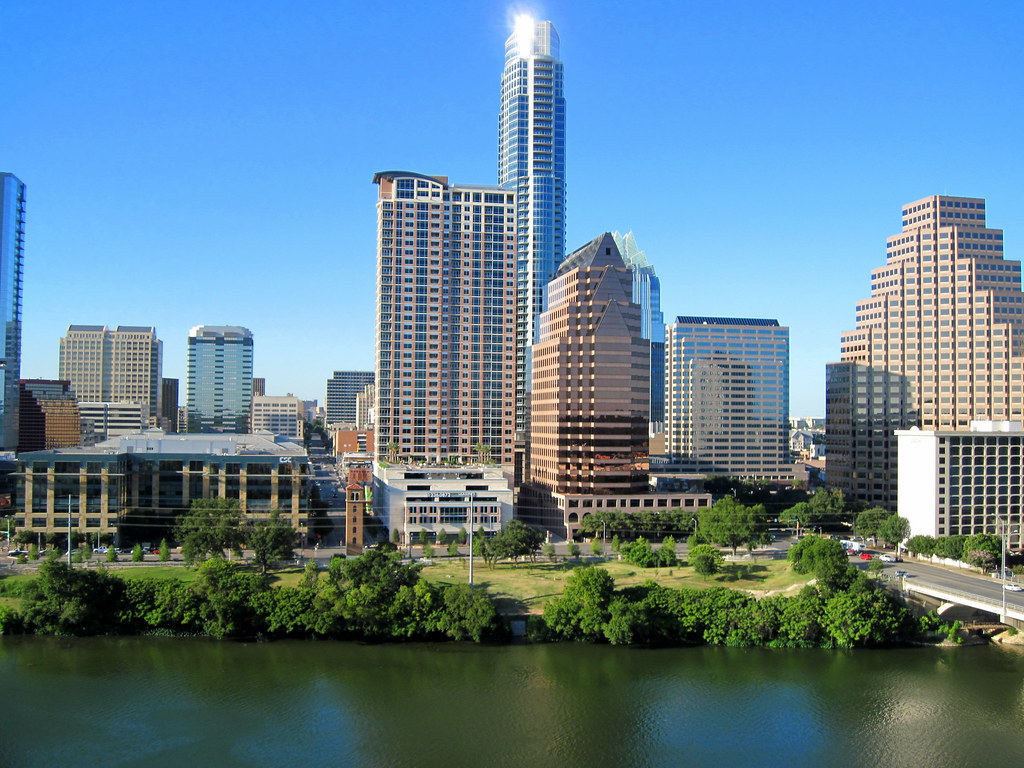 Austin, Texas, shines as a warm and inviting fall destination. As the summer heat subsides, Austin's pleasant weather invites travelers to explore its vibrant music scene, outdoor activities, and cultural events. Take a stroll along Lady Bird Lake, enjoy live music in the city's numerous venues, or savor the flavors of local cuisine at food trucks and restaurants. With temperatures in the 70s and 80s (Fahrenheit), autumn in Austin offers an ideal blend of outdoor enjoyment and cultural experiences.
South Padre Island, Texas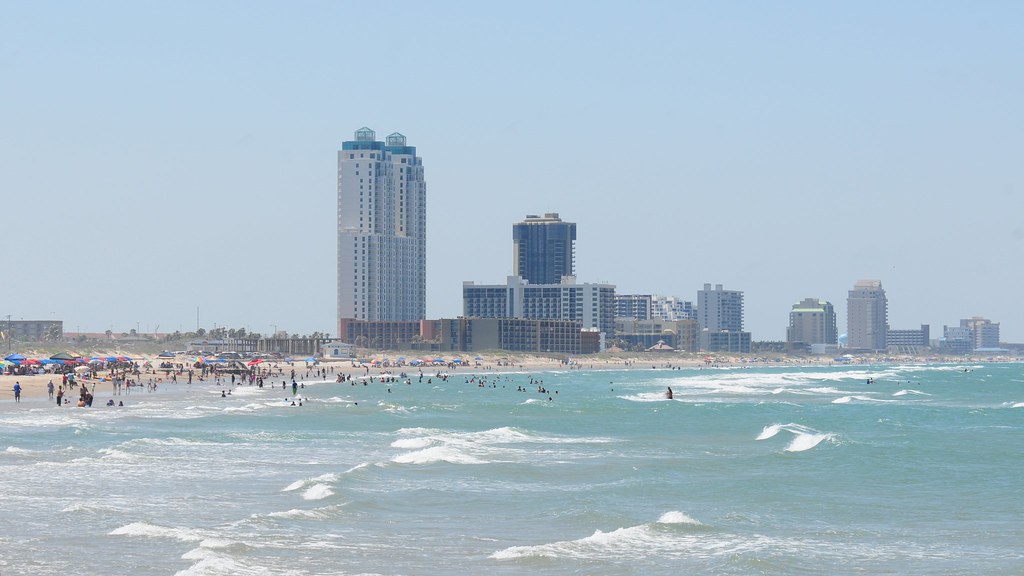 Looking to spend your holidays enjoying beaches with warm tropical-like weather without even leaving the U.S? If so, South Padre Island may be your place.
South Padre Island is a resort town off the southern coast of Texas located on a barrier island of the same name. Beaches are clean and they go on for miles. Although there are no private beaches on this place, the island has plenty of resort hotels along the south section of the beach.
One of our favorite features is its many public access points all along the road. It has multiple camping areas and also hosts one of the best RV parks in Texas.
This is by far, one the longest, cleanest, and full of friendly people you can find around the area.
New Orleans, Louisiana
Why travel to New Orleans – Its mix of French and Spanish architecture, multilingual heritage and live-music scene, and delicious cuisine are reasons enough to come visit at least once a year.
San Diego, California
Recommended to visit in December!
Located in the sunshine state of California it benefits from appealing all-year round perfect weather. The city boasts a laid-back, welcoming atmosphere and has plenty to offer everyone, whether you enjoy outdoor activities, cultural events, or having a good time.
Why people love San Diego
Weather – San Diego is one of the warmest places in the United States, therefore is perfect Autumn and Winter destination.
Beaches — San Diego boasts a stunning 70-mile coastline and beaches. When in town, you can't miss the glittering sands of Coronado or La Jolla beaches.
Activities for kiddos – popular family activities such as Balboa Park, San Diego Zoo, and SeaWorld make San Diego a terrific place to relax and enjoy time with family.
Wildlife – Pacific Harbor Seals and California Sea Lions can be spotted all over the San Diego coast, particularly at La Jolla.
Mexican food — San Diego is only 17 miles from the Mexican border, this means you'll find all types of Mexican dishes all over the place.
Don't think twice. This city has countless fascinating locations to explore, as well as some hidden gems worth discovering.
Panama City Beach, Florida
Situated in northwest Florida, about 47 miles east of Destin and around 100 miles southwest of Tallahassee, Panama City Beach is considered one of the best beach getaways all year round.
This waterfront town is an outdoor playground full of activities and adventure for all types of travelers.
Its 27 miles of beaches are not only perfect for families but also for couples in search of an affordable escape with a seemingly endless amount of activities to fill any trip.
After playing with bottlenose dolphins during the morning surfing, you can pay a visit to one of the two state parks in the area, go biking or take a sunset kayaking trip.
And when feeling even more adventurous, take a short boat ride and check out the dozen wrecks and artificial reefs waiting for you.
Gulf State Park, Alabama
Gulf State Park is just a hidden gem of the Alabama Gulf Coast.
With more than 2 miles of beaches and almost thirty miles of paved biking and hiking trails through a variety of different ecosystems, visitors can spot alligators, armadillos, osprey, bald eagles, butterflies and blue herons all inside of one of the most diverse state parks in the area.
Its Gulf State Park campground is located just 1.5 miles from the white sand beaches of Alabama's coast. Visitors must be aware of the new parking rules. From April 23, all beach accesses managed by the Gulf State Park have been implementing paid parking.
Florida Keys, Florida
Your summer vacation in the Florida Keys can be as action-oriented or as laid back as you want to make it.
Adventure folks can test their skills on a fishing charter. Local restaurants will cook your catch for you, adding a starch and vegetable to make a wonderful "catch-of-the-day" meal.
Fishermen at heart can instead enjoy a party-boat, which makes for a great time of fishing.
Famous for their white sandy and coral beaches, calm waters and friendly locals, the stunning Key Largo, Islamorada, Marathon, Big Pine Key and the internationally famous Key West are waiting for you to cross them off your bucket list.
Orlando, Walt Disney World, Florida
You can never go wrong with the city of dreams. Orlando is not only home to Disney's Magic Kingdom, Disney's Animal Kingdom and Universal Studios' The Wizarding World of Harry Potter but also to lots of live music events, international restaurants and trendy bars.