Traveling itself brings & requires a lot of motivation and inspiration. In order to spread good TRAVEL SPIRIT, we started creating and sharing our own and other inspiring travel quotes.
**Feb. 2017 UPDATE:
Check out few NEW drafts in the end of the article.
Wanna publish your quote? CONTACT US
Are you looking for some real inspiration? Check our digital nomad events list of the coolest travel meetups happening this year! 🙂
Great Memories Happen When You Don't Know Where You're Going
One of my favorite photos from bike trip in Arugam Bay (Sri Lanka). I took couple of random trips with my friends Maris and Marita from Latvia & Vincent from Germany.
Travel with Less Plans and More Freedom!
Santa Monica Beach & Gorgeous Sunset, California 2015
I believe in one religion, I believe in Traveling!
Photo taken during amazing boat trip in Halong Bay, Vietnam (June 2015). Definitely one of the places you have to visit while traveling in Vietnam.
TO TRAVEL IS TO INSPIRE AND TO BE INSPIRED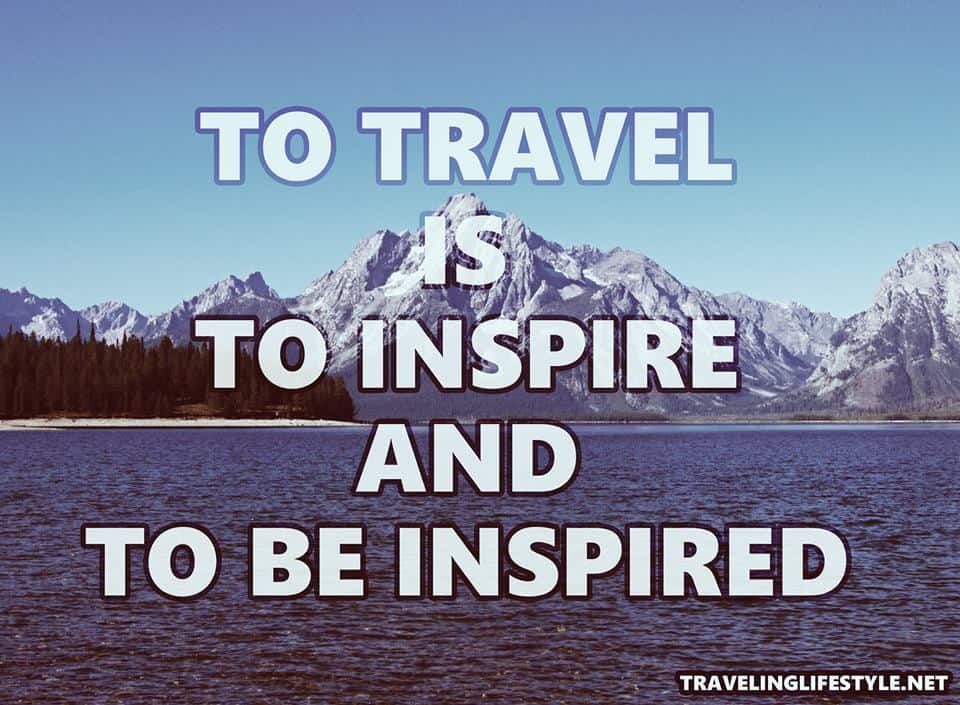 Grand Teton National Park, Wyoming, Summer 2015 – Beautiful shot of mountains and the lake where we camped / hiked during USA road tip.
If you would like to experience traveling in USA, you might be interested in our USA road trip budget article.
Your Life. Your Ride.
This amazing photo was taken in Las Penitas, Nicaragua in Bigfoot hostel! Amazing place right on the beach. We stayed there for almost a week and chilled out quite well.
Favorite "famous" travel quote by Huran Yahya
This is my favorite quote which is one of the most popular around the internet and among travelers / backpackers.
Free your mind, surf when sun goes down!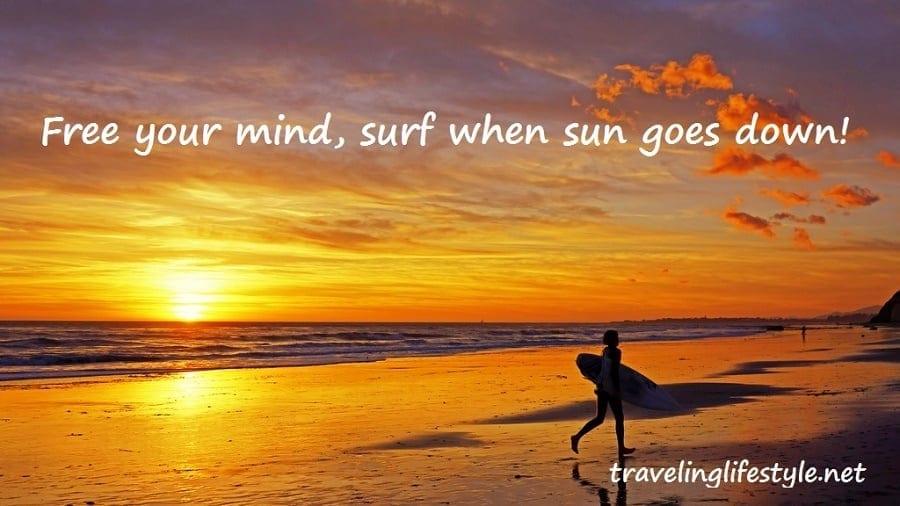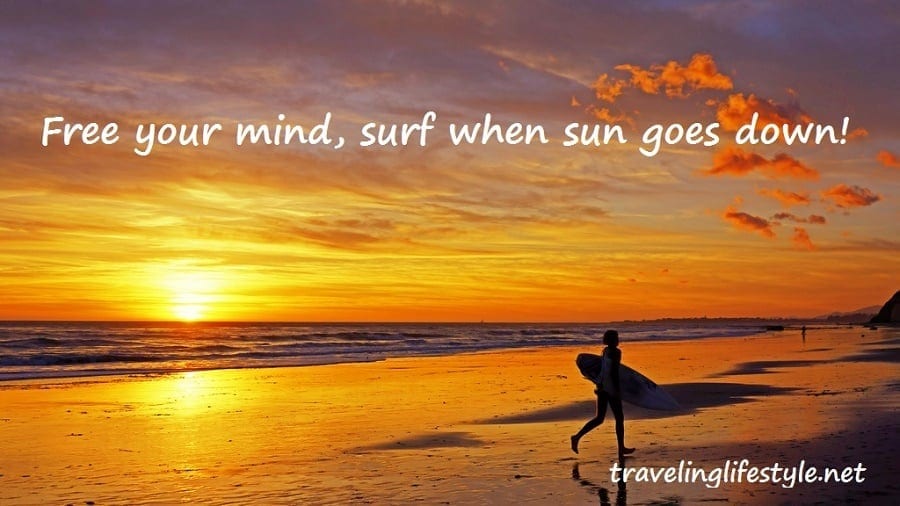 Quote is created by Traveling Lifestyle, photo was taken by Damian Gadan in Santa Barbara in California.
WITH THE RIGHT MINDSET AND SPIRIT ONLY SKY IS THE LIMIT 
Photo was taken while traveling in Vietnam! We did motorbike trip from Hue to Hoi an and stopped for this amazing view above city called Da Nang.
Backpacker … human version of snail @)
Funny definition of backpacker! Just random creativity flow… not really a travel quote but maybe inspiration haha 🙂
The Most Beautiful Country is the One I've Never Been To.
Photo taken during the trip in Sri Lanka.
Be Grateful for Every Day Spent in a Different Country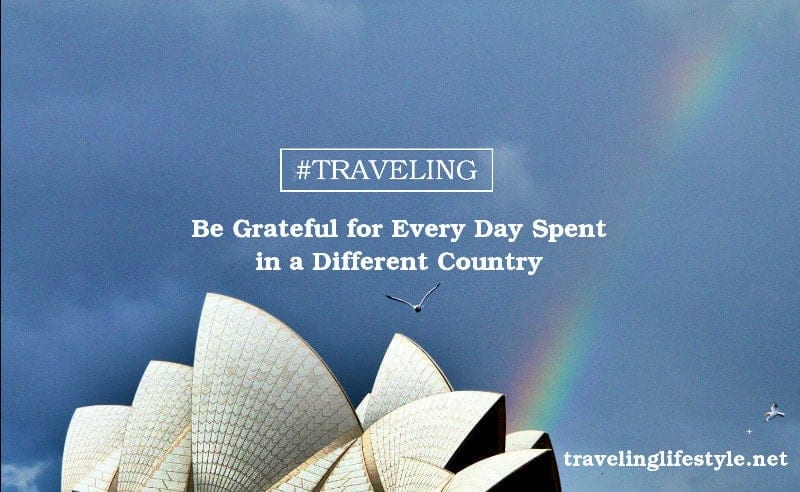 Opera House, Sydney 2014 (after the rain 🙂 – Sydney is one of the best cities in the world. It offers everything you can possibly need and quality of lifestyle is very high. The only disadvantage is cost of living!
EAT. SLEEP. RELAX. TRAVEL.
Photo taken in Grand Canyon National Park in Arizona during our USA Road Trip in September 2015.
Drive it like you stole it! – travel quote / advice
This quote is a bit different.. I've done lots of trips in Asia and in places like Vietnam, Indonesia, Thailand you really need to drive a scooter / motorbike. You might find it very hard for the first time but you will get use to it very fast and you will love traveling in Asia. From my personal experience sometimes is better to drive faster and pass other drivers "have it under control" than be passed by other "sometimes crazy" drivers, which pass you can hurt you. But I would say.. this is more for experienced people to try! Be careful out there 🙂
Don't be afraid to follow your dreams, because that's your path!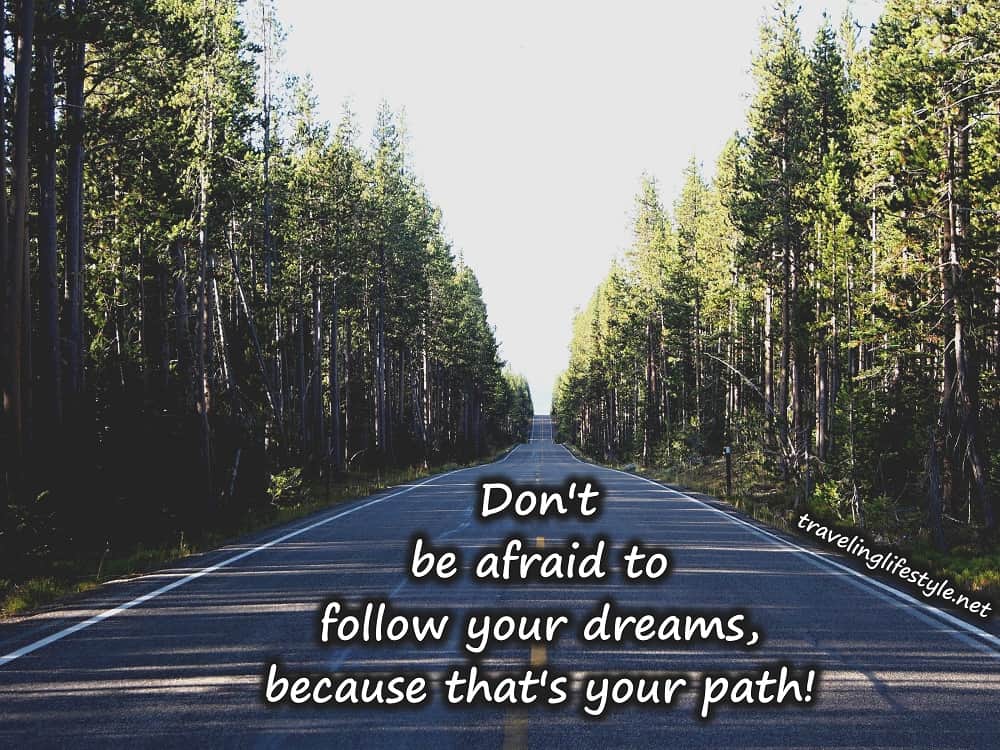 Photo taken on the way to Grand Teton National Park in USA. 
TRAVEL to understand the cultures and shape your personality.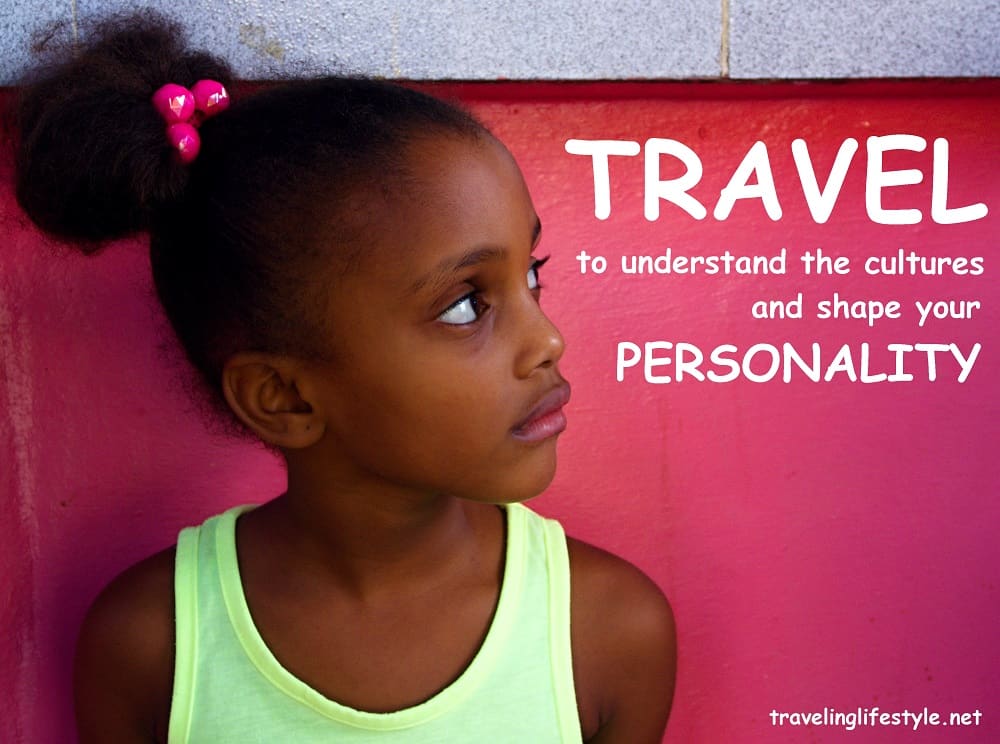 Photo taken in Pinar Del Rio, Cuba while waiting for pizza in front of small street food corner.
TRAVEL QUOTE – Take your ego for a peaceful trip into the unknown, once in a while!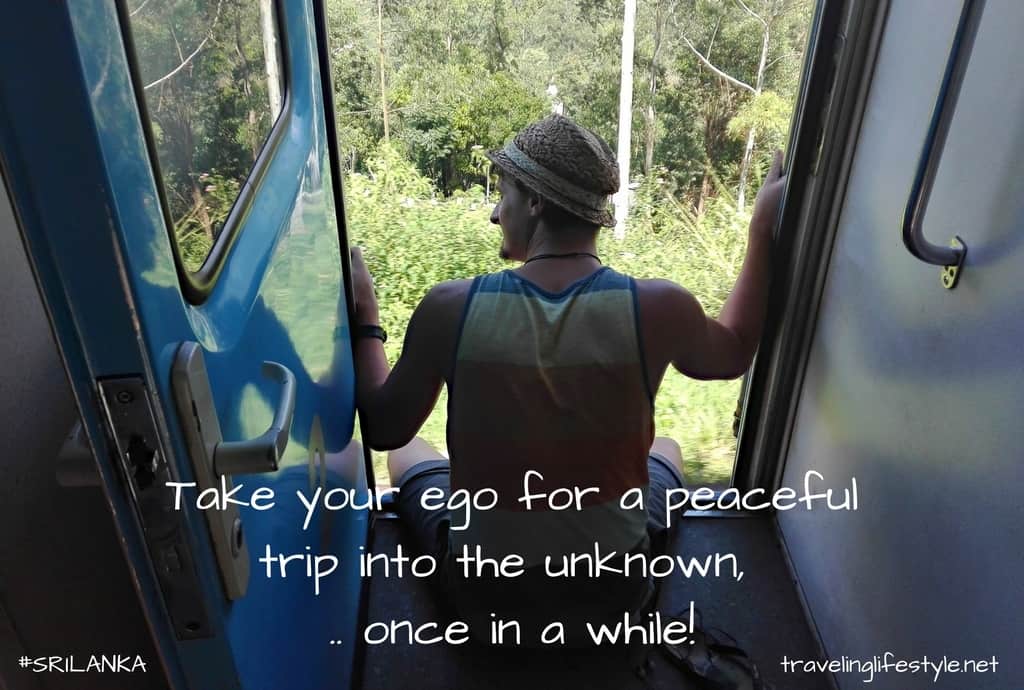 Another travel quote inspired by my trip in Sri Lanka. I really enjoyed my (1 month long) trip around the south and east coast. Great place to find peace in your mind and life! The picture was taken on the way to Colombo from Arugam Bay (east). It's definitely must thing to do in Sri Lanka, train passes the most amazing landscapes full of hills, mountains, small villages and tea plantations. You can open the door, sit on the side of train and spend few hours enjoying those amazing views! GET INSPIRED and TRAVEL to SRI LANKA!
Travel!! Before you run out of time…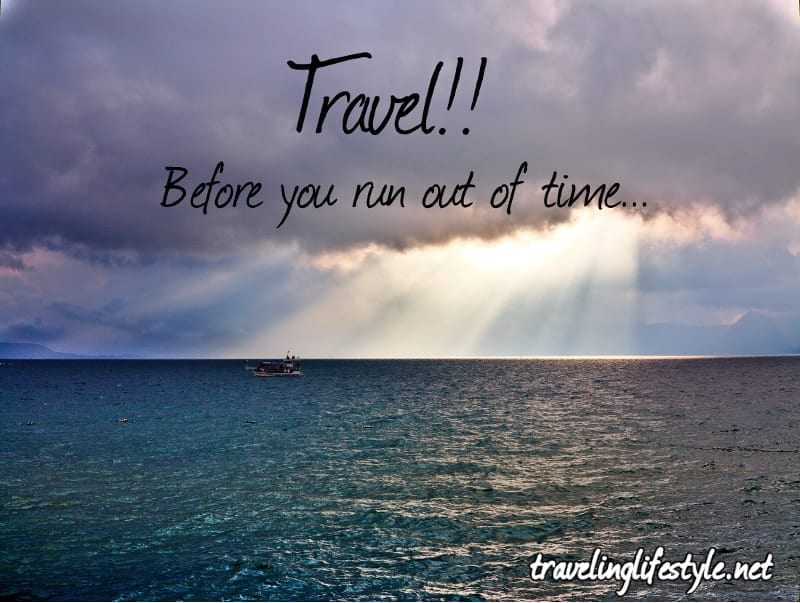 Lago de Atitlan, Guatemala, Oct. 2015 (… because everyone is running out of time…) I recommend to visit this place! Stunning looking scenery of the lake surrounded by mountains, hills and volcanoes.  There are bunch of different villages and cities around which are full of local life and culture.
BONUS: 2 ISPIRING TRAVEL QUOTES by OTHER AUTHORS on OUR PHOTOS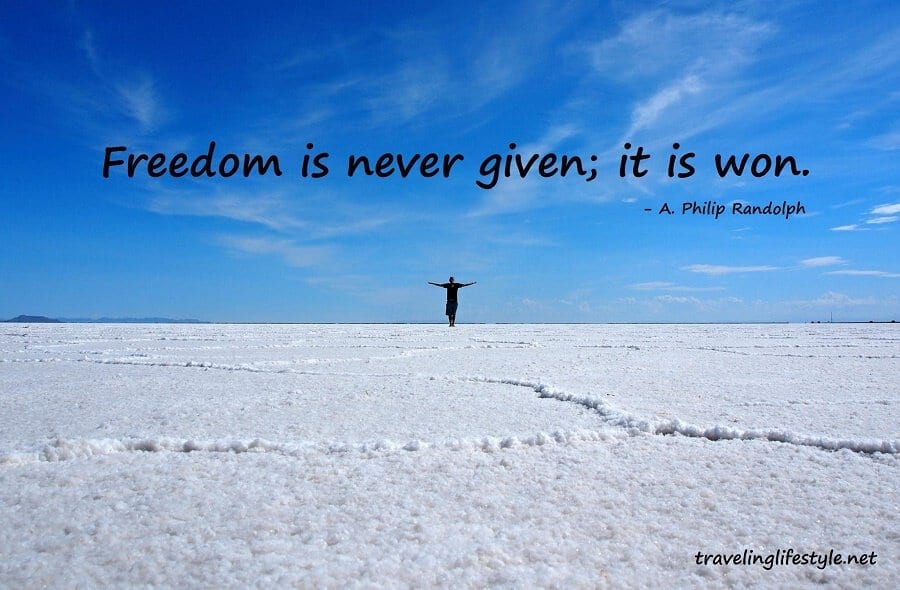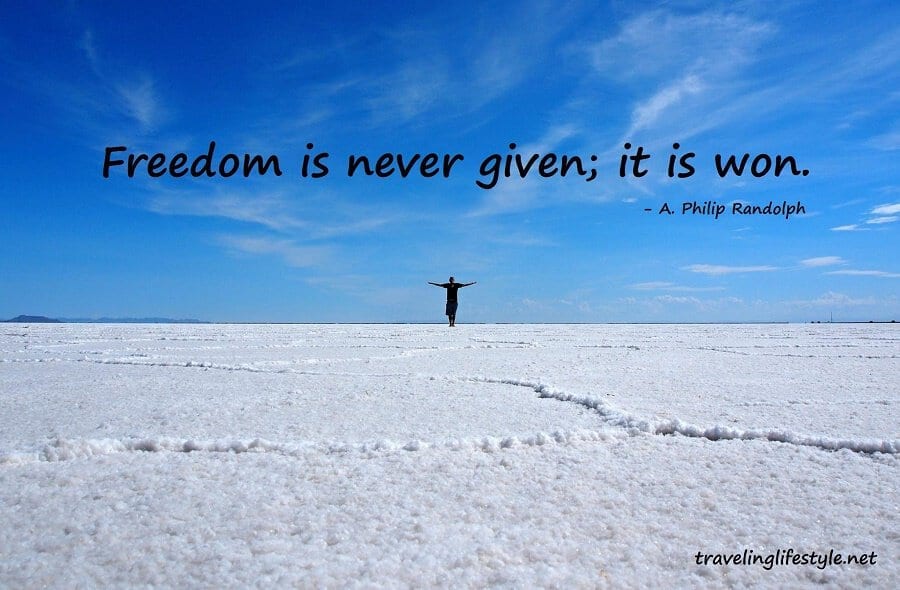 Amazing shot taken on Great Salt Lake Desert in Utah, US. During our USA Road Trip we got stacked there with car and we had to be pulled out.
Adventure Without Risk Is Disneyland!
One of my most favorite photos & quotes ever! Photo taken on the coast in Netherlands in winter 2012.
… more inspiring travel quotes are coming soon! If you have some inspiration which you would like to share feel free to write it in the comment below the article.
Few new drafts:
DIGITAL NOMAD LIFE – > Ego trip with the right mindset.
You don't need to solve all your problems to have peace of mind.
Find peace in your life – pack your backpack and go.
Solo traveling opens door to your mind.
People you meet makes your travel experience.
Travel to learn not just to visit.
Travel slow and experience more.
To make traveling your lifestyle isn't easy but its worth it!
From all the things you should be, make sure you are yourself.