Traveling itself brings & requires a lot of motivation and inspiration. In order to spread good TRAVEL SPIRIT, we started collecting, creating, and sharing our own inspiring travel quotes and short travel quotes by famous travelers.
1. "I always wonder why birds stay in the same place when they can fly anywhere on earth. Then I ask myself the same question"- travel quote by Huran Yahya
DOWNLOAD IMAGE (25.2 KiB, 781 hits)
This is our favorite travel quote which is one of the most popular around the internet and among travelers/backpackers.
Huran Yahya and Adnan Hoca are two of the names used by Adnan Oktar, a Turkish cult leader and televangelist. Born February 2, 1956, he is the Honorary President of the "Science Research Foundation" and the "National Values Preservation Foundation."
2. "Travel far enough to meet yourself " – David Mitchell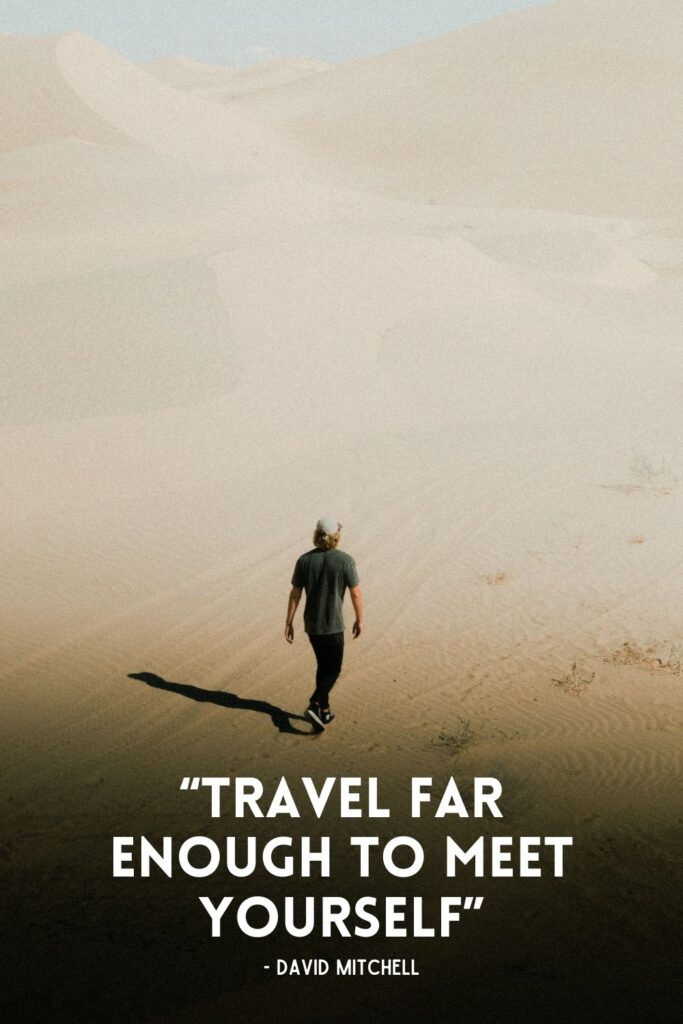 DOWNLOAD - FB POST IMAGE (940 x 788) (100.1 KiB, 343 hits)
DOWNLOAD - INSTAGRAM IMAGE (1080 x 1080) (156.3 KiB, 361 hits)
DOWNLOAD - PINTEREST IMAGE (1000 x 1500) (209.9 KiB, 327 hits)
David Mitchell is known primarily for his third novel, "Cloud Atlas," published in 2004, this British author was named by Time in 2007 as one of the world's 100 most influential people. That fantastical fiction book, which was made into a film in 2012, is six stories that are interconnected and go from the nineteenth century South Pacific to Hawaii in the future that is post-apocalyptic.
3. "To travel is to live." – Hans Christian Andersen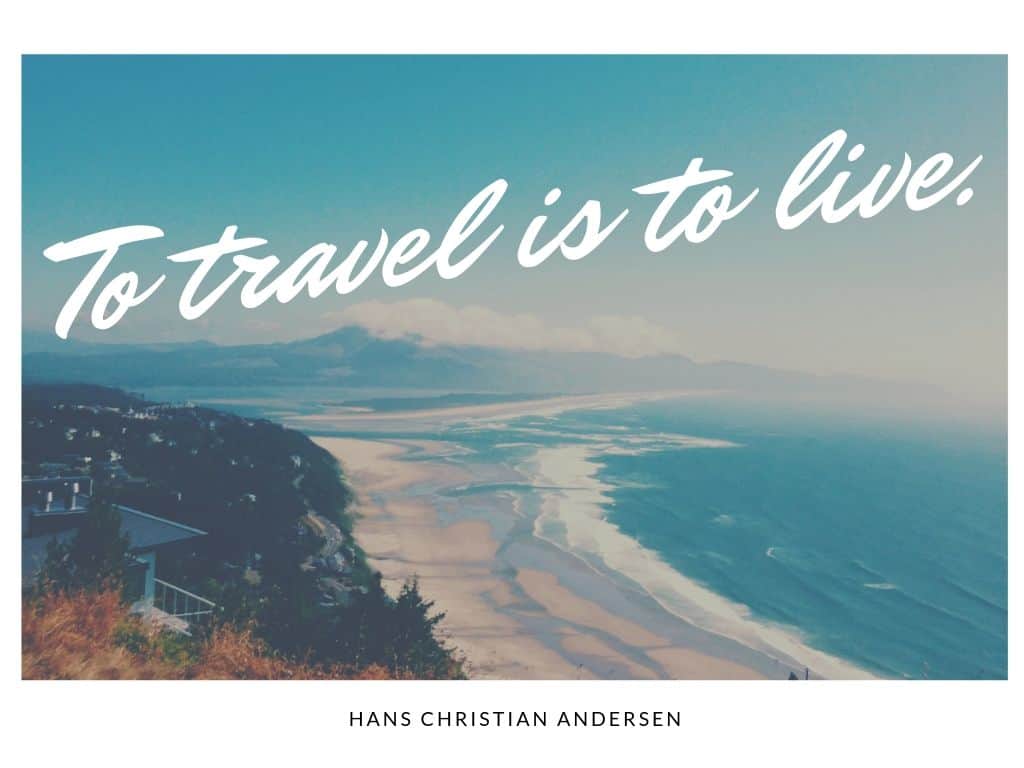 DOWNLOAD IMAGE (36.9 KiB, 855 hits)
DOWNLOAD PINTEREST VERSION (70.8 KiB, 453 hits)
Hans Christian Andersen doesn't need to be introduced! But worth mentioning is that he lived in 1805-1875 and was one of the first "travel bloggers". His short travel quotes and caption inspire today's blogger all over social media.
Along with many famous books inspired by his travels, he wrote various travel guides about Italy, Germany, Spain, and Switzerland.
4. "An Investment in Travel is An Investment into Yourself"- Matthew Karsten
DOWNLOAD - FB POST IMAGE (940 x 788) (122.7 KiB, 233 hits)
DOWNLOAD - INSTAGRAM IMAGE (1080 x 1080) (158.3 KiB, 345 hits)
DOWNLOAD - PINTEREST IMAGE (1000 x 1500) (158.3 KiB, 313 hits)
Matthew Karsten quit his unfulfilling day job and decided to go backpacking and travel around the world. He did not plan where it would take him. Known as the Expert Vagabond, he is a blogger of adventure travel as well as a digital nomad and a photographer. He has been a world explorer for more than 10 years.
5. "A journey of a thousand miles begins with a single step" – Lao Tzu
DOWNLOAD IMAGE (124.0 KiB, 497 hits)
DOWNLOAD PINTEREST VERSION (121.2 KiB, 417 hits)
Lao Tzu was an ancient writer and philosopher from China. Lived around 6th century BC. He was one of the founders of traditional Chinese religions.
6. "Life begins at the end of your comfort zone"- Neale Donal Walsh
DOWNLOAD IMAGE (73.0 KiB, 464 hits)
DOWNLOAD PINTEREST VERSION (72.0 KiB, 412 hits)
Neale Donald Walsch is a famous American author, speaker, screenwriter and also an actor. He is a very inspiring person that created hundreds of popular quotes. One of his best for work that he is known for is the movie "Conversations with God".
7. "The World is a Book And Those Who Do Not Travel Read Only One Page" – Most used travel caption on social media.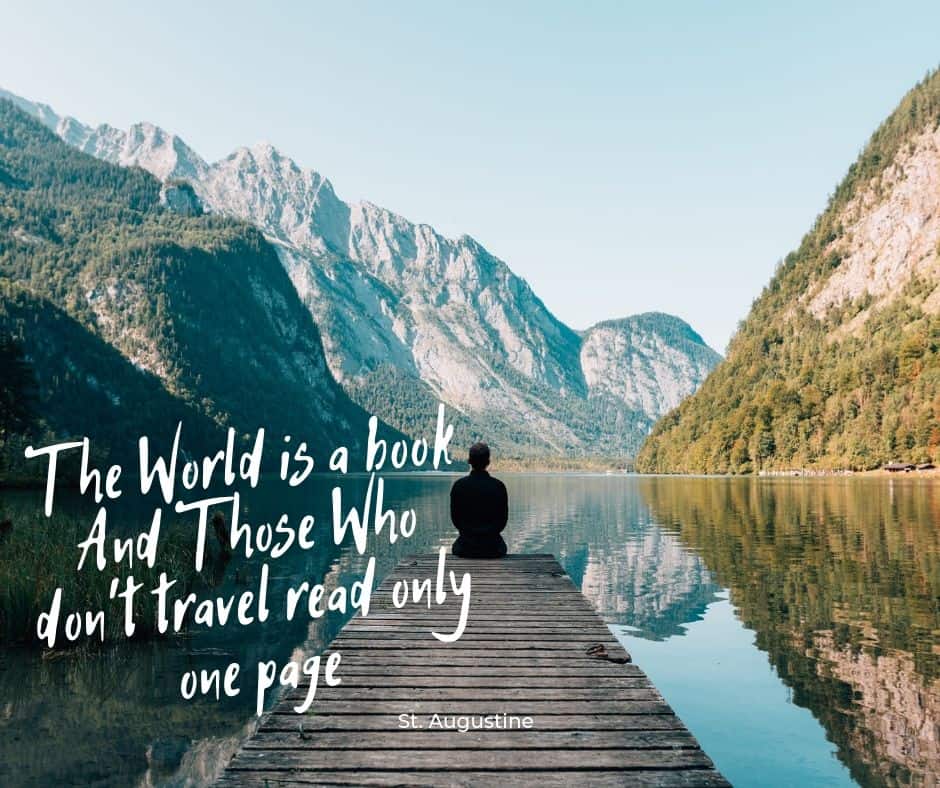 DOWNLOAD IMAGE (81.3 KiB, 522 hits)
St. Augustine (Augustin of Hippo), author of this TRAVEL QUOTE wasn't Saint for no reason.
He was bishop, theologian, philosopher and a doctor and one of the most influencing people in Western philosophy and church. He lived between 354 – 430 AD.
8. "Travel is The Only Thing You Buy Thay Makes You Richer" – Travel Quote by Unknown Author
DOWNLOAD IMAGE (83.9 KiB, 453 hits)
DOWNLOAD PINTEREST VERSION (101.6 KiB, 420 hits)
Popular travel quote that we can't find credits for. If you know who is the author of this quote, pleaser let us know in the comment.
9. "We wander for distraction, but we travel for fulfilment." ― Hilaire Belloc
DOWNLOAD - FB POST IMAGE (940 x 788) (115.2 KiB, 358 hits)
DOWNLOAD - INSTAGRAM IMAGE (1080 x 1080) (161.3 KiB, 378 hits)
DOWNLOAD - PINTEREST IMAGE (1000 x 1500) (183.1 KiB, 414 hits)
French writer, speaker, author of many inspiring quotes, traveler, and politician Hilaire Belloc originally undertook writing as a side career. Belloc once walked hundreds of miles from his home in France down through snowy Alps and on to Rome!
He wrote extensively on this and many other escapades, and is best remembered for the way he conveyed his unforgettable journeys by writing about the hearts of the people he met along the way. These observations led him to champion social justice causes and stand against the poverty he witnessed on his extensive travels.
10. "It's not about the destination, It's about the journey"- Ralph Waldo Emerson
DOWNLOAD - FB POST IMAGE (940 x 788) (unknown, 328 hits)
DOWNLOAD - INSTAGRAM IMAGE (1080 x 1080) (unknown, 316 hits)
DOWNLOAD - PINTEREST IMAGE (1000 x 1500) (unknown, 311 hits)
Ralph Waldo Emerson – Born May 25, 1803, he lived and shared his wisdom until age 78 as a philosopher, poet, writer of dozens of published essays, and more than 1,500 lectures. His main interests were mysticism and being a champion of individualism, freedom, and the relationship between the soul and the world.
11. "Nothing behind me, everything ahead of me, as is ever so on the road." — Jack Kerouac
Jack Kerouac was an author deeply involved with the Beat generation, a group of creatives known for their itinerant and exploratory lifestyles. Kerouac's most famous work, On The Road, details his series of road trips across deserts, through small towns, and the journeys he took in his mind. He travelled from the American Southwest to New York City, from Mexico to the Northeast and San Francisco. The introspective traveller became known for the poignant ways he described his travels in his poems and novels that would be revered for years to come.
12. "I haven't been everywhere but it's on my list." ― Susan Sontag
DOWNLOAD - FB POST IMAGE (940 x 788) (102.4 KiB, 421 hits)
DOWNLOAD - INSTAGRAM IMAGE (1080 x 1080) (142.7 KiB, 322 hits)
DOWNLOAD - PINTEREST IMAGE (1000 x 1500) (169.2 KiB, 356 hits)
Susan Sontag is one of the most influential literary figures of her generation. Her quotes and captions are used world-wide all over social media, hostels, hotel and travel industry.
Sontag was taught by well-respected lecturers at various renowned American universities. She then explored literature and philosophy while living in Paris, France.
After returning to NYC, the writer and social commentator moved to the politically turbulent Sarajevo. Sontag was passionate about appreciating destinations for what they were, instead of what could be snapped through a camera lens. She is considered an iconic writer and social critic, as she sought to see the world- and people- simply.
13. "Climb the mountain, not so the world can see you, but so you can see the world." — David McCullough Jr.
DOWNLOAD - FB POST IMAGE (940 x 788) (56.5 KiB, 421 hits)
DOWNLOAD - INSTAGRAM IMAGE (1080 x 1080) (87.1 KiB, 379 hits)
DOWNLOAD - PINTEREST IMAGE (1000 x 1500) (114.1 KiB, 410 hits)
Featured in Time, USA Today, and more, David McCollough Jr. is an English teacher who is now known for delivering the viral commencement speech, You Are Not Special. In it, he encourages listeners to do things not for the sake of doing them, but from a love for it.
Whether climbing mountains, opening international health clinics, or simply being in another city, McCollough explains that life is meant to be experienced rather than just lived. He encourages the students that they should treat everyone with respect, no matter where they are from or where they seem to be headed.
14. "You don't have to be rich to travel well."― Eugene Fodor
DOWNLOAD - FB POST IMAGE (940 x 788) (71.0 KiB, 520 hits)
DOWNLOAD - INSTAGRAM IMAGE (1080 x 1080) (105.2 KiB, 369 hits)
DOWNLOAD - PINTEREST IMAGE (1000 x 1500) (124.3 KiB, 562 hits)
Born in Hungary before both world wars, Eugene Fodor had his fair share of traveling. From present-day Slovakia, he moved to Paris to study economics before joining the US Army before settling stateside.
Fodor was assigned covert operations as a wartime spy across Europe. He used his experiences to later write an extensive series of travel guides that dive into the culture and real local spots of each destination.
15. "Part of the urge to explore is a desire to become lost." ― Tracy Johnston
Tracy Johnston is a creative to watch. The photographer and writer graduated UC Berkeley and has since been featured in Cosmopolitan, the New York Times Magazine, and even Vogue.
She has traveled and worked on islands throughout Southeast Asia and currently resides in West Oakland, CA. Johnston draws on the shared human experience to bring her work to life.
16. "People don't take trips, trips take people." ― John Steinbeck
DOWNLOAD - FB POST IMAGE (940 x 788) (116.5 KiB, 470 hits)