Camping in Arkansas state offers a wide variety of natural settings to enjoy. The western half of the state is mountainous, including Magazine Mountain at nearly 3,000 feet.
The Boston Mountains are north of the Arkansas River, as is the Ozark Plateau. South of the river there are the Ouachita Mountains and some of the most remarkable drives you can find in the Midwest.
Eastern Arkansas borders the mighty Mississippi and features Crowley's Ridge, a great stretch for hikers who aren't looking for a mountain to climb.
Arkansas is bordered by Louisiana to the south, Tennessee, and Mississippi to the east, Missouri to the north, and Oklahoma and Texas to the west.
While summers can be hot, the nights will cool down nicely, particularly in the mountains. If you can, plan a drive through the Ouachita Mountains in the fall.
Crater of Diamonds State Park
Phone: 870-285-3113
Address: 209 State Park Rd, Murfreesboro, AR 71958
Located in Murfreesboro, Crater of Diamonds State Park is truly one of a kind. Its name clearly says why – you can search for real diamonds and gems in this eroded crater and, of course, you can keep them.
You can bring your own mining equipment (note that only manual tools are allowed) or you can rent it from the park.
But it's not only the precious stones that make this state park known worldwide. It also offers a very nice campground with 47 Class AAA campsites and 5 primitive walk-in sites.
Facilities include hot showers, a dump station, an information center with a gift shop, an educative Diamond Discovery Center, and a water park.
Denton Ferry RV Park & Luxury Cabin Rental
Phone: 870-435-7275
Address: 740 Denton Ferry Rd, Cotter, AR 72626
Set in a riverside meadow in the Ozark Mountains, Denton Ferry RV Park & Luxury Cabins is a place to relax and enjoy the beautiful scenery of the White River while just passing through or visiting the area.
The park offers 17 riverfront sites and 27 in-land pull-thru sites. All sites have a grassy lawn space, while some of them have their own fire pit access. There is also a community fire pit for all the guests to enjoy. For a bit more comfort, you can rent the two-bedroom vacation cabin right on the banks of the White River.
Amenities include modern shower facilities, a hospitality room, games, dining areas, and a library.
This campground is a great choice for those who would like to spend time in a quiet setting with the option of hiking, biking, and fishing.
Willow Beach Recreation Area & Campground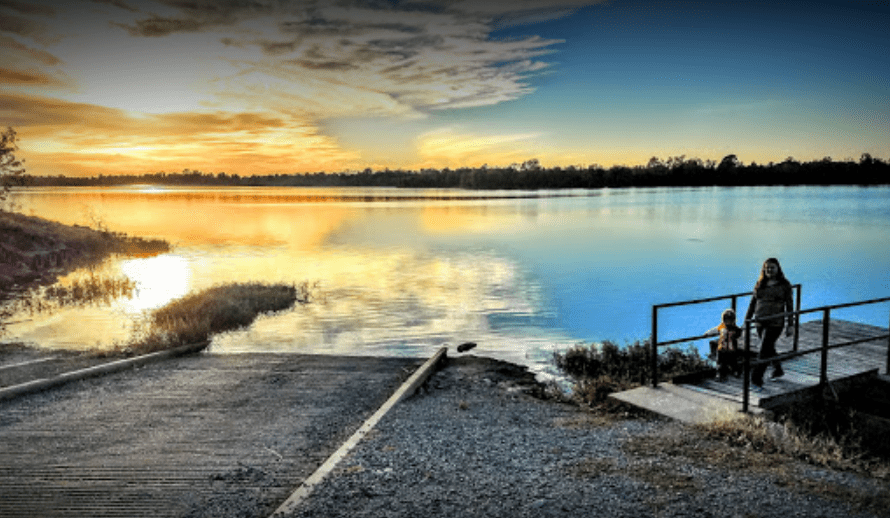 Phone: +1 501-961-1332
Address: Park, 11690 Willow Beach Rd, Scott, AR 72142, United States
The peak season at Willow Beach Campground has already started but it does not mean you shouldn't find a place to stay at this natural recreational park. Located very close to the David D.Terry Lock and Dam of the Arkansas River, this campsite is a place to bring your RV or even your tent and enjoy the sounds of nature, the beautiful views, and the easy access to the river.
Only a few steps from the Arkansas River, you can find 21 individual campsites and 3 group sites, although those can only be used during the day. Willow Beach Campground has separate sections away from the camp area with nice covered picnic tables, grills, and electric and water hookups at each spot.
The campsite is relatively small but, normally, not crowded. Great for a getaway week, and -this is one of our favorites- it's pet-friendly!
Activities you can't miss:
Fishing
Boating
Sightseeing
Downtown Riverside RV Park
Phone: 501-340-5312
Address: 250 S Locust St, North Little Rock, AR 72114
Downtown Riverside RV Park is uniquely located on the banks of the Arkansas River in downtown Little Rock. Its proximity to the city center as well as nature provides visitors with a myriad of things to do.
From shopping and dining to museums, live music, and comedy shows at The Joint. Outdoor lovers will appreciate the 15 miles-long Arkansas River Trail, great for both walking and cycling.
The RV Park features 72 sites with water and 50 amp electricity service, some of which also have sewer. A dump station is available too. For your security, the park is gated.
Downtown Riverside RV Park is a perfect spot for those who want to enjoy the city of Little Rock and its surroundings from their campers.
Gulpha Gorge Campground
Address: 305 Gorge Rd, Hot Springs National Park, AR 71901, United States
Phone: +1 501-620-6715
Just minutes away from historic downtown Hot Springs is Gulpha Gorge, one of Arkansas' top-rated campgrounds.
The park has gorgeous hiking trails as well as a meandering brook that passes right through the campground.
It accommodates tents and RVs and includes 30 and 50-amp full electric hookups, as well as water and sewer. Sites do not have "pull-through."
A picnic table, a stand-up grill, and water are provided at each location. It offers restrooms, however, there are no showers. The maximum occupancy is eight people/two vehicles (one RV and one tent OR two tents) per site.
Sites are assigned on a first-come, first-served basis. Click here for further information on this Campground.
Ozark Campground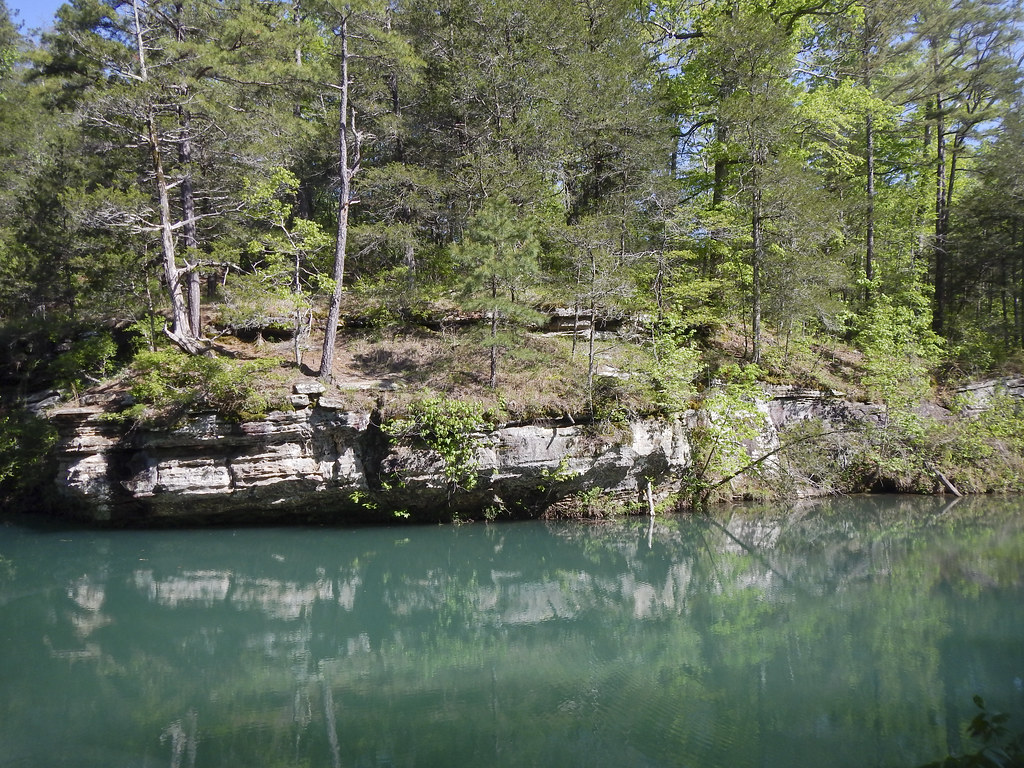 Set deep in Buffalo National River, Ozark Campground is a quaint spot perfect for some good old-fashioned camping.
It offers 31 drive-in and tent sites managed on a first-come, first-served basis. Each of them has a picnic table, fire ring, and a lantern hook provided. There are no electrical amenities, but flush restrooms and water are available during the camping season. In winter, there is a vault toilet, and no camping fees are charged.
Right by the campground, there is a swimming hole, a great place to cool off on a hot summer day. The area also features numerous hiking and biking trails, kayaking, canoeing, and paddleboarding.
Wanderlust RV Park & Cabins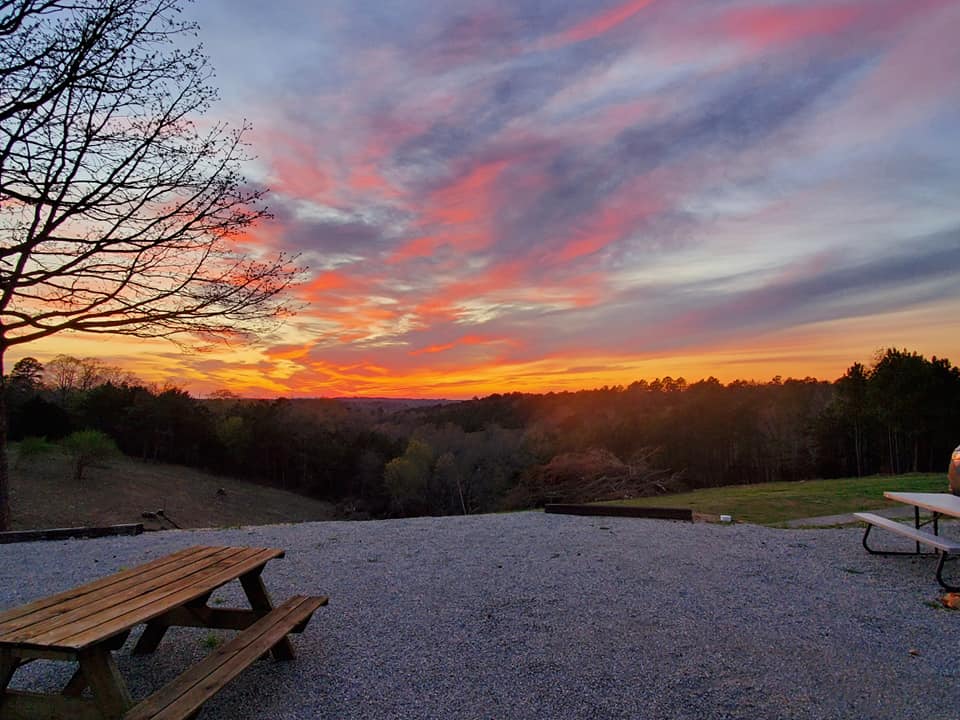 Phone: (479) 253-7385
Address: 468 Passion Play Rd, Eureka Springs, AR 72632
Located about 5 minutes from downtown Eureka Springs, Wanderlust RV Park & Cabins is the place to stay if you're looking to discover the town and its surroundings.
Visitors will appreciate the variety of local attractions, including music shows, craft fairs, car and bike rallies, and a plethora of restaurants and shopping opportunities. You will also find many hiking and mountain biking trails just half a mile from the town.
The RV park is overlooking a deep valley where you can watch breathtaking sunsets. It has a restful ambiance and offers 88 full hook-up sites, 51 of which are pull-thru. There are also restrooms, showers, and laundry facilities. Cabin rentals are available, too.
Voted as the #1 RV Park in Arkansas by Reader's Digest in 2018, Wanderlust RV Park definitely shouldn't be missed on your next camping trip through the Natural State.
Buffalo National River Park – Lost Valley Lodging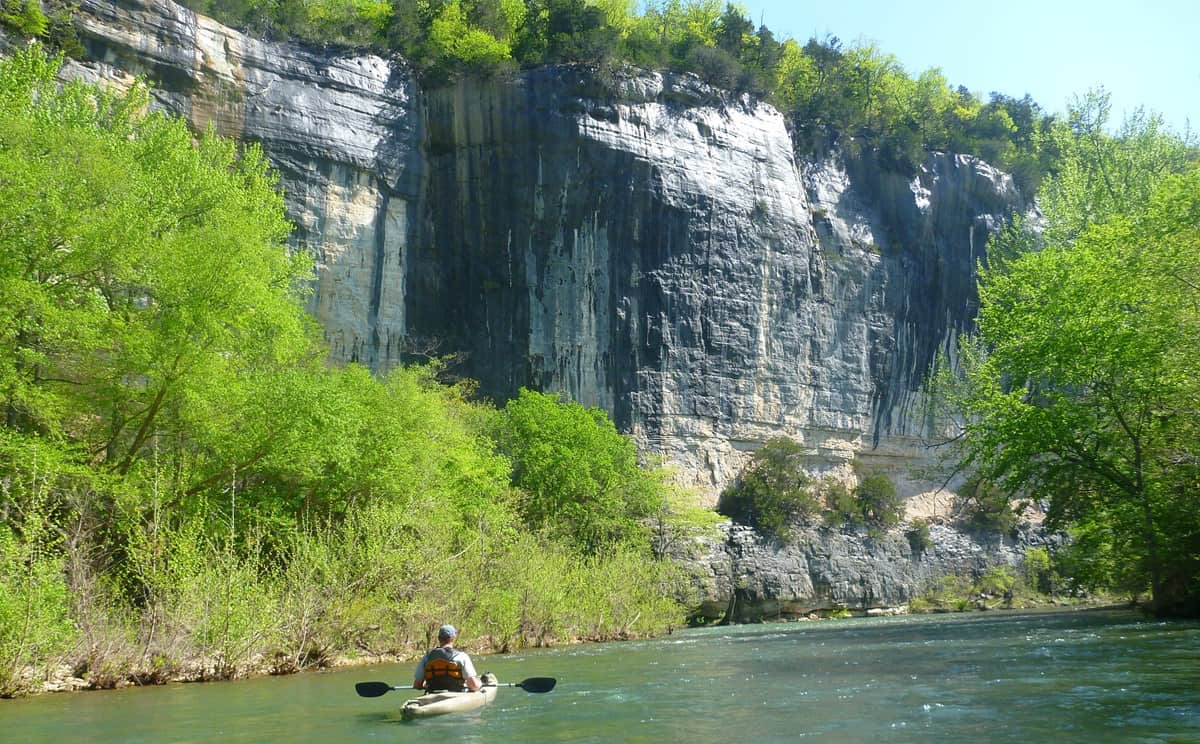 Phone: 870-8611-5522
Address: State Road 43 at State Road 74, Ponca, AR 72670
If you'd love to get outdoors but aren't able to tent camp or don't have an RV, Cabin Camping can be ideal. The Lost Valley Lodging Campground offers private cabins along the Buffalo National River.
This park is part of the Ozark National Forest, a hiker's haven loaded with amazing views.
No matter where you stay in the Buffalo National River Park, you'll find access to cool water to soak your feet, a beautiful trail with great views, and the reward of a breathtaking vista at the summit. You can travel light and still love camping!
Greer's Ferry Lake – Cliff Jumps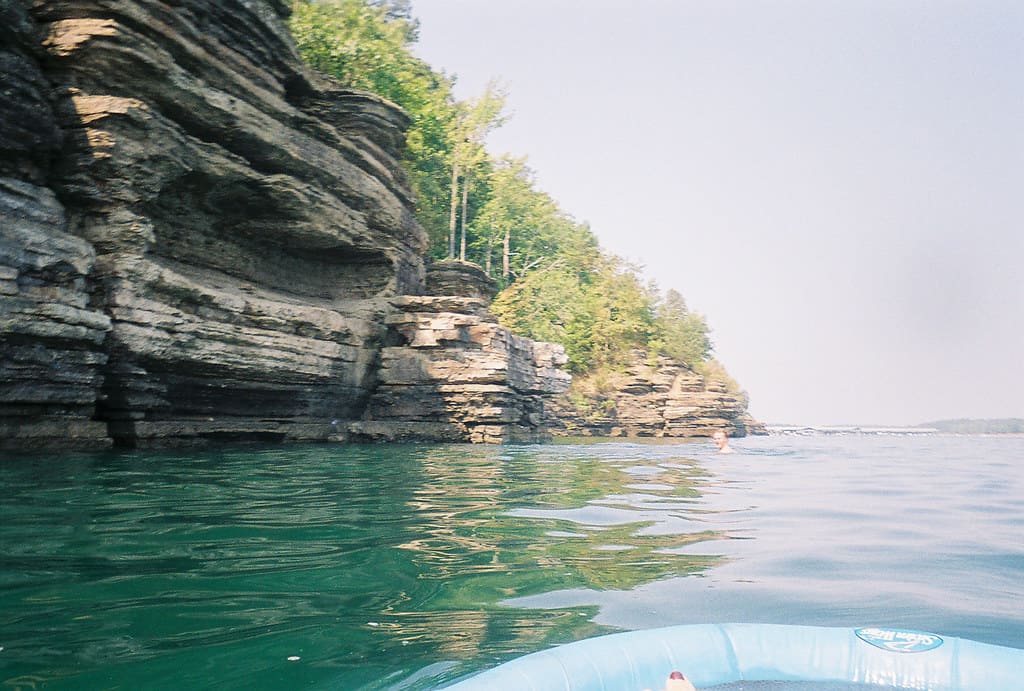 Phone: 800-774-3237
Address: 10714 Highway 92 East, Bee Branch, AR, 72013
Greer's Ferry Lake is located in North Central Arkansas. This stretch of water runs from Choctaw in the west to Hill Creek in the north, Tumbling Shoals to the east, and Cove Creek at the southern tip. If you like being on the water, whether it's to fish, swim or dive, Greer's Ferry will be one of your favorite Arkansas Campsites.
There are 12 campsites on the water complex. You can find space for your RV as well as pitch a tent at a primitive stop. This waterway was created by the Greer's Ferry Dam, dedicated by President John F. Kennedy.
It should be noted that this lake is considered to be one of the cleanest in the country, so if your scuba gear is feeling lonely, bring it to Arkansas.
Bring a good map of the area and store it in a waterproof bag. Greer's Ferry includes over 32,000 acres of water, and the shorelines offer a lot of variety. Do your best to get to your campsite in the daylight; the topography here can be tricky. We're happy to help you find your spot!
Lake Ouachita National Forest
Whether you're camping in a group or just need to be by yourself. you can find plenty of options in the Lake Ouachita National Forest campground offerings.
If you're looking for some hard climbing and great views, visit Jack Creek. For those who want a bit more comfort, consider renting one of the State Park cabins, located at the
RVers will find a comfortable spot at the Charlton Recreation Area, just 20 miles west of Hot Springs, Arkansas. It should be noted that not all camping sites have spaces for RVs, so be sure to check with each site manager before driving down any narrow road.
If you're looking for quiet, seek out a campsite on Shady Lake. There are 96 units for tents, showers, and drinking water available as needed. Best of all, there are no motors allowed on Shady Lake. Pack in your kayak and go for a paddle in the calm and stillness.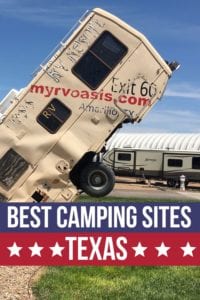 Petit Jean State Park RV and Campground
Phone: +1 501-727-5441
Address: E Boat House Rd, Morrilton, AR 72110, United States
Petit Jean State Park is a natural and historic gem that has attracted visitors for decades. the park is roughly an hour and a half drive from Little Rock.
"The campgrounds feature a total of 125 campsites (including 26 pull-through sites). Thirty-five of the sites—the Class AAA sites—have 50 amp electrical, water, and sewer hookups. The 90 Class B sites offer 30 amp electrical and water hookups. All sites are reservable," according to the park
They also feature substantial group facilities. If a family does not have their own camping equipment, they can rent it.
The park is ideal for families or groups of friends, due to its numerous picnic spaces equipped with tables and grills. There is excellent fishing, as well as a swimming pool, playgrounds, tennis courts, and paddle boat rentals. There is also great hiking for people of all ages and fitness levels.
Gamaliel Campground on Norfolk Lake
Phone: 870-425-2700
Address: 324 West 7th Street, Mountain Home, AR
Gamaliel Campground on Norfolk Lake is located in North Central Arkansas, just south of the Missouri Border.
There are 63 sites total with spaces for RVs, trailers, and truck campers as well as tents, and there are tiny house cabins available for rental as well.
This US Army Corps of Engineers campsite offers visitors the chance to swim, hike, fish, dive, and even go cave exploring. You can even set up your camping site in a cool, sweet shade and just relax!
There are showers and potable water, but be sure to bring in enough drinking water to last you the full length of your stay. There are firepits available (check with local authorities before burning anything, ever) and picnic tables at several sites. Like a lot of mountain lakes, this lake was created by the building of a dam. The water is clean and clear and the diving is amazing, so be ready to get low and see the sights.
The driving in Arkansas is beautiful, but the visibility can be hampered by the tightness of the curves and the topography. Do your best to get to your site in the daylight.
Hickory Creek Campground on Beaver Lake
Arkansas lakes offer beautiful beaches as well as family fun, and Hickory Creek is a great spot for volleyball, swimming, and sunbathing. This campground offers 61 sites for RVs and 55 tent sites.
Hickory Creek is located in the northwest corner of Arkansas and is just southwest of the Hobbes State Park Conservation Area.
Because you'll be at the southern end of the long water complex that is Beaver Lake, you can enjoy a quiet stay with easy access from the west.
Hickory Creek has the benefit of very level sites, space for Class A RVs, and amazing views!
Lake DeGray – Alpine Ridge
Phone: 501-865-5850
Address: 757 Alpine Ridge Landing Road, Amity, AR 71921
If you're looking for peace, quiet and easy access, Alpine Ridge is a great option. This state park is just southwest of Little Rock. In relation to the other campgrounds on Lake DeGray, this one offers plenty of privacy and quiet.
For RVers, you'll be happy to know that access is fairly simple on paved roads, and finding a level site will be pretty quick. Tent campers will enjoy the stay among the trees.
Like all US Army Corps of Engineers, this area is heavily wooded and offers plenty of shade.
There's a great swimming beach and a boat ramp for getting on the water. If you want to hike into a campsite and rough it, you can find a spot among the trees away from everyone. For those who like a hot shower and a bit more comfort, there are restrooms with showers and fresh drinking water.