It's not just the exceptional Southern hospitality and mouth-watering food that attract thousands of travelers to visit Alabama each year. It's also Alabama's beaches, beautiful landscapes, and rich music and literary heritage.
And is there a better way to see a state than swinging through its places of interest from the comfort of your car or RV?
Whether you're an experienced camper or a total newbie, choosing the right spot for your well-deserved vacation isn't always easy. That's why we have prepared a list of the best camping sites in Alabama to check out this season:
Check out also:
– Best Camping Sites in Georgia
– Best Camping Sites in Florida
Yogi Bear's Jellystone Park RV Camp Resort of the Alabama Gulf Coast
N.1 Family Camping in Alabama
Phone: (251) 986-3566
Address: 12160 Wortel Rd, Elberta, AL 36530
Activities and Amenities Highlights:
fishing

hiking

pool

gem mining
Jellystone Park is a family-focused campground with something to make everyone happy. It offers RV and tent sites, as well as cabin rentals.
Relax by the pool while you leave the kids to play on the splash pad, take a hike around the grounds, catch a fish in the catch-and-release pond, or participate in a staff-planned activity.
Located east of Foley and just 16 miles from Gulf Shores, it takes only minutes to reach the famous powder-white beaches of South Alabama. Engage in seashore activities such as swimming, fishing, and beachcombing or watch sea turtles and various migratory birds in their natural habitat.
Whether you're searching for a pleasant encounter or a family vacation full of entertainment, this campground has you covered.
Pandion Ridge RV Resort / Sun Outdoors Orange Beach
Phone: (844) 707-4343
Address: 22800 Canal Rd, Orange Beach, AL 36561
Activities and Amenities Highlights:
Experience the Deep South near Gulf Shores while you stay in this master-planned RV resort in Orange Beach.
Pandion Ridge sprawls on 30 acres of lush landscaping and boasts various luxury amenities, including an outdoor swimming pool, hot tub, volleyball, and pickleball. The RV sites are well spacious and offer both short-term and extended stays for families and snowbirds.
You can easily access the Backcountry Trail straight from the RV park or explore the surroundings. The location ensures that you are close to the area's most popular attractions and activities, such as beaches, fishing, hiking, golfing, kayaking, shopping, and fine dining. The Wharf and OWA amusement and entertainment park are also just a stone's throw away.
No matter who you are and when you visit Pandion Ridge, this RV resort is dedicated to fulfilling every camper's needs.
Luxury RV Resort
Phone: (251) 948-5444
Address: 590 Gulf Shores Pkwy, Gulf Shores, AL 36542
Activities and Amenities Highlights:
Nestled right in the heart of Gulf Shores, known for its 32 miles of sugar-white sand beaches, trails, dunes, and fishing, Luxury RV Resort is a perfect spot for those looking to spend their vacation by the seaside.
There are 97 full hook-up sites with concrete pads, picnic tables, cable TV, and Wi-Fi. Relax in the on-site pool, sunbathe at the beach, go fishing, or visit some of the many area restaurants, shops, parks, and attractions.
Take the kids to Waterville USA water and amusement park or Alabama Gulf Coast Zoo.
Not far away, there is also The Park at OWA entertainment resort, Big Beach Brewery, great restaurants within 5 miles and plenty of other popular holiday destinations.
Whether you prefer to stay busy or take it easy, Luxury RV Park can accommodate any kind of trip.
Gulf State Park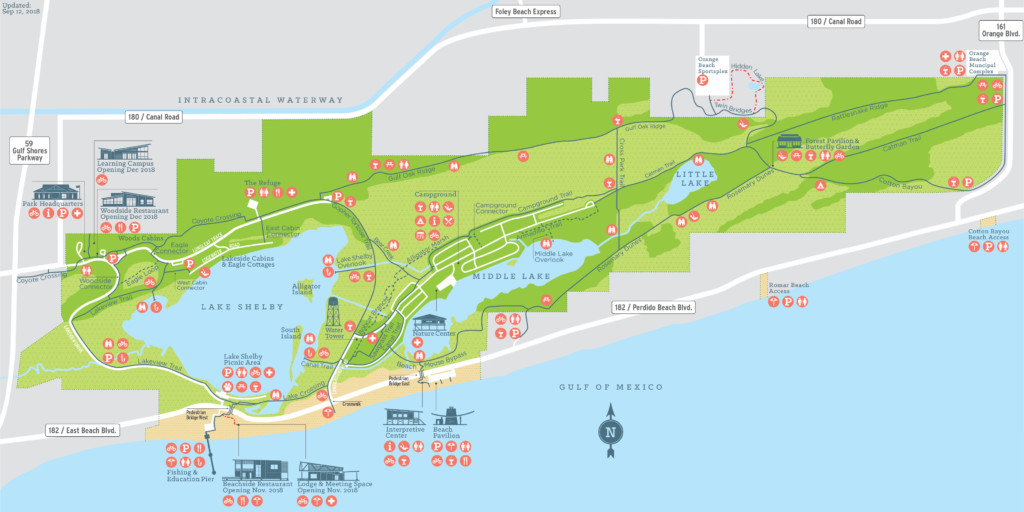 Phone: (251) 948-7275
Address: 20115 State Park Rd, Gulf Shores, AL 36542
Activities and Amenities Highlights:
hiking
biking
boating
kayaking
pool
Located near the white sand beaches of Alabama's coast and surrounded by thousands of protected wildlife acres, Gulf State Park is full of options for recreation, as well as camping.
From primitive campsites to large lakeside cabins, this multifunction campground will fit every visitor's needs. There are 496 back-in and pull-thru sites, some of which are set by the waterfront, and 11 primitive sites. Then, there are 20 cabins with views of Lake Shelby and 4 cabins secluded in the woods. Moreover, the park has 3 premium glamping spots.
Amenities include 3 spring-fed lakes perfect for fishing, swimming, boating, and kayaking. There are also many trails for hiking and biking that wind through the campground to the outskirts, some of which connect to the Hugh S. Branyon Backcountry Trail system.
Therefore, Gulf State Park is an excellent choice for families, couples, and solo travelers wanting to enjoy a quiet getaway with the option of activity.
Deerlick Creek Campground
Phone: (205) 388-1111
Address: 12421 Deerlick Rd, Tuscaloosa, AL 35406
Activities and Amenities Highlights:
hiking
fishing
biking
swimming
boating
Deerlick Creek Campground is nestled on the banks of Holt Lake just outside of Tuscaloosa. Set amidst a mixed pine and hardwood forest, it provides visitors with a relaxing atmosphere and access to all sorts of water sports, boating, fishing, swimming, hiking, and biking.
Wildlife watchers can spot deer, squirrel, wild turkey, migratory birds, and bluebirds. The waterway is also home to bass, crappie, bream, catfish, and more.
The campground has 46 water and electric hook-up sites, 6 of which are designated for tents only. There is also a group picnic shelter that can be reserved for all sorts of gatherings and celebrations. Kids will appreciate the multi-use court and swimming beach.
Deerlick Creek Campground is simply a fantastic spot for a weekend getaway. But should you get bored, you can still engage in some of the city-like activities in the nearby Tuscaloosa, such as going to the markets, museums, or having lunch in one of the local restaurants.
DeSoto State Park Campground
Phone: (256) 845-5075
Address: Fort Payne, AL 35967
Activities and Amenities Highlights:
kayaking
fishing
hiking
bouldering
Set in scenic Northeast Alabama, DeSoto State Park Campground is a popular vacation spot for both families and solo adventurers alike.
The campground offers 94 full-hookup tent and RV sites. There are also mountain chalets, log and rustic cabins, motel rooms, and primitive camping sites.
Amenities include a restaurant, meeting rooms, pavilions, and a picnic area with a playground. There is also a seasonal Olympic-size swimming pool.
Outdoor enthusiasts will appreciate the 30 miles long hiking and mountain biking trails as well as the plentiful fishing, kayaking, and bouldering opportunities. The park is also known for its rich fauna and flora. If you set off exploring the area, don't miss the DeSoto Falls located about 7 miles north of the park.
Whether you are looking for a relaxed holiday with your family or an adventurous weekend out, this campground will surely cater to all your needs.
Honeycomb Campground
Phone: (256) 582-9882
Address: 188 Camp Ground Rd, Grant, AL 35747
Activities and Amenities Highlights:
Honeycomb Campground is a popular family-friendly camping area on Lake Guntersville. It boasts 141 short-term and long-term sites, most of which have water and electric hook-up and sit on the lakefront. No camper? No problem! Four lodging cabins are available as well with one of them being wheelchair accessible. They are all fully equipped and air-conditioned.
Visitors can enjoy various sorts of activities. Spend an afternoon in the day-use area situated along the lake shoreline, which features a swimming zone, beach, and picnic area with tables and grills. There is also a marina with 6 pontoon and 2 jon boats for rent.
To stretch your legs, set off for a short hike through Honeycomb Trail Head and see Honeycomb Natural Bridge, one of Alabama's natural wonders you definitely shouldn't miss.
Blue Springs State Park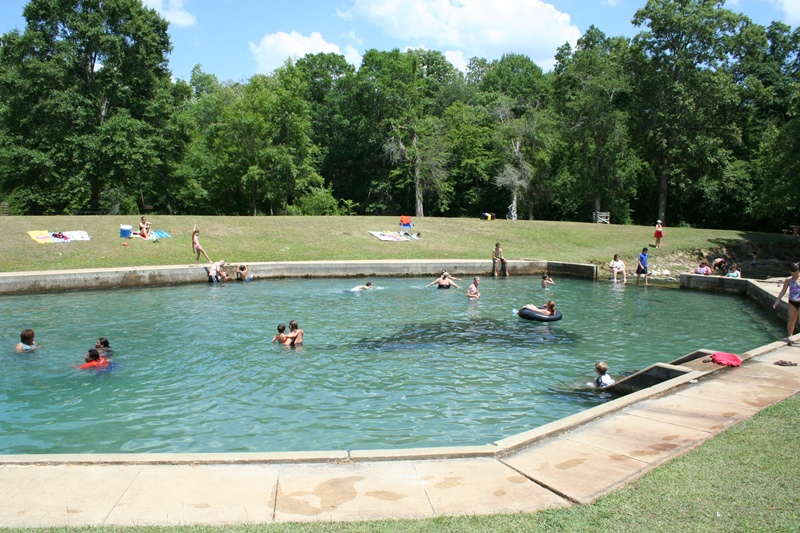 Phone: (334) 397-4875
Address: 2595 AL-10, Clio, AL 36017
Activities and Amenities Highlights:
swimming

fishing

hiking and biking trails
This secret swimming hole in the hot Wiregrass Region of Alabama is popular among locals in particular. However, it's well worth a drive from anywhere in the states for its modern campground and crystal-clear waters.
The park's main attraction – the swimming pools — are fed by an underground spring that remains at 68 degrees all year round. Engage in volleyball, fish in the pond, go for a bike ride, or just relax in the sun before your next dip. There are also several pavilions with picnic tables and many green spaces to spread out a blanket and have a picnic.
The park features 47 campsites, 7 of which have a sewer hook-up. Each spot has its own picnic table and a grill. Campfires are allowed too.
The Wiregrass Region hosts plenty of festivals in late summer and fall, such as the National Peanut Festival in Dothan, Claybank Jamboree Arts & Crafts Festival in Ozark, and many more. Blue Springs State Park is, thus, a great overnight option when traveling around the area.
Lake Guntersville State Park
Phone: (256) 571-5455
Address: 24 State Campground Rd, Guntersville, AL 35976
Activities and Amenities Highlights:
golf

fishing

hiking

biking
Located on the banks of Lake Guntersville, this resort-like state park is an option for both those looking for a retreat as well as adventurous campers. The park is nestled on 6,000 acres of woodlands featuring many recreational offerings, such as an 18-hole golf course, a zipline, a beach complex, and 36 miles of hiking and biking trails.
There is also plenty of overnight and extended stay options. You can choose from a modern campground, cabins resting on the banks of the lake, chalets in the ridge-tops, or the lodge on the pinnacle of Taylor Mountain that provides some extraordinary views.
Facilities include a resort inn, restaurant, and convention center perfect for group gatherings. Guests who would like to explore outside of the park can visit some of the area attractions, like downtown Guntersville, Wheeler National Wildlife Refuge, the U.S. Space and Rocket Center in Huntsville, Cathedral Caverns State Park, Bucks Pocket State Park, or High Falls County Park.
Even the most demanding campers will surely enjoy staying at Lake Guntersville State Park.
Lake Osprey RV Resort
Phone: (251) 357-1153
Address: Lake Osprey RV Resort, 12054 Gateway Dr, Elberta, Alabama 36530
Activities and Amenities Highlights:
Clubhouse
Swimming
Fishing
Boating
Lake Osprey RV Resort offers resort living in an active community. You'll be "living the life" you have always wanted with sporting activities, gatherings at the clubhouse and poolside recreation. And do not forget to participate in the monthly activities; there's sure to be something for everyone!
Enjoy an upscale lifestyle at a great price by swimming in the beautiful pool or fishing or boating in the area. There are sugar-white sandy beaches nearby, as well as a number of vacation attractions and world-class shopping.
Look forward to a quality RV lifestyle and country club experience at Lake Osprey RV Resort, a luxury RV vacation destination! No need to leave your pet at home when you book a stay at this resort.
What People Say About Lake Osprey RV Resort
"Beautiful Resort! Full of Southern hospitality! Very helpful manager, Sue is so friendly! Swimming, biking, Pickleball, Golf all right at our front door. Love the people. Best place we have found to spend a winter." -Google Review
FAQs about Camping in Alabama
Is it illegal to camp on the beach in Alabama?
Camping with tent or shelter bigger than 7 feet by 7 feet are illegal in public beaches in Alabama but you can find many campgrounds and designated areas for beach camping in Alabama.
What is the best beach camping in Alabama?
Gulf State Park is definitely one of the best beach camping spots in Alabama. You can enjoy crystal clear water and white sand beaches of the Gulf Coast.
What is the best family camping in Alabama?
Yogi Bear's Jellystone Park RV Camp Resort of the Alabama Gulf Coast has the best amenities and events for kids and therefore it's considered the best family camping in Alabama.
Conclusion
A trip to the American Southeast wouldn't be complete without a stop in Alabama. Whether you're looking to stay on a white sandy beach or in a hidden cabin in the woods, this state has a plethora of campgrounds with the amenities one could be looking for.
From numerous state parks full of wildlife to RV resorts in Gulf Shores with pools and all sorts of sports activities, Alabama has got you covered!