The state of Ohio is ideally placed for great camping throughout the year. You can camp in the northern region of the state near the shore of Lake Eris, or head south to the Wayne National Forest.
In the southwest part of the state, check out the state parks near Cincinnati. Head east and consider a trip to The Wilds, just south of Zanesville. Ohio offers plenty of things to do and a place to hang out, from the Rock and Roll Museum in Cleveland to the Central Ohio Fire Museum of Columbus.
Whether you're just wanting to get into the woods and get away from it all, or check out the major urban areas and enjoy Ohio culture, you'll have a great time on your camping trip in Ohio.
Tired of camping around Ohio? Check out camping spots in neighboring states:
Here we go: Best Camping in Ohio for 2022
Indian Creek RV & Camping Resort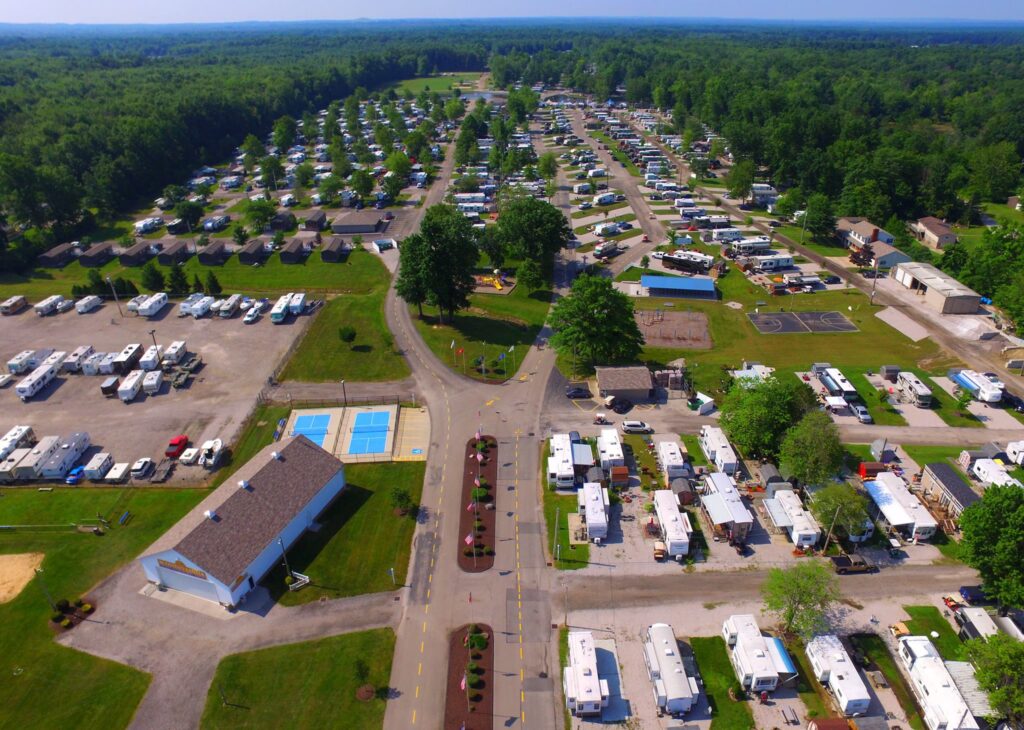 Phone: 440-466-8191
Address: 4710 Lake Rd E, Geneva, OH 44041
Situated across from Lake Eria in Geneva-on-the-Lake, Ohio's first summer resort town, this campground will enchant you with its very friendly and laid-back atmosphere, as well as the various amusing amenities.
Pull up your RV or rent one of their cottages. Drop a line in one of their catch and release fishing ponds or practice precision in the 18-hole mini-golf. Kids will appreciate the on-site playground and heated swimming pool. And for a bite to eat, try The Loft, an on-site restaurant and lounge bar.
If you wish to explore the area, you can visit the Rock and Roll Hall of Fame in Cleveland, the historic Ashtabula Harbor, or one of the quaint local wineries. This camping resort and its surroundings simply have something for everyone.
Whispering Hills Jellystone Park Camp Resort – N.1 Family Camping in Ohio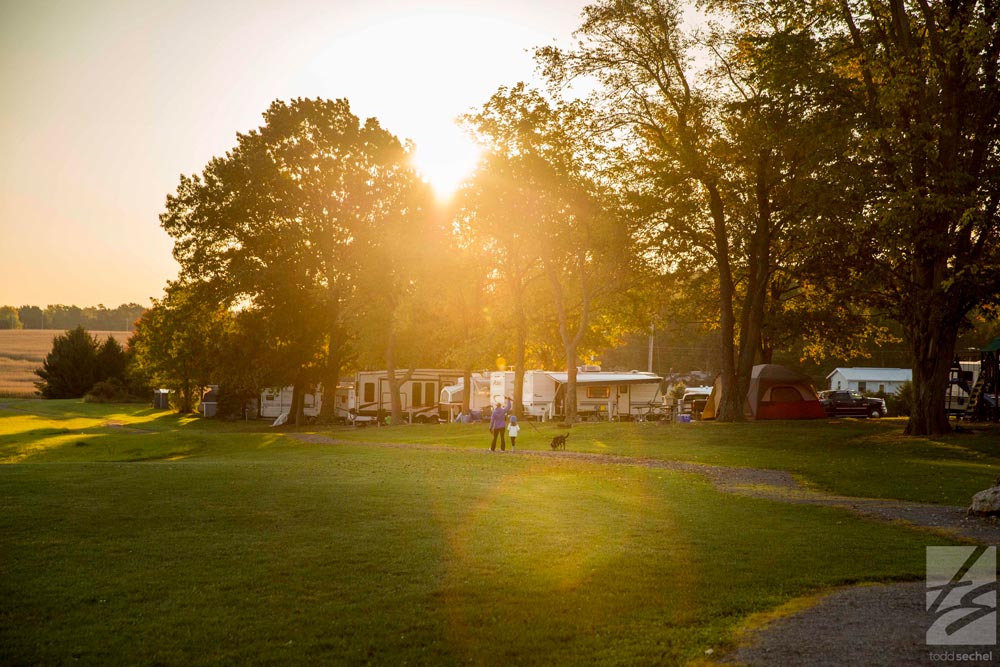 Phone: 330-567-2137
Address: 8181 OH-514, Big Prairie, OH 44611
Located in Holmes County with views over the picturesque Amish Country, this popular family-friendly campground is a perfect option for those looking for fun camping.
The resort offers an extensive selection of activities and amenities, including a heated pool, outdoor movie theater, mini-golf, and disc golf. Outdoor enthusiasts will like the catch and release fishing lake (no license required!) and the adjacent hiking trails, whereas kids will love the playgrounds, jumping pillow, or the gem mining sluice. And for your four-legged friends, there is a fenced dog park with obstacles to enjoy.
You can choose from over 200 pull-thru and back-in hookup sites with 30/50 amp service. Each spot has its own picnic table and a fire ring. Glamping in charming full-service, as well as rustic cabins, is available too. If you prefer to rough it, there are also some primitive tent sites.
Lake Erie Islands State Park
Phone: 866-644-6727
Address: 4049 East Moores Dock Road, Port Clinton, OH
If you're ready to stretch your legs, this park is a great option. In addition to being right on the water for swimming, kayaking and other fun, there are limestone cliffs to hike and crystal caverns to explore.
These islands are just north of Sandusky and are scattered north of the Ohio mainland in the southern waters of Lake Erie. Be prepared for cool breezes and calm, quiet waters around you. Pack smart; you'll need to take the ferry out to these islands but the quiet and calm are worth it!
If you've got an RV and want to check out the southern shore of Lake Erie, consider a stay at Camper Village in Sandusky. There's an amusement park nearby for the kids, including some killer roller coasters, such as the Valravn. No matter your vacation goals, the southern beach of Lake Erie will give you plenty of options.
Caesar Creek State Park
Phone: 513-897-3055
Address: 8570 E State Route 73, Waynesville, OH 45068
If you've got an RV, you'll find a spot at Caesar Creek. There are almost 4,000 acres of wildland to explore and enjoy. Both private campgrounds and public reservation spaces are an option, depending on the camping gear you prefer and the amenities you expect.
You can also rent a cabin at the Mohicans or stay in a Treehouse. There are several bed and breakfasts near Caesar Creek, so you can sleep in comfort, enjoy warm running water and spend time in the great outdoors.
Check some of the best camping gadgets comparisons:
Lake Loramie State Park
Phone: 937-295-2011
Address: 4401 Fort Loramie Swanders Rd, Minster, OH 45865
Swimming

Bird-watching

Disc golf
Northwest Ohio is flat farm country, dotted with calm lakes. Thus, you can enjoy plenty of peace and quiet on this placid, rural land. There are many RV hookups here and electric campsites are easy to come by.
Be sure to call ahead to find out any limitations as to length of RV and availability of pull thru sites if needed.
For those who love to tent camp, be aware that Lake Loramie gives tent campers access to a private peninsula right on the water. No engines, no generators, just you, water and calm. Lake Loramie offers fishing, hiking and plenty of swimming to cool off when the sun is high. You'll also find plenty of shade cover in the tree canopy near this lovely park.
Frontier Log Cabins at Hocking Hills
Phone: 740-332-6747
Address: 18381 Thompson Ridge Rd., Laurelville, OH
Zip lining

Horseback riding

Golfing
Every camping trip calls to travelers for different reasons. Are you ready to get out in the fresh air and do some hiking, or do you want to escape the working world, turn your phone off and carry a stack of books into the woods? With a stay in the Frontier Log Cabins in Hocking Hills, you can do both, either, or neither. Your stay at this facility, which doesn't offer camping space to families with children under the age of 16, is an ideal place to disconnect and get away from the stresses of the day.
Renting a Frontier Log Cabin means that you will have a kitchen, a comfy living room, a cozy place to sleep and plenty to do. At the same time, you'll have no reason to leave. Bring your bathing suit as many of the cabins have a hot tub. Wi-Fi is available if you need and want it. So is a rocking chair on the front porch where you can enjoy a warm cup of coffee while you disconnect.
While you're staying at Hocking Hills, make sure you look up when the sun goes down. This stretch of Ohio is famous for the night sky, the darkness that makes the sky enjoyable, and the legacy of astronaut John Glenn.
Alum Creek State Park
Phone: 740-548-4631
Address: 3615 S. Old State Road, Delaware, OH 43015
Swimming

Paddling, kayak or canoe

Boating and fishing
Fishermen will love a stay at Alum Creek State Park. This US Corp of Engineers lake is big enough for everyone who loves getting on the water. In addition to mechanized boats welcome at the southern end, the northern stretch of the lake is reserved for paddling.
You can fish from your boat or from the shore. There are plenty of sites to pitch your tent. You'll also find 8 cabins for rent if you'd like a bit more privacy.
The whole family will find fun things to do at Alum Creek State Park. In addition to a 4 acre dog park, families with kids will want to schedule their visit around the Grossfest, built around everything nasty. This amphitheater production includes a "look but don't touch" celebration of all things nasty.
Cuyahoga Valley National Park
Phone: 440-717-3890
Address: 15610 Vaughn Road, Brecksville, OH 44141
Cycling

Hiking

Horseback Riding
The cleanup of the Cuyahoga River is a tribute to the environmental movement of the United States. While this river once actually suffered a fire due to the garbage floating on it and the chemical contamination in it, the cleanup of this waterway is a strong indicator of what can be done if you really love the land.
This national park gives those interested in protecting the environment additional chances to volunteer along the river. While you stay along the Cuyahoga, you will be conveniently close to the amenities of Cleveland and Akron. However, if you just want to stay on the hiking trails, you can enjoy over 100 miles of gorgeous Ohio countryside.
You can also enjoy the historic towpath trail and study the legacy of the Erie Canal. Camping sites for your visit to the Cuyahoga Valley National Park can be found at the Nimisila Reservoir, the Ottawa Overlook Backcountry Site, and at Punderson State Park.
Beaver Creek State Park
Phone: 330-385-3091
Address: 65330 Barkcamp Road, Belmont, Ohio 43718
Paddling

Bird Watching

Star Gazing
Beaver Creek State Park offers plenty to do during the day. You'll find amazing hiking, beautiful wildflowers and calm waters, ideally suited to paddling a canoe or kayak. There are a number of campsites available, from tents to RV as well as truck campers.
However, it's after the sun goes down that Beaver Creek really offers nature lovers the chance to marvel at our universe. Beaver Creek State Park is ideally suited to see the Perseid Meteor Shower in August. Thanks to the low level of light pollution in the area, the star-gazing here is amazing. Depending on when you visit, make sure you take a walk under the full moon, too!
Wapakoneta KOA
Phone: 419-738-6016
Address: 14719 Cemetary Rd, Wapakoneta OH, 45895
Armstrong Air and Space Museum

Wapakoneta Water Park

Temple of Tolerance
If you've spent any time in a KOA campground, you know that this group caters to every activity level and interest. If you want to get in the pool, they have one! There's a spot for your family pet and many activities for your children.
The Wapakoneta KOA campground in northeast Ohio gives travelers the chance to mingle or to stay solo. Thanks to the buddy pads offered at this site, friends and family can align their RVs so the doors open towards one another.
KOA campgrounds offer campers of all physical abilities the chance to enjoy some fresh air. If you need handicap access to various facilities, this campground company can help. The Wapakoneta KOA campground features sites for RVs of all sizes, including concrete pads for pull-through units. Even if you prefer not to rough it, you can find a gorgeous spot to park your RV and enjoy the beauty that is the Ohio outdoors. You can also enjoy a rented RV already set up for you on an RV pad.
This KOA campground includes several cabins. There are more rustic options that provide a quiet place to sleep and plenty of and privacy. You'll enjoy an outdoor grill, a small refrigerator, heat and AC. You can also find a bit more convenience in one of the deluxe cabins offered by this facility, which includes a kitchen, bath and a microwave. Linens are provided in the deluxe cabins; sleeping cabin linens are available at an additional charge.
Salt Fork State Park
Phone: +1 740-432-1508
Address: 14755 Cadiz Rd, Lore City, OH 43755, United States
A marina
Hiking trails
A mini golf
an auditorium
This site is an official state park in Ohio, the largest in the state, offering many amenities, benefits and best tent camping in Ohio. It is open year-round, with the peak season running from April 1 to October 31.
Located in Guernsey County in eastern Ohio, near Lore City on I-77, Salt Fork State Park is not just for RVs, as it also has campgrounds, cabins and lodges on its 17,229 acres of land.
In addition, the park has 2,952 acres of waterfront. Amenities at this park include an 18-hole golf course, a beach, a marina, hiking trails, showers, mini golf, a nature center, picnic tables, dining options, a gift store, amphitheater, and more.
It's a great place for a family, especially one with younger children, because there's plenty to do.
Pets are also allowed in certain places, but only a maximum of two per family, and they must be leashed and supervised at all times.
Prices vary here, but generally range from $22 to $45, depending on the location and whether or not it's high season.
Camping in Ohio FAQs
Conclusion
The state of Ohio offers a wide variety of topography. From the shore of one of the Great Lakes to plenty of river access and many smaller lakes, there are many water activities to keep you busy and allow you to relax on the shore or in a boat. Lush forests provide privacy, quiet, gorgeous fall colors, and a treehouse to sleep in! From rolling, tree-covered hills to smooth stretches of prairie, you can find a topography that will soothe your soul in Ohio.
The campgrounds of Ohio don't discriminate. If you want to tent camp, you'll be welcome. If you're in need of a pull-through RV site for your 5th wheel, you can find a spot. From rentable cabins to rustic camping along a lake, you can find a location and an activity level that will fulfill your vacation needs.
Finally, Ohio wants to show you the stars. Astronaut John Glenn was born in Cambridge, Ohio. This historic pilot and stargazer got his start enjoying the night sky around New Concord. No matter where you are in Ohio, the stars will call you. Stretch out under the star canopy from your campsite in Hocking Hills State Park, watch for the International Space Shuttle, or just keep an eye out for a shooting star. You'll be in great company.