Known for its nightlife, Cancun is a favorite destination for universities during spring break. Want to have fun? Come here and experience the positive atmosphere of this Mexican city. Famous for its beaches and numerous resorts, Cancun offers everything you need to relax and escape from your daily life. Explore the traditional downtown area and discover along a beachfront strip of hotels, known as Zona Hotelera. The place is loaded with resorts, restaurants, shops, and nightclubs.
PACK HACK: Save up space.. get a microfiber towel!
FAQs about hostels in Cancun
Here is our list of the top hostels in Cancun which are a great starting point for exploring the city.
Mayan Monkey Hostel Cancun
(Winner of "Hoscars", Hostels Oscars 2021 by Hostelworld.com)
HostelWorld (*9.1) Booking.com (*9.0) Map Starts at ($16) for 12 bed-dorm
**SPECIAL 10% SELINA DISCOUNT* Use Our Coupon: "TRAVELING-SELINA" while Booking on Selina's Website to Get Exclusive Discount.
**prices are shown for weekdays in Mid-season (May)
Formerly known as Senor Frogs Hostel, The Mayan Monkey Hostel has no curfew, so you don't have to worry about getting into your room after a late night of fun and excitement. The outdoor terrace is a great place to chill out, socialize, or get some work done before you start your next adventure. With keycard access, convenient parking, air conditioning, dryers, fridges, and other amenities, you will always be comfortable on your trip.
If you're a digital nomad or working professional, then you know how important it is to stay connected to the internet. The Mayan Monkey has free high-speed Wi-Fi so that you can always check in with your colleagues and chip away at your projects. The café and coffee machines will help you stay energized so that you can finish that last bit of work before your next outing.
When you want to go for a quick dip without the sand, you can always stop buy the clean and refreshing outdoor pool. Located near a variety of bars, restaurants, clubs, and entertainment venues, you won't have to go far to find something to do when you stay at the Mayan Monkey Hostel. When you're at the Mayan Monkey Hostel, something new and exciting is always just a few steps away.
Nomads Hostels & Bar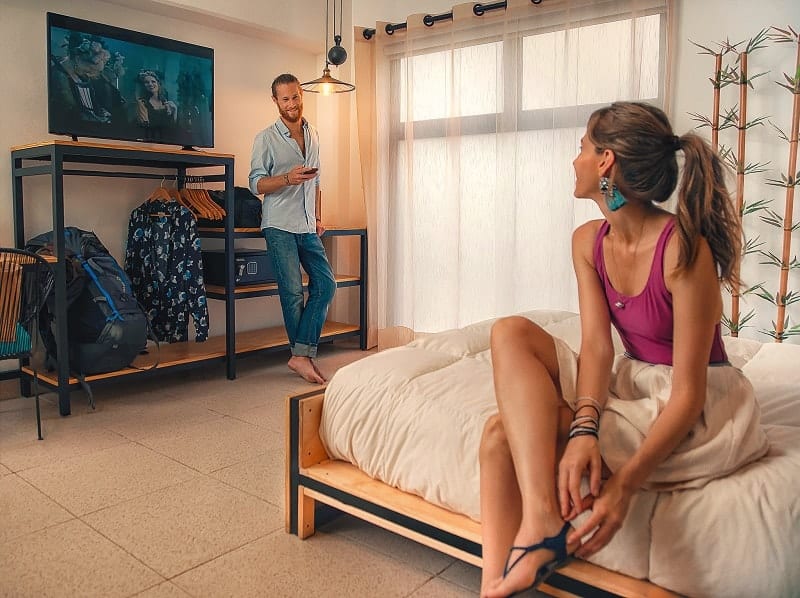 HostelWorld (*8.7) Booking.com (*9) Map Starts at ($13) for 8 bed-dorm
**prices are shown for weekdays in Mid-season (May)
The Nomads Hostels & Bar is one of the newest and most astonishing hostels in the city. It is an ideal place for backpackers and long-term travelers. The hostel offers everything you need to have the best time in Mexico. There is a rooftop pool with a long bar where you can enjoy sunsets while hanging out with people from all over the world. And they organize a BBQ pool party every Saturday.
The place is perfect if your wallet isn't too thick. At just $23 you can book a bed in a mixed dorm, and breakfast is included in the price! An all-you-can-eat breakfast is prepared by a chef, cooking on a daily basis. Thanks to the friendly staff and the collaboration with a local travel agency you will easily find the good spots in the city.
Nomads Boutique Hotel & Hostel (Enigmatic Hotel)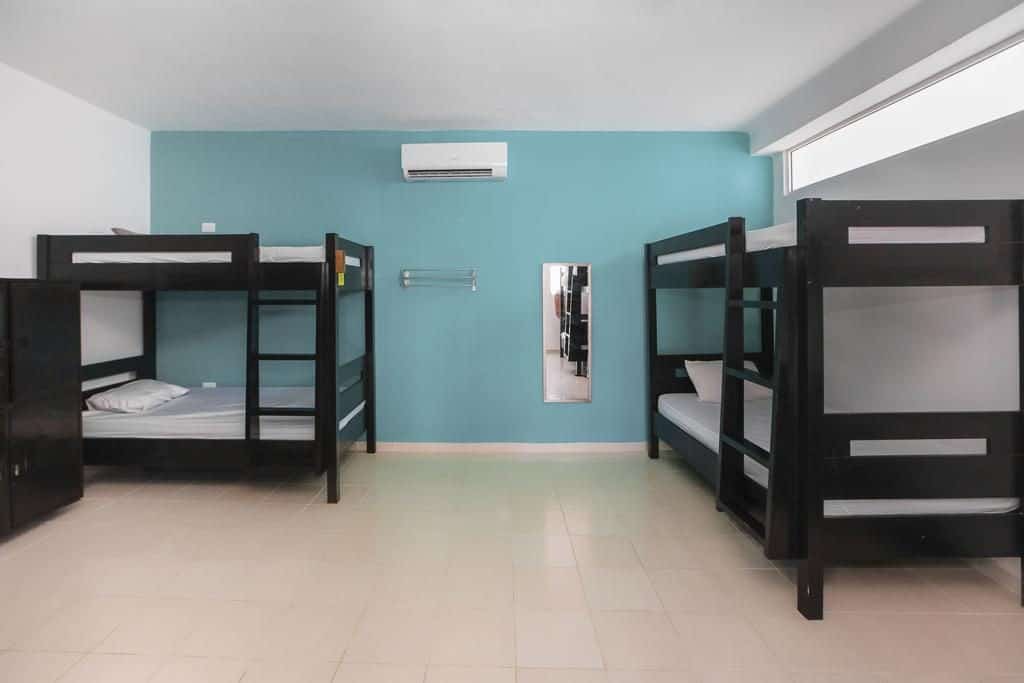 HostelWorld (*8.3) Map Starts at ($10) for 14 bed-dorm
**prices are shown for weekdays in Mid-season (May)
Formerly known as Mezcal Hostel, Nomads Boutique Hotel and Hostel is located just 0.7 miles away from the city center, and it is surrounded by shops, traditional Mexican restaurants, and convenience stores. If you're looking for constant action, this hostel is a place to be since there is never a dull moment. They have a great collaboration with agencies in the city so you can book some of the daily tours: Snorkel paradise, Chichen Itza, Xcaret, Isla Mujeres, and much more. Take a bike tour, practice yoga and Zumba at the hostel, improve your salsa skills or participate in karaoke nights. You can also chill in a hammock and sunbathe by the pool, or mingle with foreigners in Mezcalito Bar.
This hostel welcomes all travelers on a budget. Book a bed in a mixed dorm for $17.5, breakfast and dinner included. You will also get VIP access to most of the clubs in a Cancun Party Zone.
Selina Cancun Downtown (Best for Digital Nomads)
HostelWorld (*8.7) Booking.com (*8) Map Starts at ($11) for 10 bed-dorm
**prices are shown for weekdays in Mid-season (May)
As the name suggests, Selina Cancun Downtown is located in the city center. The nearest bus station is only several steps away while the airport is 20 minutes from the place. It is close to Tulum and Riviera Maya, the famous districts of Cancun. The hostel offers different options for every type of traveler. You can spend all day by the pool or play games with other guests in the hostel. Every day they organize various activities, such as live music performances. The place is only a few minutes away from Nader Street which means that trendy hot spots are just around the corner. The area is also loaded with markets, restaurants, and local bars.
Hostel Ka'beh Cancun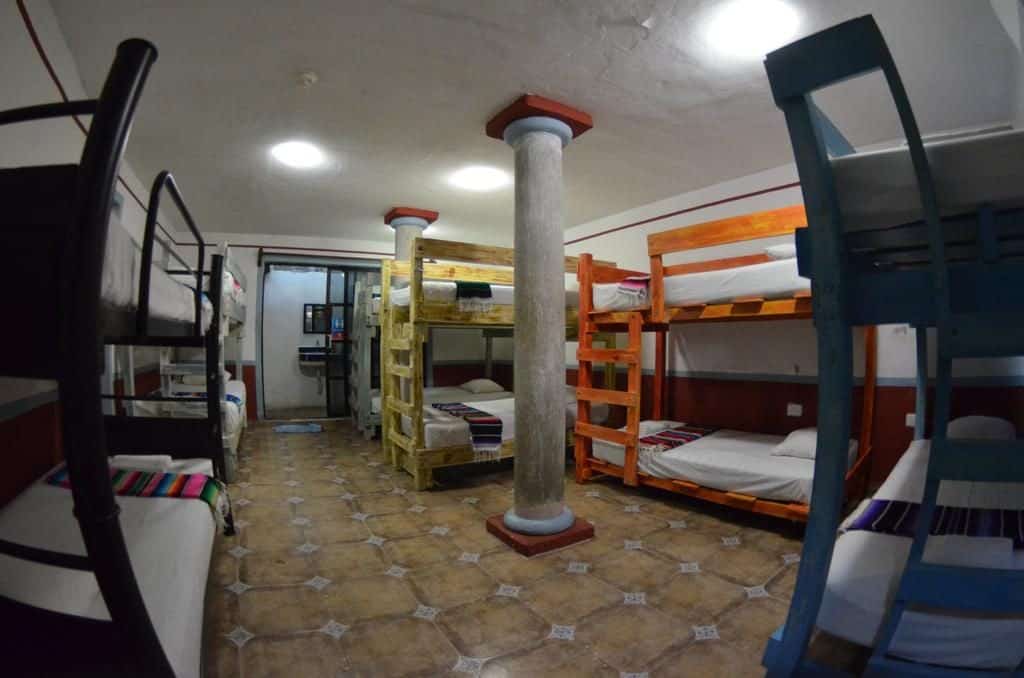 HostelWorld (*8.3) Map Starts at ($8) for 6 bed-dorm
**prices are shown for weekdays in Mid-season (May)
In Hostel Ka'beh Cancun they believe a fundamental part of living. Their passion for traveling and amazement with Yucatan peninsula is brilliantly combined in a hostel dedicated to young travelers. The staff's motto is: Travel slowly. There is no checkout time, and everything is designed to relax you while being on the trip of a lifetime. Staying with Ka'beh means you will make new friends of different nation, culture, language, and nature.
Different activities are organized every night to support mingling with other fellow travelers. The rates are extremely low and include breakfast and dinner free of charge, a check-in shot and a welcome beer.
Hostel Natura Cancun
HostelWorld (*8.8) Map Starts at ($13) for 10 bed-dorm
**prices are shown for weekdays in Mid-season (May)
Are you looking for a brand-new hostel right in the heart of Cancun? Then Hostel Natura Cancun is the place you're looking for. It is a colorful place where a good time is guaranteed. All famous bars and restaurants are within walking distance, so there's no need for paying expensive taxis.
The party center is 3 minutes away while you can almost jump into the sea from the hostel. There is even a scuba diving instructor in the hostel if you're looking for more adventure. Former guests recommend this hostel to all young travelers who want to get a local experience. The restaurant is delicious while the rooftop is the best part.
Agavero Hostel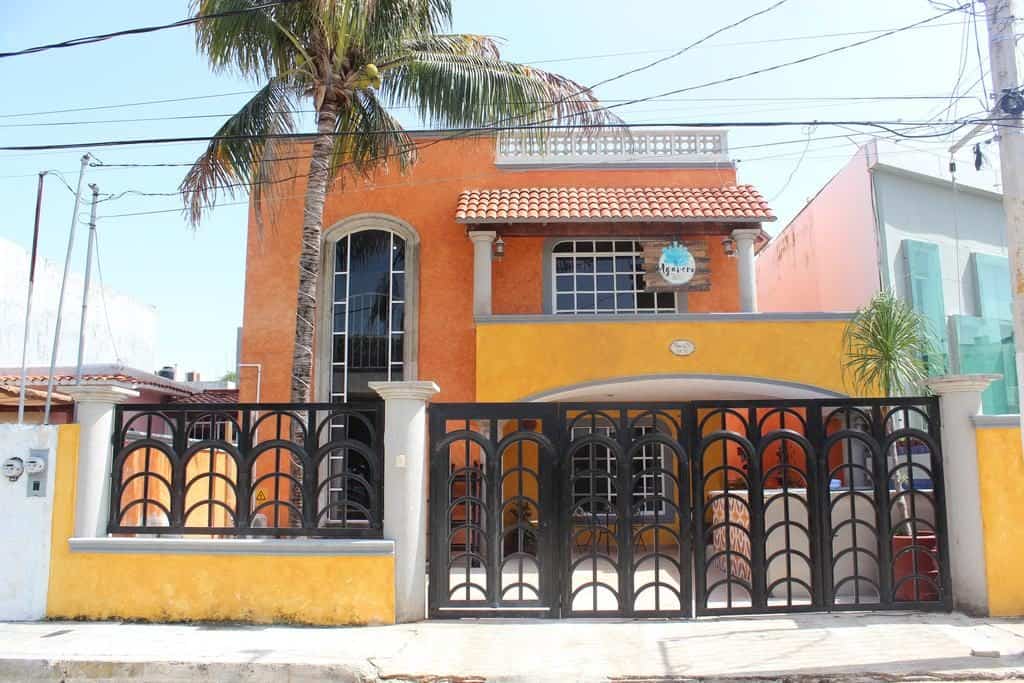 PERMANENTLY CLOSED
Looking for a decent place to stay but at a low price? Agavero Hostel offers the best value for money. It is conveniently located in one of the most popular areas of Cancun. Estadio Olímpico Andrés Quintana Roo and Planetario De Cancún, some of the most famous landmarks in the city, are located within walking distance.
The place is perfect for young travelers who want to experience Mexico at its best. Barbecues, pool parties, cinema nights, cooking lessons, dancing at a bar, ping pong games and, as they say, the coldest beer in Mexico will make your time in Cancun unforgettable. Prices are starting at $8 for a bed in a mixed dorm. It is rated as one of the top hostels in Cancun for the young population, but have in mind they don't accept travelers younger than 18 years of age.
Haina Hostal
PERMANENTLY CLOSED
One of the favorite places for students and backpackers where you feel like home. Haina Hostal is the best place to relax after partying all night. You can sit in the front garden or go to the back patio under the trees. You can read a book, take a nap, or with people who pass by.
This place is popular among travelers who are on a tight budget. A bed price in a 6-bed mixed dorm is around $11 while you can book a twin private for only $32. Restaurants, bars, shops, banks and bus station are within walking distance. Beach is located 10 minutes away from the hostel by bus.
Hostel Orquideas
PERMANENTLY CLOSED
Looking for a family atmosphere on your trip? Book a bed in Hostel Orquideas. The place is run by an Italian family who knows how to make people feel like home. They cook for all the guests and bring everyone to the table. This creates an excellent atmosphere where people can share their experiences.
The breakfast is free of charge as well as WiFi, and you have access to a computer. Hostel Orquideas is a place where you go to meet new friends from all around the world and hear about their travel experiences. And you can find a bed for $8!
---
Author: Tanya Mayer is a freelance writer, you can reach her at mayert685@gmail.com. If a business takes you to Mexico make sure to contact The Word Point translation service.