Florida is one of the United States' most traveled locations. Tourists from around the world visit the state every year for its beautiful beaches, great fishing, food and wetlands.
In the colder winter months, people know that Florida is a great destination, but you can increase your treasure odds by going on an RV road trip through Florida any time of year.
RV parks are scattered across the state, with many RV sites in the vicinity of the world's most popular tourist attractions, including the Kennedy Space Center and Walt Disney World.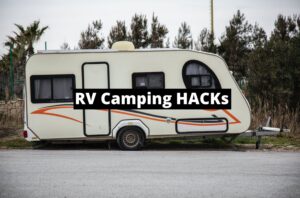 Check out: Best RV Parks in Georgia
Larry and Penny Thompson Memorial Park and Campground
Want to spend a couple of days in Miami without breaking the bank? Consider Larry and Penny Thompson Park and Campground.
It's a great home base for exploring the city as well as numerous Southern Florida attractions. If you want to take it easy, the park on its own also has plenty to offer, including:
Swimming pool
Lake with a beach
Hiking and biking trails
Miami Zoo
The campground features 240 full hookup RV sites and four large bathhouses with laundry facilities, showers, and restrooms. Compared to other accommodations, staying there will cost you only about $35 daily, and monthly stays are even cheaper.
Fisherman's Cove RV Park
Set in the breathtaking Terra Ceia Bay, Fisherman's Cove is a quiet RV resort perfect for travelers who like small-town comforts and yet like to stay close to the city.
The resort features full hookup RV sites, a clubhouse, an outdoor pavilion, a tiki hut with BBQ, laundry facilities, a fishing pier, and a private boat ramp. As the name suggests, visitors can enjoy a plethora of water activities, including:
Paddle boards and kayaks (both complimentary)
Fishing
Boating
Pool and a jetted hot spa
There is also a fitness center, pickleball court, and a dog run.
If you ever get bored at the park, there are plenty of other things to do in the area. Explore the culture and nightlife of Sarasota, St. Petersburg, and Tampa, or discover all Anna Maria Island has to offer. There are also plenty of golf courses and beautiful white sand beaches nearby.
Santa Rosa RV Resort
BEST RATED & BEST LOCATION!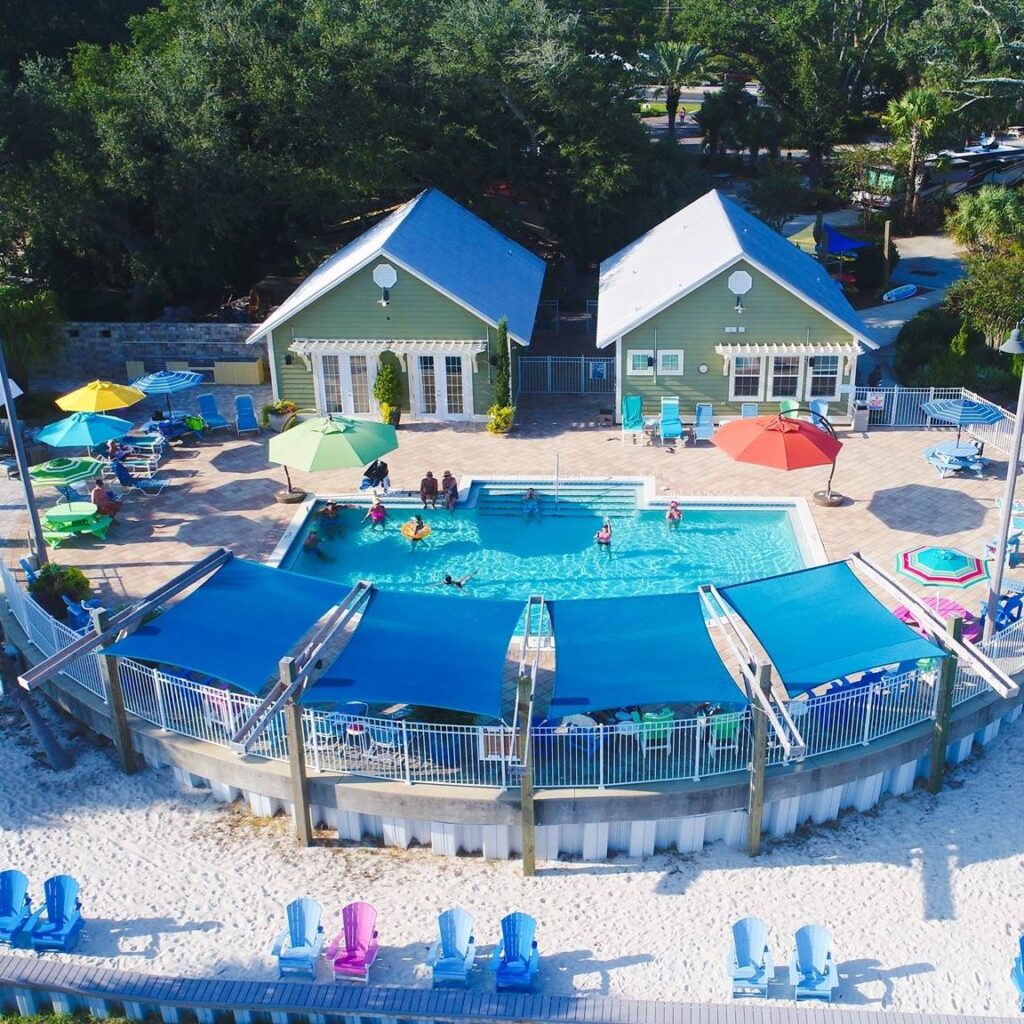 Santa Rosa RV Resort provides some of the best views that an RV park can offer from its waterfront spot in Navarre. In fact, you can even go out over the water that is between it and Pensacola Beach for 300 feet by taking a walk on its fishing pier. You may even get to see dolphins swimming past.
While at this palm tree-lined RV park, you can also enjoy:
White sand beach
Heated pool
Fitness room
Dog park
Near this campsite, which is situated between Pensacola and Destin, are golf courses, scuba diving opportunities, bike paths and parks.
On the site are 88 RV campsites, all of which are on cement and offer full hookups, including 30/50-amp electric. Its Wi-Fi connection is generally strong as well.
Do keep in mind, however, that some areas of the park can get noisy as it is situated next to U.S. Route 98 and that the park has a stringent refund policy.
Coastline RV Resort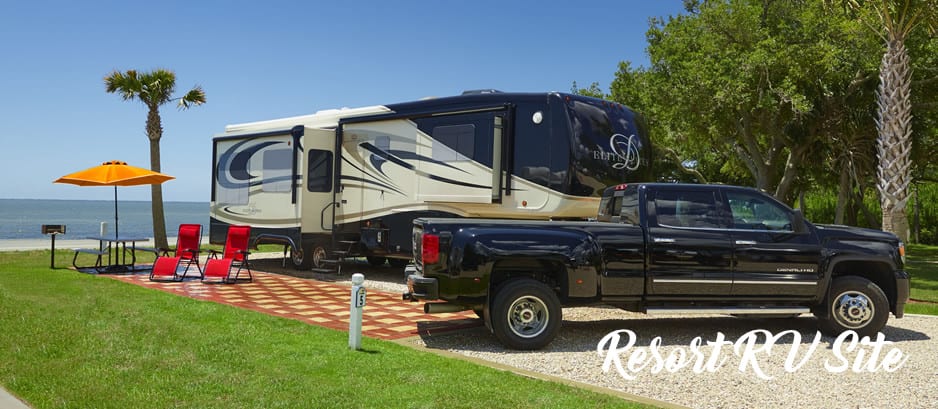 The Coastline RV Resort is a five-star RV park that is in Eastpoint, Florida. The resort has a luxury feel and offers a coastal charm that everyone can appreciate. You'll have access to small, local towns, but you'll have everything you need at this RV resort.
The coastline has a lot of amenities, including:
Fitness center

Rocking chairs

Fully equipped kitchens
You can choose to spend the day at the beach, or you can go offshore fishing. The facilities are pristine, with a friendly, helpful staff. Pull-through and back-in sites are available, and there is a total of 30 RV sites available.
Daily, weekly and monthly rates are available along with full hookups.
Bahia Honda State Park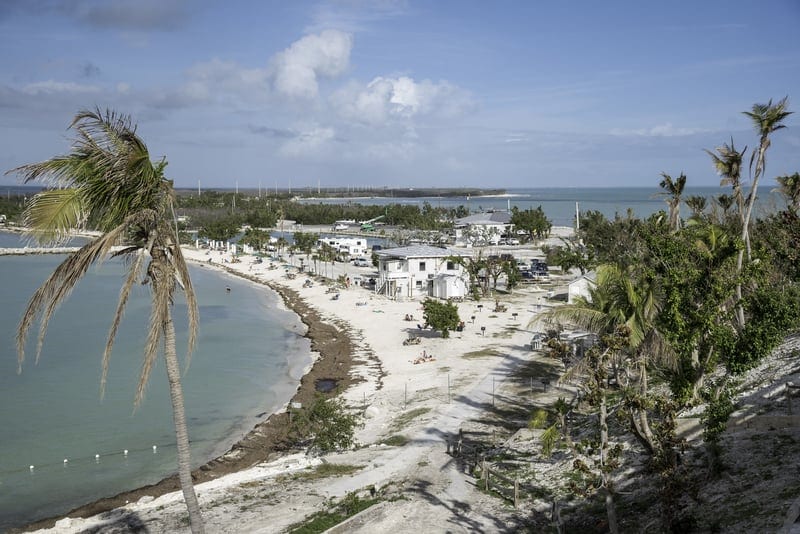 Want to stay in one of the most beautiful places in the country? Bahia Honda State Park is in the Florida Keys and is one of the most popular destinations in the country. Booking can be difficult, so make sure to try ahead of time as RV reservations fill up fast.
Primitive and full hook-up locations are available.
Barbeque stations can be found all throughout the park, where you'll see everything from birds to turtles. Filled with wildlife, the park is also known for its:
Fishing

150 species of fish

50 coral species

Kayaking

Snorkeling
You can venture into the water on a kayak or canoe, or you can choose to lay out on the beach and enjoy some peace and quiet.
Florida's warm weather, sunny days, lakes and beaches provide the perfect opportunity to park at an RV park and take an on-the-go vacation.
Which RV parks will you explore this summer?
Emerald Coast RV Resort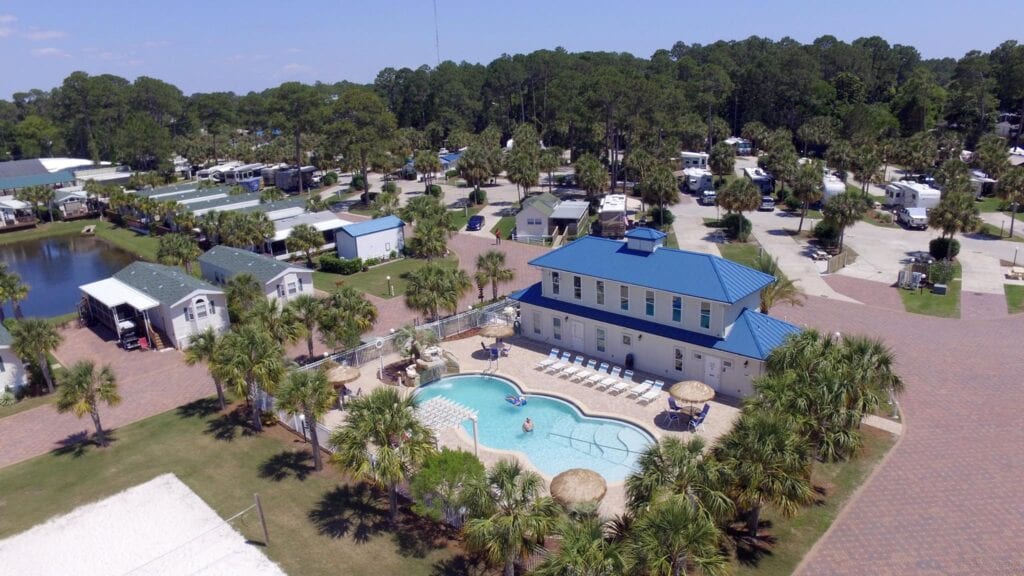 Located near Panama City Beach, the Emerald Coast resort is a modern RV park that offers full amenities and allows for up to 75 RVs to park at the resort.
You'll find that there are also tiny houses and options to rent if anyone visits you.
The many reasons to visit this park include:
Heated pools

Bike rentals

Fitness center

Playground

Grills

Picnic tables
Wi-Fi and cable access are available, and the park is pet-friendly. There are laundry facilities, stores and full showers available. You can also enjoy a day of fishing or play a game of pickleball during your stay.
Destin West RV Resort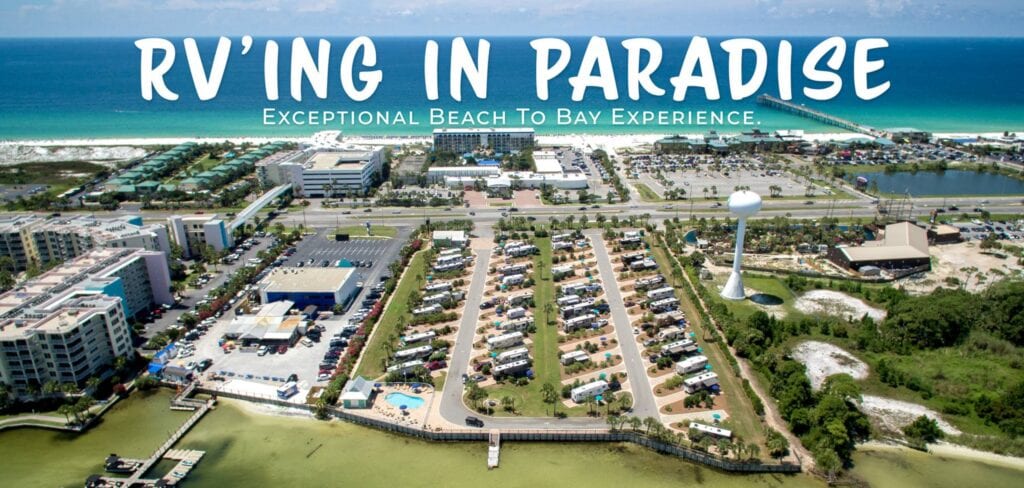 Destin West is another RV resort in North Florida with an amazing location in between the beach and a bay! You can get your RV hooked right on a waterfront. It can't get any better.
This RV park is connected with a hotel and beach resorts. Visitors can enjoy amazing amenities such as:
waterfall,

swimming pools,

pool bar,

beach bar,

beach access,

restaurants,

and more.
With plenty of activities around and with the access to one of the most beautiful beaches in the state, you won't regret parking your RV here.
Torreya State Park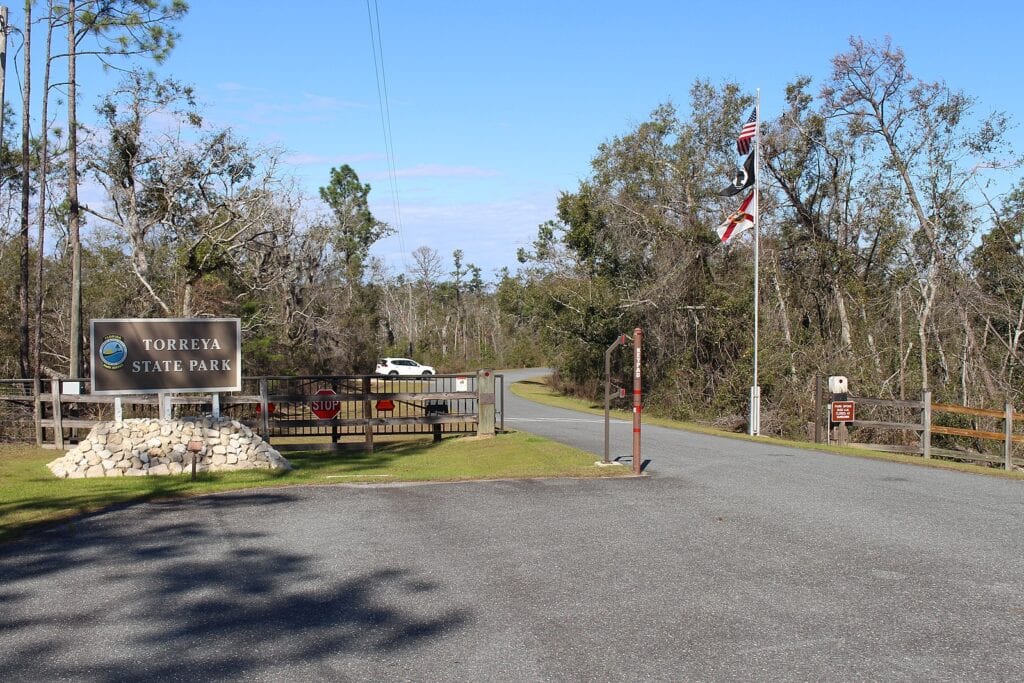 Another park that is located in Northwest Florida. Torreya State Park is where you park RV and get to take in the natural beauty of Florida.
You'll find that the park is a great place for an outdoor adventure and features 30 RV sites with electric and water hookups.
The park has:
Restrooms

Showers

Hiking

Fishing

Camping
You'll also be along the Apalachicola River, so you'll be able to have a break from the world with amazing river views. This is one of the amazing RV parks that people overlook because it's a state park.
St. George Island State Park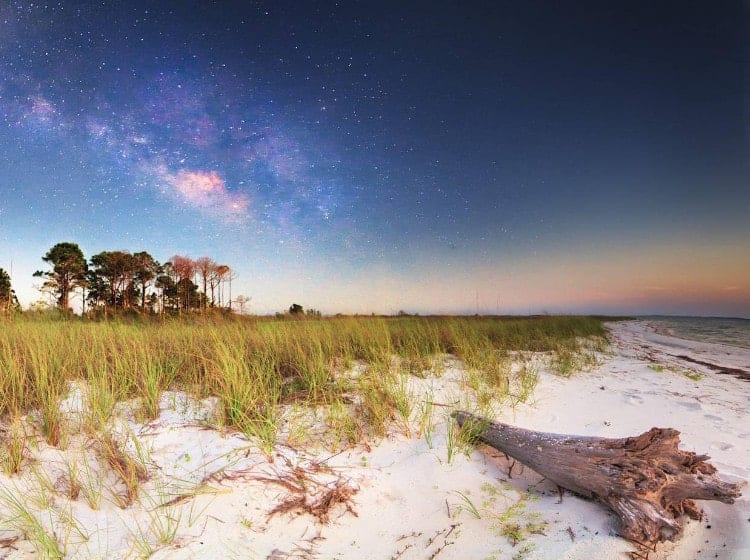 St. George Island is quite an isolated campground which is rated as one of the best Florida's state parks. Beautiful and private, this is the primary treasure chest in the region, offering:
Stargazing

Fishing

Swimming
When you want to get away from busy city life, St. George Island State Park provides a quiet adventure with miles and miles of beaches, all undeveloped, for you to lay on and work on your tan.
The staff is great, and the park is very minimalistic. You'll have all of the perks of a larger RV park with a much quieter environment and a lot of beautiful beaches to explore.
This is spartan RV camping, and there are hookups, pets allowed and rates for daily, weekly and even monthly rentals.
Lake Magic RV Resort
A great place to park and enjoy Lake Davenport. The Lake Magic resort is only a short drive from Disney and has a lot of other attractions close by. Use this resort as your hub to visit other great destinations, including:
Theme parks

Golf clubs

Restaurants
One nice perk of this resort is that you're able to stay for a long-term basis. You'll be able to enjoy discounts on weekly and monthly rentals, so it's a great opportunity if you're planning a long-term stay in Florida.
There is Wi-Fi available, and pets are allowed. Military members will receive a discount.
Florida Caverns State Park
Florida Caverns is a state park that is one of the most interesting parks in the state, especially for anyone who is into geology. The RV park has beautiful natural wonders and allows for a lot of great outdoor activities, including:
Camping

Kayaking

Hiking

Biking
There's a nine-hole golf course, and the RV park sits along the Chipola River. You can also take tours of the surrounding caverns and caves. An RV park is available on-site.
Fort Pickens Campground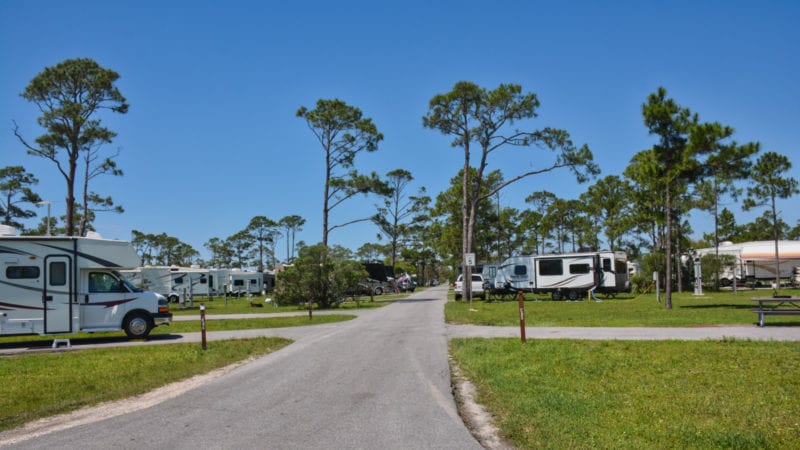 Fort Pickens is on Santa Rosa Island and is in the south of Pensacola. The park is open for reservations all year long, and there are 137 total camping and RV spots to choose from.
This location books up quickly, so it's recommended that you book at least six months in advance to make sure that there's a sport available for you.
The location has:
Showers

Flush stations

Electric
You'll be immersed in historic locations and be surrounded by:
Migrating birds

Oak tree groves

White beaches

Coastal marshes
A hidden beach RV resort, the park is 80% underwater and serves as a habitat for protected wildlife. There is a lot to do at Fort Pickens.
Lion Country Safari KOA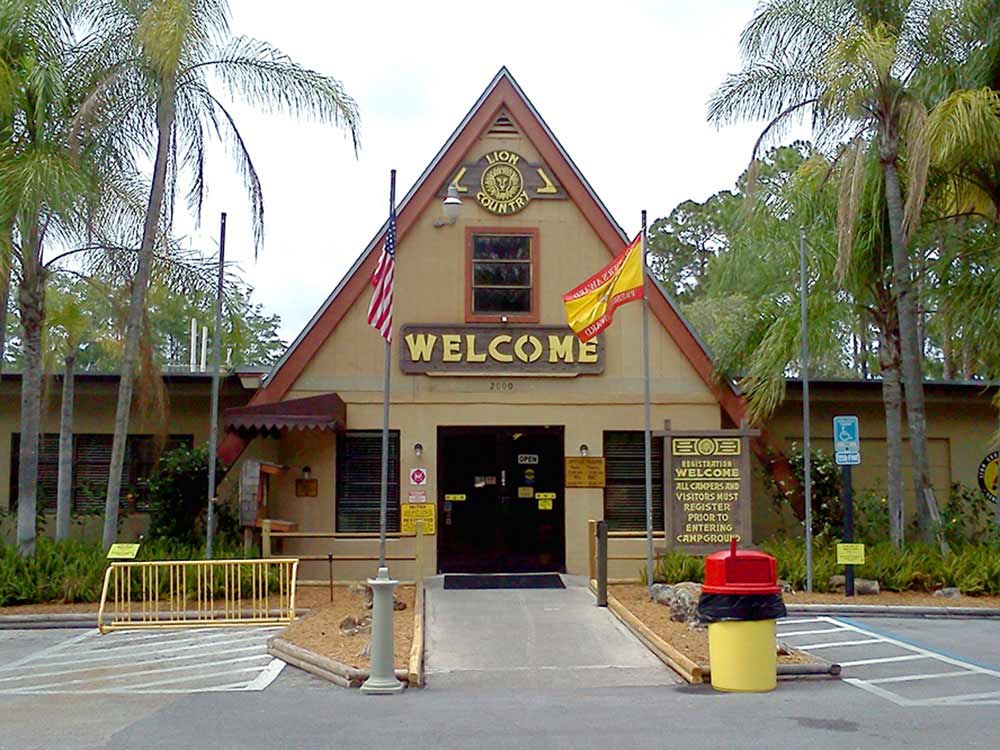 The KOA campground is one of the most exciting RV sites on this list. The RV site is located in a safari, so you'll have the opportunity to wake up to lions roaring. You can park your RV at the park, and there are also cabins for rent.
You'll be staying in a 320-acre RV site that is a safari and wildlife reserve.
Amenities are plentiful, with options to:
Feed giraffes

Play mini-golf

Play volleyball, basketball and more

Fish

Visit public golf courses

Swim, and more
Lion Country Safari has pools and amenities for the entire family.
Disney's Fort Wilderness Resort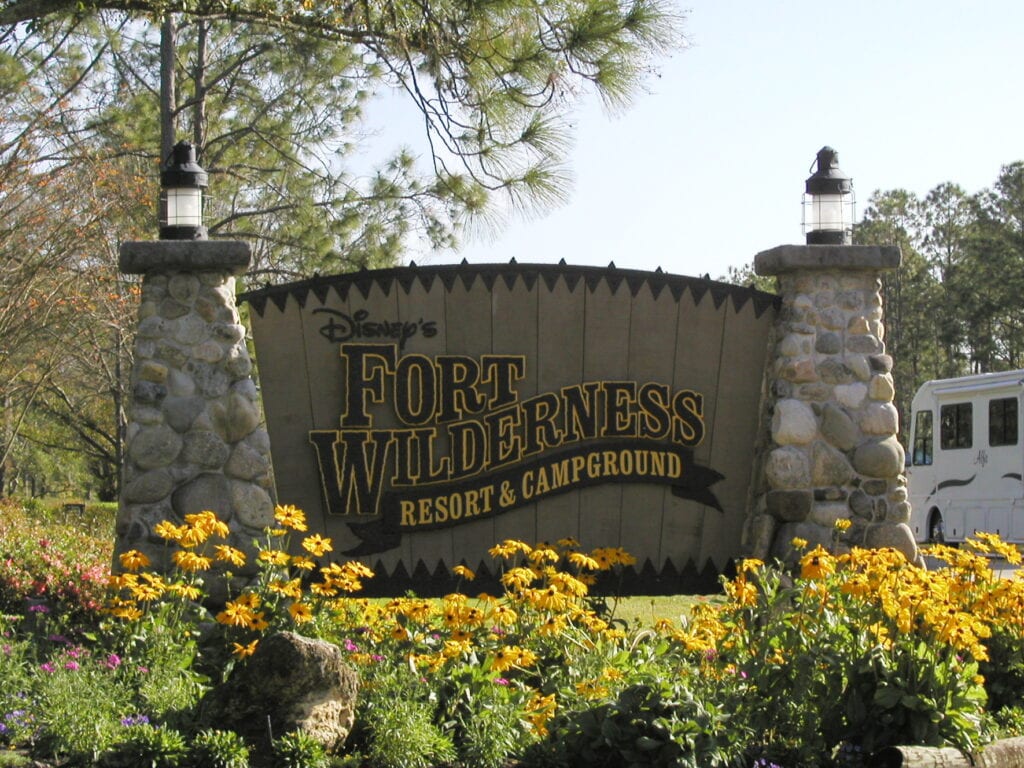 Want to visit Disney? You'll find one of the amazing RV resorts hidden away in Florida's Disney park. Fort Wilderness is located in the perfect location to visit all four of Disney's parks. You'll also have ample opportunity to:
Fish

Kayak

Canoe

Horseback ride

Try your hand at archery
If you want to venture into one of Disney's parks, you can leave your RV behind and either take a bus or ferry ride into the park. There are RV rental options as well as the opportunity to enjoy:
Dinner shows

Campfires

Working horse ranch
This is one of the hidden RV camps in Florida that is perfect for a family-friendly outing.
FAQs about RV camping in Florida
Where can I park my RV for free in Florida?
You can park for free in designated areas of the public lands, such as in National Parks, National Forests, BLM, etc.
How much does it cost to RV park in Florida?
RV parks in Florida can cost as low as $20 USD per night at State Park campgrounds. Prices of private RV parks and campgrounds can go up to $150 – $200 USD per night, depending on their amenities and location.
For how long can you stay at an RV Park in Florida?
The length of stay in an RV park in Florida depends on the particular RV park. Some of them will let you stay for a discounted price for up to 1-year.
Author Bio: Thomas Quarry is an avid camper and outdoor enthusiast who travels around the country in his RV while travel writing. When he isn't traveling, he volunteers his time to teach kids about outdoor survival. He is a family man that wants to teach the world about the natural beauty in the US.
---
We hope you've found some interesting spots for your next RV adventure in Florida. We would love to hear your feedback or suggestions, so feel free to submit a comment below. Thank you.