Fiji is the prototypical South Pacific Paradise which is famous for its tropical islands and friendly people.
Fiji is a group of over 300 islands and 500+ islets. All these in composite acquires an area of about 194,000 square kilometers. These clustered islands and islets are full of attraction ranging from shaggy volcano peaks to picturesque coral reefs, exotic waterfalls, and dense rainforest.
To be honest, 300 islands are way too much for anyone visiting Fiji. It's almost humanly impossible to get to visit all 300 at once. As per the main topic, "Why" Fiji is one of the best remote islands in the South Pacific, we have ten reasons aka 10 beautiful islands which proves that Fiji is an exotic place to visit. However, all the islands of Fiji are unique and magnificent, yet there are these top 10 islands people do prefer to visit first in Fiji.
Your trip will begin always at the "Nadi International Airport" on the main Fiji island. The airport is very well connected with options of various airlines, including local Fiji Airways.
15 Fiji's Most Beautiful Islands
FAQ
Which is the most beautiful island in Fiji?
Vatulele is considered the most beautiful island in Fiji but it's almost impossible to pick one! Fiji offers many stunning islands that are very unique and special.
Is it safe to go to Fiji?
Fiji is a very safe place to visit for any type of traveling. Crime rates are very low, so if you follow basic rules and common sense while traveling, you won't encounter any issues.
Is Fiji expensive to visit?
For a luxury visit to Fiji, you will need around 500USD per day. For a mid-range beautiful holiday, you will need around 200-300USD per day. For a budget traveling/backpacking you will spend around 70-100 USD pred day but you can get even lower than that.
What country does Fiji belong to?
Fiji doesn't belong to any country. It's an independent country with more than 300 islands located around the South Pacific.
Let's see what makes this place the best among all the remote islands of South Pacific ocean.
Fiji's Most Beautiful Islands that You'll Love
Matuku
As you can see in the video above, this place is absolutely stunning and definitely worth visiting! Crystal clean beaches, corals, jungle, beautiful villages and hills make this a real paradise.
Matuku is a volcanic island that covers a land of 57 km2 and elevates up to 385 meters.
Beqa
The largest and most populated island of Fiji is Viti Levu, from there the exotic and striking mist-veiled peaks of Beqa are visible.
The Beqa Lagoon is also very famous for scuba-diving. The reason behind this lies deep in the sea "The abundance of sharks".
Beqa is also known for its traditional tribe of fire walkers. This tradition is still practiced in the nine Fijian villages. These villagers still call Beqa as their homes. It's a must-go on the island of Fiji. For Scuba Divers and shark lovers, well, it's Paradise.
Vatulele
Vatulele is a Flat island in comparison to its neighboring island archipelago. Just because of its super rocky foundations, Vatulele comprises of many fascinating rock pools, rugged caves, and dramatic cliffs.
There are many resorts that cater to tourists and Fijian villagers as well. These local Fijian villagers are identical with their fellow mates of archipelago, cheerful, convivial, and warm-hearted. They always welcome tourists and they are now well known for their hospitality.
Robinson Crusoe Island
Just a short boat ride from Nadi, this private island is the place to experience authentic Fijian culture.
In addition to snorkeling, kayaking and fishing with locals, you can listen to traditional music, make coconut jewelry and even learn to climb a coconut tree.
The natives will greet you with friendly shouts of "Bula!". In the evening, there is often a fire show. Afterwards, you can make your way to a traditional bure for a night of sweet dreams.
Yasawa Islands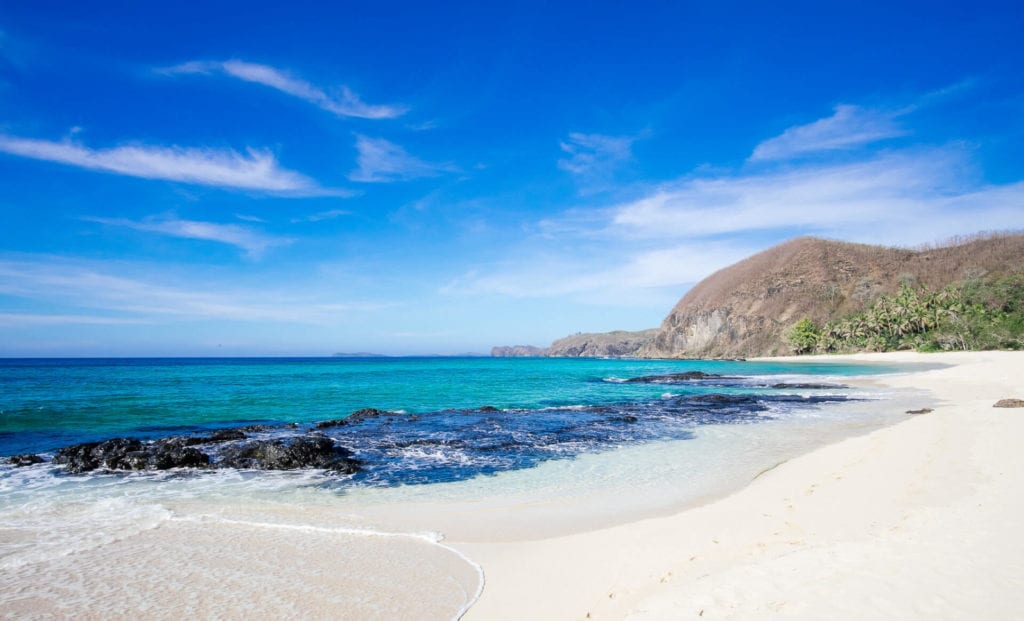 Is your dream vacation soaking sunshine on silky sand? Then visit this group of 20 tiny islands located near the Mamanuca Islands.
Locals consider them to have some of the best beaches in the country. It's one of the best places for photographs, too, with its lush greenery, pristine sand, and rugged cliffs.
Because of the spectacular beauty, these islands have been a popular setting for reality shows and movie sets.
In addition to taking photographs and enjoying the miles of beaches, you can snorkel through underwater coral gardens and swim with rays. For a unique adventure, check out the Sawa-i-Lau caves.
While there are resorts here, many visitors choose to take a high-speed catamaran for a day trip from either Viit Levu or the Mamanucas. Another option is to stay aboard a boat and go island-hopping to allow yourself to see as many of these gems as possible.
Qamea
Qamea is a small beach but very well known for its beautiful beaches. The entire perimeter of the island is full of surprises. Some are covered with hard rocks, some with the divine sand and some with the mountains.
As the perimeter is rippling, this gives this place certain nature's gift as astounding bays, inlets, and coves. This place is highly crowded during November and December as thousands of land crabs migrate to the sea for mating. This turns out to be magnificent.
Waya
Waya is very known among the hikers. This tiny little island is rugged and hilly most of which is covered by a wild untamed forest.
Hikers love it because of the Summit of Waya's peaks which give you a perfect view of the hill right across the island, down at the sea bottom.
This dramatic view is breathtaking and magical. The beaches are very beautiful with a slight touch of coral reefs which can be found there in abundance.
Kadavu
The home of Great Astrolabe Reef which is one of the most abundant and largest coral reef in the World.
Another reason for such popularity of Kadavu is prolific unusual marine life. It's well known for its diving locations and also the ground above sea level is as awesome as the ground down the sea level.
Kadavu is full of indentations and coves, Some coves even cut the whole island into two. The bays are very pleasant to watch. Kadavu is a paradise with very distinctive coastlines.
Lakeba
Lakeba is a part of few islets which are spread across the Eastern border of Fiji.
The interesting thing is in this cluster of islets, there are only Two guest houses for the tourist. The rest of the area is a venture by the 2,000+ Fijians.
One of the guesthouses is in Lakeba and this draws people towards it. It's a habitat by the wild and rugged beauty which gives it the pure authenticity to its character.
Nacula
Attention beach lovers. You won't find a place as awesome as Nacula when the beauty of beaches is concerned. It's argued as one of the finest beaches in the world. Nacula is an island in the Yasawa chain.
Long Beach in Nacula provides you the perfect scenery of nature and this also gives the tourists an opportunity to swim and snorkeling. It's an eco-sensitive beach with world-class resorts to cater all the modern world facilities.
Taveuni
Taveuni is the third-largest island in the archipelago and commonly referred to as "Garden Island of Fiji". Taveuni' shaggy volcanic foundations roll under the rainforest and give origin to many waterfalls, lagoons, caves, and craters in it.
The canopy in Taveuni gives shelter to loads of wildlife species. The main attraction, however, is something else. It's the famous Tagimoucia flower.
Caqalai
Caqalai is a tiny island and often referred to as Fiji's hidden treasure. It can be barely showed in the maps of Fiji to those who overlook the map.
Caqalai is very colorful and consists of majestic palms and vegetations. It can be a perfect paradise for an adventurous traveler.
It's awesome to visit the beaches at the low tides. You might find some lagoons left by retreated Pacific ocean.
Monuriki
Monuriki is a part of the most beautiful island of the Fijian archipelago- Mamanucas.
It's full of impressive soggy volcano peaks which are always covered in limp tropical leaves of plants. This gives those rocks a feel as if they are changing their color.
Due to its beautiful untamed beauty, it was also used as a set in the Oscar-winning movie "Cast Away" 2001 which was starred by Tom Hanks. Monuriki is the crown of Mamanucas. It's a must-go place.
Ono
This volcanic island enclosed by the Great Astrolabe Reef is the place to come to enjoy nature. It is separated from Kadavu by the Ono Channel.
Covered with rainforests, it is the home of 7 traditional villages where visitors will find a true island experience far from the crowds.
Drift dives through channels in the nearby reef allow you to swim through schools of colorful fish as well as manta rays, eagle rays, sharks, nudibranch, turtles, hump head wrasse, dolphins, and whales.
For a different type of adventure, a sunset cruise to nearby Yabu Island (Bird Island) will give nature lovers the chance to see thousands of colorful birds returning to their nests. For star-gazers, moon-rise on the beach is just as amazing. The Milky Way can be observed in all its glory in this pristine spot far from light pollution.
Ovalau
The sixth largest island in Fiji, Ovalau used to be its capital. Formed by a now-extinct volcano, the island has a mountainous interior covered by rainforest.
Among the villages along the coast is the charming, quaint Levuka. About 1500 people still live in this town beneath steep bluffs. For anyone interested in the South Pacific's colonial past, a visit here will prove rewarding.
With its narrow streets and weathered buildings, it maintains the ambiance of the bustling whaling center it once was. At one time its harbor sheltered vessels from every nation and its bars welcomed sailors from every port.
To get the most out of your visit, hire a local guide for an authentic tour.
So, these 15 islands prove that Fiji is one of the most beautiful remote islands. This is the beauty status of just 10 islands. There are 290 more. So, just think again if you think otherwise. Just in case, we are reminding you of these islands to mark them as must in your travel itinerary to Fiji.
I hope you like my post. Did I miss something? Remind me via comments and I will get back to you. Till then get ready for Fiji!!!
---
Author: Chelsea Nguyen is working for paradiseinfiji.com. She loves traveling and sharing her experience while traveling. She is hardworking and trustworthy. In her spare time, she loves to read, cook and watch movies.