Hanoi, the capital city of Vietnam, is a must-see stop on any backpacker's jaunt around Southeast Asia.
The city is highly unique and has a special atmosphere about it that it's hard to put your finger on. It's busy, dirty, loud and often overwhelming, but something about it makes visitors fall in love with it time and time again. It has loads of things to do, therefore I certainly adore it, and I'm sure you will too.
So, here are the top 10 hostels in Hanoi, to help you enjoy your stay as much as possible.
Check out also: Best Hostels in Ho Chi Minh
Hanoi Vietnam Backpacker Hostels Downtown (BEST PARTY HOSTEL)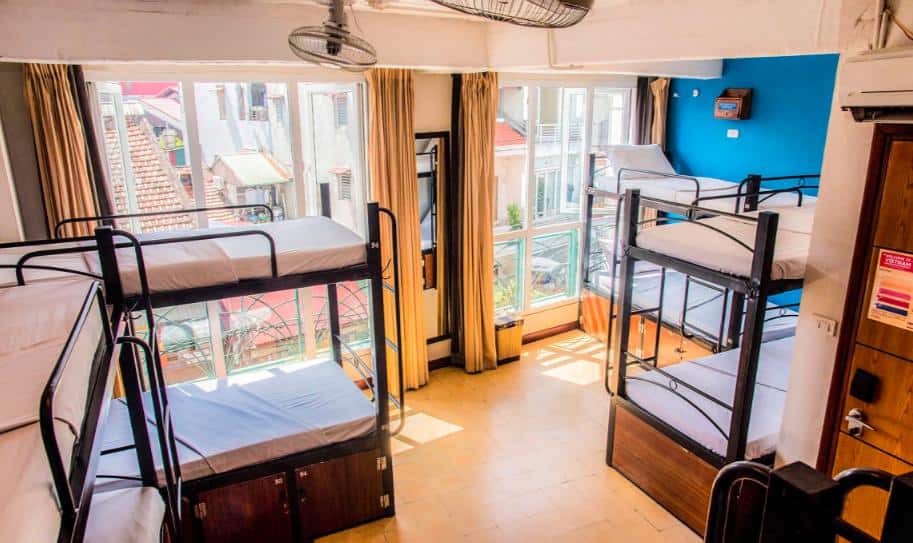 HostelWorld (*9.1) Booking.com (*8.6)
Map Starts at ($7) for 12 bed-dorm
**prices are shown for weekdays in Mid-season (March)
Are you looking for a fun, safe, and a place which will make your stay memorable in Hanoi? Come and stay in The Hanoi Backpacker Hostel Downtown. It is a perfect hostel for backpackers and the location of this hostel is outstanding. The superb hostel is located on Ma May road in the Old Quarter, the Downtown Inn can be effectively spotted as you would run over numerous foreign explorers as you go by the lodging's passageway.
Notwithstanding how clamoring its surroundings are, you can generally locate a peaceful corner by the balcony to appreciate some Vietnamese ice espresso in the early morning or a bottle of Hanoi lager at evenings. This while watching motorbikes and people on foot going by the road of Ma May in their sorted out turmoil.
We bet you won't find such a cheap hostel which has a dorm bed with excellent quality at a very low price. The rooms of this hostel are amazing. They are well-designed, Air-conditioned, have a clean female-shared bathroom, and gives you the opportunity to see a very beautiful view of the city from the window.
The unique highlight of this hotel is its bar. It is opened 24/7, and you could get almost any type of drink (Coffe, beer, and alcoholic beverages) you want throughout out the day.
The facilities/services of this hostel are free breakfast, free city maps, free city tour, linens, free Wi-Fi, free internet access, elevator, key card access, safe deposit box, security lockers, outdoor terrace, hair dryers for hire, ceiling fan, common room, hot showers, reading light, wheelchair friendly, 24-hour reception, 24-hour security, airport transfers, postal service, housekeeping, luggage storage, towels for hire, ATM, cafe, restaurant, foosball, games room, and pool table.
The staff of this hostel is very friendly, and make sure that you love your stay at this hostel.
L'etage House
HostelWorld (*9.4) Booking.com (*8.8)
Map Starts at ($7) for 14 bed-dorm
**prices are shown for weekdays in Mid-season (March)
L'etage offers another excellent city center experience, making it a suitable choice for anybody who likes to be close to the action.
It is a compact but very comfortable spot, managing to successfully squeeze several dorms, as well as an on-site bar into a seemingly small terraced building.
The staff are often spoken of in high regard, making it a welcoming place with help on hand for any queries, bookings or advice that you might need.
There is even a cute rooftop restaurant where you can enjoy breakfast with a view of the buzzing city streets.
Old Quarter View Hanoi Hoste
L
HostelWorld (*9.5) Booking.com (*9.3)
Map Starts at ($6) for 18 bed-dorm
**prices are shown for weekdays in Mid-season (March)
Sociable, cheap, well-located and comfortable would sum up this fabulous hostel perfectly. What more could you want!
True to its name, this place is situated right in the heart of the old quarter of the city, very close to Hoan Kiem Lake and all the surrounding major sights.
The on-site restaurant is nice and spacious, and serves excellent food, as well as a free breakfast for guests, and free beer during happy hour (this practice is, believe it or not, actually very common in Hanoi).
CucKu Homestay
**prices are shown for weekdays in Mid-season (March)
CucKu is an excellent place to rest your weary head, offering exceptional value for money for any backpacker spending time in Hanoi.
The homestay is not really in central Hanoi, but at just around 10 minutes drive away, it's not exactly out in the sticks either. The great thing about it being slightly out of the center is that it is away from the worst of the hustle and bustle, in a quiet, relaxed neighborhood far away from any sounds of traffic and congestion.
There is plenty to do in the area, and it's well connected, but you can also get some good quality shut-eye in peace and quiet, and there are a lovely garden and patio area in which to relax.
Probably the best thing about CucKu is the price. A night in a 6-bed dorm comes in at under $5 at the time of writing, which for the quality of the accommodation is an absolute steal.
Flower Hostel
HostelWorld (*9.3) Booking.com (*9.0)
Map Starts at ($22) for 2 bed-private
**prices are shown for weekdays in Mid-season (March)
This hostel may be slightly pricier than some others in Hanoi, but it is definitely worth shelling out a little extra for if you have space in your budget to indulge yourself.
Located in an extremely central area of Hanoi, it is the perfect place to base yourself and explore the city from on foot. It is only a couple of hundred meters from the famous Hoan Kiem Lake which marks the unofficial center of the capital.
Besides the fabulous location, the interior of Flower Hostel is homely and clean, with good beds and spacious rooms. The dorms are basic but comfortable, and the private rooms are the perfect place to get some privacy.
There are some nice communal areas to relax and mingle in, and a TV for entertainment, although it's unlikely you'll be hanging around too much with such a great city literally on your doorstep.
Hanoi Center Hostel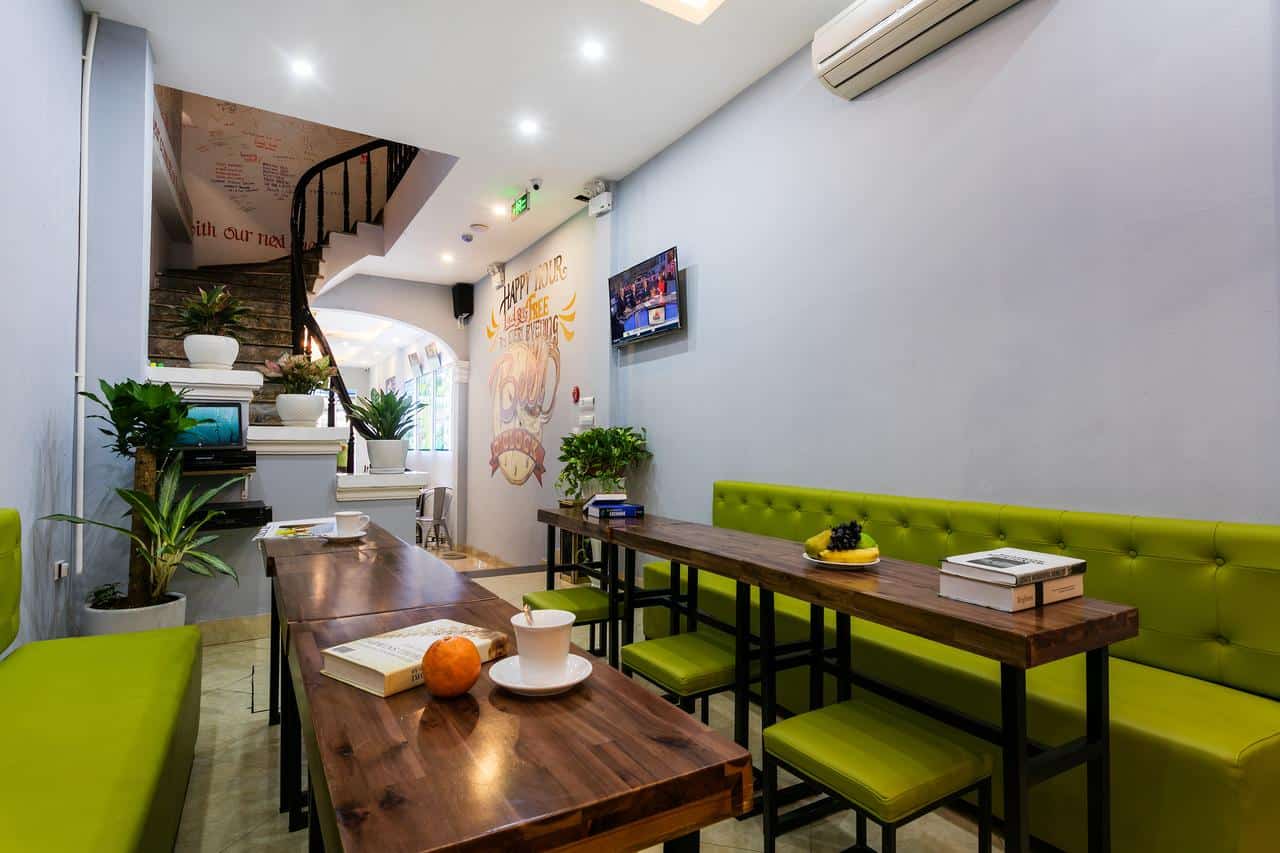 HostelWorld (*9.1) Booking.com (*7.7)
Map Starts at ($4) for 10 bed-dorm
**prices are shown for weekdays in Mid-season (March)
Hanoi Center Hostel is a lovely little place that strikes the balance perfectly between sociable and quiet. You can certainly make friends and chat here if you're an independent traveler, but it's also not going to be difficult to read a book or have a nap in peace.
As the name suggests, this place is well within the confines of the city center, so you can easily get around the sights on foot which should save you some money on transport. It also means you're close to all the action, with many busy bars and restaurants within easy reach.
Communal areas are well laid out, and there is the added convenience of an on-site restaurant and bar to make things nice and simple if you're in a rush.
Zim's House
HostelWorld (*8.6) Booking.com (*8.9)
Map Starts at ($7) for 14 bed-dorm
**prices are shown for weekdays in Mid-season (March)
This hostel, which the friendly owner Zim also manages, is another ideally located option for anybody seeking accommodation in central Hanoi.
As with many of the other choices, you can easily reach pretty much all the main sights very easily by walking, making it highly convenient and saving you time and money.
An enticing perk here is that you can get tea and coffee all day, free of charge. Breakfast is also available on-site.
Rooms are basic but comfortable, and you can get a free locker to keep things safe.
Friend's Inn and Travel
HostelWorld (*9.1) Booking.com (*9.0)
Map Starts at ($31) for 3 bed-private
**prices are shown for weekdays in Mid-season (March)
This hostel has something for everyone. If you're a backpacker on a serious budget, you can pick up a spot in a dorm room for a very competitive price.
But if you have a little more to spend or are traveling with a family, there are several other types of private rooms available to suit your needs, ranging up to beautifully appointed luxury rooms.
The cheap dorms are still great, with ensuite bathrooms, curtains and everything you'd expect from a good dorm.
The hostel is superbly central, close to all the main attractions, bars and restaurants, and even serves up a great choice of breakfasts included in the price of your stay.
The First Hostel
HostelWorld (*10.0) Booking.com (*8.7)
Map Starts at ($ ) for bed-dorm
**prices are shown for weekdays in Mid-season (March)
The First Hostel somehow manages to retain a classy vibe, whilst still offering exceptionally low prices and a prime location in the center of Hanoi.
The rooms, communal areas and restaurant are all beautifully decorated, mixing traditional floor seating with gorgeous color themes.
Rooms are excellent, comfortable and safe, and there is even outdoor seating so you can sip your morning coffee while feeling part of the busy city.
Hanoi Culture Hostel
HostelWorld (*8.0) Booking.com (*9.3)
Map Starts at ($41) for 3 bed-private
**prices are shown for weekdays in Mid-season (March)
This hostel offers a great service and great price for travelers looking for a more hotel-like experience.
There are no dorms here, but the private rooms on offer are excellent, spacious, clean and comfortable, all for a very reasonable price. Some rooms even have a balcony available for views of the city streets.
The central placement of the hostel is ideal for exploring on foot, but there is always the on-site bike rental service for those who want to explore further afield.
Ha Noi Lantern Dorm
HostelWorld (*5.7) Booking.com (*8.9)
Map Starts at ($6) for 20 bed-dorm
**prices are shown for weekdays in Mid-season (March)
This place is your standard good quality backpacker hostel with everything you could want. It's going to be hard for anybody to find better value, with some of the lowest prices, yet all the features you need, plus a few others.
It is well-located in the center of town, has a good on-site restaurant, comfy rooms, and even in-room lockers and individual curtains.
The unique selling point of the hostel has to be the stunning lantern lounge, which is a pleasure to spend time in.
---
There is so much on offer here for travelers that it's hard to know where to start. The vibrant modern culture of the young generation meets the with the traditional lifestyles of the older Vietnamese in a kind of chaotic harmony that it would be hard to imagine working out anywhere else in the world.
Influences from hundreds of years of tumultuous politics, a yoyoing economy, war and colonization have all left their mark in various ways. The effects can often still be seen today in the architecture, museums and people of Hanoi.
Probably the most obvious remnants are those of the French, who had strong ties with Vietnam going back as far as the 18th Century and continuing well into the 20th Century, with Hanoi acting as the administrative center of French Indochina.
The French colonial influence on architecture and landscaping can be seen everywhere. There is also an enduring French influence on the cuisine, with freshly baked baguettes and croissants being a staple food for many Vietnamese and visitors alike.
During the Vietnam war, Hanoi served the center of the independent North Vietnam, resulting in some destruction via American bombings. The Western influence remains markedly less than the southern metropolis of Ho Chi Minh City.
All in all, Hanoi is a beautiful city with a rich, fascinating history and should definitely be visited by any backpackers passing through the region.
Check out these fabulous hostels to guarantee a great stay in Hanoi. If you looking for more privacy, check out some cheap hotel aternatives in Hanoi.
Hanoi has more than its fair share of quality hostels. As a backpacker hub, it has developed an impressive tourist infrastructure over the years, and the great hostels at rock-bottom prices on this list are a reflection of that.
If you're planning a visit, then make sure you check out these hostels. Enjoy!
---
Bio: Nicoleta Radoi is the resident content blogger for uVolunteer. Nicoleta is an avid linguist, speaks fluent English, Chinese, French, Spanish and native Romanian. She spent a decade working in China in the education sector and working with major international development institutions and currently lives in Vancouver, Canada. She is passionate about volunteering, sustainable travel and has a soft spot for ethnic food. Connect with her on Instagram – Twitter