There's no doubt that Colorado is one of the most stunning American states. The Centennial State is abundant with arid desert terrain, monumental snow-capped mountains, and dramatic river gorges.
One of the best ways to experience this breathtaking setting is camping.
Those looking to escape city life will be pleased to know that Colorado's campgrounds are among the country's best. Once you've spent the day enjoying the state's majestic scenery, be it through hiking, off-roading, or biking, you'll be able to end the day by relaxing under the stars.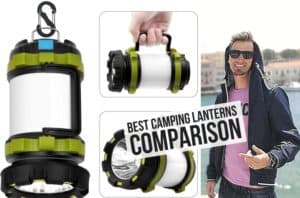 However, with so many great sites, choosing where to go can be a daunting task.
To help get you started, we've compiled a list of Colorado's best campgrounds and included all the necessary info you'll need for planning.
Suggested:
– Best Camping Places in Utah to Visit
– Best Camping in New Mexico
Best Camping Sites in Colorado to Visit in 2022
1. Jellystone Park Larkspur
Central Colorado
Phone: 720 325 2393
Address: 650 Sky View LN, Larkspur, CO
Available activities at the site:

mini golf,

fishing,

wagon rides,

water slides,

boating.
Next up is a Yogi Bear themed site that offers great fun for the entire family.
Situated some 20 miles south of Denver, Jellystone Park Larkspur offers substantial accommodations in the form of cottages, lodges, cabins, and yurts.
The staff working at the site give their best to make traditional camping a bit more interesting. The visitors can enjoy bouncing on gigantic pillows, playing golf, swimming in pools, playing sports, and many other things.
As you can see from above, Jellystone Park Larkspur is a perfect choice for families with kids. It's an ideal setting for a fun family vacation and the most family-friendly campground on our list.
2. Lone Duck Campground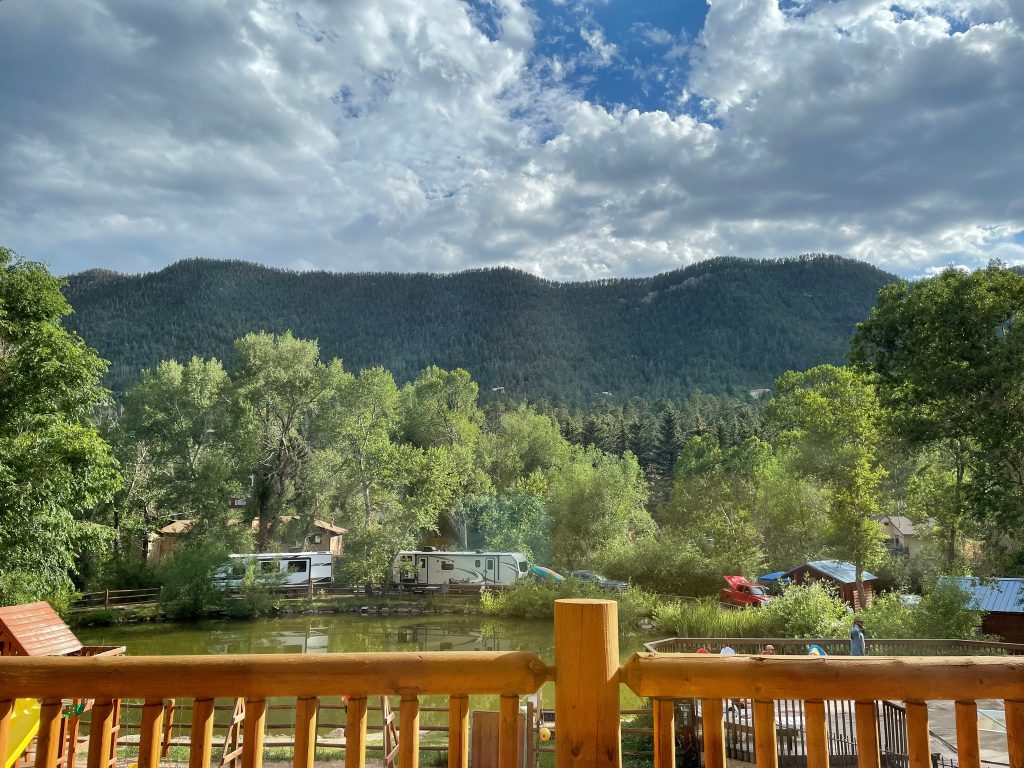 Central Colorado
Phone: +17196849907
Address: W298+34 Cascade, Cascade-Chipita Park, CO
Available activities at or near the site:
Set at the base of Pikes Peak and about 20 minutes from Colorado Springs, Lone Duck Campground is an ideal place for adventurous families as well as campers passing by.
This family-owned campground features a very friendly vibe and plenty of camping options – tent sites, RV sites, and cabins. Amenities include a heated pool, fish pond, basketball court, playground, game room, free Wi-Fi, and a laundry facility. Traveling with a furry friend? Don't worry, pets are welcome, too!
There are also fun things to do outside of the campground. Hike the Pikes Peak, boat at Rampart Reservoir, or take an ATV tour, Lone Duck Campground is simply an experience unlike any other.
3. Base Camp at Golden Gate Canyon
Central Colorado
Phone: +13035829979 or +18663443259
Address: 661 Highway 46, Black Hawk, CO 80422
Available activities at or near the site:
At 9,230 feet, the Base Camp at Golden Gate Canyon provides an amazing mountain experience for its visitors. But that is not all that it offers. For example, you can fill up on gas and propane here, get your food and drinks at its convenience store and take advantage of its open-air pavilion for your special events.
It is also conveniently situated within miles of Golden Gate Canyon State Park and next to the Peak to Peak Scenic Byway and the Gilpin County Community Center. If you want to gamble, casinos in Black Hawk and Central City are 10 minutes away. More amenities may be found in Golden, a 20-minute drive from here.
This camp's cabins have an inviting woodsy decor. Note, however, that you need to bring your own bedding.
Those taking their RV here will be able to take advantage of at least 20/30 amp electricity – some sites offer 50 amp service – grills, picnic tables and, in most cases, fire rings. However, do take into account that the sites are relatively close together, which may be bothersome during the year's busier times.
4. Riverview RV Park & Campground
North Colorado
Phone: +19706679910
Address: 2444 River Rim Rd., Loveland, CO 80537
Available activities at the site:

Fishing

Playground

Community market

Tree carvings

Barbecuing
Situated in the Rocky Mountain foothills is Riverview RV Park & Campground. Here, you can immerse yourself in a peaceful countryside setting, where you can enjoy beautiful tree carvings and be situated within a short drive of breweries, golfing and rafting opportunities and dinner theater.
This camping location offers spaces for tents and RVs as well as cabins and tiny homes for those who would rather not sleep in either of those first two options. When you want to explore this site, you can do so with a golf cart, but note that golf carts may not be driven into the adjacent neighborhoods.
While here, you can make use of the fire rings that have been made available as long as a fire ban has not been put in place in the region.
However, note that some visitors have encountered issues with double-booking and with its weeds, water and internet.
5. Colorado Springs KOA Holiday
Central Colorado
Phone: +17193827575
Address: 8100 Bandley Drive, Fountain 80817 CO
Available activities at the site:

horse riding,

rafting,

kayaking,

fishing

stargazing.
Located in idyllic hills far from any roads, KOA boasts wonderful views of the majestic mountain ranges and the entire valley.
One particularly great thing about KOA Campground is that it's perfect for stargazing. Far away from the glow of the cities, it provides a stunning view of the night sky lit up with millions of stars.
Furthermore, the powerful Arkansas River forms the eastern border of the area. This turns the KOA Campground into an ideal choice for kayaking, rafting, and fishing enthusiasts.
Other features worth mentioning are the well-trained horses you can use for trail rides and phenomenal natural hot springs you can bathe in.
6. Dunton Hot Springs
Southwest Colorado
Phone: 970 882 4800
Address: 52068 Road 38, Dolores CO
Available activities at the site:

horseback riding,

mountain biking,

hiking,

fly fishing,

rafting.
This luxury resort comes with an interesting twist.
Although Dunton Hot Springs is a top-notch camping destination, it is actually disguised as an old mining town. The site is surrounded by the San Juan Mountains, a high and rugged range with sights such as ghost towns or the notorious Black Bear Road.
A quaint and charming spot for vacation, Dunton Hot Springs features beautifully furnished cabins. When it comes to activities, there is something for everyone – from fly fishing to river rafting. There are even archeological day tours for the history buffs.
7. Steamboat Springs
North Colorado
Phone: 970 879 0880
Address: 125 Anglers Drive, 774408 Steamboat Springs, CO
Available activities at the site:

fly fishing,

paddleboarding,

horse riding,

hiking,

biking.
When it comes to hot springs in Colorado, nothing beats the Steamboat Springs.
This is an excellent camping destination, offering a plethora of different outdoor activities. Some of these include biking, hiking, horseback rides, paddleboarding, and fly fishing.
Besides eating at the wonderful French restaurant, the visitors can also participate in a colorful extravaganza called Hot Air Balloon Rodeo.
In winter a wonderful, snowy destination and in summer a warm paradise, Steamboat Springs has it all.
8. Rampart Range
Central Colorado
Phone: 303 275 5610
Address: 19316 Goddard Ranch Court, Morrison, CO
Available activities at the site:

cross-country skiing,

off-roading,

camping,

fishing,

hiking.
The Rampart Range is undoubtedly one of the state's most idyllic getaway destinations. Situated in central Colorado (some 30 miles southwest of Denver), this place is bound to provide you with peaceful moments away from the city noise.
It is located within the Pike National Forest, and, as such, offers a number of exciting activities. Make sure to visit the Devil's Head (9,632 ft), a towering, rocky peak, and one of the area's most unforgettable sights.
The Rampart Range recreational area provides many free sites for camping. While bumpy and winding at times, the roads are fairly easy to navigate. They provide quick and easy access to breathtaking scenery you won't forget any time soon.
9. Jacks Gulch Campground
North Colorado
Phone: (970) 295 6700
Address: 2150 Centre Ave Bldg E Fort Collins
Available activities at the site:

biking,

hiking,

wildlife observation,

bird watching,

horse riding.
The next camping site in our roundup is Jacks Gulch Campground. Set in picturesque north Colorado, this area features lush, greasy meadows and charming pine forests.
Popular activities at Jacks Gulch include viewing wildlife, bird watching, horseback riding, biking, and hiking. Horseback riding deserves a special mention. The horse stalls are immaculate and provide visitors with a chance to explore the grounds in a truly exciting way.
Another thing worth mentioning here is that the whole area is encircled by a nature trail. One of the trail's sections provides an extraordinary view of the Mummy Range.
10. Twin Lakes
Central Colorado
Phone: 855 488 1222
Address: Twin Lakes, CO 81251
Available activities at the site:

boating,

picnicking,

biking,

camping,

fishing.
Twin Lakes is located right next to two of the most spectacular mountains in the state – Mount Massive and Mount Elbert. As the name suggests, it is centered around glacial lakes, the largest in Colorado.
Driving to Twin Lakes is an adventure in itself, as it offers unforgettable views of the mountainous landscape. And once you're there, you can engage in a number of activities. These include picnicking, fishing, camping, biking, and boating, among others.
Twin Lakes is a particularly great choice for camping and hiking enthusiasts. With proper hiking gear and a bit of enthusiasm, you'll be able to explore miles and miles of treks surrounding the camping grounds.
11. Golden Gate Canyon State Park
North Colorado
Phone: (303) 582 3707
Address: 92 Crawford Gulch Road, Golden, CO
Available activities at the site:

fishing,

mountain biking,

horseback riding,

rock climbing,

hunting.
Expansive and gorgeous, the Golden Gate Canyon State Park is a fantastic choice for anyone looking to escape the hustle and bustle of city life.
The area offers visitors a huge array of spacious campgrounds, dramatic foothills, hiking trails, and picnic spots. There are thousands of acres of meadows dotted with aspens, rocky peaks, and dense forests – it's a perfect nature retreat.
The Golden Gate Canyon State Park has more than 150 camping sites. Whether you're a winter sports enthusiast or an amateur hiker, you're bound to spend a lovely time in this scenic region.
FAQs about camping in Colorado
What's the weather like in Colorado?
Colorado's weather is very unpredictable. It can change fairly quickly, even during the summer months. Therefore, it's best to wear layered clothing when camping. 
Will I need a permit for camping?
Depending on the campground, you may have to buy a permit or a pass. The key is in planning ahead – check out the official websites of the locations we listed below. Also, make sure to obey all posted notices and signs at trail entrances and campgrounds. 
Which of Colorado's state parks is the largest?
Covering more than 70,000 acres of land, State Forest State Park is by far the largest state park in Colorado. Situated in Larimer and Jackson counties, it was established in 1970 and includes 187 campsites. 
---
The state of Colorado has quite a lot to offer when it comes to scenic camping spots.
The wonderful campgrounds of the Centennial State offer sights, smells, and sounds that stay with you forever. Whether you just want some privacy deep in nature or you want to enjoy activities like horseback riding or rafting, Colorado can deliver.
None of the camping sites listed in our roundup will leave you disappointed. They provide a fantastic way to experience the breathtaking scenery of the American West.
---
Author: I'm Rebecca, a translator and avid traveler, a book worm and a horror flick enthusiast. My job has given me the amazing opportunity to travel to dozens of countries around the world, and writing on Rough Draft gives me a chance to try to showcase some of them.