The city of Tampa is a densely populated, bustling metropolitan area located on Florida's west coast. Due to its urban landscapes, some may be surprised to learn that Florida is home to nearly 175 state parks, several of which are in or around Tampa.
So, if you are looking for some quiet time you cannot find within a busy, buzzing city, consider spending a weekend camping in any of the beautiful state parks in Florida has to offer. Each has unique features like canoeing, hiking, natural springs, and much more.
To help you decide which park will best meet you or your family's needs, we have created this selection.
We have highlighted the best parks to camp in near Tampa, some in your own backyard. So, all you need to do is pack your tent and sleeping bag, put your hiking boots on and go enjoy the beauty of nature.
Honeymoon Island State Park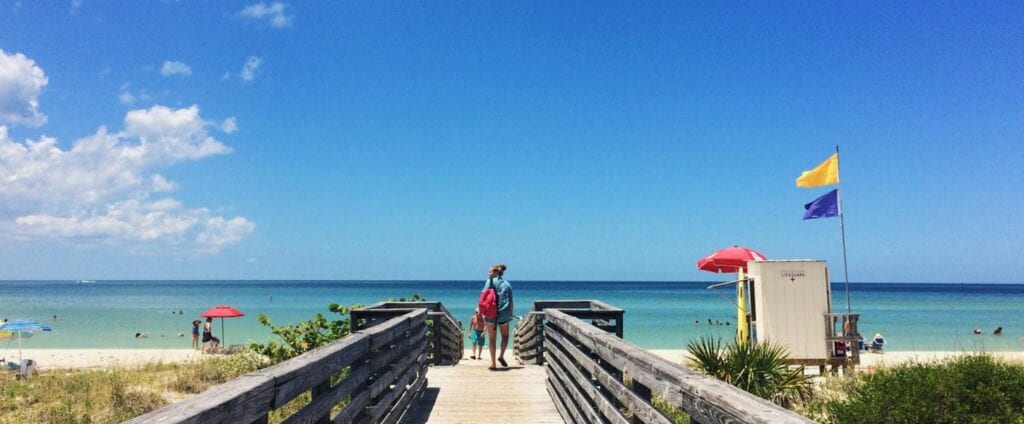 If you are looking for a quiet day outside of the city, Honeymoon Island State Park is just a short drive from Tampa.
There are more than four miles of beaches to explore, some with beautiful white sand and others with fascinating fossilized coral.
Take a stroll through one of the last virgin slash pine forests on a three mile path, or learn more about the park's history at the Rotary Centennial Nature Center. You'll even see tons of wildlife such as eagles, great horned owls, and gopher tortoises.
The park has 385 acres of land area, so there are plenty of things to do such as swimming, biking, and picnicking. As the most visited state park in Florida, expect it to be busy. However, there is plenty of parking and tons of space.
The entrance fee to the island is $8 per vehicle, and leashed dogs are allowed on the dog-friendly beach and nature trails. If you get hungry, there are plenty of concession areas as well.
Terra Ceia Preserve State Park
If you are looking to experience a rawer version of nature, the 2,000-acre Terra Ceia Preserve State Park may be exactly what you are looking for. Conversely, if you are not, you may want to give this a skip.
This area of forests and wetlands does not have restrooms, and there is some overgrowth, but it offers gorgeous untouched nature while bird lovers will likely be particularly pleased by their visit here.
Kayaking is another activity that many engage in at this park. Some who do get to enjoy seeing manatees up close. Also, visitors who arrive here by boat get to enjoy more hours in the park as water access is available 24 hours a day while those traveling here on foot are only allowed access from 8 a.m. to sunset.
If you do make the trip here, come prepared with a strong insect repellent as mosquitoes and related insects are numerous here.
Hillsborough River State Park near Tampa
The first park is one that is popular due to its proximity to Tampa and boasts diversity. A refuge from city life, it's a favorite for camping and due to its seven miles of trails and myriad of places to cool off in the water and has been for decades.
During the Great Depression of the 1930's, the Civilian Conservation Corps – a group of young, unemployed males tasked with developing natural resources on rural land owned by the government – established the area as a public park.
Many of the bridges and structures exist as examples of the Corps' rustic architecture while the trails show off the park's natural beauty. The most popular trail, the Rapids Nature Trail, meanders to a point where limestone rock has created rapids, making it a favorite spot to take photos.
Though there is biking, a gift shop, and canoeing or kayaking, many guests come to camp at the 112-site campground for tents and RVs.
Each site offers water, electricity, a fire ring, and a picnic table, and campers have access to laundry facilities and restroom facilities with hot water.
Also, pets are welcome if they are on a leash or contained. Primitive camping with no amenities is also available.
Little Manatee River State Park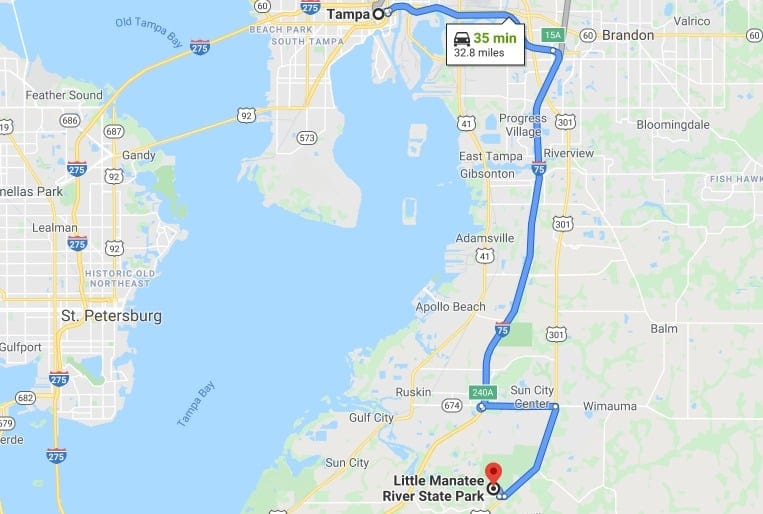 The Little Manatee River has a long history that has shaped the park and surrounding communities. In fact, the Uzita were the first native people to settle on the river over 10,000 years ago.
Then, early settlers sought the wilderness and solitude the Little Manatee River offered, to help them escape. Deserters of the Second Seminole War, outcasts, outlaws used it to escape the growth of the cities.
To this day, the river remains one of the most pristine blackwater rivers in southwest Florida.
Some amenities the park offers is bicycling and equestrian camping. Namely, there are more than fifteen miles of equestrian trails and a campsite that offers a picnic table, a fire ring, a water hook-up, and an electrical hook-up. This site has a horse stable behind it and a restroom facility with hot water (though a composting toilet is conveniently located nearby).
Additionally, a thirty-site campground is available for tents and RVs. Each comes with the amenities offered by the equestrian camp but with a coin-operated laundry facility. Sites 2, 3, and 5 are wheel-chair accessible and vegetation between sites offer privacy.
Campers also have the option of choosing primitive camping with no amenities, except for the picnic table and fire ring.
Caladesi Island State Park – Best for Beach Lovers
Caladesi Island is an untouched island on the west coast that is only accessible by boat. Originally part of a larger barrier islands, the islands of Caladesi and Honeymoon was created in 1921 when a hurricane divided the island into two parts.
Caladesi Island State Park has a marina with floating docks for "camping" in your boat. They come with thirty amps of electric service and water hookups and other amenities are a covered pavilion for picnicking, a snack bar, and a gift shop. A few sites are ADA (American Disabilities Act) accessible.
Guests may also choose to enjoy boating, fishing (though a fishing license may be required), hiking, canoeing, kayaking, and swimming.
Additionally, this is a great place to host a wedding with its pristine beach. In fact, it won an award in 2008 and was named America's Best Beach. So if you want to see one the best Florida's beaches, head to Caladesi.
E.G. Simmons County Park
E.G. Simmons County Park's visitors become enamored with the park's over 400 acres.
Located in Hillsborough County and just eighteen miles from Tampa, it provides peace, serene respite from city life. E.G. Simmons Park has two campgrounds with 103 sites.
The sites include a fire ring, a picnic table, water and electric hookups, and dump stations nearby. All but twelve sites are waterfront and they are spacious, though they offer little privacy. Namely, there is no vegetation between sites, so you will get no shade or privacy. Small boats can be launched from the campsite.
The park offers paddle trails for canoeing or kayaking through the quiet bays and mangrove islands out into the open waters of Tampa. You may also fish or go to the swimming beach. Additionally, there is a boat launch and a paved road that is ideal for bike riding.
You should note that campground reservations are not accepted, and the camp's site are assigned first come, first served.
When you secure a campsite, you can stay up twenty-eight days at a time or 180 days per year.
Egmont Key State Park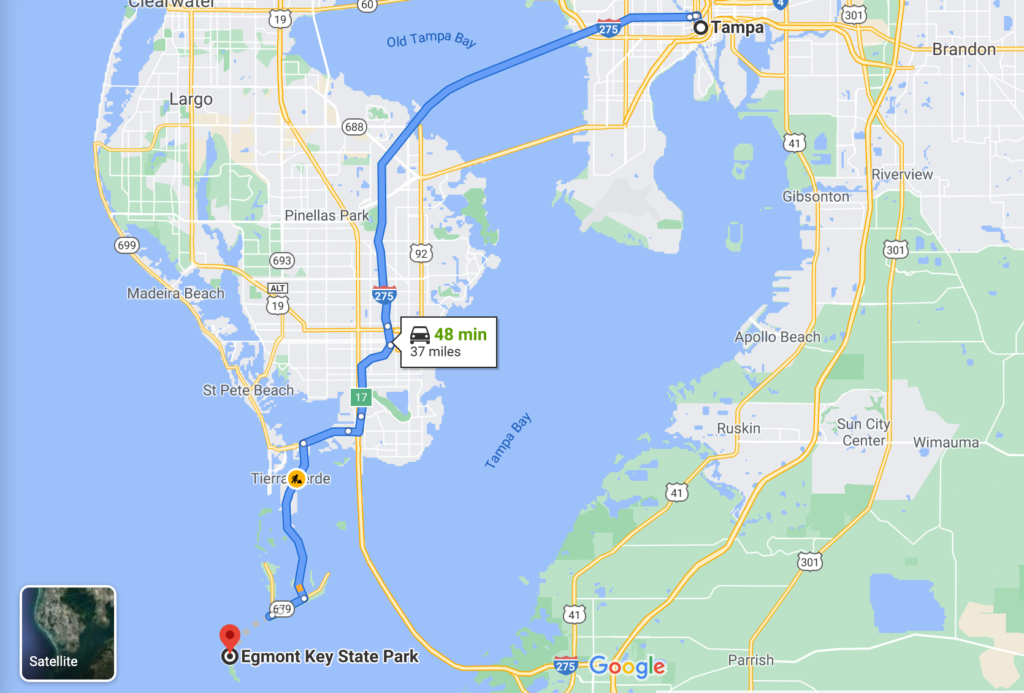 This 450-acre park encompasses Egmont Key, and there is no land access whatsoever. Also note that it is a rugged park with no restrooms or fresh water. However, its sense of remoteness so close to much more populated parts of the Tampa Bay area is exactly what many of its visitors are looking for.
If you do not own a boat, you can take advantage of the Egmont Key Ferry. It provides access from Fort De Soto, which you can drive to; the departure point is 20 minutes from St. Petersburg while the boat ride lasts 25-30 minutes.
Animals that can be viewed while on the island include bald eagles, ospreys, gopher tortoises and dolphins while many enjoy collecting shells as they walk along its quiet beaches.
History buffs may also be interested in exploring Egmont Key's Fort Dade, which was built in 1898, and visiting the Egmont Key Lighthouse, which has stood here since 1858 and is the oldest structure in the Tampa Bay area that is still being used for its original purpose.
Egmont Key State Park is open from 8 a.m. to sunset.
Lettuce Lake Park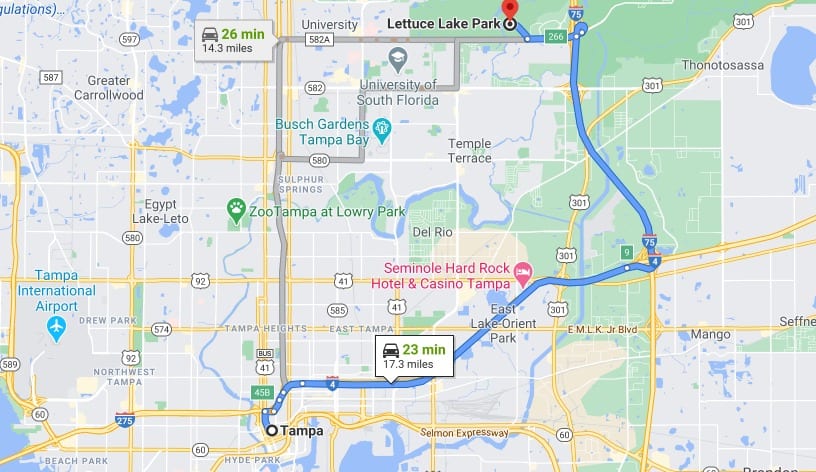 Situated about a half-hour outside of Tampa, Lettuce Lake Park consists of hardwood forests, cypress domes, and a freshwater wetland that lies in the natural floodplain of the Hillsborough River.
You can rent canoes and kayaks to explore the river, as well as walk the 3,500-foot boardwalk with an observation tower full of scenic views where you can catch a glimpse of the natural wildlife. Boasting plenty of picnic areas and playgrounds, this park is perfect for the whole family.
Join park rangers every weekend morning for a free fun-filled nature tour of the park, or take a jog along the beautiful 1.25 mile paved path. Check out the Audubon Resource Center for information on the history and wildlife native to the park.
With 240 acres of land, you are bound to find all kinds of things to do. The boardwalk is not pet-friendly, but the rest of the park welcomes your furry friends. Entry per vehicle is $2, which makes Lettuce Lake Park an inexpensive and fun trip for anyone.
Lithia Springs Park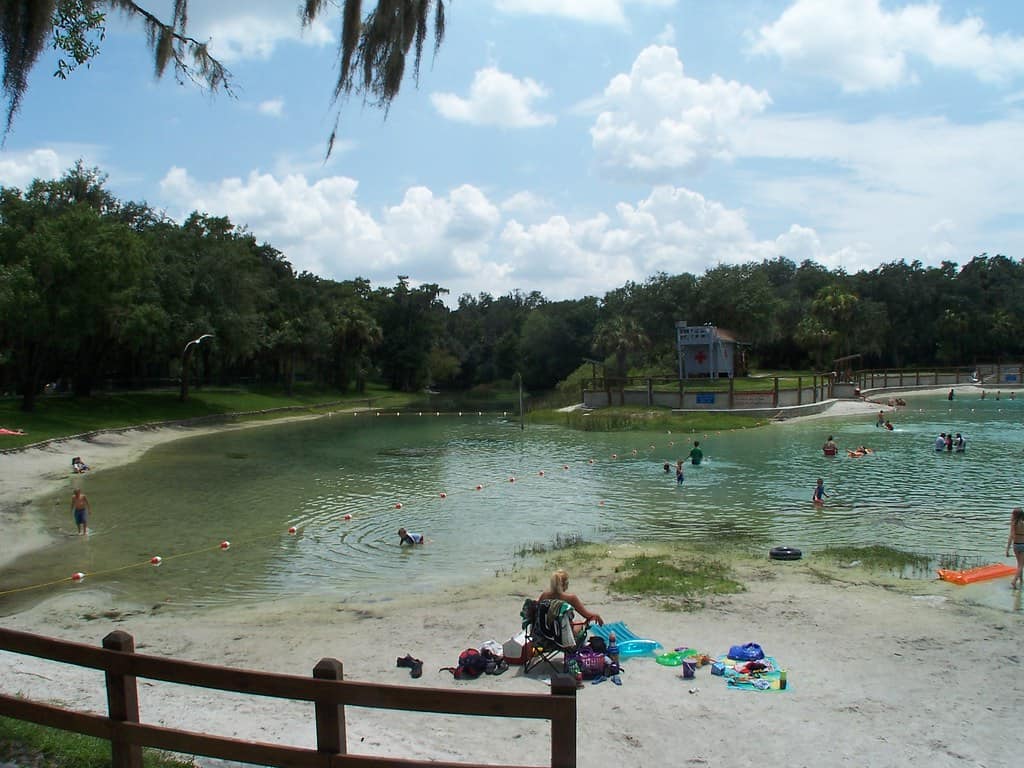 Lithia Springs is well-known for its natural spring, which flows year-round and deposits cool, clean water into the Alafia River.
Originally purchased by a mining company called Gardinier, Inc. who became Mosaic Phosphate, Inc., they leased Lithia Springs as a recreational area to Hillsborough County in 1957 and its 160 acres slowly became popular for camping.
After setting up your site, campers can hike the wooded trails, check out the diverse vegetation, river cypress swamps, and hardwood hammocks. Though the biggest draw may be the natural spring. With a year-round temperature of seventy-two degrees, visitors can swim. In addition, visitors can fish and play volleyball. There is a playground for the kids and benches and picnic tables for the adults so the kids can play.
The spring feeds the Alafia River and offers great opportunities for canoeing and kayaking. Also, when it comes to camping, unlike most sites, these are well-isolated and provide ample privacy. Some sites are even invisible to the park's main road.
Reservations are not accepted, and you can stay up to twenty-eight days or 180 per year. The camp is usually booked during the winter months with more availability after April 15.
Weedon Island Preserve
Weedon Island Preserve is a 3,000-acre natural area set in Tampa Bay. It's home to a number of native animals and plants, an educational facility, and a significant cultural heritage.
It offers visitors a wheelchair-accessible boardwalk system starting at the main parking space. There is also a 45-foot-tall observation tower and three observation decks.
Birdwatching is a popular activity there. You can spot herons and egrets all year round. In winter, you can watch for American White Pelicans, Northern Shovelers, and Hooded Mergansers.
Would you like to see the preserve's wildlife from a different perspective? There are also two water trails. Bring your own kayak or a canoe or simply rent one there. And don't worry, there are no alligators in Weedon Island Preserve.
Starkey Wilderness Park
If you are looking for a true camping experience to get closer to nature, Starkey's Wilderness Park is the perfect place to go. A tent-only campground, Starkey's is just thirty-five miles from downtown Tampa.
The park is approximately 12,000 acres and is part of an 18,000-acre water-management preserve. There are tons of hiking opportunities and a seven-mile paved trail, part of the forty-two-mile Suncoast Trail.
There are sixteen campsites with restrooms and showers. However, there are no hook-ups for water or electricity. Also, there are shared water spigots and a bathhouse near Site 13.
Starkey's has three remote, primitive camping sites sans amenities and eight cabins to rent. The cabins have four bunk beds, accommodating up to eight campers. The cabins are equipped with tables and chairs, electric to power an exhaust fan, and a single electrical outlet. You can bring your own stove or cook on the outdoor charcoal grill. Pets are not allowed in the campgrounds or cabins.
Alafia River State Park
While central Florida is relatively flat, Alafia – a reclaimed phosphate mine – is anything but. In fact, its hilly landscape makes it the perfect place to mountain bike. With the most challenging off-road bike trails in the state, it is one of the best mountain-bike destinations in the state.
Full of hills and valleys, off-road cyclists thought it a great place to build trails they use often. Despite being a mine at one point, it is sprinkled with beautiful, mature trees.
The campground on a flat corner of the park is around a lake. While there are trees and shade, the open setting offers little privacy between camping sites of which there are thirty. Each offers electric, water, a picnic table, and a fire ring.
Also, there is a hilly one-mile loop that is a trail specifically for hikers.
The Alafia River does not flow through the main section of the park, but you can access off State Road 39 and go for a paddle.
Colt Creek State Park
Colt Creek State Park is situated on 5,000 acres of native Florida land that allows you the opportunity to explore the nature and wildlife that make the park unique.
Visitors can enjoy more than fifteen miles of multi-use trails that can be utilized for biking, hiking, and horseback riding.
The trails meander through pine flatwoods, creeks, and wetlands. You may also catch a glimpse of wading birds and alligators. If you wish to fish, you can cast a line out at the lake's edge or from the seventy-five-foot dock. Canoes and kayaks are also available to rent.
There are a few camping options that include primitive and equestrian. There are twenty-seven full-facility sites with thirty-amp and fifty-amp hook-ups. Some can accommodate RVs. Restrooms are available. The equestrian campground has ten sites with a port-o-let being the only amenity while there are two primitive camps without so much as a restroom.
Pavilions are available and can be reserved for special events. There is access to restrooms, lakes, and trails nearby.
Myakka River State Park
One of Florida's oldest and largest state parks, Myakka River State Park is fifty-eight square miles of unspoiled wetlands, hammocks, pinelands, and prairies with a majestic river. It is Florida's first designated scenic and wild river. Further, there are seven miles of paved roads and dirt roads that wind around the park.
Myakka River State Park has three campgrounds with a total of ninety sites. Every site has water hook-ups and fifty amps of electric service.
Thirty-eight sites in the new Palmetto Ridge have sewer hook-ups while all other sites have a dump station.
Sites in all three campgrounds have picnic tables and fire rings and one campground even has WiFi. Also, there is a playground and a gift shop. Hammock camping is available on some sites. We reviewed the best portable hammocks on Amazon, check it out! 🙂
The park is exceptional for bicyclists and canoeing or kayaking. Also, hikers can enjoy the unmatched wildlife observation that allows you to get close to birds and woodland creatures of all kinds.
---
Where can I see alligators in Tampa?
Some of the best places to see alligators in Tampa are Circle B Bar Reserve, Myakka River State Park or Hillsborough River State Park.
What is the best beach camping near Tampa?
Caladesi state park is the best beach camping near Tampa. In fact, it's one of the most beautiful beaches in Florida and also in 2008, was voted as the best beach in the United States.
---
The next time you are planning a camping trip near Tampa, consult this guide so you can make choosing where to go easier. We have highlighted the best parks southwest Florida (and beyond) has to offer. Simply pack your bags, get ready to hit the road, and find your peace.
---
For your Pinterest