With a rising amount of jobs you can do remotely, the trend of location independent workers is becoming very popular. The fast-growing group of digital nomads usually gathers in co-working spaces designed to provide a solid environment with all essentials for getting the work done.
Lately, nomadism is upgrading to a new level. Nomads are recently demanding more than just a shared office, they also want to live together. Recent months brought up plenty of new-opened co-living spaces where like-minded people co-exist together as coworkers and housemates.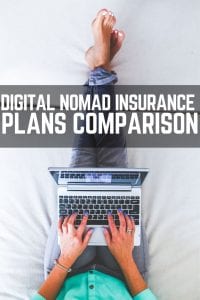 Actually, the co-living concept isn't a brand new idea. It became popular in 2013 at inexpensive locations. Aspiring nomads aimed to cut the expenses of living together in shared houses.
Nowadays, entrepreneurs don't share houses to save a few bucks, but they prefer to be surrounded by an inspiring community of other remote workers.
Arctic Coworking Lodge – Norway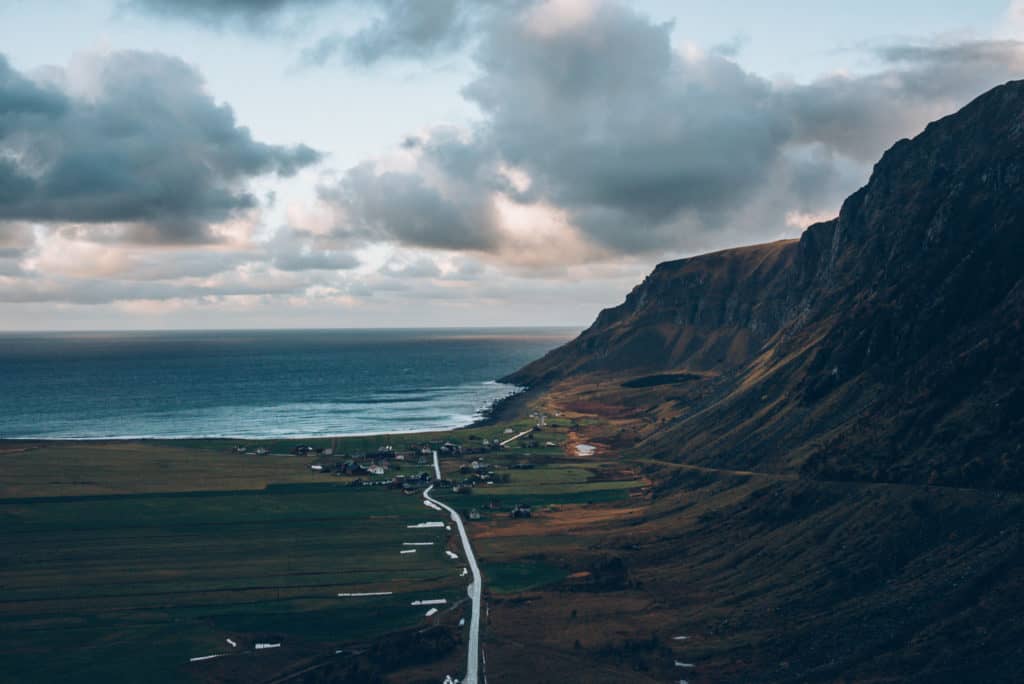 Closing up with a very unique and unusual coworking and coliving spot! Instead of tropical and vibrant cities, we are presenting you with Arctic Coworking Lodge located in Lofoten which is an ideal place for outdoor activities such as hiking, climbing, snowboarding, surfing, camping under northern lightning or watching the midnight sun.
You will definitely love the vibe there and you can bet on 100% digital nomad / ultimate bucket list experience.
Find joy and have a special coliving experience in this Agaete community. This picturesque settlement is found on the lovely island of Gran Canaria, which is only a short flight from the continent's major cities.
The beach is barely 100 steps away from their new location. Take a swim in the sea during your coffee break!
Their rooftop has simply breathtaking views. High-speed internet access is available, so you can work from it or simply relax in their chill-out room.
Maintain your productivity while having fun, exploring new areas, and taking in the breathtaking Agaete Valley, the ideal fusion of nature and ocean.
Live It! is an amazing spot for newcomers to Barcelona or Madrid. Staying at this coliving makes your arrival easier because you get to meet the community and make like-minded friends in the new city very fast.
They offer different types of rooms and accommodation options, a coworking area, an outdoor gym, a rooftop to socialize, and always interesting events on their schedule.
All 5 locations are centric and allow you to spend a great time in the heart of Barcelona and Madrid.
Stay tuned and give them a follow on Instagram.
Coasis in Barcelona
Coasis is more than a place where you can go to work for a few bucks, it's a whole co-living family in beautiful Barcelona!
Whether you are a freelancer, digital nomad, or remote worker, you no longer have to stay in your Airbnb and work all by yourself. In this super-connected age, technology enables places like Coasis to also help you connect with entrepreneurs and like-minded people.
Explore the city and try all the French-inspired small cafés or enjoy the internationally renowned Catalan restaurants and their Mediterranean cuisine, all in the same area of Barcelona.
Neighbourgood in Cape Town, South Africa
Coworking spaces allow you to break out of your own bubble by exposing you to new people and fresh perspectives so you can build a stronger business or make the most of your digital-nomadic activities. An enjoyable and effective workplace is critical for any successful person.
Neighbourgood not only offers you the chance to connect with a world of opportunity but also provides you with seven co-living areas where you may build long-lasting connections.
They leverage the best of design, technology, and hospitality to unlock human potential and transform the workplace into a place where you want to be.
WILDWIFI Coliving in Namibia
WILDWIFI is the place for you if you love being surrounded by a community of 10-15 like-minded folks.
It is also ideal if you appreciate Namibia's wildlife and enjoy weekend camping trips where you can share your skills with your community and learn about the always welcoming Namibian culture.
WILDWIFI boasts a large coworking area divided into several large rooms, as well as a board room for phone calls and meetings.
One of the features we love about WILDWIFI is the small gym, which is equipped with a treadmill, a punching bag, and some weight lifting equipment.
Do not forget to check out also their famous retreat in October, November, and December 2022!
Cloud Citadel is home to a global community of digital nomads and remote workers that love the French Alps.
The Briancon region provides the ideal environment for digital nomads to remain motivated and productive in their enterprises while enjoying their spare time exploring the mountains like true mountaineers.
According to the owners, the UNESCO World Heritage Site of Briançon, known as "Cité Vauban," seems like a village inside a town. It is vibrant, historical, and has its own environment. Numerous cafés, pubs, restaurants, businesses, art galleries, and similar attractions may be found in their tiny alleyways.
OUTSITE is a popular network of co-living spaces for digital nomads, freelancers, and entrepreneurs that love to work from different places around the world.
They started in 2015 and built 18 different coliving spaces by now in most popular digital nomad cities & hotspots. You can find them in cities, jungles, or right on the beachfront.
Their most popular locations are: Oahu, Los Angeles, San Francisco, Santa Cruz, Lisbon, Bali, Santa Teresa and many more.
OUTSITE was born from a simple idea of living abroad and working from beautiful places in an amazing community. Slowly, they turn this idea into reality and they offer high-standard accommodation and working environment in all their locations. What's more, is the community! You will always be surrounded by active, creative and interesting people with whom you can grow while living in your new destination!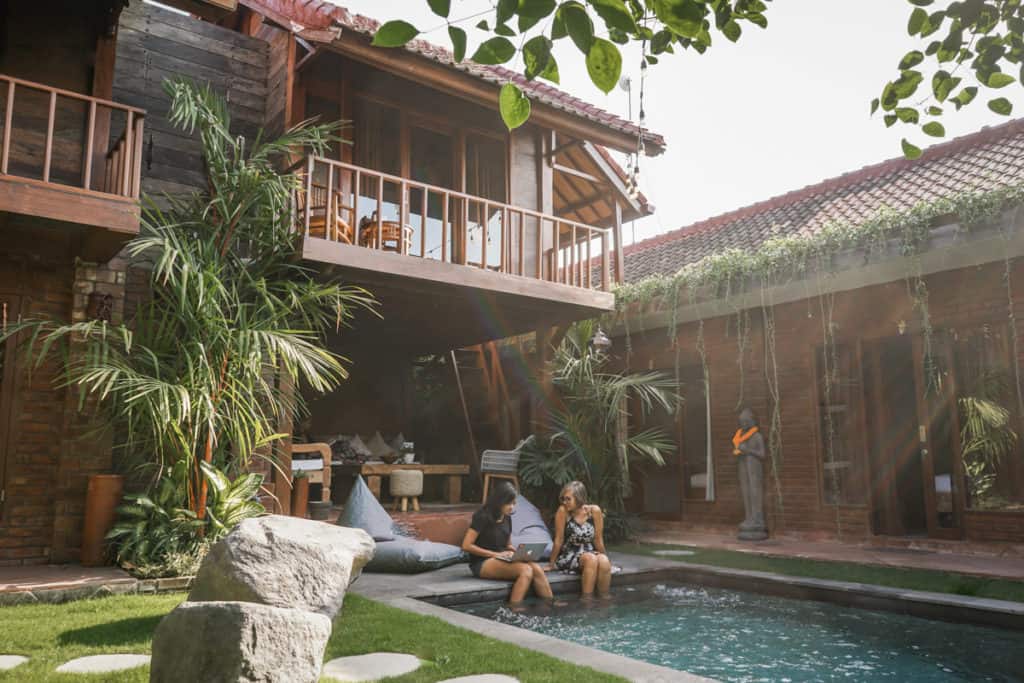 In the MECCA of digital nomads, Canggu (Bali) you can bump into one the best coliving spaces which is run by DOJO coworking space.
These guys have been running facilities for digital nomads for more than 4 years, so you can bet on the cool community, comfort, and ideal conditions for your digital nomad adventure in Bali.
It's located just a few minutes from the beach (by scooter) and maybe 15 minutes by walking. The area is quieter than the rest of the Canggu and has some excellent cafes and restaurants! If you want to score some lovely rice field photos, you just need to take a 2-minute walk from the coliving.
Opened in 2015, Sun and Co. has become one of the leading coliving spaces in Spain and in Europe. Set in the charming Jávea, a historical town on the beautiful Costa Blanca, Sun and Co. has been welcoming over 400 location independent workers from all over the world.
Coliving and coworking at Sun and Co. is more than just spending time in a beautifully restored house, with comfortable rooms and office space with high-speed internet. Their community is big on 'working smarter to live better', meaning you'll find plenty of skill-sharing and networking opportunities, as well as plenty of chances to disconnect and get inspired by the beautiful surroundings.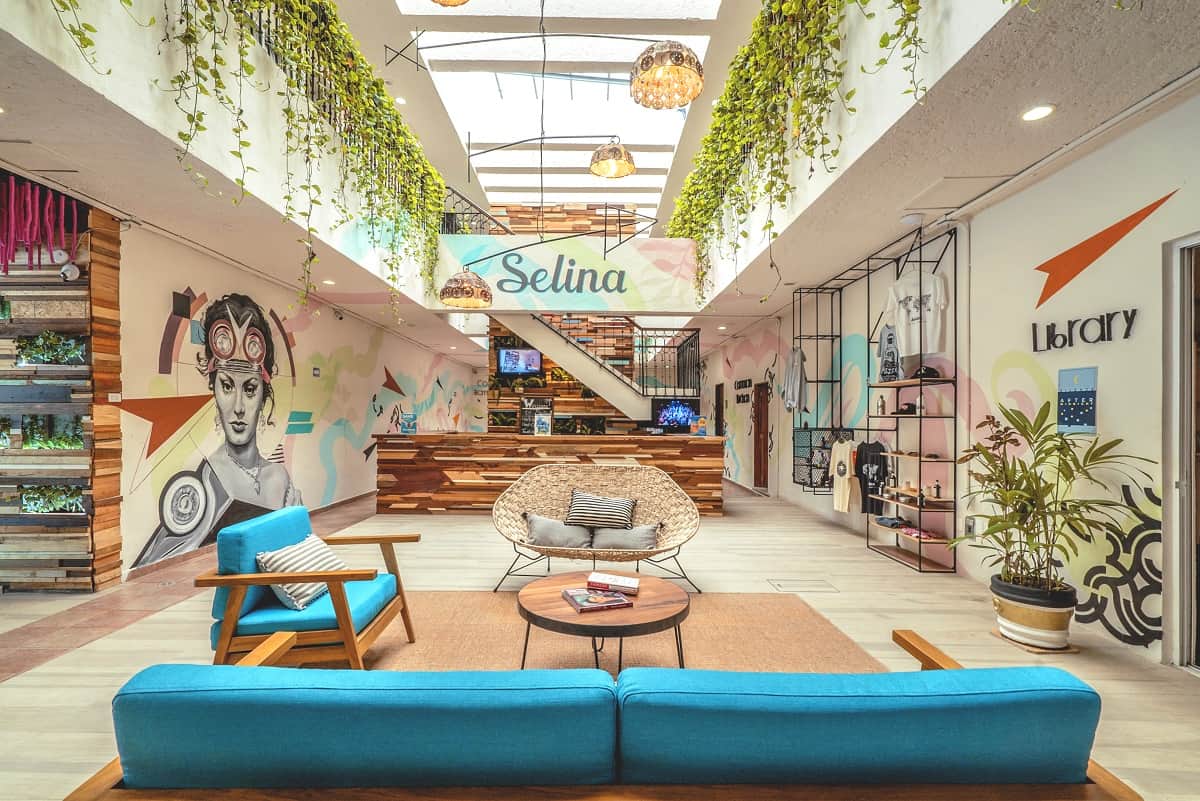 SELINA is a network of coliving spaces around the world that offers amazing accommodation, a creative working environment, and great vibes. You could also say, they are kind of a hostel network since their facilities attract also backpackers but it has more characteristics of coliving space.
It's a fast-growing project that started in Central America in 2014 but now you can find them all over South America, North America and some places in Europe as well.
SELINA focus on community, creativity, and sharing. You will always have good time whether you are backpacker, digital nomad. surfer or you come with your family. There is always the right and friendly vibe.
Personal review (Viktor Vincej): I've stayed in Selin in Lisbon and had a wonderful experience. The communal areas are very cool, food & drinks were amazing and coworking space meeting all the standards of a proper office for a digital nomad.
Wolfhouse – Next Retreat – Tenerife, Spain
Wolfhouse is a place where teams come to live, work and play. Wolfhouse offers a transformative experience that makes team members feel valued, bond and return to the office with renewed energy and positivity. Wolfhouse is facilitating unique team retreats currently in 4 inspiring destinations – Tenerife, Gran Canaria, Slovakia, and Croatia.
If you are looking for winter break, Canary Islands are the only warm place in Europe 😉
Sunny Spanish island offers an awesome background to get some work done and enjoy year-round spring feel in Europe.
In Tenerife you "work, live and party together with digital nomads, online marketing students, Spanish learners and other like-minded people from all over the world."Co-living package includes a shared apartment for 3 persons. The apartment is within 10 minutes walk from the office and includes 3 bedrooms, 1-2 bathrooms, one kitchen, DSL-connection.
To keep the balance between work and relax, you can choose from plenty of leisure activities, study Spanish language or attend digital marketing academy. Coworking also organizes many digital nomad events with interesting speakers from the community of online entrepreneurs.
Personal review (Viktor Vincej): I stayed in B&D for one week in October 2016 and that was actually my first co-living experience. It's a very modern and creative space with beautiful coworking area and rooms. Location is perfect, you can reach the beach in 2 minutes 🙂
They organize/host a bunch of different events for digital nomads and local entrepreneurs which you will def. appreciate while living in Mallorca.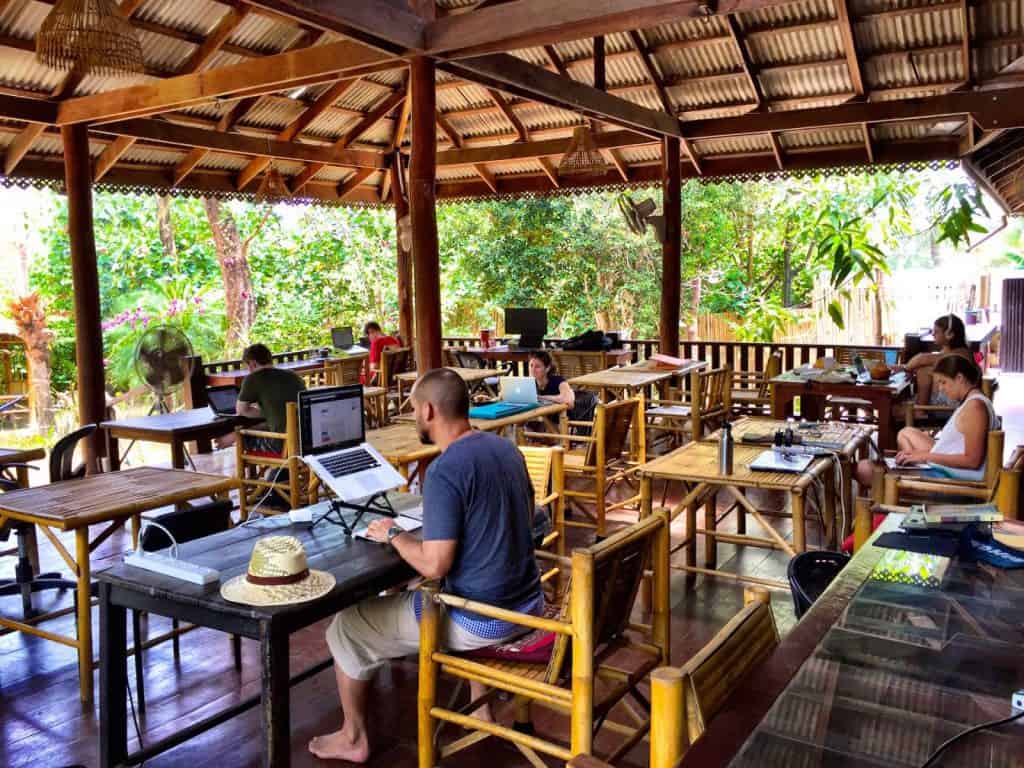 Every year thousands of nomads take direction Thailand. Its hot weather, high-quality life when it comes to price/value comparison attracts entrepreneurs from all over the world who are building their companies here or working and developing their projects.
Besides popular places as Chiang Mai or the capital city Bangkok itself, Koh Lanta is the new hub for creative souls looking to enjoy island life. KoHUB is co-working and co-living space offering reliable internet connection, spacious rooms and other facilities essential for your work.
KoHub is definitely one of the oldest coworking and coliving spaces that was built solely for digital nomads and travelpreneurs!
Within 15 minutes by walk or 2 minutes by scooter, KoHUB offers private rooms with ocean or jungle view. If you want to enjoy your stay for the maximum, go for All-Inclusive monthly package including co-working office, 2 meals daily, accommodation and leisure activities (e.g. Muay Thai box fight tickets).
Our list wouldn't be complete without European startup hub Berlin. St. Oberholz is co-working and co-living concept offering 4 different apartments that are already equipped for workshops, presentations, conferences.
Fast and reliable WiFi is an essential facility. Located in popular Mitte neighborhood apartments are close to tourist landmarks, bars, malls and gallery quarters.
Flourishing community and absolutely new way how to explore London? Currently, the world's largest co-living space is The Collective Old Oak with comfortable rooms across 10 floors, lounges, kitchens, dining rooms, a terrace, gym, spa, restaurant to make the most of your stay in London.
These places are a dream of every nomad. Engage with fellow coworkers and inject yourself with stunning experience and an extra pack of motivation.
Designer and surfer from Slovakia couldn't find a place where he can merge his work and passion. And the idea of co-living has been born. He moved to the Canary Islands and opened the first Surf Office.
Now he organizes also company retreats and Surf Office has expanded to 3 other destinations – Lisbon in Portugal and Spanish cities Malaga and Barcelona. Surf Office provides workspace, accommodation and other facilities such as transport or teambuilding activities.
CLOSED
Personal review (Viktor Vincej): A Landing Pad is the first successful, fast-growing coliving project in Barcelona. It's ideal for a digital nomad who is looking for long-term accommodation and the right balance between work & BCN LIFE!
Coliving is located very close to the center in a very relaxed neighborhood "Poble-Sec". The place offers 13 different AC rooms, a coworking area, a kitchen, and a GIANT ROOFTOP with hammocks, BBQ, sofas, tables, chairs.. end cool events! 😉 I enjoyed my time there, stayed FOCUSED, got a lot of work done, so… I highly recommend it.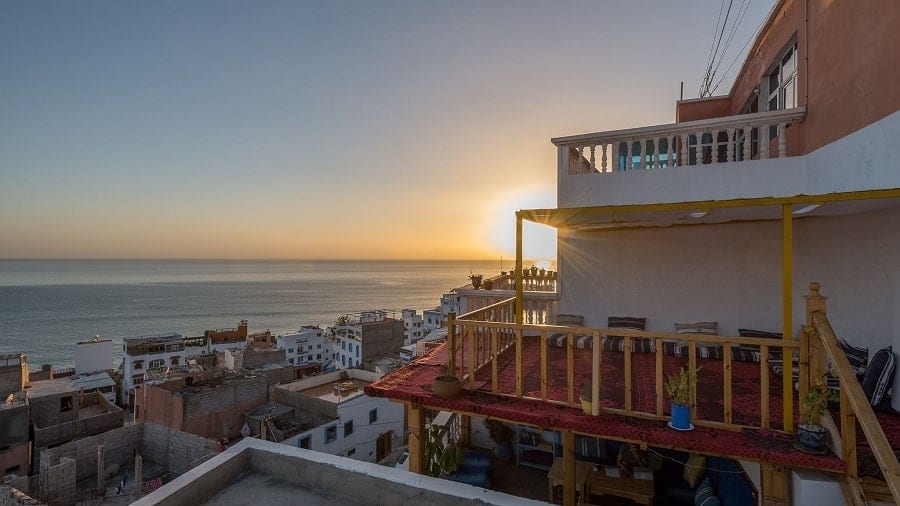 Morocco is a popular destination not just for surfers but for digital nomads as well. Taghazout is definitely one of the best spots on the coast because of its famous "Anchor Point" wave and nomad/surfer/backpacking tourism mixed with local vibes.
Sundesk is the only coworking space with obviously best internet in the village. It's located right on the beach and comes with stunning views and atmosphere. If you are looking for a winter escape? Sundesk is the place to be!
---
We hope you've enjoyed this list of coliving spaces and added some of them on your digital NOMAD BUCKETLIST. Staying at the coliving with like-minded people is always a rewarding experience.
You will get work done, you will brainstorm ideas, you will learn a lot and in the meantime, you will do all sorts of cool things with the community.
If you know any coliving that we should add to this article, feel free to submit a comment below and reach out via contact form.
---
Disclaimer: This article contains affiliate links that might generate a commission from a purchase. This income helps us to maintain and produce more content. We appreciate your support.