California is home to magnificent natural features that include San Diego Beach, Lake Tahoe, Big Sur, Reds Meadow, Yosemite National Park, Shasta Cascade region, Sequoia National Park, and more.
For the lovers of nature, there's so much that you can do in this state. Camping is a popular activity here because it offers people an incredible opportunity to explore the best of California.
45 Best Campgrounds in California + MAP
Best Campgrounds across California State to Visit in 2023
Channel Islands National Park
Best campgrounds on the Channel Islands:
Looking for seclusion and pristine nature near Los Angeles? If you're in search of camping in a unique setting away from civilization, the Channel Islands, known as "the American Galapagos", is a great option.
They spread over 5 islands – Anacapa, Santa Cruz, Santa Rosa, Santa Barbara, and San Miguel – and can be reached from the Ventura Harbor Village. Once you get there, you can start enjoying an array of activities, including hiking, kayaking, snorkeling, diving, or exploring sea caves.
Even though the Channel Islands are a rather quiet national park, it definitely isn't short of campgrounds. Each island has one plus there is also some backcountry camping available.
San Diego Beach Campgrounds
Best campgrounds in San Diego:
San Diego is a remarkable city for both residents and travelers. Carlsbad, Cardiff, La Jolla, and Coronado are ideal camping locations for campers.
The city is known for plenty of sunshine and a warm weather climate; it's certainly a great place to camp.
You can set your tent in one of these campsites and enjoy the sun during the day and the stars during the night.
For your nightlife experience, visit the San Diego Zoo Safari Park at night.
Check out some popular camping gadgets comparisons:
Santa Barbara Campgrounds
Best camping spots in Santa Barbara: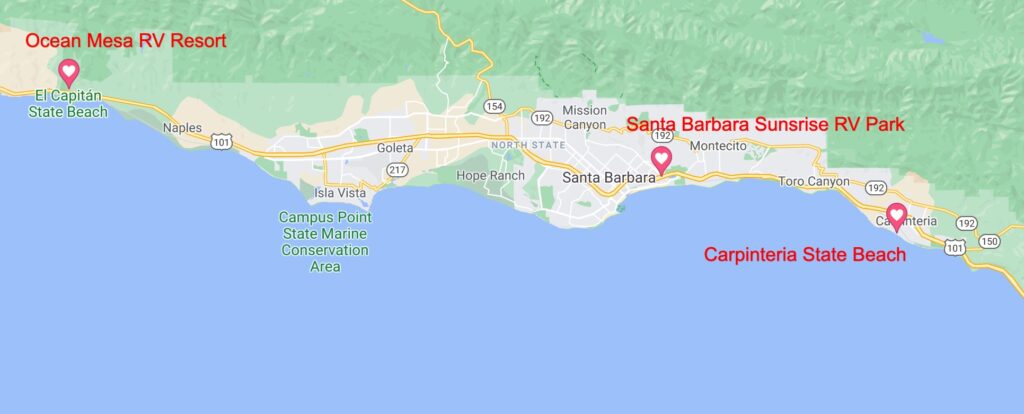 Santa Barbara is a city nestled in between the Santa Ynez Mountains and the ocean, making it the perfect place to camp for beach-goers and hikers alike.
Explore Santa Barbara's quaint downtown area and its Mediterranean-style stucco buildings going back to the city's Spanish colonial roots.
The rocky shores of Arroyo Burro County Beach Park are the perfect place for walking and hiking. Bike from the beach to the beach along the Santa Barbara Waterfront to see unforgettable views of the Pacific Ocean.
Coastside activities include boating excursions, paddleboarding, day fishing, and surfing.
In the city, take a trip through history at Santa Barbara's famous museums. Visit the Mission Santa Barbara, which sits on a hill overlooking the city. Build in 1786, the Mission Santa Barbara now houses Franciscan friars and a museum that attracts thousands of visitors a year. If you like shopping at upscale boutiques, State Street has all the latest fashions and great food tourists can enjoy.
Get a taste of the local food in wine at one of Santa Barbara's many food and wine tours that focuses on local upscale cuisine.
Crystal Cove State Park Campgrounds
Best campgrounds in Crystal Cove State Park:
Bring your hiking shoes and your bike to Crystal Cove State Park. This park offers over 2000 acres of undeveloped land and 15 miles of trails. Keep your eyes open on the trail, as bikes and horses are welcome as well as hikers.
If you're not up for a long hike, no worries. There are easier trails with great views. There's also a paved trail that offers a view of the coast and a spot to walk your dog. As this park is located between Corona del Mar and Laguna Beach, the views are spectacular and the breeze will cool you.
You can find a spot for your RV in the Moro campground, as well as tent camping sites. There are primitive sites for those ready for a hike of at least 3 miles with bathrooms available.
Lake Tahoe Campgrounds
Best campgrounds around Lake Tahoe, California:
Lake Tahoe Camping Situated in Northern California, Lake Tahoe is a must-see location and a perfect site for campers to set their tents.
The East Coast features extraordinary beaches and is packed with ideal spots for camping. The West Coast is close to several historic locations and is recommended for biking and hiking.
If you are planning to go RV camping with your family, the South Coast features the best camping spots for families. The North Coast is suitable for hiking and fishing. The bottom line is there is a wide range of activities that you can do here.
Big Sur Campgrounds
Best Campgrounds at Big Sur, CA:
Big Sur is another ideal place to set your tent. It's the perfect destination for adventurous travelers to camp.
The Pacific Shore of California is an ideal place to go for a great USA road trip. Other spots where you can pitch your tent are the rugged shore of Big Sur and the remarkable beaches in Santa Barbara.
Also, there are recommended places for activities such as sightseeing, hiking, and other outdoor pastimes.
Reds Meadow Valley Campgrounds
Best campgrounds in Reds Meadow Valley:
If you are visiting California, the Reds Meadow Valley is a must-see location. This campground boasts of more than 40 campsites that can accommodate tents, trailers, and RVs.
A hot spring shower is one of the things that make this spot ideal for campers. The showers are available on the principle of first come first served.
The best camping sites are also available on a first-come, first-serve basis. There are several other campsites around Reds Meadow that you can visit.
Yosemite National Park Campgrounds
Best campgrounds in Yosemite national park:
Yosemite is one of the most visited and busiest parks in North America.
Yosemite is a UNESCO World Heritage Site covering an approximate area of 1189 square miles of hiking trails, wilderness, streams, lakes, and ponds. There's no better way to experience the beauty of this place than to camp in it.
Do not miss the chance to experience the striking view of El Captain and Half Dome and enjoy pastimes such as hiking, climbing, sightseeing, and more. This park is home to 13 exceptional campsites and Tuolumne Meadows. Recommended for family, RV and group camping.
Sequoia National Park Campgrounds
Best campgrounds at Sequoia National Park:
If you like giant trees, this is the place to be. With over one million acres of giant Sequoia trees, this park is a must-visit for tree lovers. Also, Sherman trees are found here.
The Sherman tree is said to be the biggest tree that you will ever see on planet Earth. There are plenty of camping sites within this park where you can pitch your tent and enjoy the sights, smells, and sounds of the magnificent outdoors.
Joshua Tree National Park Campgrounds
Best campgrounds in Joshua Tree:
Joshua Tree National Park is just north of Interstate 10 between Los Angeles and Phoenix. Your visit here will be spectacular for all 24 hours of the day. Joshua Tree is a mecca for stargazers.
During the day, you might find your peace on horseback along one of the many equine trails. Additionally, you can enjoy rock climbing and amazing views from the top. If you're looking to hike, take your backpack out into the desert. Be smart, be prepared, and bring water.
Birds and other wildlife are abundant in Joshua Tree. Your binoculars and your camera will both be necessary. There are 300 hiking trails for you to check out, study, and record for future enjoyment.
There are nine developed campgrounds in Joshua Tree. Summer camping will be warm, so some campgrounds may not be available at that time. Be aware that many campgrounds don't provide water, so plan ahead. Work to stay hydrated and healthy!
Los Angeles Campgrounds
The best camping sites in LA:
If urban camping and glamping is more your style, camping in Los Angeles is for you. Los Angeles is a city of icons and a hub for good food from all over the world and a host of a wide range of activities for any lifestyle, all with the laid-back California atmosphere.
At the center of the U.S. film and television industry, Los Angeles hosts many iconic tourist sites, such as the Hollywood Sign, Hollywood Boulevard, the TCL Chinese Theatre, and the Walk of Fame.
Many tourists come from all over the country to try to catch a glimpse of their favorite movie stars on the street. Movie lovers can take special backstage tours of all the major production studios like Paramount Pictures, Universal, and Warner Brothers.
Los Angeles is bordered by mountains and the ocean, making it the perfect place for nature lovers and city lovers alike.
Just outside the city, you can travel to Joshua Tree National Park, Malibu Creek State Park, the Angeles National Forest, and Leo Carrillo State Park. All of these nature sites have excellent hiking trails and even mountain biking trails.
Kings Canyon National Park Campgrounds
Best Campground in Kings Canyon:
If you are looking for incredible mountain views, Kings Canyon National Park is the perfect campground for you.
Located in the Sierra Nevada mountains, Kings Canyon National Park is known for its gigantic, ancient trees, picturesque mountain trails, sparkling rivers, and roaring waterfalls.
Take a hike to the General Grant Tree in Grant Grove and pose with some of the largest trees in the U.S. You can also hike to the Roaring River Falls where stunning views of the waterfall can be seen from multiple angles.
Take an easy stroll through Zumwalt Meadow and get 360-degree views of the granite mountains and flowing Kings River.
Death Valley National Park Campgrounds
Best campgrounds in Dead Valley Park:
Death Valley National Park straddles the border between Nevada and California. This national park is just west of Las Vegas. Don't let the grim name scare you off; Death Valley was named thus by a group of lost pioneers in 1849. While only one of them succumbed, they feared they would all perish.
While it can be one of the hottest regions in the nation, Death Valley National Park also offers terrific vistas, gorgeous wildflower blooms, and chilly mornings if you time it right.
If you're ready to camp, you'll find plenty of options. Of course, Death Valley is a desert, so summer camping is limited and can be dangerous if you're not prepared.
Most campgrounds in Death Valley are first come, first served.
You'll need a debit card to pay for your spot. Between Stovepipe Wells and Sunset Park, there are 460 first-come, first-serve spots.
Shasta Cascade Region Campgrounds
Shasta Cascade Region Located in Northern California, Shasta Cascade is another ideal place for campers to pitch their tent.
The area is filled with few people, but it's one of the best places to visit. It's perfect for camping, fishing, sightseeing and more.
Other natural features that you will find interesting here are amazing waterfalls, outstanding caves, Sundial Bridge, and Lassen Volcanic National Park.
If you are planning to visit California and you've never been to this area, it's the best place to camp.
Related: Best Camping Sites in Florida
Conclusion
There were the best campgrounds in California 🙂
There is a reason why California is called the Golden State. Of course, there are beautiful places to stay, but camping in one of the areas mentioned above will give you a golden chance to enjoy almost everything that California has to offer.
Always carry your hiking boots if you want to experience the terrains and trails of this astonishing state.
FAQs about camping in California
Where can you camp for free in California?
There are various campgrounds and camping sites operated by the Bureau of Land Management (BLM) and the United States Forest Service (USFS) that can be used for FREE.
How do I book a campsite in California?
The best option to book a campground in California is via phone. For State Parks, you can also make reservations online.
---
Author BIO: This is Katrina from Hiking Camping Guide, a travel writer by profession and lover of world cultures, food, oceans, languages, souls, wild spaces, and urban places by nature.